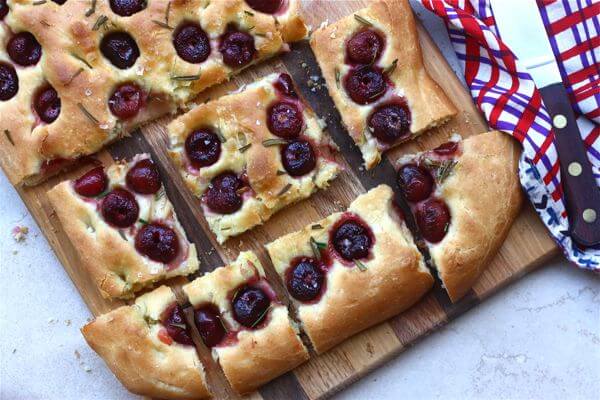 A few months ago, like right before the holidays I spoke about my horrific, scaring experience moving. It involved a duffel bag of my favorite shoes all stolen in a few split seconds from the back of my moving truck. Just devastating, really.
I didn't move a couple of months ago because I had a small window of time to do so, didn't find a place, blah blah, but now I'm back on the hunt. A serious one.
I'm currently animal-less. I own no animal. No cat to bury himself/herself in my hair at night. No dog to paint his paw-nails--it's a lonely life!! I'm looking to change this. That means the search is narrowed because LA landlords hate animals. Sooo...you know, it might take a minute to find the right place.
In the mean time, I've been simulanteously online shopping for a dog. The only real criteria for a dog is that I want a puppy, ideally. And I want it to be ugly. Like really ugly.
(This post is in collaboration with Bravo for their show, Around the World in 80 Plates. This week they're in Florence, Italy. Check it out on Wednesday at 10pm/9pmc on Bravo!!)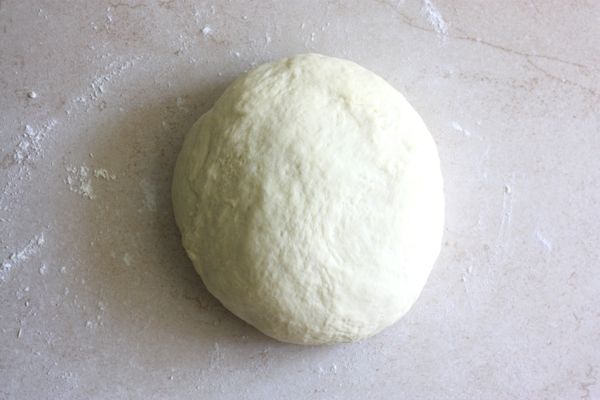 I really love the whole "super ugly that it's cute" look when it comes to dogs. And people (sometimes). I find it charming.
Like, check out Nadia. I mean...let's be honest, Nadia ain't no beauty queen, you feel me.
One ear is bigger than the other, she's a random chihuahua (typical!) and her dark circles are worse THAN MINE!
But man, does that girl make me wanna drive to wherever and rescue her and take her home and cuddle. The whole "pathetic/sad/unattractive" look gets me. Everytime!
So, yes, on the flip side I'm a little scared. I've never adopted a dog. I dunno if it's the way to go. Everything tells me buying some fancy bread for $600 is NOT the way to go. But I dunno. My parents have a rescue dog and he's like the love of my life so I guess I'll do this.
Dog adopting tips welcome!
In other news, this foccacia bread is delicious. Think of it like summer bread.
It's a take on a Tuscan (Italian) classic, Schiacciata con l'uva; translation: Sweet Grape Bread.This is a half sweet/savory take on it.
The olive oil, sea salt, rosemary are so great with the sweet, tart cherries that are in season right now.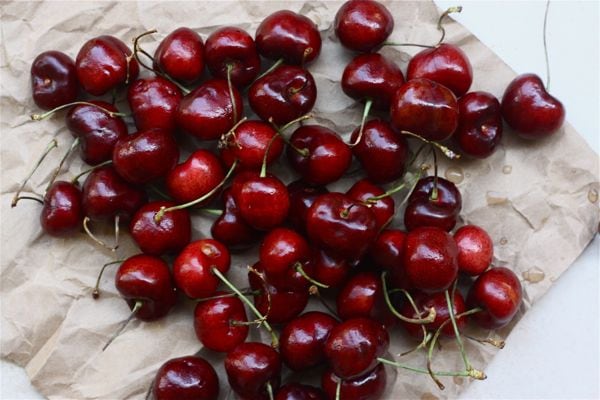 I'm never a fan of tools that have one use and only one use, but this cherry pitter was a well worth summer investment. It means cherry pies will be in my future, for sure. It guarantees it.
I did a little research on cherry pitters before I bit the bullet and coughed up $12. I like this one the best. This cherry pitter actually has a plastic shield, which prevents juice from splattering all over your cute clothes. Smart!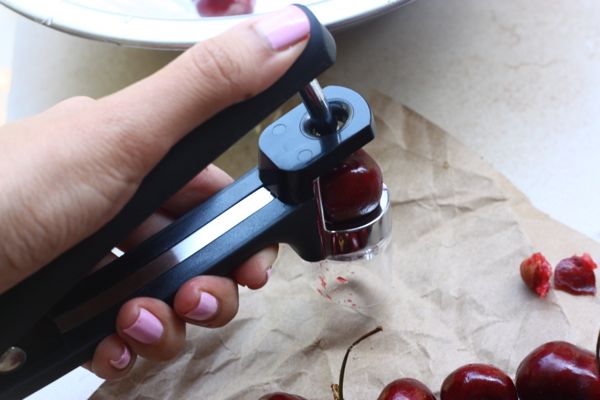 This bread has two rises. The first one is in a bowl. And the second is flattened out onto a baking sheet.
This recipe takes a little bit of time, but it's mostly all downtime. The active time is maybe 30 minutes, which I love.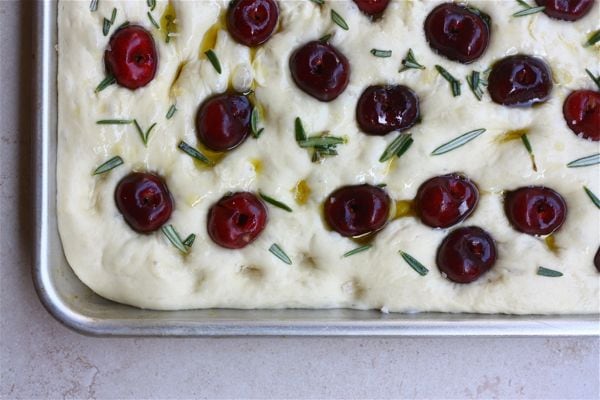 Olive oil and rosemary are mixed together and poured all over the dough. Cherries are nestled into dimples on the dough's surface. Lastly, sea salt is sprinkled all over.
Eat it warm. Eat it cold. It doesn't matter. I love it both ways. I like this bread as an appetizer, along side a cold salad.
The texture is crunchy, chewy with a slightly soft interior. It's not too dough, which I really love.
You should make this! While you're doing that, I'm gonna be looking at all these dogs that live near me that want to come home with me. BRB!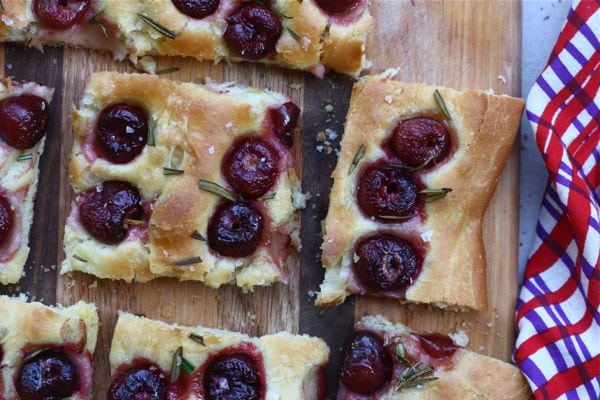 Cherry Rosemary Sea Salt Foccacia

Print this recipe!
Water
1 (¼-ounce) package active dry yeast
4 ¼ cups all-purpose flour, plus additional for kneading
2 ½ teaspoons salt
¼ cup plus, 3 tablespoons extra-virgin olive oil, divided
1 tablespoon chopped fresh rosemary
1 pound of cherries, clean and pitted
1 ½ teaspoon coarse sea salt
1. Stir together 1 ⅔ cups lukewarm (105 to 115°F) water and yeast in bowl of mixer and let stand until creamy, about 5 minutes. Add flour, ¼ cup olive oil, and salt; mix with a wooden spoon until dough forms. Knead for about 1 minute in the bowl.
2. Turn dough out onto a liberally floured surface and knead for 4-5 minutes. Transfer to a lightly oiled bowl and turn dough to coat with oil. Let rise, covered with plastic wrap, at room temperature, until it doubles in bulk, 1 to 1 ½ hours.
3. Generously oil a quart baking sheet. Press dough into a 15x10-inch rectangle. Let dough rise, covered completely with a kitchen towel, until doubled in bulk, about 1 hour.
4. Preheat oven to 500°F. Stir together rosemary and remaining 3 tablespoons oil. Make shallow indentations all over dough with your fingertips, then brush with rosemary oil, letting it pool in indentations. Gently push cherries into the indentations. Sprinkle sea salt evenly over focaccia and bake in middle of oven for 10 minutes. Turn oven down to 450F and bake for an additional 12-15 minutes, until golden brown.
5. Immediately invert a rack over pan and flip focaccia onto rack, then turn right side up. Serve warm or at room temperature.
Recipe adapted from Gourmet