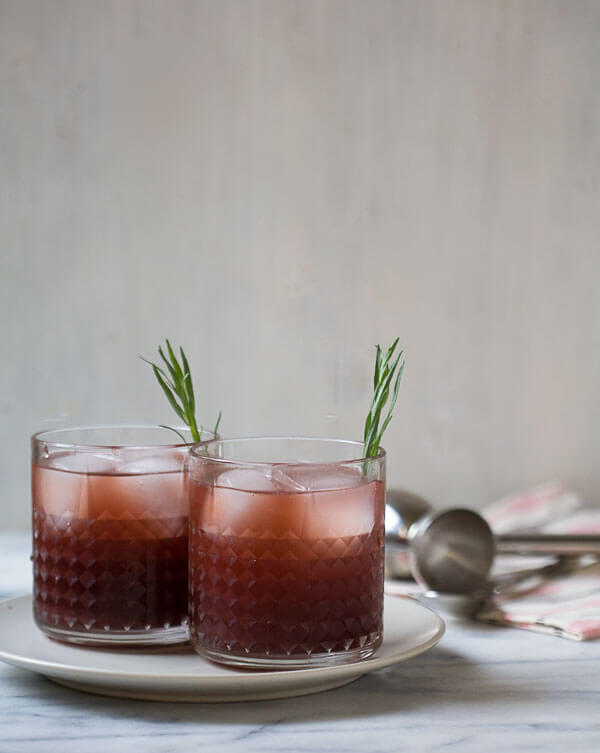 This lil' drink recipe was inspired by the super goth dahlias that are currently chilling in a vase on my nightstand. Their deep dark purple hue makes me excited for this month. It's gettin' all fall-like up in my house.
This week I have downright earned my weekend. There have been a few allergy attacks, lots of emails, a parking ticket, one vet visit for Amelia which ended in her wearing a cone (she can no longer bear corgi children, but she's a-ok!) and more emails. I'm gonna need a drink come 5pm. Maybe sooner. One of my favorite drinks in the world is a caipirinha. I'd categorize it as a Brazilian mojito, but made with cachaca. It's usually what I order when I'm back home in Florida. It's a beach-day drink. This drinks is its weird, goth-y cousin who no one understands…made with vodka.
I drink pomegranate juice year around. I love it. I actually love it even more when I mix it with a bit of iced green tea. I get weird with it!
I also can't even imagine whose job it is to juice those teeny tiny pomegranate seeds. I'm glad that's not my job, I just know I'd be terrible at it.
The pomegranate and tarragon are a winner together. I love the anise-y notes with the tart and fruity pomegranate. The lime juice adds a nice freshness and the sparkling water makes your nose tingle a bit. It's refreshing with fall flavors. I dig it.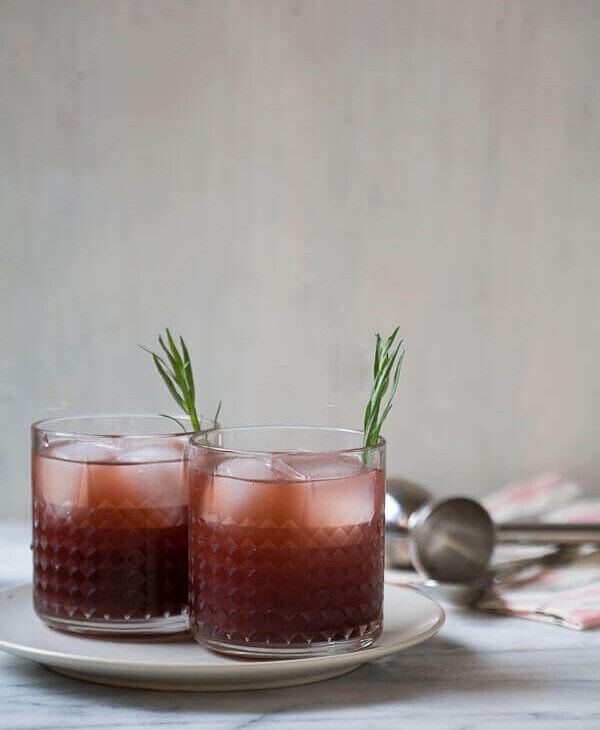 Print Recipe
Pomegranate Tarragon Caipiroska
Ingredients
1/2

cup

white granulated sugar

1/2

cup

water

2-3

sprigs Tarragon leaves

plus more for garnish

4

fluid ounces

lime juice

from about 5 limes 1

Stolichayna vodka

16

fluid ounces

pomegranate juice

Sparkling water
Instructions
To a small saucepan, combine the sugar and water. Heat over medium-low until sugar has dissolved. Add the sprigs of tarragon and cook for an additional 1-2 minutes. Turn off the heat and allow the tarragon to steep for 10 minutes. Strain, discarding the tarragon and set aside.

To assemble a cocktail, fill a glass with ice. Pour in 1 ounce of the tarragon simple syrup (2 tablespoons), 1 ounce lime juice, 1.5 fluid ounces vodka, 4 ounces pomegranate juice and top with a splash of sparkling water. Stir and adjust alcohol to your taste. (I'm admittedly a wuss and like my drinks a bit weak.)

Garnish with a sprig of tarragon. Repeat the drink-making process until you've made all four. Serve immediately.
(This drink would be awesome for a lil' Halloween shindig. Invite your guests to join on RecApp by Stoli (their new app) to capture all of your party pics. This is a sponsored post from Stolichnaya. All opinions are my own. Thank you for supporting the brands that keep A Cozy Kitchen cozy.
(Savor Stoli Responsibly. STOLICHNAYA® Premium Vodka. 40%
Alc/Vol. Distilled from grain. William Grant & Sons, Inc. New York, NY. ©
2013 Spirits International, B.V.)