I love a good scone. Maybe it's because I love English things like Downton Abbey, Mini Coopers and corgis. I'm not sure, but scones, tea and my pinky out is my current mood. I feel like I have another part of me that loves sweet tea, rollers in my hair, fried green tomatoes (the food and the movie) and Nashville. But that's for another day. (ALSO CAN WE DISCUSS LAST NIGHT'S EPISODE?!)
Today we're exploring my more dainty, English, proper side. I had leftover cherries hanging in my fridge and chocolate chilling in my pantry. I figured I couldn't let this combination pass. It needed to be done.
I've been wanting to make some sort of buckwheat scones for a long time now. I adore buckwheat. It really does have a bad reputation because it has the ability to turn fluffy, light baked goods into heavy, door stoppers. But if done right (read: cut with all-purpose flour) it can really add a nice nutty, earthy flavor. These scones aren't hockey pucks. No sireee. No. They're tender, buttery, with a big, hearty, scone-like crumb. I li-it-uh-lot.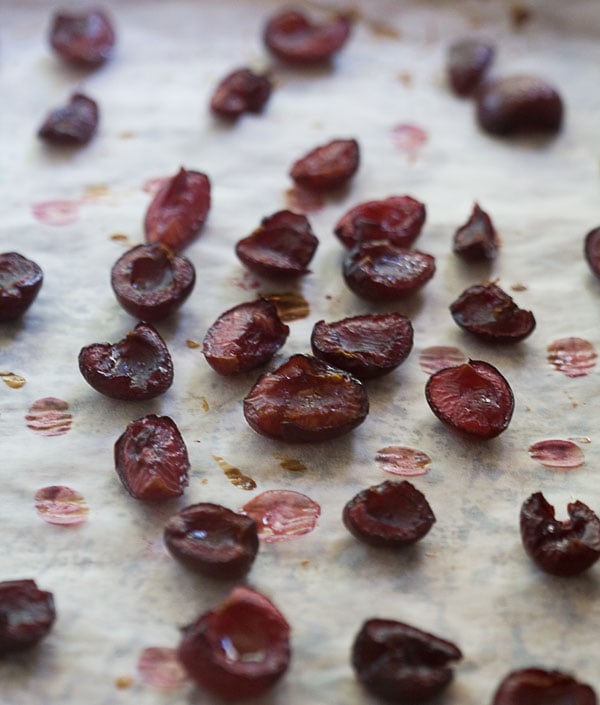 If your cherries aren't juicy, ripe and awesome, then the little dehydrating step I included might be needed. I love dehydrating juicy fruit before putting them in baked goods. Last year I did the same thing with Strawberries and Cream Scones. It resulted in no soggy little patches.
Roasted cherries results in a concentrated flavor, but some of the extra juice that creates unneeded moisture disappears. Baking tricks!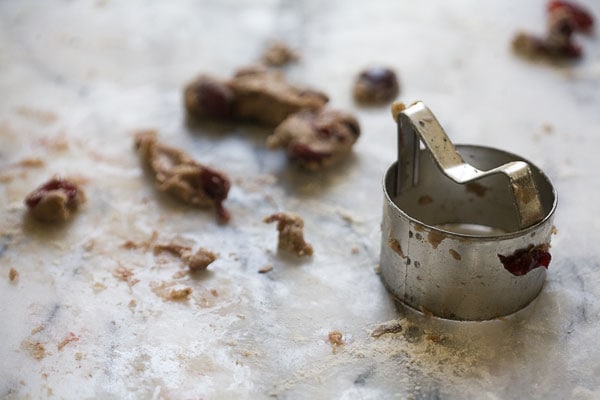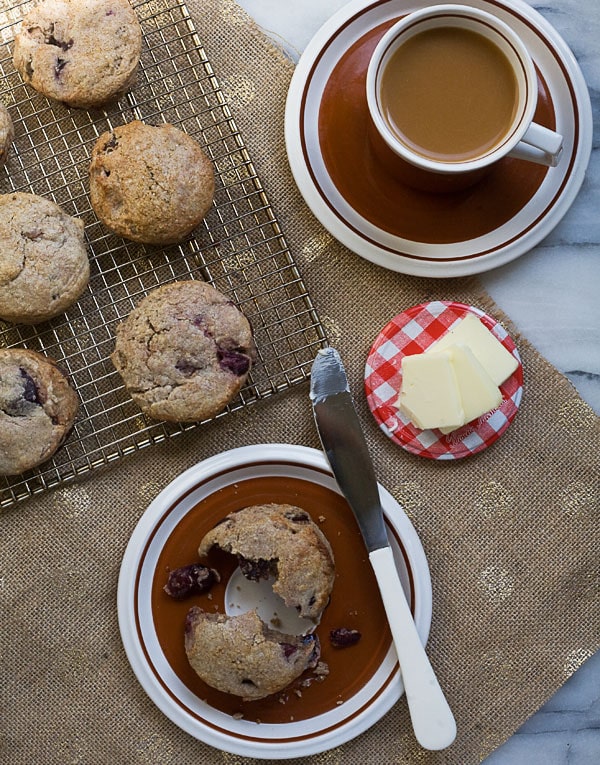 This scone recipe is slightly sweet, a teeny bit salty and spiked with chunks of fresh in-season cherries and chocolate. It's the thing I want to wake up to on a summer-ish Saturday morning.
This weekend is Memorial Day and I plan on eating summery scones and finding a pool. I'm also thinking I need this donut floaty in my life. I mean, don't we all?!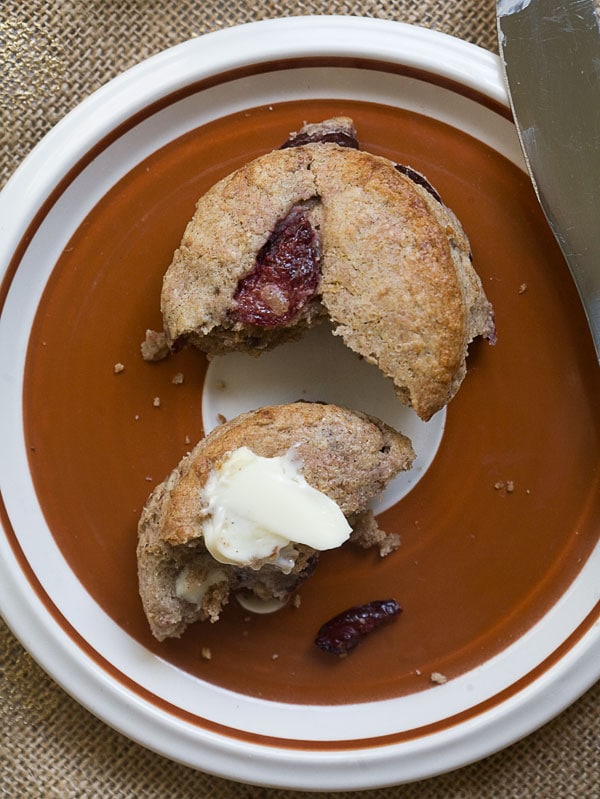 Print Recipe
Cherry Chocolate Buckwheat Scones
Ingredients
½

pound

cherries

pitted and quartered

1 ¼

cup

all-purpose flour

¾

cup

buckwheat flour

¼

cup

white granulated sugar

1

tablespoon

baking powder

1

teaspoon

salt

1

stick unsalted butter

8 tablespoons

½

cup

semi-sweet chocolate chunks

½

cup-¾ cup heavy cream
For Egg Wash:
1

egg

beaten

Splash of heavy cream

Turbinado sugar
Instructions
Preheat oven to 200 degrees F. Place the cherries on a parchment-lined baking sheet and bake for 30 minutes. Cherries will appear drier and a bit wrinkly. Set aside.

In a medium bowl, mix together all-purpose flour, buckwheat flour, sugar, baking powder and salt. Using a box grater, grate the cold butter into the flour mixture. Working quickly, and using your hands, mix the butter into the flour mixture until it resembles a coarse meal. Gently stir in the cherries and chocolate, being sure to coat them in the flour mixture.

Pour in ½ cup of heavy cream and mix until the dough begins to form. Add a tablespoon at a time until the dough forms a ball. I needed about 2 tablespoons, so the end measurement was ½ cups of heavy cream, plus 2 tablespoons. Transfer the dough and all dry, floury bits to a liberally floured countertop and knead the dough by hand just until it reaches a slightly sticky mass, 5 to 10 seconds. Pat the dough to a ½-inch thickness. You can cut the scones into 8 wedges or you can use a biscuit cutter. I did the latter and rerolled the scraps to get 8 circular scones. Place the scones on a parchment-lined baking sheet. Transfer to the freezer to chill for 10 minutes. While the scones are in the oven, preheat it to 400 degrees F.

Before placing them in the oven, brush the tops' of the scones with the egg wash and sprinkle with the turbinado sugar. Transfer to the oven and bake until the scones are lightly browned, 12 to 15 minutes. Cool on a wire rack for at least 10 minutes. Serve warm or room temperature with butter.