Confession: sometimes I'm a brat. This is totally true. Sometimes I'm sleepy, my eyelids are heavy and I just want my way, like, right now.
Currently, if I could get my way in all things life, this is how it'd go:
1. More hours in the day for me to work and say hi to friends.
2. I'd be able to drink copious amount of gin without having an awful hangover face. I can't swing it–not a youngin' anymore, guys. Depressing.
3. I'd drink coffee at 9pm and still be in bed by midnight. I'm totally not sensitive to caffeine at 8am, but it ruins me after 6pm. Truly unfair.
4. At Chipotle I'd be able to assemble my very own burrito. They're very nice people at Chipotle but I just wanna do it myself.
When I'm sensing my brattiness is taking over my usual good and positive nature, I gotta put myself in check. 'Cause seriously look at what I made! Look at what I have had in my life! Crispy hash browns! With cheese! All topped with a runny egg. Such a good look!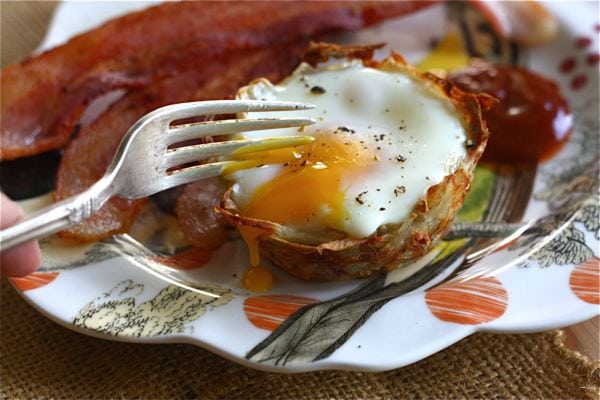 Like any good thing, it starts with a good amount of carbs.
The trick I found to crispy hash browns/latkes, etc. is you must sprinkle the potatoes with a bit of salt, let them stand and then squeeze out the moisture. You'll be surprised at how much comes out–it's kinda crazy.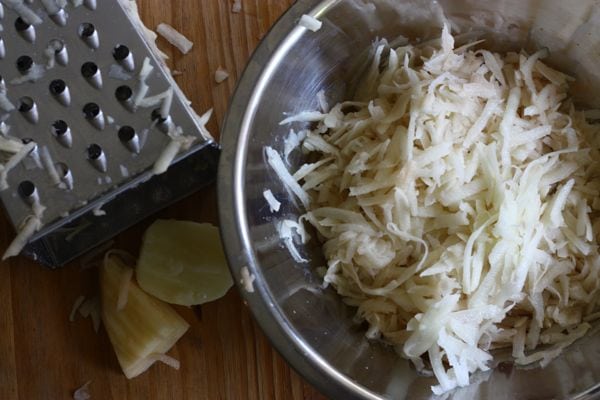 Next you're going to add some good stuff to the potatoes like a shallot, garlic, some pepper, paprika. All for good measure.
Add a few tablespoons of the potato mixture to the muffin cups, and lining the bottoms and sides using your fingers.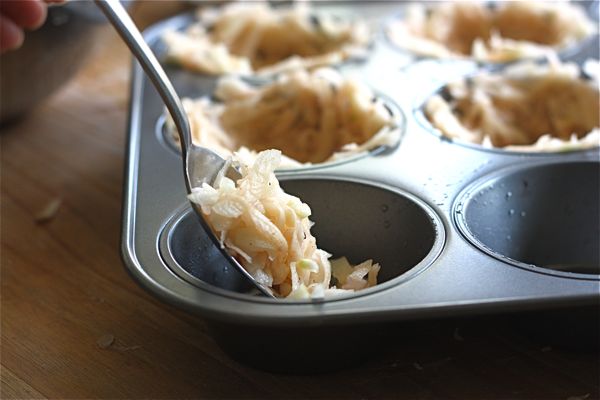 You want to make sure they're compact as possible. This will help with ensuring the little potato nests keep their shape.
Oven time!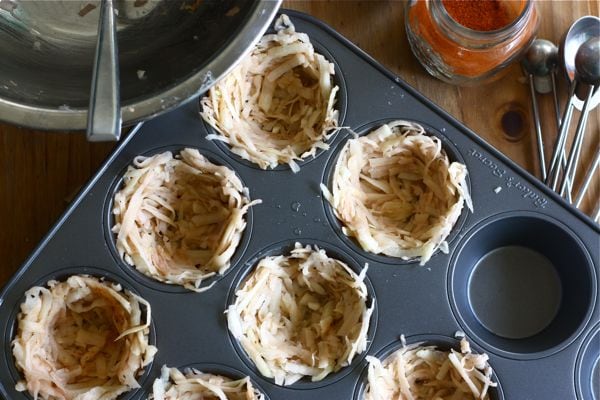 After about 12 minutes, they'll look like this situation below. Sort of crispy on the outsides, but definitely a pale potato on the insides. This is cool. They're still more baking in their future. Add the cheese (not a lot) and then crack an egg in each of the muffin cups.
Now, if I could do this again, I'd totally use medium eggs (I used large eggs). Everything was perfectly fine but I was a little scared some of them were going to overflow.
More oven time!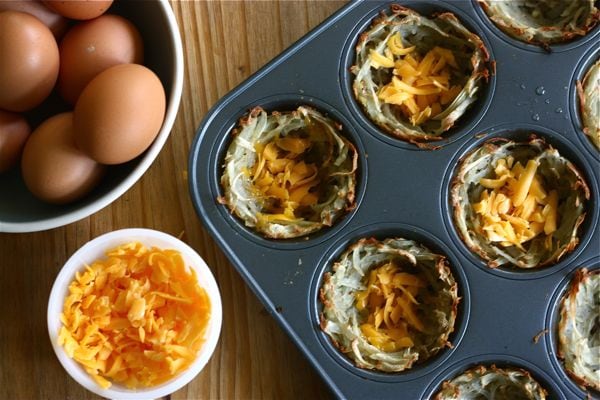 Just enough until the eggs are cooked.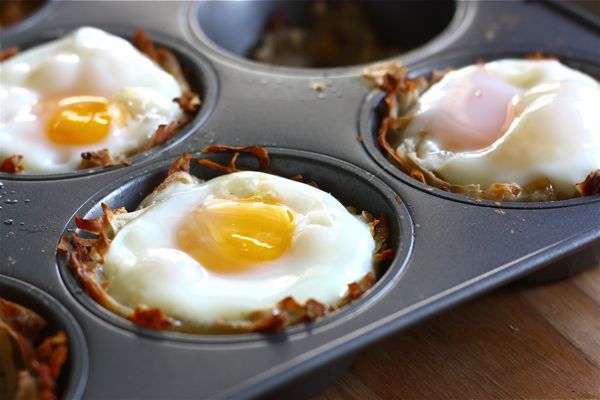 You'll be met with the cutest, egg and hash brown situation ever. Perfect for those days when you need to be yanked out of your bratty, attitude mood.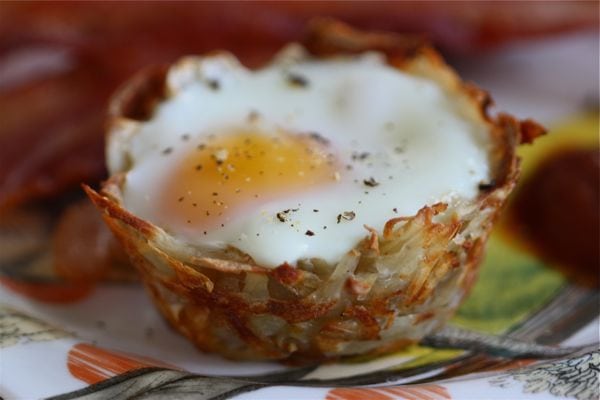 Egg and Cheese Hash Brown Nests
2 russet potatoes, peeled
1/2 teaspoon kosher salt
1 shallot, minced
2 garlic cloves, minced
1 teaspoon freshly ground pepper, divided
1/4 teaspoon ground paprika
1/4 cup sharp cheddar cheese, shredded
8 medium eggs
1. Generously grease a muffin tin and set aside. Using a box grater, shred the potatoes and transfer them to a bowl; sprinkle with the kosher salt and allow it to sit for 10 minutes. Gather the potatoes in the center of a cheese cloth (or a bed of paper towels) and wring the potatoes dry, removing the excess water. There will be quite a bit!
2. Transfer the dried, shredded potato back to the bowl and add the shallot, garlic, 1/2 teaspoon pepper and paprika. Mix until combined.
3. Preheat the oven to 400F. Spoon about 2 tablespoons of the potato mixture into each muffin cup, being sure to line the bottom and the sides. Since the potatoes will shrink when baked, make sure you go all the way to the top of the muffin tin when lining the sides. Bake for 10-15 minutes, and until the outer sides appear lightly golden brown.
4. Decrease oven to 350F. Remove from oven. In the center of each hash brown nest, add a teaspoon of grated cheese, and then top with one egg. Bake for an additional 10 minutes, and until whites are set, but yolks still appear soft.
5. Allow to cool for 2 minutes in pan. Using a butter knife, run it around the edges of each hash brown nest and gently remove it. Top with remaining freshly ground pepper and serve immediately.
Yields 8 Hash Brown Nests