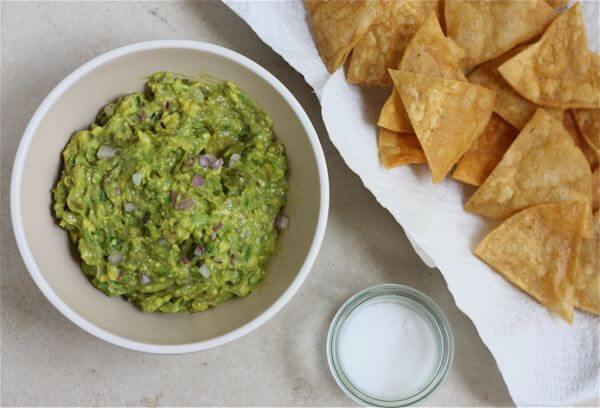 I really like weighing things. This is a weird Adrianna thing. I weigh everything I'm cooking, and sure I love precision, but it's mostly because I just like weighing stuff. It's the same part of me that loves the self-checkout at the supermarket. I dunno. It's unexplainable. Maybe you're this way too...or not.
So, yesterday I started the day how I usually do and stepped on the scale. And like I said before, not necessarily because I'm weight obsessive, but more because I like weighing things...which I guess also includes myself?
And since it was the start of the day, I was without contact lenses on and I wasn't wearing my glasses. Also, I'm blind as a bat without glasses. AND, are bats really blind?! Whatever.
So, there I was on the scale, looking down, squinting trying to see what the number would say back to me when "FATT" appeared before my eyes. Yes, my scale said "FATT." Two letter "T"s showed up.
So like any normal person would, I started to freak out a little because, well, my scale called me fat.
I bent down and looked closer and realized it actually read "BATT," which basically meant that the thing was out of batteries and needed more batteries, but since I'm super blind I read it as "FATT."
Phew! Since I realized that scale wasn't calling me fat, I decide to celebrate and made some guacamole. Good reason, right?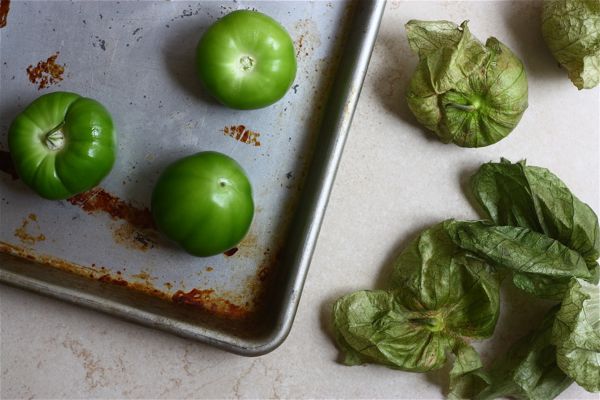 This isn't normal guacamole. Instead I took advantage of the in-season tomatillos.
Tomatillos have husks like corn, but aren't like corn at all. Obviously.
This recipe is a guacamole recipe so for me to say it is easy and not very time consuming would be trite, but I'm going to say it anyway: This recipe is super easy.
It all begins with charring cute little tomatillos under the broiler.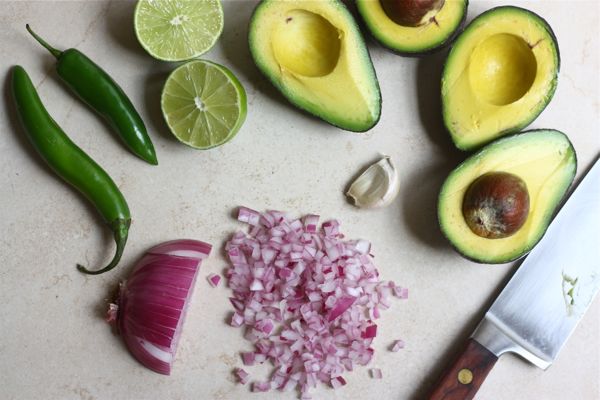 Even for people that cook a lot, broilers are scary. They're usually located at the very bottom of your oven. It's like this secret compartment that is dark, dungeness-like and hot. But they're also a place where magical things can happen. Like charring little green tomatoes to perfection. So fear not, and instead just make sure you're close by and go to town.
After the tomatatillos are charred, they're minced up, which will result in basically an incredible flavorful and tangy mush. That's mixed in with the usual players in guacamole: red onion, jalapapeño, garlic, lime juice and avocado.
For this recipe, I figured it'd be nice to make my own chips by frying up some corn tortillas myself. I know the entire world is usually against frying stuff, because it's usually messy and annoying, but I only did it in about an inch of oil and it ended up being worth it, so I do highly recommend.
This guacamole, unlike most of its kind, is actually okay being made hours before--it won't turn scary shades of brown due to oxidation. There's enough acid in it--from the tomatoes and lime juice--to make it stay a pretty green color for hours in the fridge.
Perfect for a weekend snack. Or those football parties people are having. Or for just simply eating in celebration that your scale is just broken and not a mean, cruel person.
Charred Tomatillo Guacamole
Chips:
Vegetable Oil
10 corn tortillas, sliced into triangles
Sea salt
Guacamole:
8 ounces of tomatillos (about 6), husked and rinsed
¼ small red onion, finely diced
1 garlic clove, minced
2 jalapeño peppers, seeded and finely diced
Sea salt
Juice from ½ lime
2 Haas avocados, pitted and halved
1. First we're going to fry the chips. Add about 1 to 2 inches of vegetable oil to a cast iron skillet (or any deep- set pan or pot of your choice). When the oil is hot (or reads 350 degrees F on a thermometer), gently add the tortillas, being sure not to overcrowd the skillet. Fry them for about 1-2 minutes, flipping them at the 1 minute mark. Drain the chips on paper towels and sprinkle with salt. Repeat the fry process until you've gone through all of the tortillas.
2. Preheat your broiler. Place the tomatillos on a baking sheet or in a shallow baking pan, and transfer them under the broiler until the tops are charred, 7 to 10 minutes. Flip the tomatillos over with tongs and broil until charred on the opposite side, about 2-3 minutes more. Remove and allow them to cool slightly. Transfer them to a cutting board, and removing the stem membrane, chop the tomatoes finely. The tomatatillos will be more like a mush--that's okay! Set aside.
3. In a medium bowl, combine the onion, garlic, peppers, lime juice and avocado. Mash the avocado using a fork and incorporate the other ingredients in the bowl. Fold in the mashed tomatillo. This is a good time to salt to taste. I ended up adding a little more than a 1 ½ teaspoon of salt. Serve immediately or wrap the bowl with plastic wrap and refrigerate until chilled, about 1 hour.
Recipe adapted from Gourmet