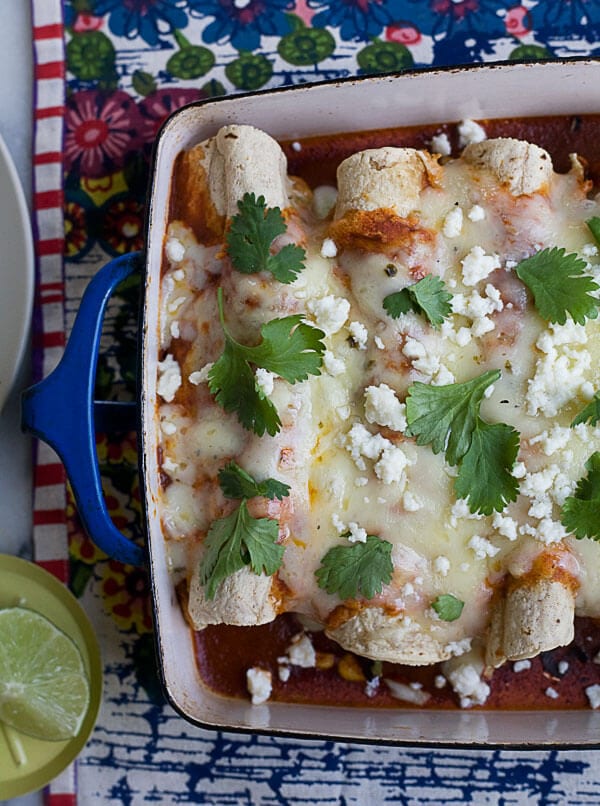 Are you a 90s wild-child?
If so, then you might remember Rayanne's mom in My-So-Called-Life? (You also may enjoy this Delia's catalog throwback I saw via Jessica.) Anyayz, Rayanne's mom partied and made out with Bobby Dylan and would make microwave appetizers for dinner and let her daughter drink in the house because "if you're gonna do it, I'd much rather have you do it here…" If me mothering Amelia says anything it says that I'm probably gonna be like Rayenne's mom. Yesterday as I was finishing my breakfast, I looked down and saw her staring at me lovingly. I wondered if she'd love a bean soaked in egg yolk. I pierced this big ol' heirloom bean with the tines of my fork and pointed it toward her mouth and she bit it off so daintily, as if she'd been eating with a fork and knife her whole life.
I made a little Instagram video, posted it and then deleted it because I thought people would judge me. I was afraid of being perceived as a bad dog mom!!! But maybe I am. Maybe I'm just too lax.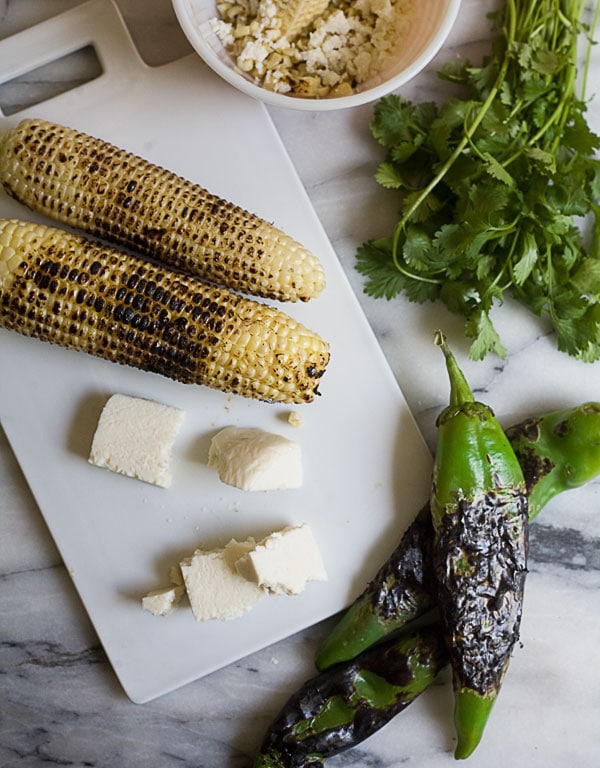 I always let Amelia try different foods because trying new things in life is rad. And also, seeing her eat different stuff and watching her reactions makes my day better.
If Rayanne's mom had a dog, we'd have similar dog-parenting styles.
One thing I hope I'll be able to do every night when I'm a legit human mom is cook dinner. I have a feeling that'll be my favorite time.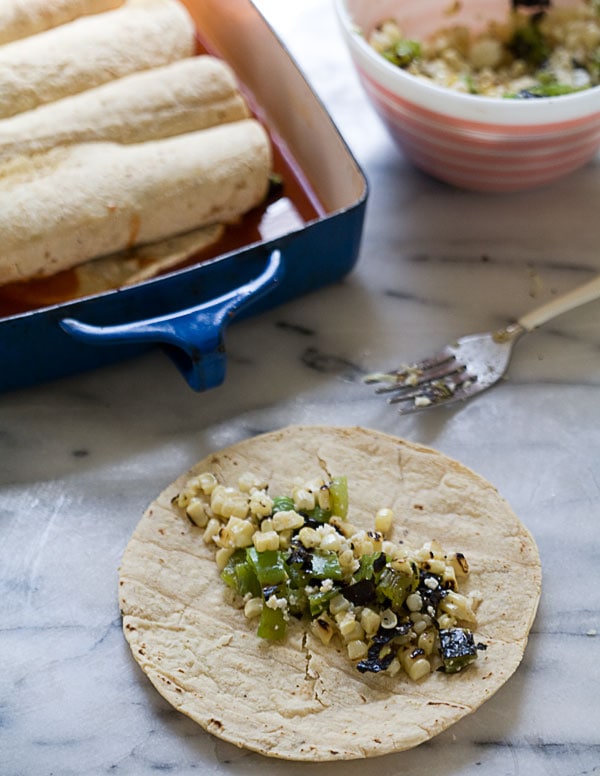 When I think back on growing up I loved the feeling of being in my room doing my homework while my mom was cooking in the kitchen. It'd usually always smell like cumin cooking with onions and olive oil. That was the smell of 5pm as a kid. Even 'til this day it's one of my favorite smells.
I wish they sold a damn cumin candle. I'd buy that shiz.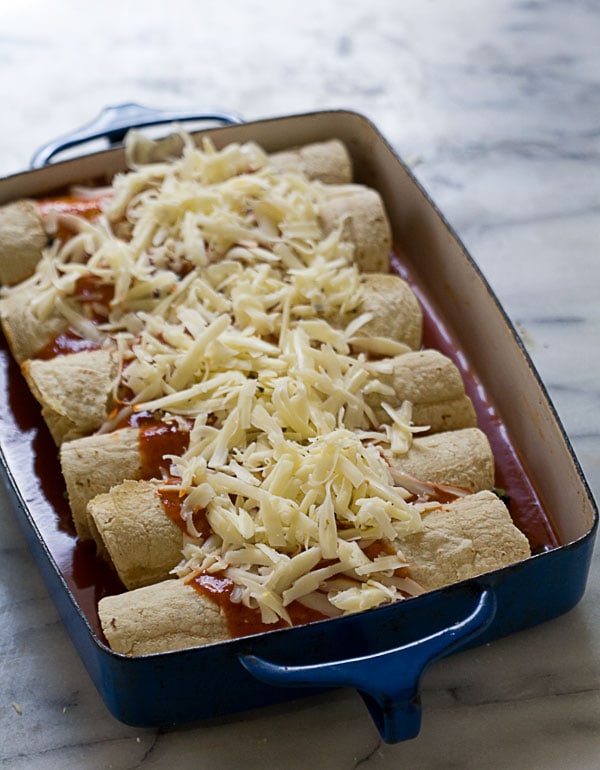 This dinner is one of those one pot, throw together with ease kind of dinners. It's charred hatch chiles and charred corn.
Hatch chiles are way in season right now. They're everywhere AND they're cheap! If you're unfamiliar hatch chiles are more spicy than pasilla chiles but a lot less spicy than jalapeños. They're a good medium spicy.
This dish will smell up the whole house with waifs of onions, melty cheese and hot boiling enchilada sauce. It's what I want to eat every Wednesday night.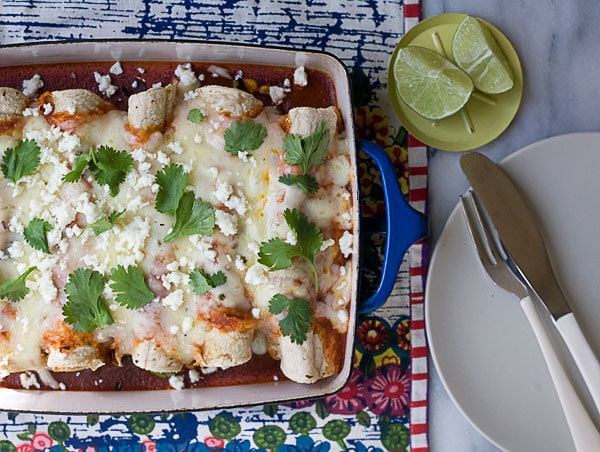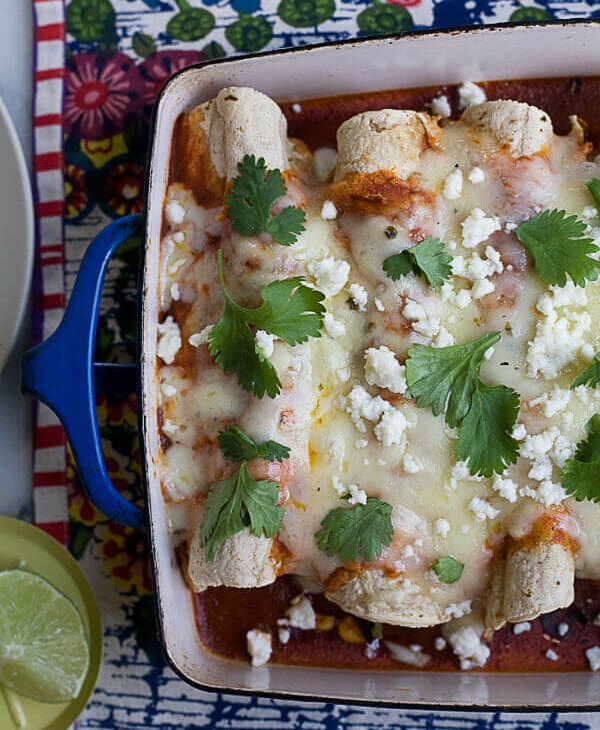 Print Recipe
Charred Hatch Chile and Corn Enchiladas
Serving Size:
- 10 enchiladas
Ingredients
2

hatch chiles

2

fresh ears of corn

shucked and cleaned

2

tablespoons

diced red onion

1

teaspoon

cumin

1/2

teaspoon

garlic powder

5

ounces

queso fresco

crumbled and divided

1

lime

1 3/4

enchilada sauce

divided

8-10

corn or flour tortillas

1 1/2

cup

shredded pepper jack cheese

Cilantro
Instructions
Over medium heat, rest the hatch chiles on the grate of a gas stove, rotating the chiles every 30 seconds or so, and until the outsides are charred and skins are blistered. Dice the chiles, discarding the seeds, and set aside. Repeat this process with the corn, rotating the ears of corn every 30 seconds or so. Cut the kernels off the cob. Transfer the diced chiles and corn kernels to a bowl, along with the red onion, cumin, garlic powder, 4 ounces of crumbled queso fresco and a squeeze of lime. Mix and toss until combined.

To soften the tortillas, microwave them for 10 seconds or so. Alternatively you can place tortillas between two damp paper towels, put them on a baking sheet and transfer them to a 200-degree F oven for 5-10 minutes. (This is the method I like to use.)

Preheat oven to 350 degrees F. In a 9 x 12-inch casserole dish, add 3/4 cup enchilada sauce (measurement can be eyeballed). Spoon a few tablespoons of corn mixture onto the center of each tortilla. Fold over filling, placing the enchilada seam side down in the casserole dish. Repeat the process with the remaining tortillas and mixture. Top with the remaining 1 cup enchilada sauce and sprinkle on the cheese.

Bake for 15 minutes until cheese melts. Garnish the enchiladas with lime, cilantro and a handful of the remaining queso fresco. Serve immediately.