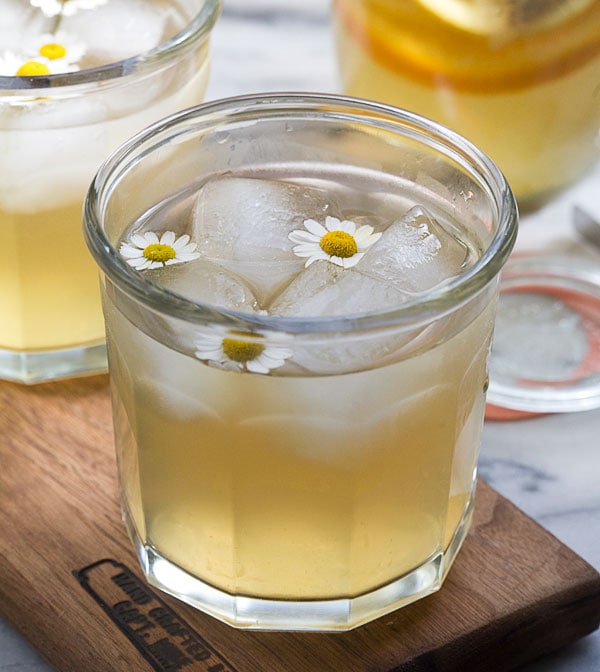 If yesterday I was wearing a bonnet, speaking with an English accent and pushing scones in your face, then this is me frying chicken with big curls saying stuff like, "the bigger the hair, the closer to…" You get the idea.
Also, can I just say I'm so excited for Monday. My dude has a smoker at his house which means there's gonna be smoked meat and crazy sticky ribs for consumption. There's no pool in the backyard, but I'm buying this donut floaty, I'll be wearing heart sunglasses and sitting in it (with Amelia, of course) ALL DAY long. I can't wait. Oh and I'll have this Chamomile Honey Whiskey drank thing in my hand.
It's the perfect throw-together-stick-in-the-fridge-for-later kind of drink. Low maintenance, no fuss. I might even double it. If I were to compare it to something, I'd say it's almost like a hot toddy on ice.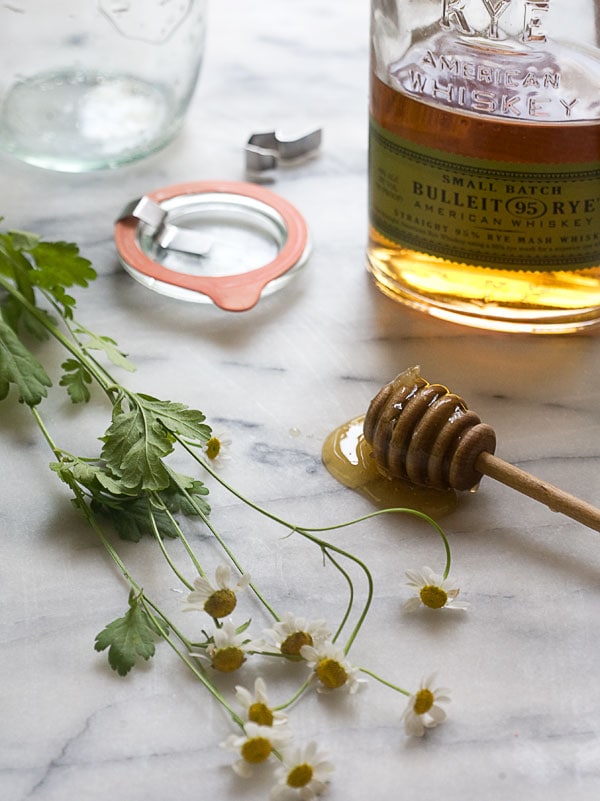 I had big dreams for this fresh chamomile. I wanted to infuse it and make tea and then make this cocktail but I found it to be way too bitter. I turned to dried, store-bought chamomile.
I also tried a version where I put it in the sun and did like a southern sun tea. It looked cute in the jars but honestly the sun wasn't strong enough to brew the chamomile. The flavor was too mild. Also there was like a honey syrup I made and blah blah. Too much work for too little pay off.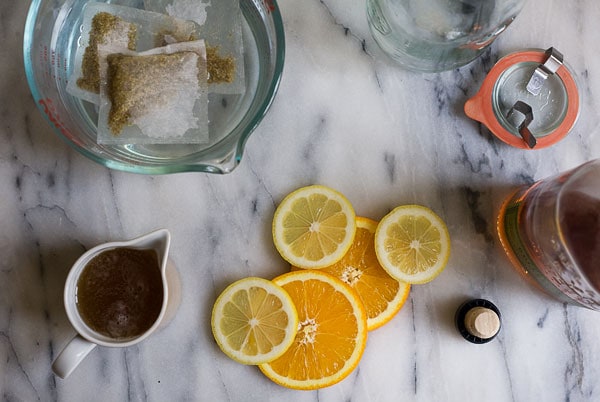 No biggie. This version below is actually way easy. Make hot water, pour hot water over tea bags, add honey, add bourbon, let steep. Then shake in a shaker and pour over ice cubes. I even used the fresh, cute chamomile flowers as garnish.
This drink is mild. The flavors are mild, chill, relaxed. You can literally drink a few glasses and not think twice. Which can be dangerous…and fun.
So yeah, me in a donut floaty, with Amelia and this drink.
xo
Adrianna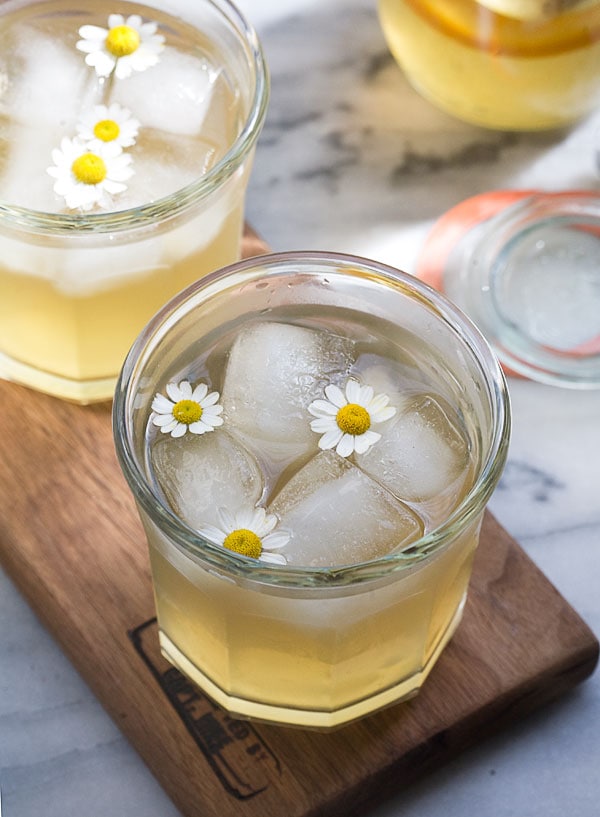 Print Recipe
Chamomile Honey and Whiskey Cocktail
Ingredients
6

chamomile tea bags

32

fluid ounces

4 cups hot water

4

tablespoons

honey

3

fluid ounces

whiskey or bourbon

2

orange slices

3

lemon slices

Fresh chamomile flowers

optional
Instructions
Make hot water, pour hot water over tea bags, add honey, add bourbon, let steep.

Then shake in a shaker and pour over ice cubes