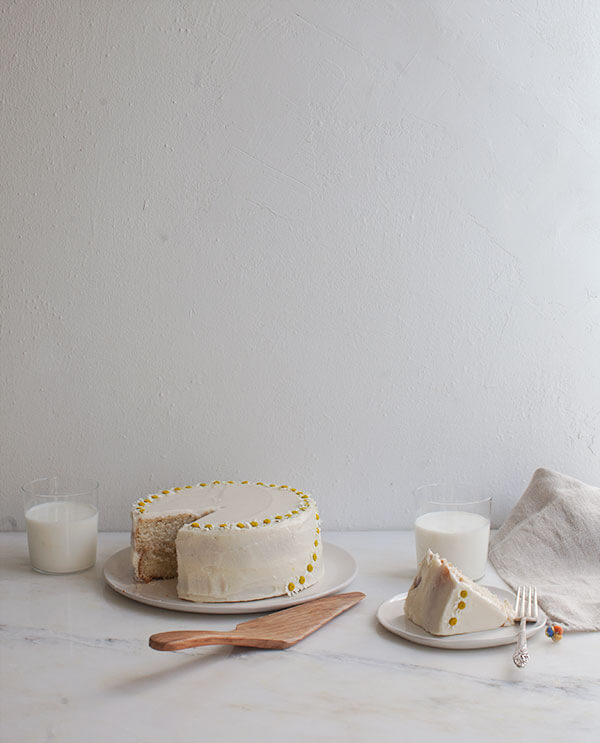 This cake is up on da blog. Which means I'm officially out of a slump (I think). I feel like there's been this little emoji cloud hanging above me as I walk around.
I flunked at making yeasted biscuits. They were boring and bland and made me fall asleep because I hated them so much. I burned rhubarb jam because I was distracted with texting. The carrot soup I made was just ok, but not anything that wooed me. And then this cake exited the oven and I was like….deng...bowchicabowowow.
I feel like it's a cross between sexy and demure. Like, a girl who can work a stripper pole but who is then capable of putting on a dress and sit in church (or temple, whatever you're into to) nicely, quietly, prettily. Think of it like a V dimensional cake. She is capable of that 360 life.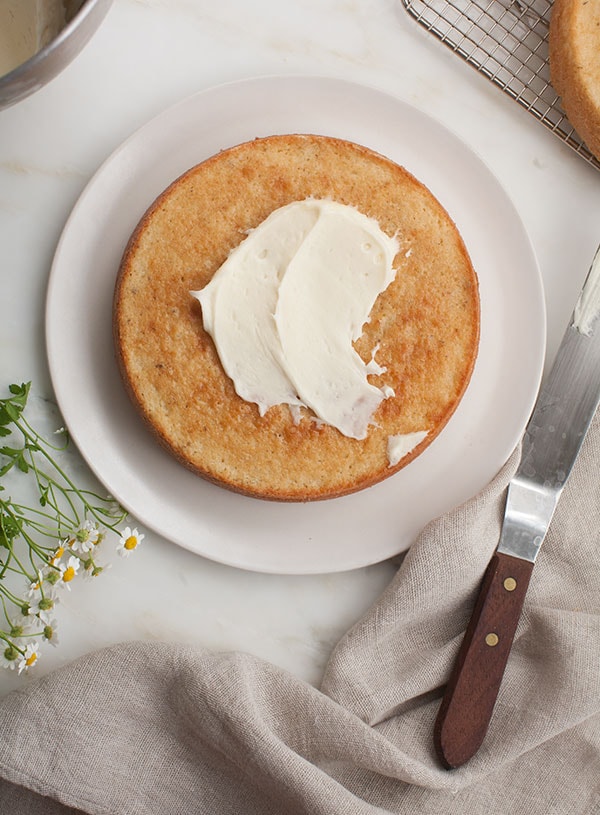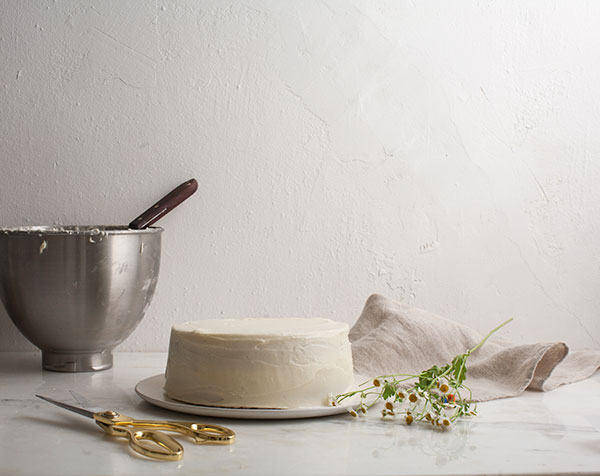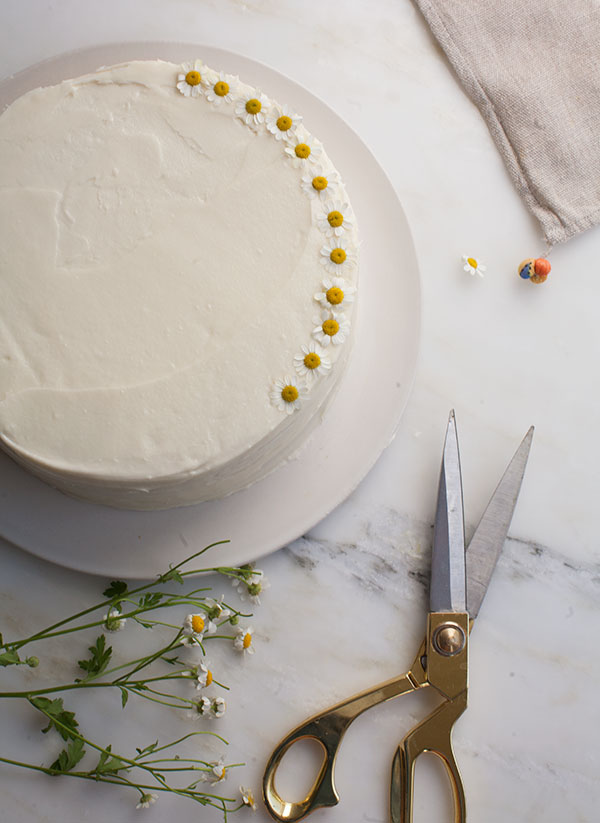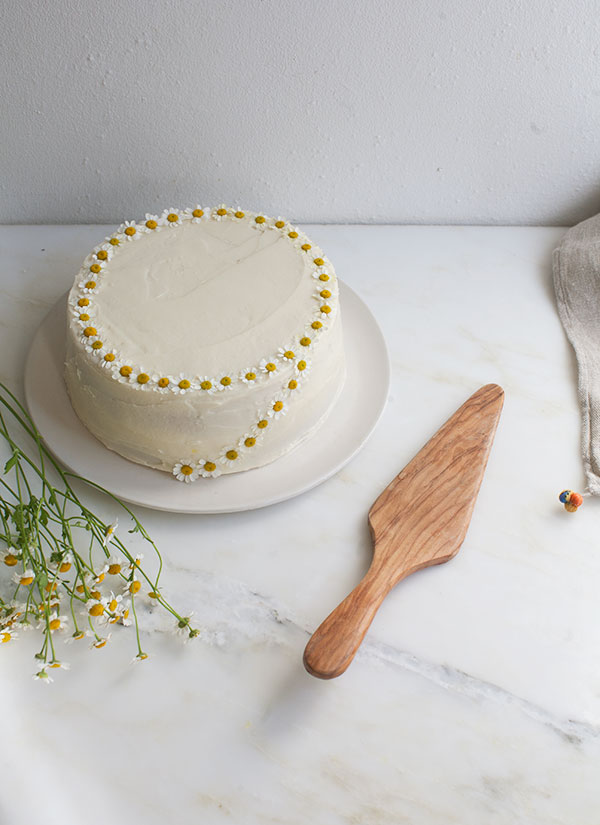 This cake is light and fluffy with the faintest hint of chamomile. (I fiddled with this recipe.)
Chamomile is a gentle flavor. It's not a strong tea flavor but it helps that the milk in the cake recipe is steeped in tea and then tea leaves are added to the actual cake.
The frosting taste like sweet buttery honey with a touch of salt. I had dreams of putting the frosting on a biscuit, which sounds a little gross and something someone who loves food eating contests would do but whatever.
This cake screams spring; it screams the weekends; it screams celebrations. Cakes aren't made everyday but if you do find yourself with some free time, make this one.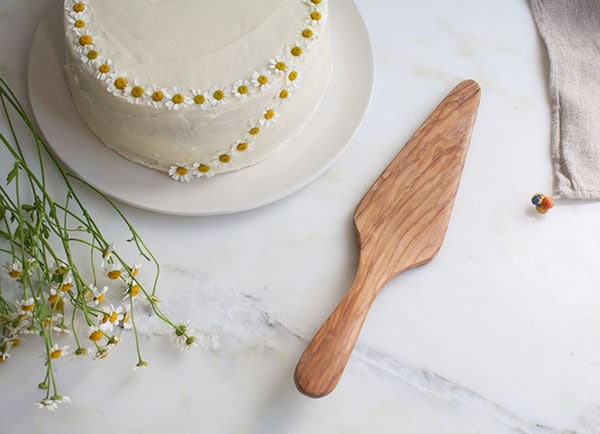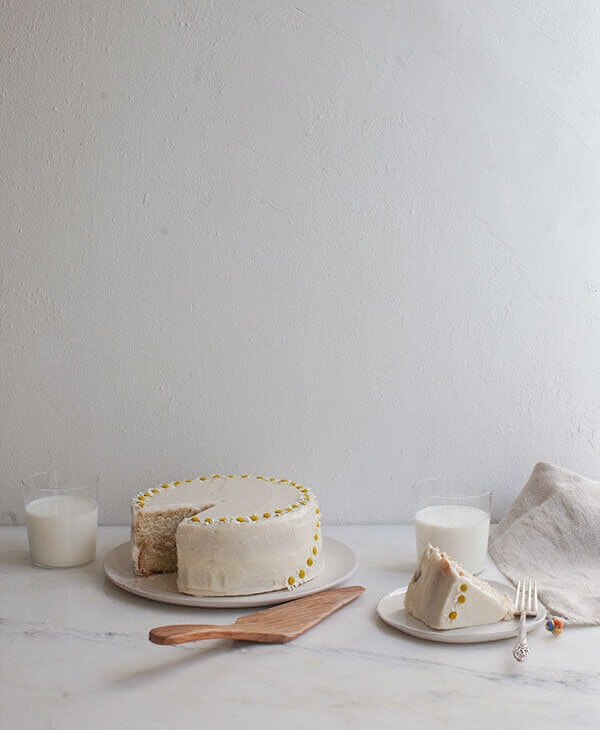 Print Recipe
Chamomile Cake with Honey Frosting
Serving Size:
(eight-inch) cake
Ingredients
Chamomile Cake:
1

cup

whole milk

5

teaspoons

finely ground chamomile tea leaves

from about 3 tea bags, divided

5

egg whites

will equal to a scant ¾ cup

2 ¼

cups

cake flour

plus more for dusting pans

1 ½

cups

white granulated sugar

1

tablespoons

plus 1 teaspoon, baking powder

1

teaspoon

salt

¾

cups

1 ½ sticks unsalted butter, at room temperature and cubed

2

tablespoons

honey
Honey Frosting:
1 ½

cups

3 sticks of unsalted butter, at room temperature

3

cups

of powdered sugar

sifted

4

tablespoons

honey

Pinch

of salt
For Garnish:
1

bunch of fresh organic chamomile leaves
Instructions
To make the cake: Start by flouring, greasing and lining the bottoms of the cake pans with parchment. Set aside.

Pour the milk and honey in a medium saucepan and set it over medium-low heat. Mix 2 teaspoons of chamomile leaves into the milk mixture. Heat the milk until a digital thermometer reads 100 degrees F or until it's warm to the touch (in case you don't have one). Immediately turn off the heat and cover, allowing the tea to steep for about 10 minutes. Run the mixture through a strainer, discarding the used up tea (bits of chamomile leaves might still be in the milk and that's ok!). Whisk in the egg whites. Set aside.

Preheat the oven to 350 degrees F. In the bowl of a stand-up mixer, with the paddle attachment, combine the remaining 3 teaspoons chamomile leaves, cake flour, sugar, baking powder and salt. At a slow speed, add the cubed butter and mix until it resembles soft crumbs. Add about ½ of the milk/egg white mixture and continue beating for about 30 seconds. Add the remaining ½ of the milk/egg white mixture and beat for an additional 30 seconds or so, scrape down the sides and give it one last mix.

Divide the batter evenly between the two prepared cake pans. Using a rubber spatula, spread the batter to pan walls, smooth the tops and give the pans a gentle bang on the kitchen counter. Arrange pans at least 3 inches from the oven walls and 3 inches apart (this will help with proper cake circulation, yes this is a thing). Bake until thin skewer or toothpick inserted in the center comes out clean, 20 to 23 minutes. (If you're using nine-inch cake pans, the cake might take around 25 minutes to bake, just keep that in mind.)

Let cakes rest in pans for 3 minutes. Loosen from sides of pans with a knife, if necessary, and invert onto wire racks. Reinvert onto additional wire racks. Let cool completely,

To make the icing: Add the butter, sifted powdered sugar, honey and salt to a stand-up mixer with the paddle attachment. Beat until very smooth, about 2 minutes. Frost the cake to your liking. I did a crumb coat, which means I gave the cake a very thin layer of frosting, stuck it in the freezer for 5 minutes, and then frosted it with a thick layer of frosting. I arranged organic chamomile flowers all over the cake. These don't taste all that great, they're more for decoration. Feel free to skip the flowers, if you like!
Notes
Here's a link to my post:
How to Bake Cake Layers Flat
I do this with all my cakes and this means flat cake layers! YAY! That means no slicing cake layers to make them even, no doming or cracking.