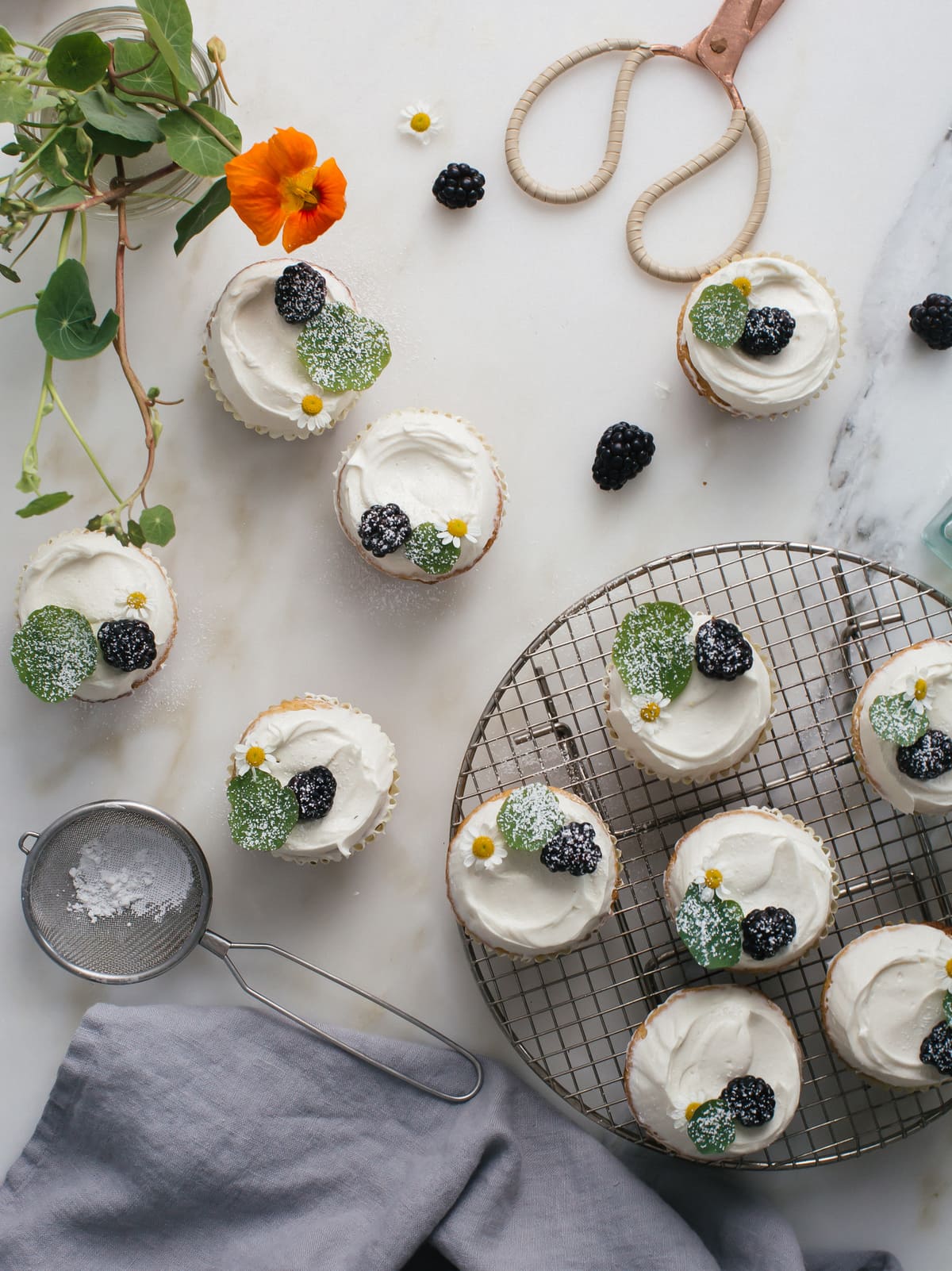 I'm currently battling a slight cold. Apparently I had way too much fun at Universal Studio's Harry Potter world, which by the way, was amazing. I feel like the only person on the planet earth that never really got into Harry Potter. But the advertisements on the radio lured me in so I went with my friend Whitney, her boyfriend Michael and Joshua. And I had SO MUCH FUN. Highly recommend.
And butterbeer? It's SO GOOD. I kinda want to make a recipe on this here blog for a butterbeer because it's incredibly unique. Think butterscotch meets cream soda with whipped cream on top.
These cupcakes are for mama's day. I got extra, extra spring-y up in here to celebrate. I'm super bummed that I won't be with my mom this year but if you're lucky enough to be hanging with mom, then make her these.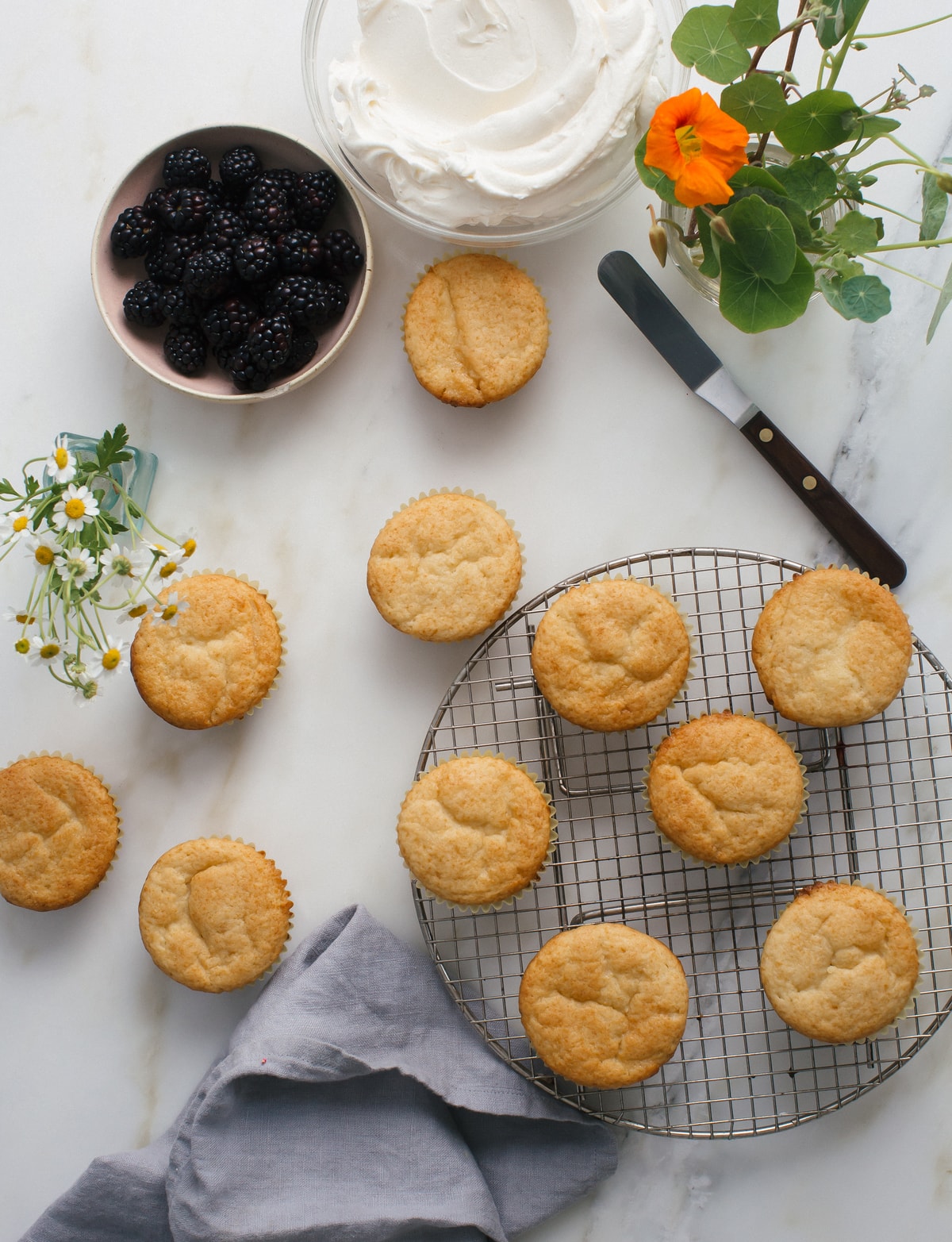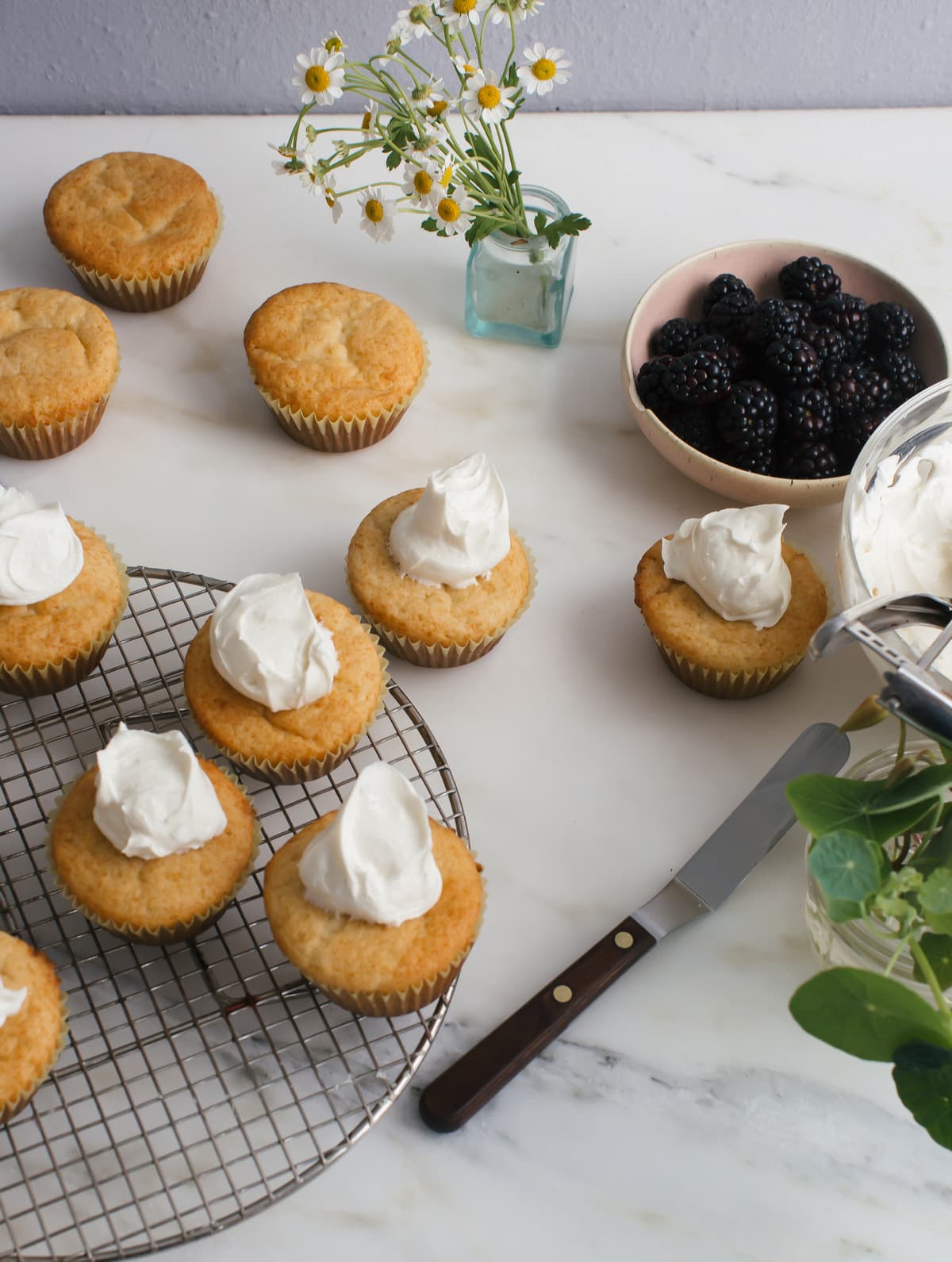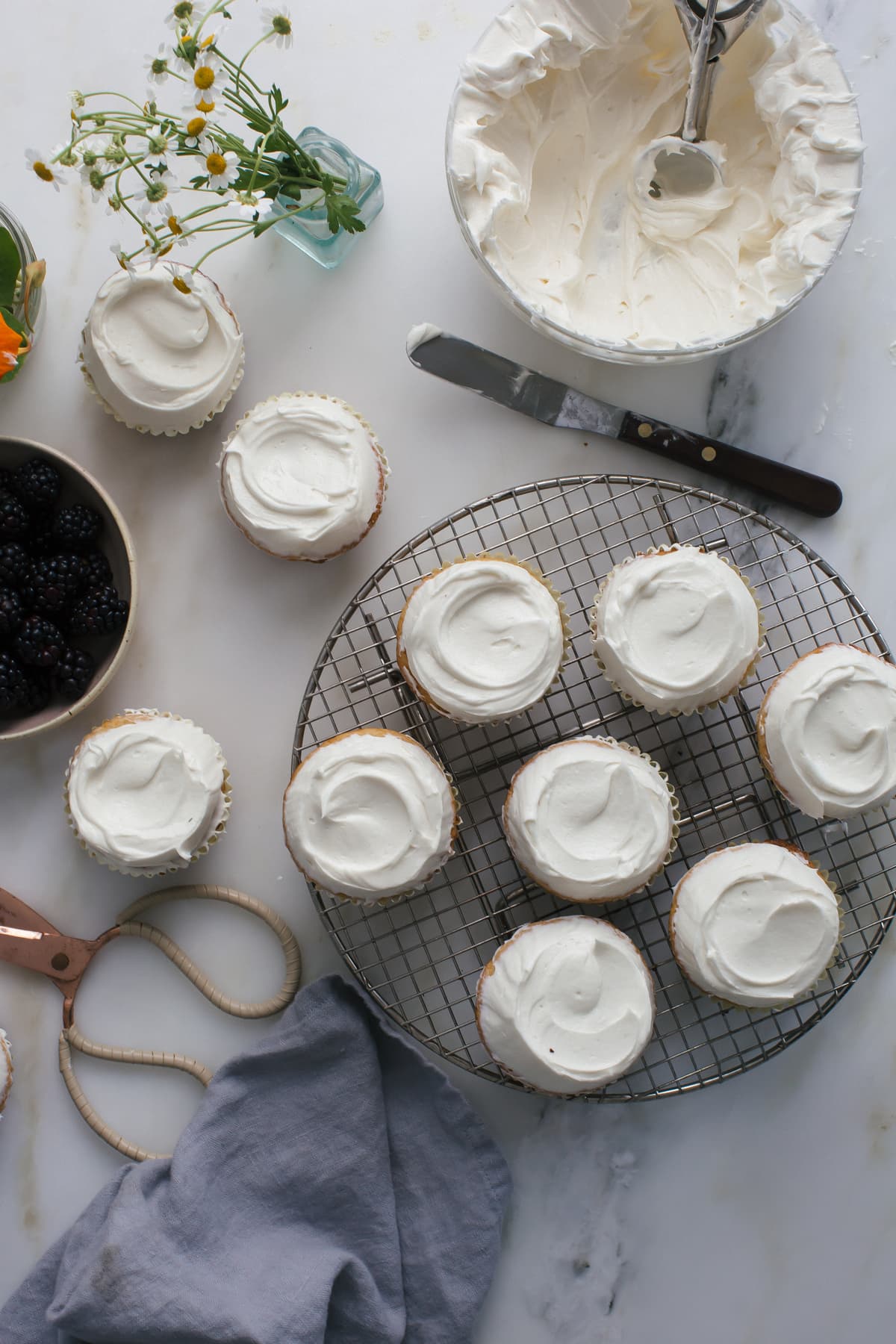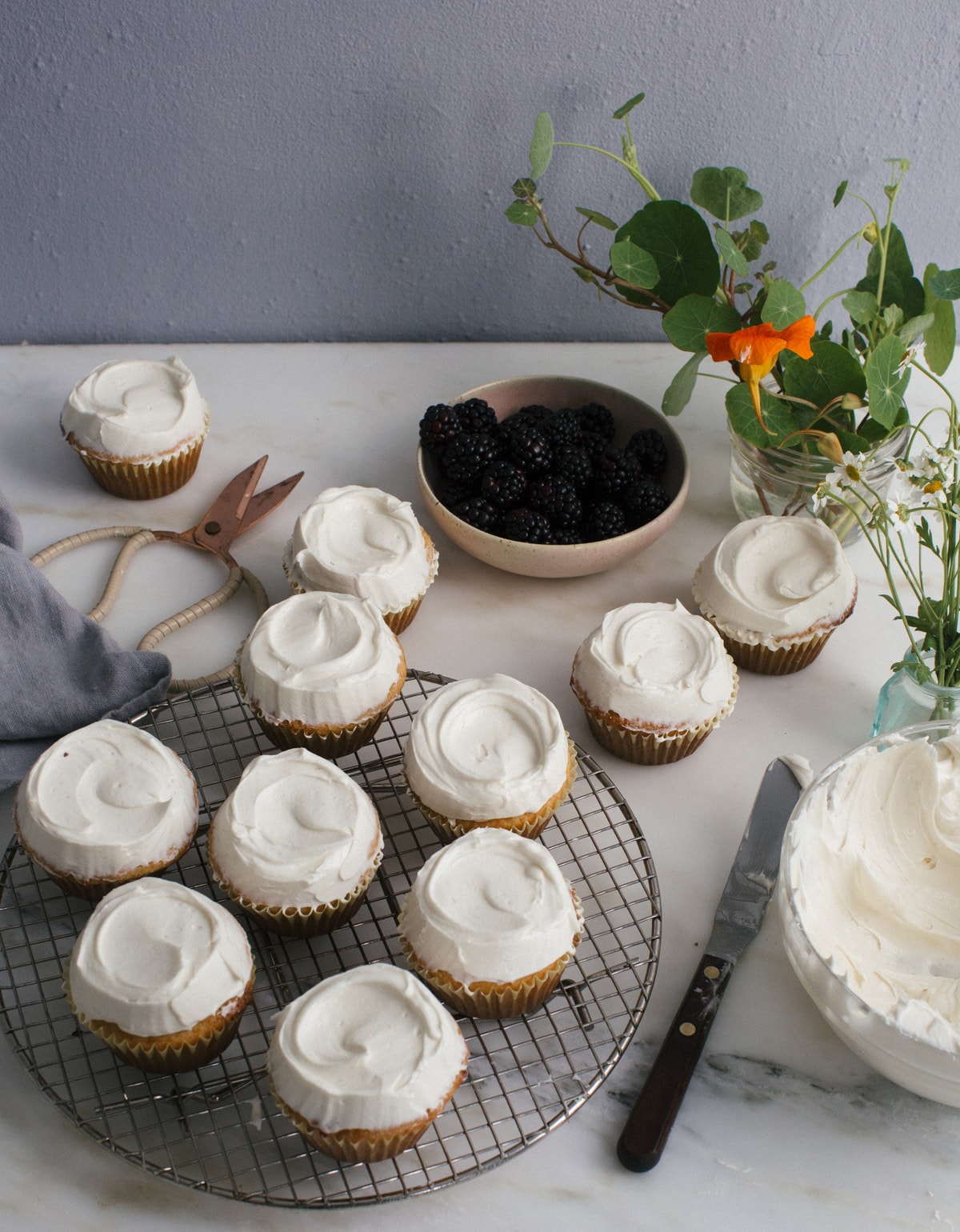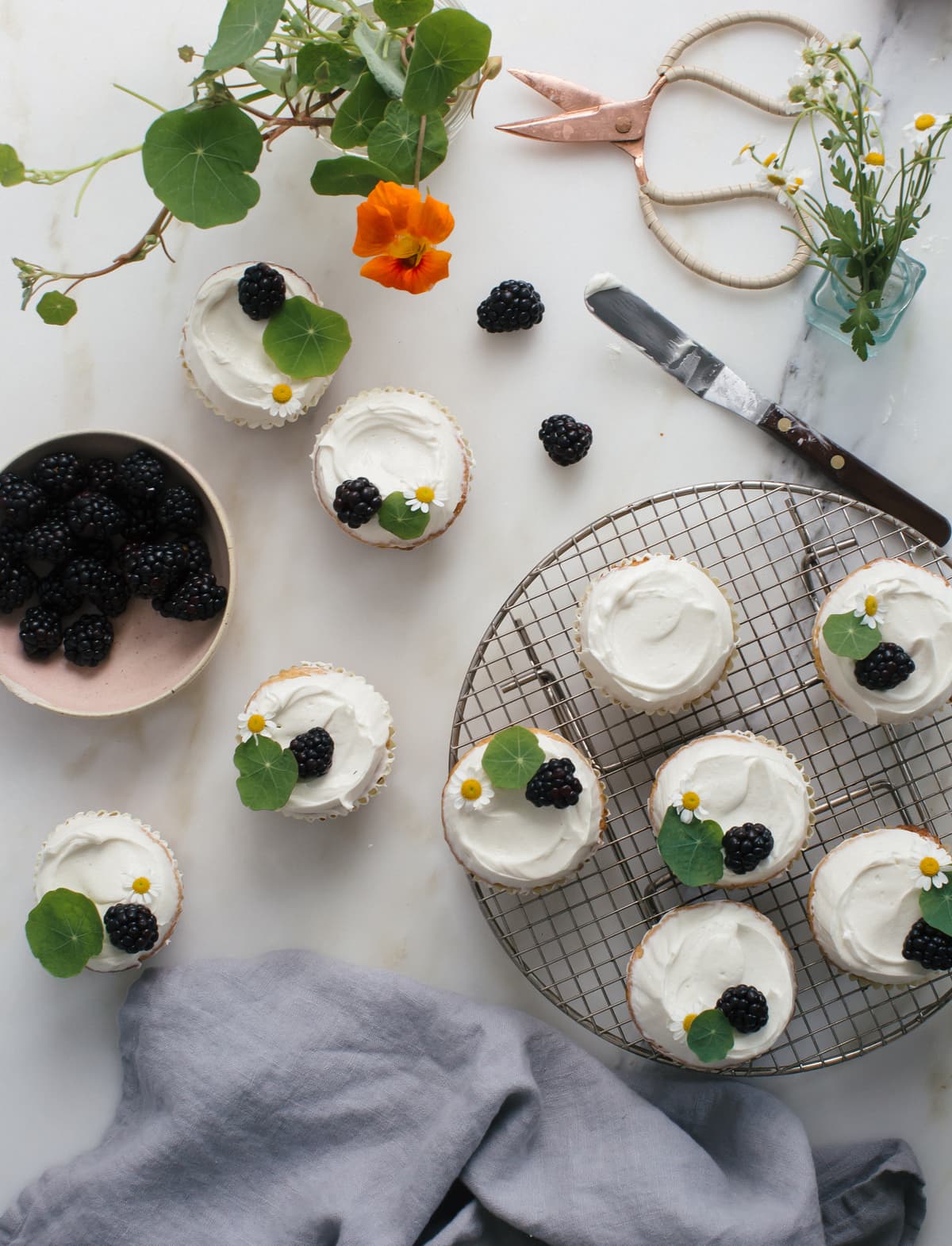 They were inspired by the cake I made last year for mother's day.
Think of it like the reverse of that cake: honey cake and chamomile buttercream.
For the buttercream, I borrowed the technique that was in Tessa's book, Layered. The technique is super simple. You melt the butter and steep the butter with the tea. Then you strain it and place it in the fridge to firm up. After that you use it like you normally would in a buttercream. So simple and it tastes so much like chamomile.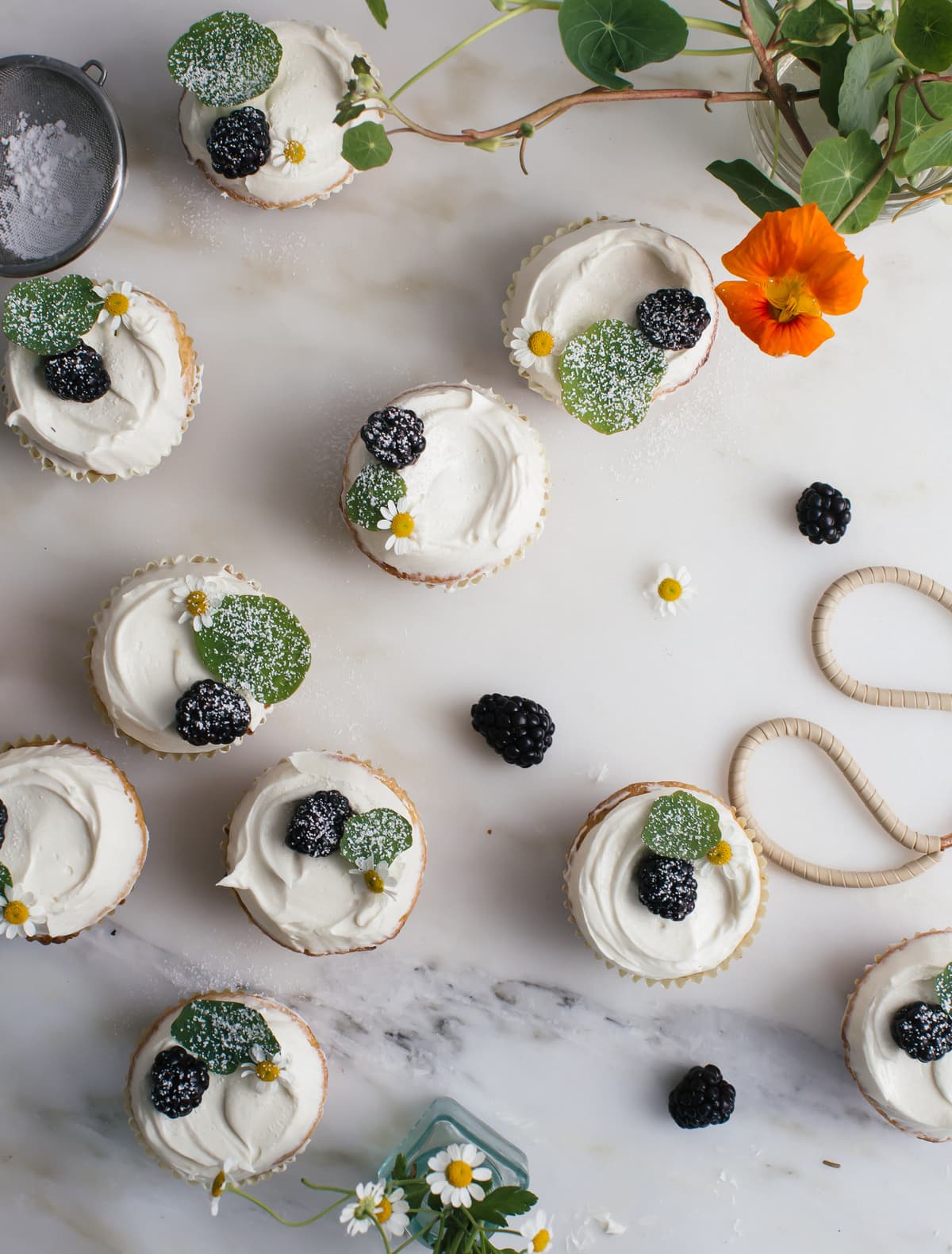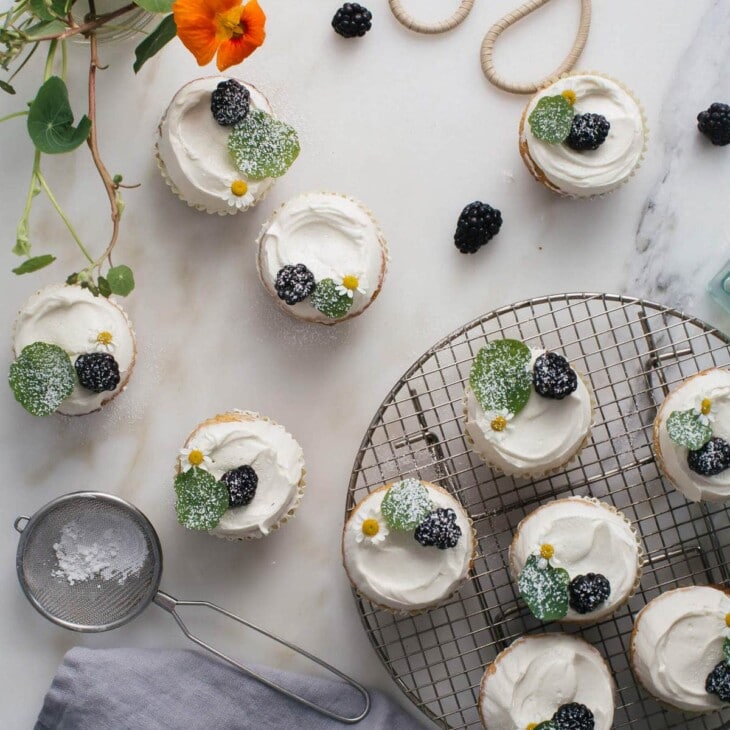 Print Recipe
Honey Cupcakes with Chamomile Buttercream
Ingredients
Cupcakes:
2

cups

all-purpose flour

2

teaspoons

baking powder

1/2

teaspoon

salt

3/4

cup

whole milk

1/4

cup

sour cream or yogurt

1

teaspoon

pure vanilla extract

1/2

cup

1 stick unsalted butter, at room temperature

1/2

cup

white granulated sugar

4

tablespoons

honey

2

large eggs
Chamomile Buttercream:
1/2

cup

1 stick unsalted butter

4

bags of chamomile tea

2

cups

powdered sugar

sifted

Pinch

of salt

2

tablespoons

heavy cream
Topping:
Fresh nasturtium leaves

Organic chamomile leaves

1/2

cup

blackberries
Instructions
To make the cupcakes:
Preheat oven to 350 degrees F. Insert cupcake liners into a cupcake tin. In a medium bowl, whisk together the flour, baking powder and salt. In a measuring cup, measure out the milk and then whisk in the sour cream or yogurt. Set aside.

In the bowl of a stand-up mixer, add the butter, sugar and honey. Cream together until light and fluffy, about 2 minutes. Crack in the eggs and mix until combined. Add the flour in a few batches, alternating with the milk/yogurt mixture, until combined.

Divide the batter amongst the 12 cupcake liners, filling them up about 3/4 of the way. Transfer to the oven to bake for 15 to 18 minutes, until a skewer when inserted into the center comes out clean. Allow to cool for 5 minutes before moving cupcakes to a cooling rack.
To make the chamomile buttercream:
In a saucepan, add the butter and melt over medium-low heat. Turn the heat off and open the tea bags and pour the chamomile leaves into the butter. Allow to steep for 10 minutes. Pour the melted butter through a sieve to remove and discard the chamomile leaves. Place the strained and melted butter in the fridge to cool for 45 minutes to 1 hour. The butter should be softened but not rock hard.

Transfer the butter to a stand-up mixer, along with the sifted powdered sugar, salt and heavy cream. Beat until light and fluffy, about 1 to 2 minutes.

Frost the cupcakes how you like. My favorite way recently is the super lazy way: I place two small scoops of frosting on top and then smooth it out into one layer with a small offset spatula. Then I run an offset spatula all the way around the edges' of the cupcakes. Lastly, there's a little swoop I make on the center. I decorated these with organic chamomile leaves, nasturtium leaves and a blackberry. And then! i dusted them with powdered sugar.