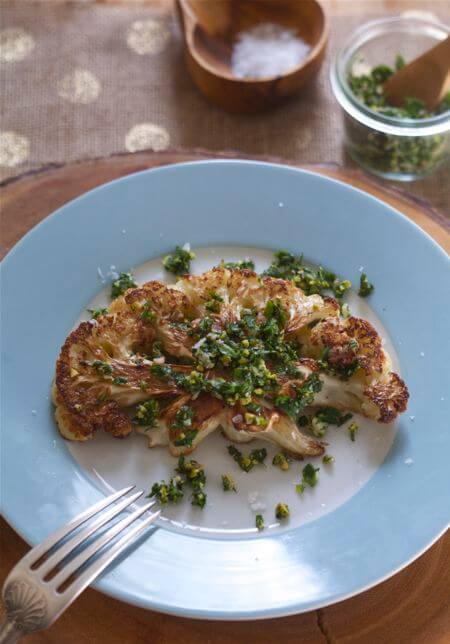 d
I'm currently VERY obsessed with the show Catfish. Are you familiar? If not, let me brief you, presidential-style.
Catfish is a show on MTV that is about people getting "catfished." One person writes the show asking for help with an online relationship they have been carrying on for some time, in many cases years…YEARS!! The other person is always hesitant or refuses to meet in person, and for good reason; in most instances that other person is hiding something, i.e., is another gender, is in a relationship, doesn't look like their online "person," etc….
In all cases, it's about two people who are in love with each other, are hopeful, are romantics, and often times–even if a little strange–are working toward happiness. It's a reminder that loving someone, being loved back is what happiness is. And most people will go to great lengths for it. Even if that means turning to the internets. Consider me obsessed.
When I was single and ready for a relationship (yet couldn't find one), I refused to date online. So much of my life is already online that it sort of felt like everything would be online and that made me feel vulnerable and sort of scared me.
But I have heard of people finding love online, though, I don't know anyone personally that has had success.
Tell me, do you have a story where you/your friend has been catfished, has found love, etc.?! Curious! Obsessed!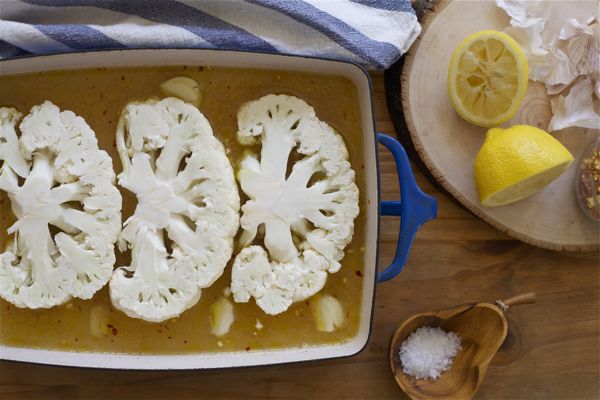 Cauliflower steaks are my new jam; Catfish is my new jam. There's the weird segue!
But in all seriousness, these cauliflower steaks are amazing.
The cauliflower starts by being braised in a mixture of chicken broth, lemon juice, olive oil, cumin, crushed red pepper and salt. It cooks in the oven and absorbs all of the broth's flavor, making the stems and florets of the cauliflower that much more delicious.
While the cauliflower is in the oven, gremolata is made. There's a good amount of fresh Italian parsley, minced garlic, bright lemon and nutty, rich pistachios. LOVE!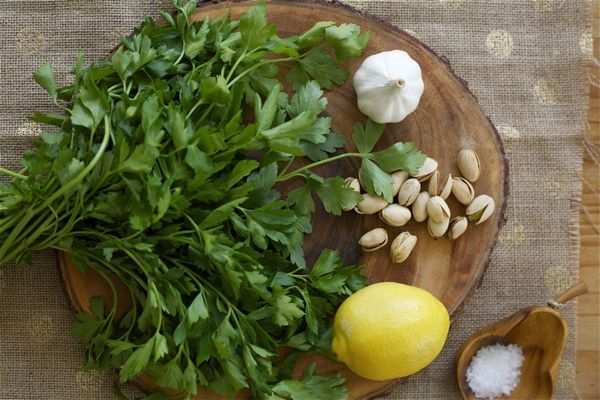 These cauliflower steaks are super special because they're cooked twice.
When they come out of the oven, they won't have a dark brown, cooked look to them. So, in order to add a bit more flavor and texture, we sear the heck out of them in a few tablespoons of olive oil.
The awesome thing about this is if you have people coming over, you can braise the cauliflower earlier that day and sear them right before serving.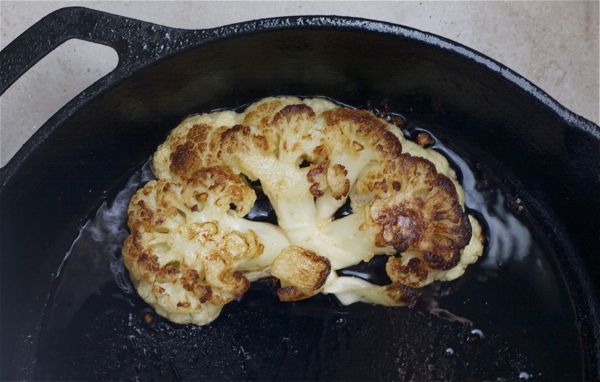 These cauliflower steaks are filling, "meaty" and healthy. It's the thing I want to eat when it's cold out and I don't want something super heavy. It's warming and refreshing all at the same time.
And while the recipe below isn't vegan (hello chicken broth!), it's an easy enough fix if you swap in vegetable broth.
Make this when you want a nice dinner; make this when you want to make a cheap-eats meal; make this if you want to eat healthy; and make this if you want to eat something while watching Catfish.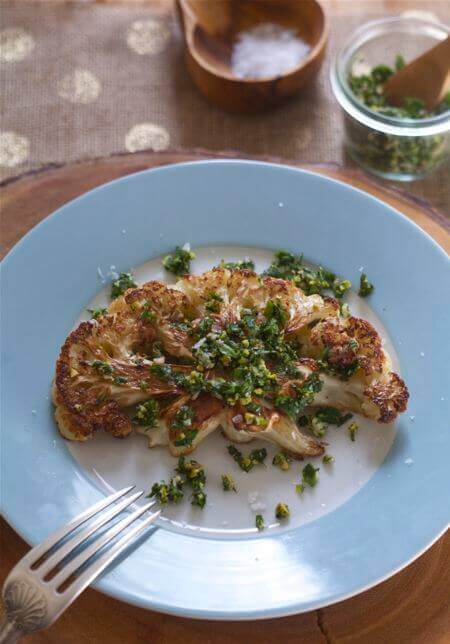 Print Recipe
Cauliflower Steaks with Parsley and Pistachio Gremolata
Serving Size:
- 4 cauliflower steaks
Ingredients
Cauliflower Steaks:
1

head of cauliflower

1 1/2

cups

chicken broth

1/4

cup

olive oil

1

lemon

3

garlic cloves

peeled and smashed

1/2

teaspoon

ground cumin

1/4

teaspoon

crushed red pepper

1

tablespoon

fine-grain sea salt
Parsley and Pistachio Gremolata:
1 1/2

cup

Italian parsley leaves

6-7 to

asted pistachios

3

garlic cloves

peeled and smashed

1

lemon

Salt
Instructions
Preheat the oven to 350 degrees F. Slice the cauliflower head into 1 1/2-inch to 2-inch slices. Heads up: depending on how big the cauliflower head is you will probably end up with 3-4 "steaks." You can keep or discard the scraps, if you like. I ended up keeping them and putting them in a salad later on that day.

To a 13-inch x 10-inch casserole dish, mix together the chicken broth, olive oil, juice from the lemon, garlic cloves, cumin, red pepper and sea salt. Gently transfer the cauliflower steaks to the casserole dish and place in the oven. Roast the cauliflower for 30-35 minutes.

While the cauliflower is roasting, let's make the gremolata. Add all of the ingredients to a food processor (minus the lemon and salt) and pulse until mixture is coarse. (Alternatively, using a knife, you can mince all of the ingredients separately.) Squeeze in the juice from the lemon; mix and salt to taste. Set aside.

Remove from the cauliflower from the oven and allow to cool slightly for 5-10 minutes. The cauliflower will be fragile so be gentle when handling. Transfer the cauliflower steaks to a bed of paper towels to and dry. Meanwhile, heat a cast iron skillet over medium heat. Add a few tablespoons of olive oil to the hot pan and gently add the steaks, searing them for 1-2 minutes on each side and until golden brown. Drain the steaks on a bed of clean paper towels. Serve immediately with a few teaspoons of gremolata on each.
Recipe inspiration from Superba Snack Bar