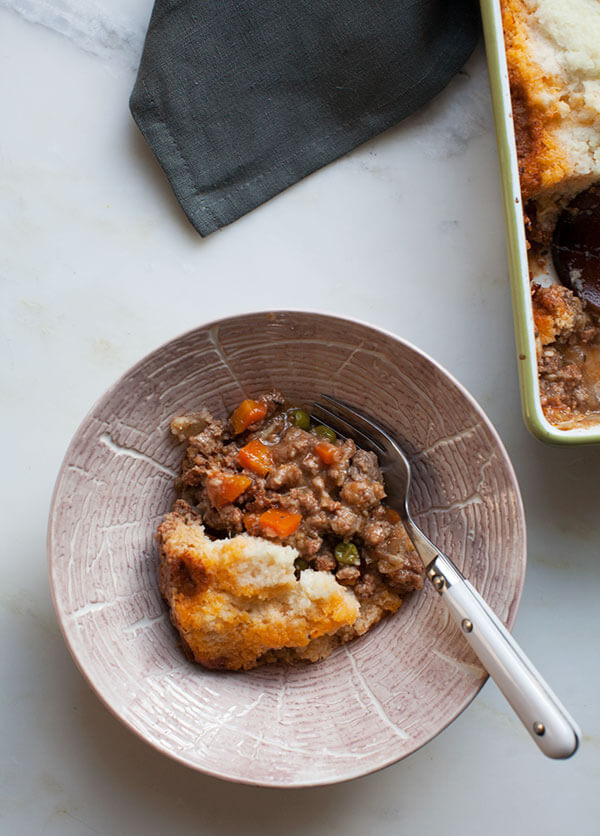 This past Wednesday I had one of those epic food days. I ate sushi for lunch; there was a over-priced (but worth it) fresh-pressed cucumber juice for a late afternoon drink situation; dinner was a decadent Italian meal, proceeded by a warm buttered rum as a nightcap. Oh and cookies and milk!
I'm not sure if I've had a better food day than that, ever, but it's coming to a screeching half, ladies and gentlemen, because the month of March is all about eating healthy (for me). Don't worry, A Cozy Kitchen won't be turning into a Paleo blog but I will be sprinkling in healthier recipes from time to time, this one you see as my first.
For this post, I teamed up with McCormick Gourmet to give you a healthier take on cottage pie (also known as shepherd's pie). It's for St. Patrick's Day or any day when you're looking for a healthier but still comforting dish to make.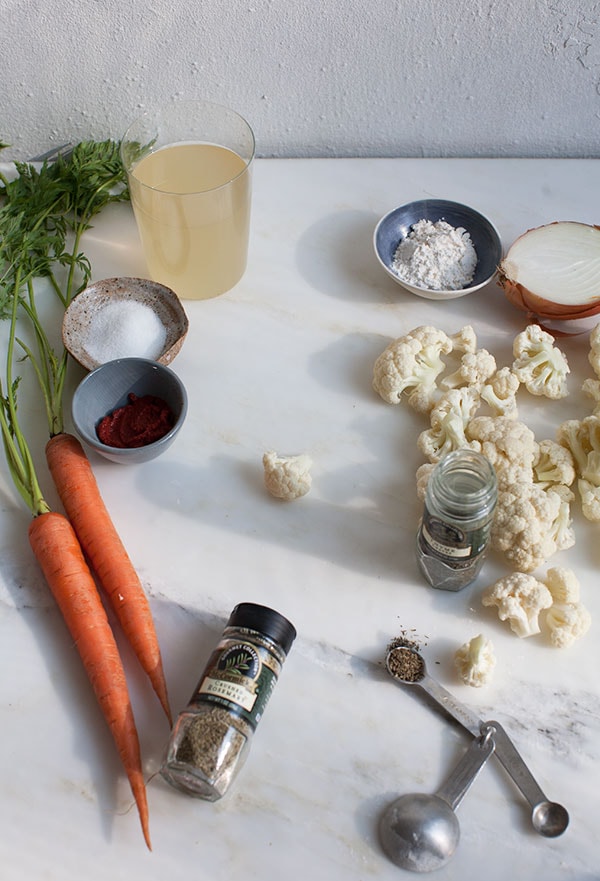 The topping is cauliflower mash, which is the thing I sustain on during my 'bouts of eating healthier. It mimics potato mash but really there is a taste difference. Don't let anyone tell you they taste the same, they don't!
I'm really selling this dish. The real winner is the filling. It's so flavorful and tasty. I literally could eat a bowl of just the filling, it's that good. I used ground lamb but if you can't find it, using ground beef will be just fine, too.
The dried spices come in handy since we're in the dead of winter and it's just easier to use dried sometimes versus fresh. This dish bakes up pretty nicely. I actually made it one day and then kept it in the fridge and continued to eat the leftovers over a few days. It's proof that eating healthy doesn't have to be depressing.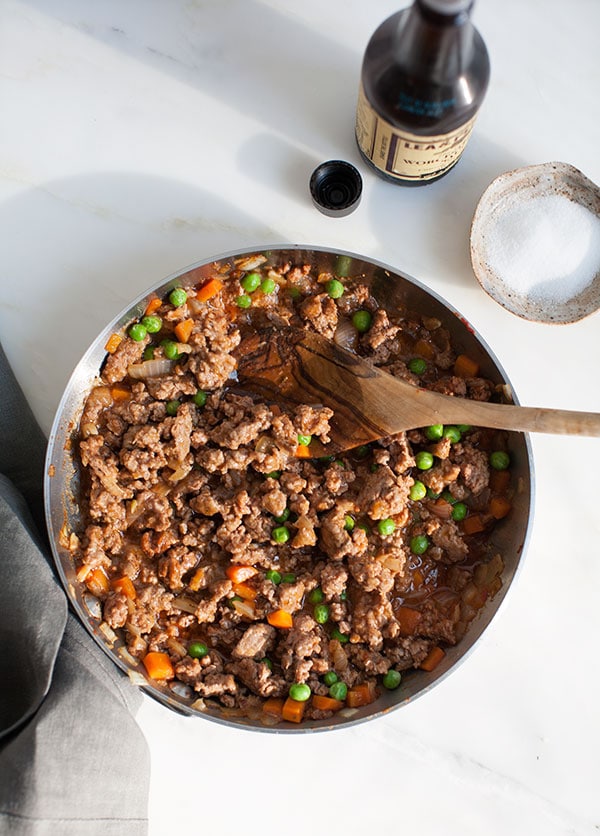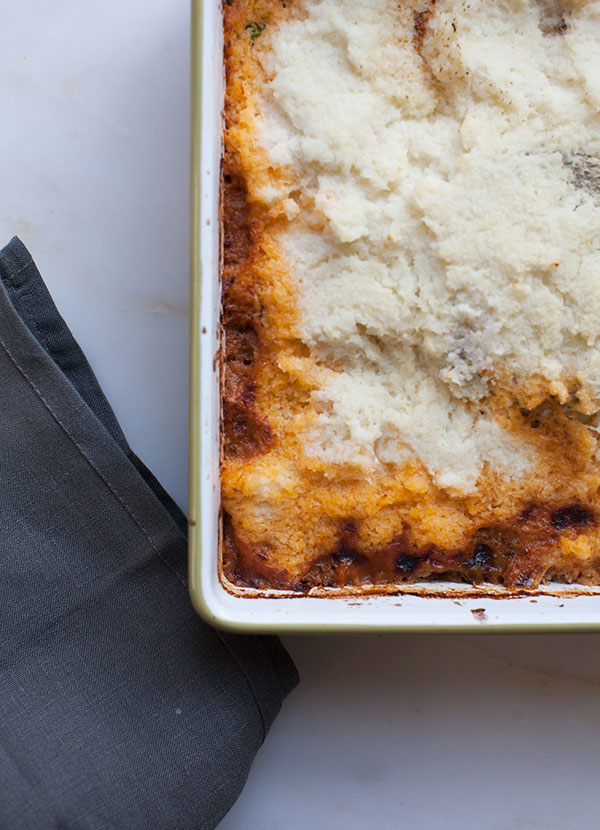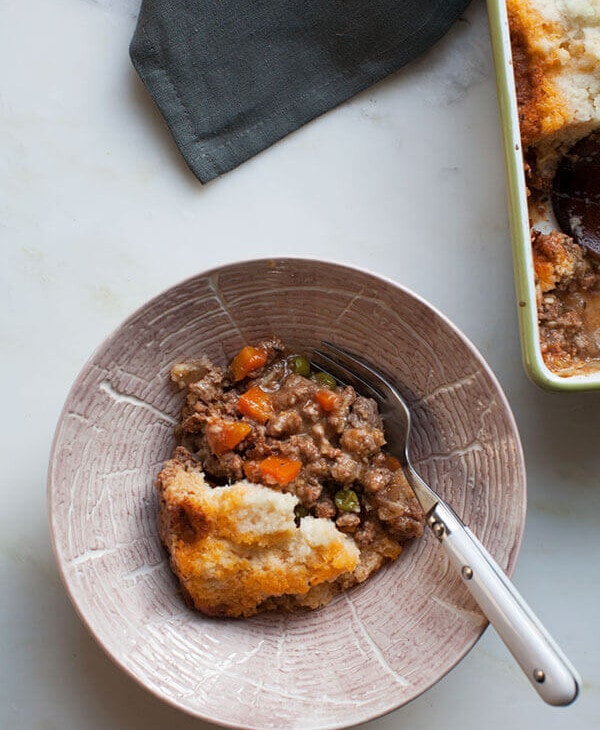 Print Recipe
Cauliflower Cottage Pie
Serving Size:
(eight-inch) pan of cottage pie
Ingredients
Topping: 
1

cauliflower head

stem removed and florets trimmed 

1

tablespoon

unsalted butter

3 to 5

tablespoons

plain European-style yogurt (Greek would work too!

Salt
Filling: 
1

tablespoon

olive oil 

1/2

yellow onion

diced

2

small carrots

diced

Salt

2

garlic cloves

minced

McCormick Freshly Ground Pepper

1/2

teaspoon

McCormick Gourmet dried rosemary

1/2

teaspoon

McCormick Gourmet dried thyme 

1

pound

ground lamb

1

tbls

all-purpose flour

2

tablespoon

tomato paste

3/4

cup

chicken broth

1

tablespoon

worcestershire

1/4

cup

frozen peas 
Instructions
Bring a medium pot of salted water to a boil. Drop the florets into the boiling water and cook for about 2 to 3 minutes, until very soft but not overcooked. Remove from the water and set aside to cool slightly. Transfer the florets to a food processor (you may need to do this in batches), along with the butter, yogurt and a few pinches of salt. Pulse until the florets go from grainy to very smooth, add a tablespoon more of yogurt if you need to, about 2 to 3 minutes. Salt to taste and set aside. 

Preheat oven to 400 degrees F. In a medium pot (you can use the medium pot from above and no need to wash it—you can just dump out the water), set over medium heat, heat olive oil. Once warm, add the onion and carrots and a few pinches of salt; cook until softened, about 2 to 3 minutes. Stir in the minced garlic cloves, a few pinches of freshly ground pepper and the dried herbs. Add the ground lamb and break it up into crumbles with a spoon; cook until mostly browned, about 3 to 5 minutes. Stir in the flour, tomato paste, chicken broth and worcestershire. Bring to a simmer, reduce the heat to low, cover and simmer slowly for about 10 to 12 minutes or until the sauce is thickened slightly. Lastly, stir in the frozen peas. 

Spread the mixture evenly in a 8-inch square dish. Top with the cauliflower mash and make a smooth topping. Bake for 25 minutes or just until the fill in begins to bubble. 
(The post is sponsored by McCormick Gourmet. Thank you for supporting the sponsors that keep A Cozy Kitchen cozy.)