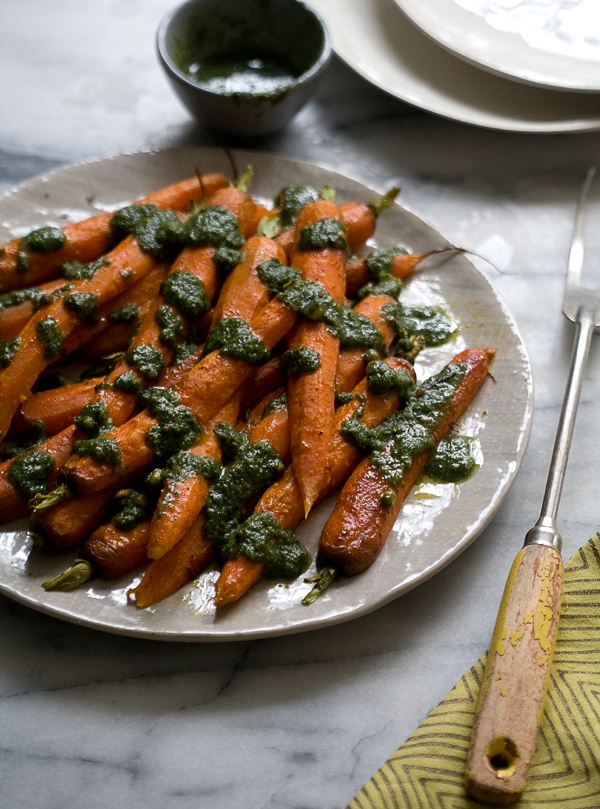 Oreo decided to be super nice and send me their two new soon-to-be-released cookies: Cookie Dough and Marshmallow Crispy. So of course I ate like 10 in one sitting and felt sick and terrible about myself. I contemplated not eating for the rest of the day just to make up for it, but quickly admitted to myself that I could never do that. I'm not a girl who goes on cleanses. They've never worked out for me. Instead I just eat some carrots.
Last year Josh whipped me up a snack of roasted carrots, whipped goat cheese and carrot-top pesto. I remember having my mind blown a little bit. Up until that point I don't think I had eaten the tops of the carrot before; I'm pretty sure I usually just threw those things away with absolutely no remorse. But why? I used beet greens in stuff before, why not the tops of carrots?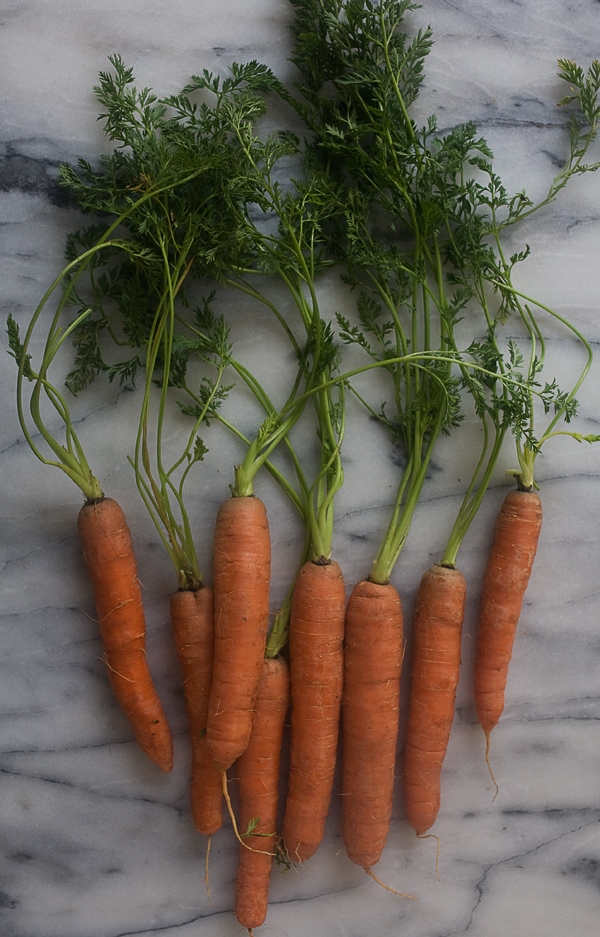 I love cooking efficiently. There's a lot of pride in using every part of something and throwing away nothing. It feels good to not be wasteful.
And the big bonus is that carrot-tops actually taste good! They taste like most leafy things, just slightly more sweet.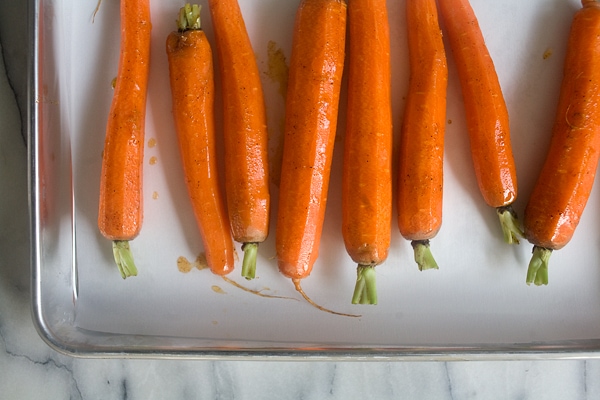 These carrots are rubbed in olive oil, a little salt and the spice, ras el hanout. If you've never heard of ras el hanout, don't worry, you should be able to find it in your local grocery store in the spice aisle. It's popular in North Africa and is usually a mix of ground cumin, coriander, cardamom, cloves, ground chile powder, fenugreek, peppercorn, paprika and turmeric. Of course, if you didn't want to buy it, you could sort of make your own by mixing those spices together, but that would mean you would need ALL of those spices and, well, I think it's just easier to spend $4 on the dang jar of ras el hanout. OR, if you were being lazy and wanted to save money, you could just skip it.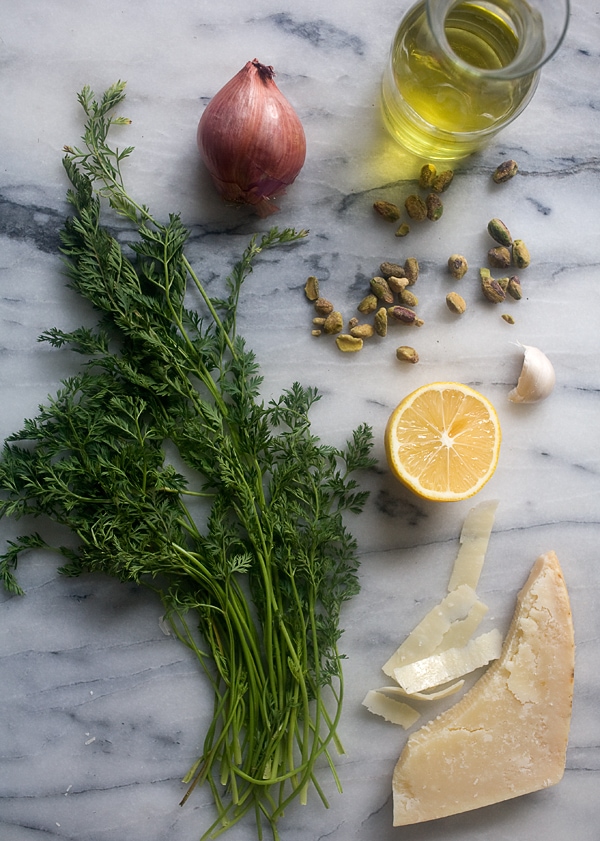 I remember when I was in college, trying to cook an Italian wedding soup where there were like a million ingredients and at least like 5 spices I didn't have. I left the store spending $50 dollars and was like why?!?! I could've eaten at a restaurant for less.
Simple cooking with minimal ingredients is so nice sometimes.
The pesto is very flexible. I added a bit of pistachios because that's what I had in my pantry but you could easily swap in walnuts, pecans or pine nuts.
The meyer lemon could be replaced with a red wine vinegar or champagne vinegar, if you like. But the Parmesan (or its cheaper counter part, Grana Padano) must stay in. That's a must.
This is probably more of a side dish than it is actual dinner but I tell you what, I ate this with a spelt berries and sautéed kale and was good to go. It was a light and easy dinz.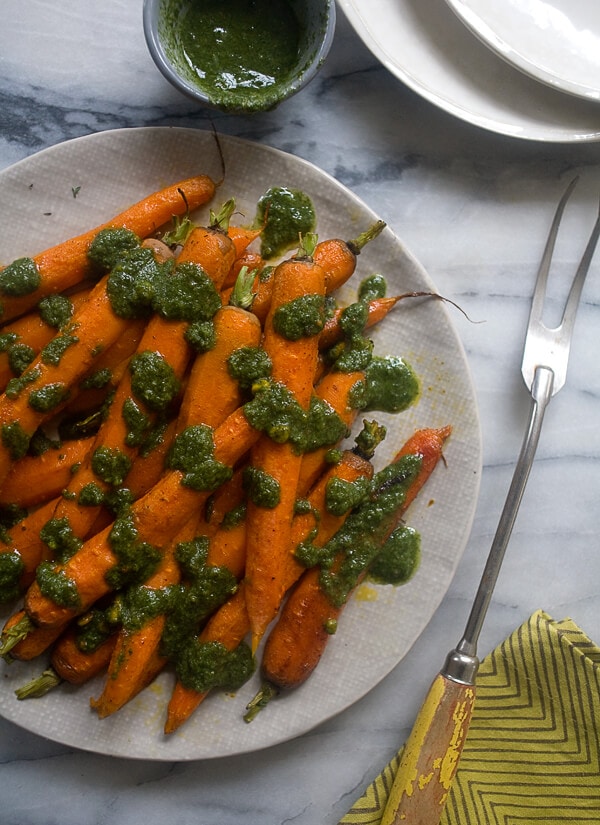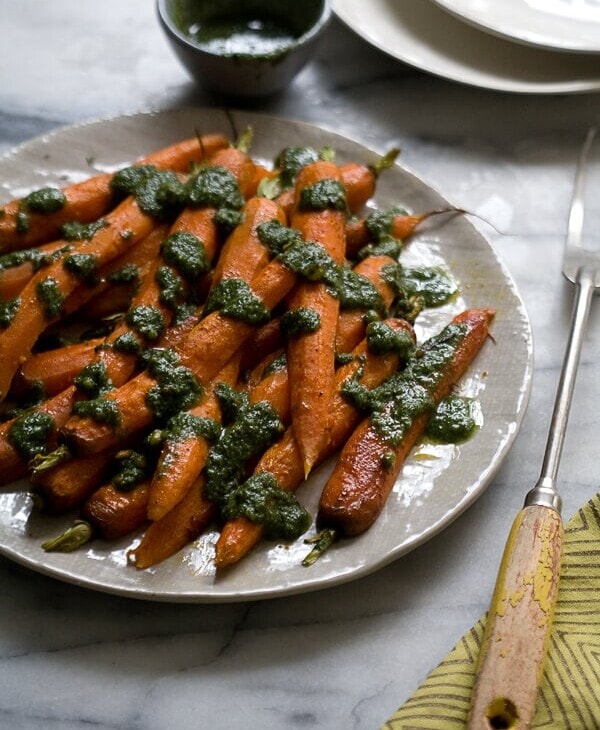 Print Recipe
Roasted Ras El Hanout Carrots with Carrot-Top Pesto
Ingredients
1

pound

carrots

with tops attached

1

garlic clove

peeled and trimmed

2

teaspoons

minced shallot

about 1/2 shallot

1/4

cup

grated Parmesan

12

pistachios

1

tablespoon

meyer lemon juice

5-6

tablespoons

extra-virgin olive oil

1 1/2

tablespoon

olive oil

2

teaspoons

ras el hanout

Pinch

sea salt
Instructions
To prep the carrots, you'll want to lightly peel the outer skin (or leave it if you like - some people prefer carrots with the skin on) and trim the tops, leaving a bit of stem attached and visible (I tend to think carrots look prettier this way). Take the carrot-tops and give them a quick rinse under some water, followed by patting them dry with a clean kitchen towel. Remove as many leaves off of the stems as possible (some stem is ok). You should end up with about 1 cup of carrot top.

To the bowl of a food processor or jar of a blender, add the garlic clove, shallot and pistachios; pulse until the mixture resembles a coarse paste. Add the carrot tops, Parmesan, juice from 1/2 Meyer lemon; and pulse a few more times. Pour in the olive oil, pulsing until the pesto comes together. Salt to taste (I added about 1/4 teaspoon). Transfer to a small bowl until you're ready to use.

Preheat your oven to 400 degrees F. Line a baking sheet with parchment and set aside. To a medium bowl, whisk together the olive oil, ras el hanout and sea salt. Toss the carrots in the oil/spice mixture until evenly coated. Place the carrots side by side on the parchment-lined baking sheet and transfer to the oven to roast for 25-30 minutes, and until the carrots are lightly golden brown and tender.

Transfer the carrots to a large plate and drizzle with the pesto. Serve immediately.