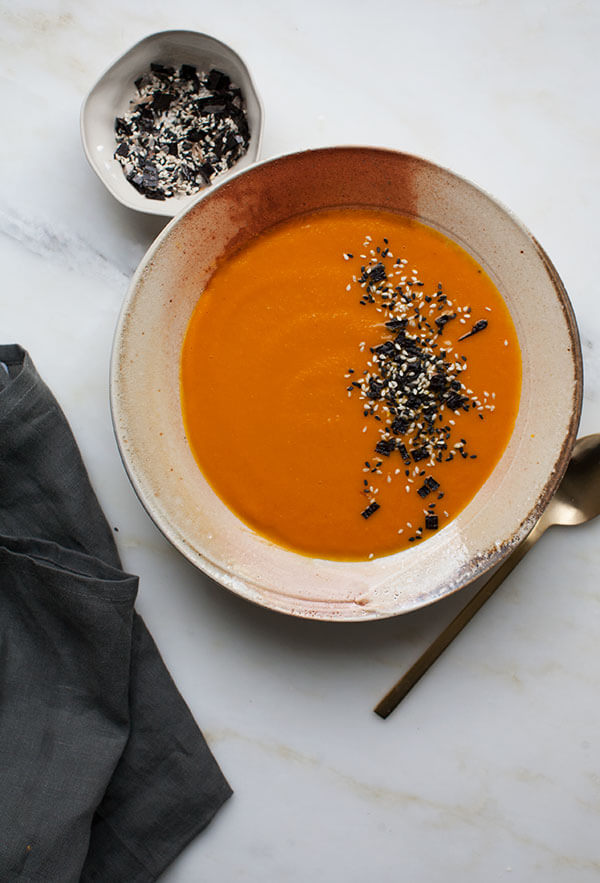 We're so deep into May. How did we get here? How is it Monday? How did Mother's Day go by already?! Ahhhhh! Also, it's peony season in case you didn't know.
Ok, we're gonna put my anxiety about time moving too quickly to the side because today we're making the most carrot-y carrot soup on da planet. Ready?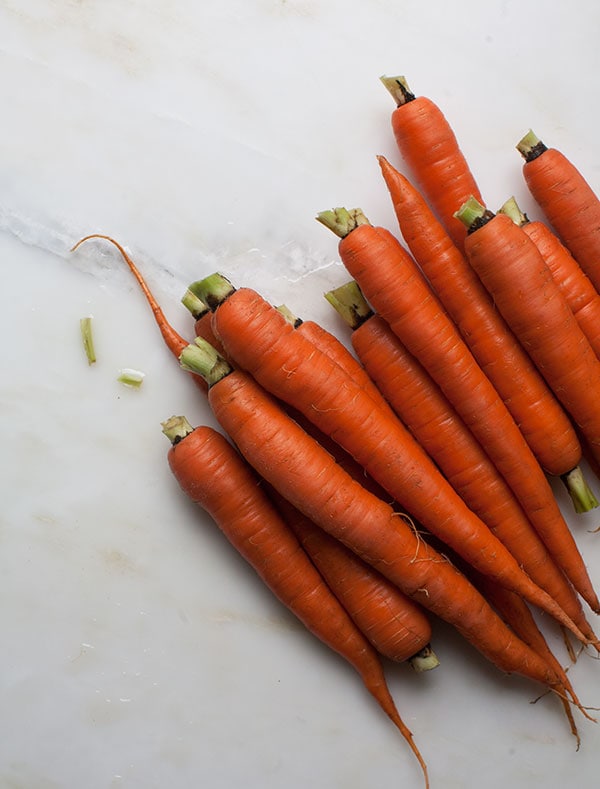 It's been a lil' brisk in LA, which I am not complaining about one bit because I just know this summer is going to be ratchet. I'm taking full advantage of the cool temperatures and rainy weather while I can and that means soup. HOT SOUP!
A few days ago it was cloudy and drizzling. Amelia was all bummed out because when it rains I make her wear her raincoat. And I had a few bunches of carrots in the fridge with no plan so I sliced them up and cooked them slowly in butter and a strip of kombu. HEAVEN.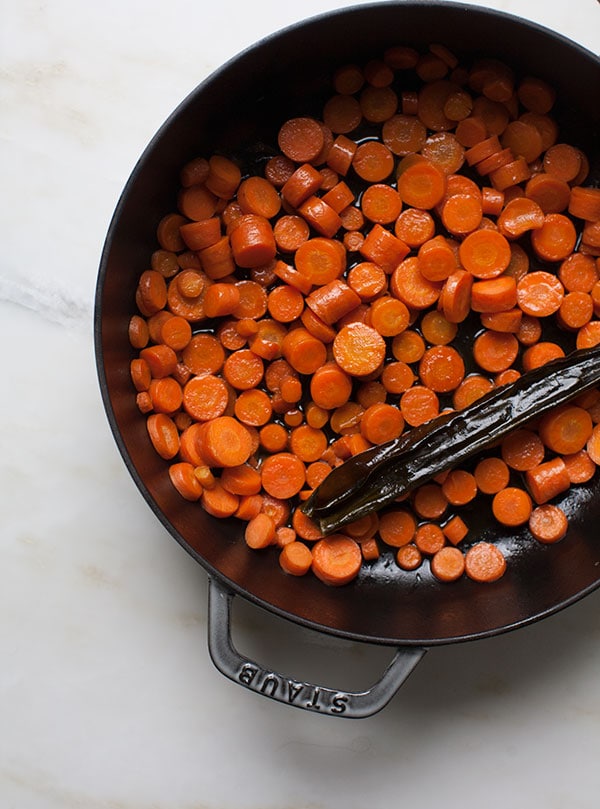 The strip of kombu is one hundred percent optional. I had some in the fridge and love adding it for some extra flavor. After thirty minutes, the carrots were SO good. I probably could've eaten them as is but I took them a bit further and pureed them with carrot juice.
I might've just lost you because you probably don't own a juicer. Well, I broke my juicier. It had to do with my lack of patience which I directly blame on hunger.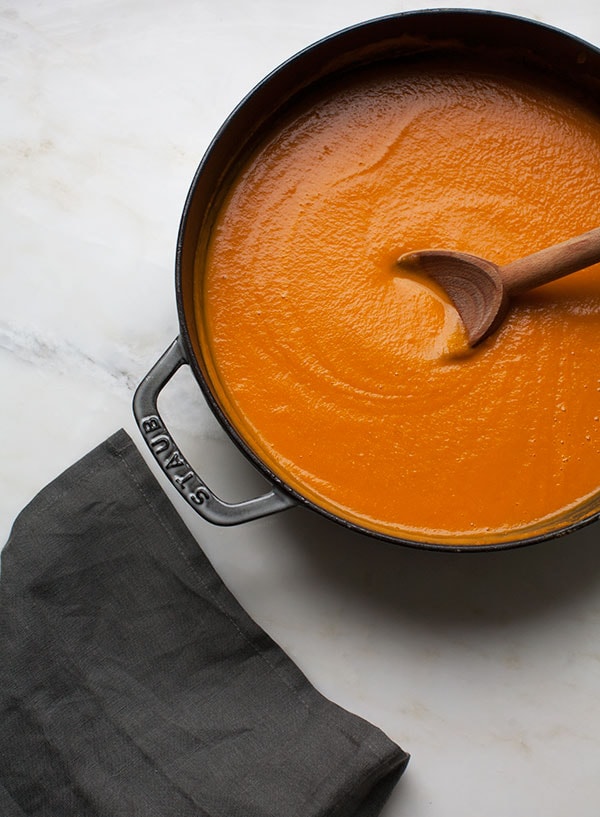 Anyway, it was actually a #blessing in disguise because it forced me to use store-bought carrot juice and it totally worked and I might even go as so far as to say it's more cost effective to buy the juice. Here's the brand I used in case you're curious.
This is super simple and straight-forward. It's proof that things don't really need to be that complicated in order to be really, really good.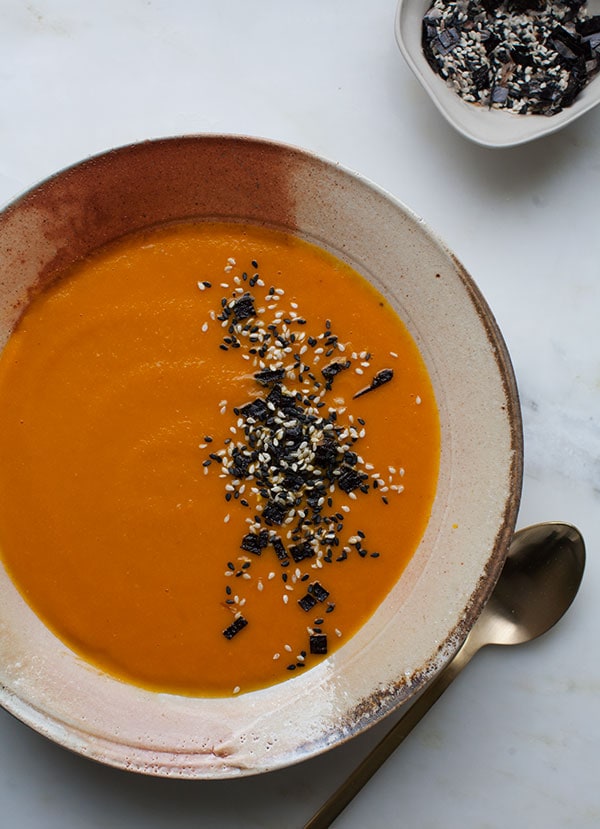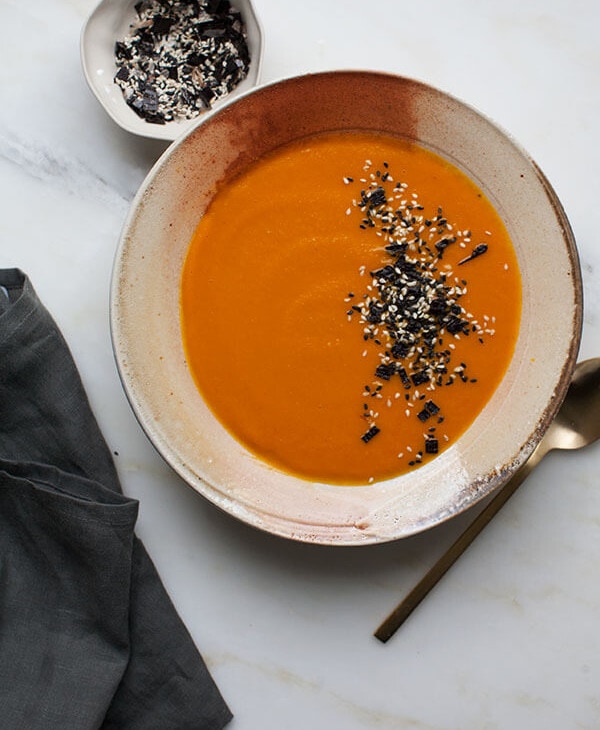 Print Recipe
Carrot-y Carrot Soup with Furikake
Ingredients
Carrot Soup:
1/4

cup

1/2 stick unsalted butter

*1 strip of kombu

optional

2

bunches carrots

2 pounds, ends trimmed and discarded and cut into 1/4-inch slices

Salt

15

ounces

carrot juice

freshly juiced or store-bought is ok, see note below

3/4

cup

to 1 1/4 cup water
Furikake Topping:
1

tablespoon

shredded or diced toasted nori

from about 1/4 sheet

1

tablespoon

white sesame seeds

2

teaspoons

black sesame seeds

1

teaspoon

minced bonito flakes
Instructions
In a medium pot, set over medium low heat, melt the butter. Add the kombu, if using, and add the carrots. Sprinkle the carrots with about 1/4 teaspoon of salt. Cover the pot and cook until very tender, about 30 minutes. Using a fork, test the softness of the carrots. They should halve very easily with the side of a fork. Discard the used kombu.

Just a heads up, depending on the size of your blender, you may need to puree the carrots with the carrot juice in batches. Add half of the carrot juice (you can eyeball this measurement) to the blender. Pour in the cooked carrots and pulse until very smooth, adding the remaining carrot juice. Pour in 3/4 cup to 1 1/4 cup of water, depending on how you like the soup. It shouldn't be so thick that it's like baby food. It should be slightly drizzling.

Pour the carrot soup back in the pot and warm over medium heat. Salt to taste. (I added about 1/4 teaspoon of salt.) Turn the heat down to low to keep warm while you mix together the furikake.

In a small bowl, toss together the nori, white sesame seeds, black sesame seeds and bonito flakes. Divide the soup amongst bowls and garnish with a handful of furikake.
Notes
*Kombu is sea kelp. It can be found at most Asian supermarkets and Whole Foods. It's super optional--if you don't have it or don't feel like buying it, feel free to skip it. I do love adding it to broths and rice.
*If you juice your own carrots vs. buying juice at the store, you'll most likely need about a pound more of carrots. See above in post for link to the brand of fresh, store-bought carrot juice I used.
*I left out the sugar in the furikake mixture. The carrots I used were super sweet!