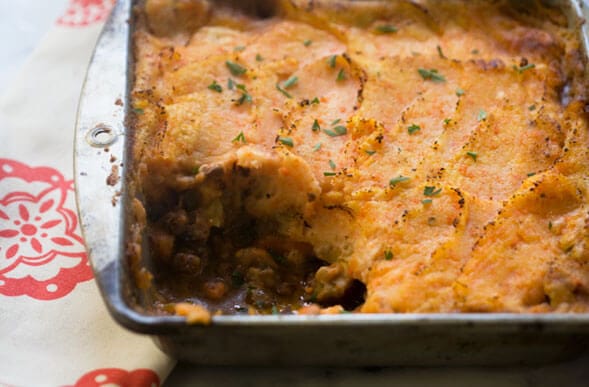 I am a brown girl who loves British things.
I love Jane Austen and Hunter boots and rainy weather and wild flowers and PG Tips and corgis (her!) and I love, LOVE shepherd's pie. Like, love.
I know on Pinterest we're getting all Easter and Spring crazy. Like, seriously let's just chill on that for now. The time when we shuck fresh peas, go on scavenger huants and wear pastels is near, but for now, let's just eat some warm potatoes and mutton, okay?
It's been crazy cold this week in Los Angeles. And I know in places that have real winters (hello east coast!), it's even colder. A bowl of this stuff is what cold-weather dreams are made of.
Let's just enjoy the now and stop trying to make Spring happen in February!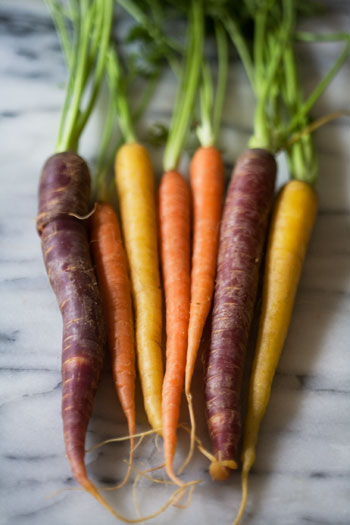 My favorite part about this? The topping of course! Creamy, tangy goat cheese all mixed up with mashed potatoes and mashed carrot. All kinds of good stuff going on.
Instagram and Pinterest sometimes run together and I have no idea where I saw the idea for a carrot mash for shepherd's pie but boy is it a good one.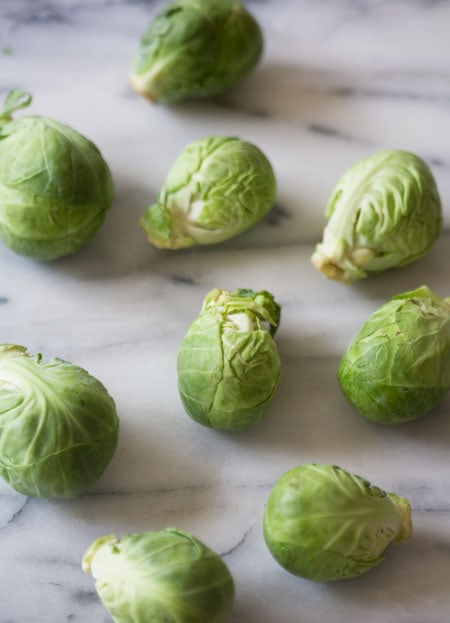 My second favorite thing about this shepherd's pie? You can put any type of vegetables you want in it. I used a combination of pretty rainbow carrots and brussels sprouts. Feel free to use frozen peas or maybe even corn.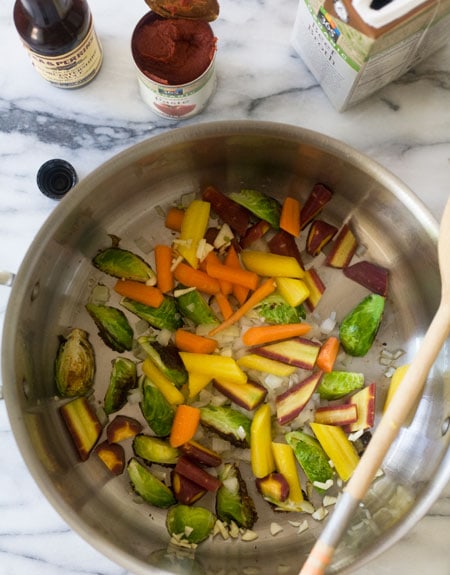 Let's talk meat! My local Whole Foods didn't have ground lamb meat. That's what you're technically sort of supposed to be using for shepherd's pie, so instead I used a combination of half ground pork and half ground sirloin. You can do as I did, or hunt down some lamb.
Whichever route you choose, it'll be delicious.
Oh and before I put this thing in the oven I got all fancy with the butter spreader. Can you tell?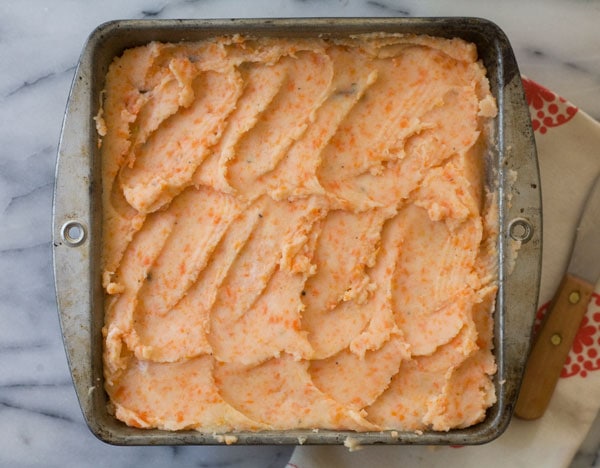 When this shepherd's pie was in the oven, I minced up the greens from the tops of the carrot. Have you eaten carrot tops before? Oh! They're kind of sweet. Like, literally sweet tasting. Super delicious! I used them as a pretty garnish when the shepherd's pie came out of the oven.
A bowl of this is the kind of thing that'll put meat on your bones. It'll make you all warm when you've made that super long walk from the car to your front door. The carrot and goat cheese mash is fluffy, tart, a little sweet and so satisfying against the hearty stew it sits on. I like the ol' school shepherd's pie just fine, but I like this one much better.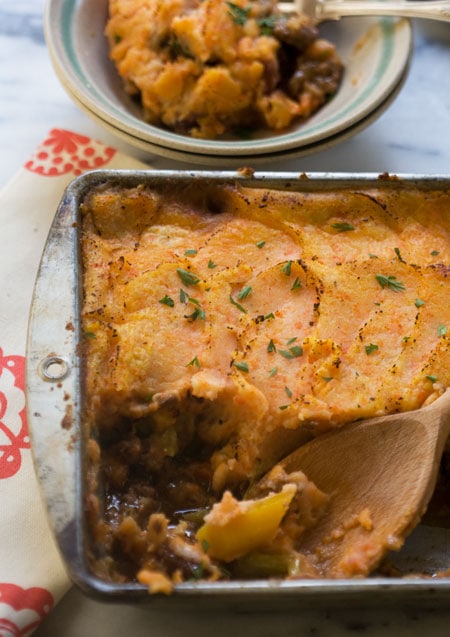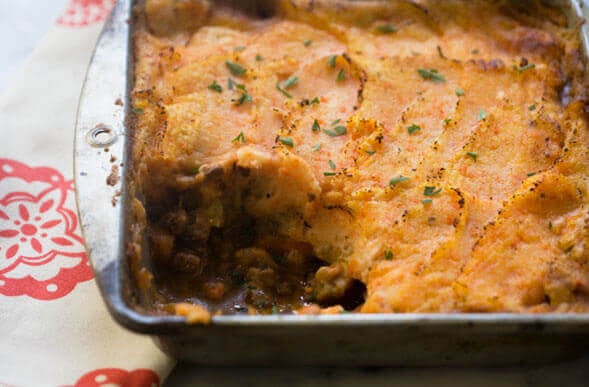 Print Recipe
Carrot Goat Cheese Mash Shepherd's Pie
Ingredients
Carrot and Goat Cheese Mash Topping:
1

pound

russet potatoes

3

medium carrots

3

tablespoons

unsalted butter

2

teaspoons

whole milk

3

ounces

goat cheese

Salt

Freshly ground pepper
Meat filling:
Olive oil

6

brussels sprouts

quartered

½

yellow onion

diced

4

small carrots

about 1.5 pounds

1

garlic clove

minced

½

teaspoon

salt

½

teaspoon

freshly ground pepper

¼

pound

ground pork

½

pound

ground sirloin

1

tablespoon

all-purpose flour

2

teaspoons

tomato paste

1

cup

beef broth

1

teaspoon

worcestershire

2

teaspoons

fresh rosemary sprigs
Instructions
Peel the potatoes and carrots and cut them into ½-inch dice. Place them in a medium saucepan and cover with cold water. Set over high heat, cover and bring to a boil. Once boiling, uncover, decrease the heat to maintain a simmer and cook until tender and easily crushed with tongs, approximately 15 to 17 minutes. Drain the potatoes in a colander and then return to the saucepan. Mash the potatoes and then add the butter, milk, goat cheese and mash until smooth. Salt and pepper to taste. I added ¾ teaspoon salt and ½ teaspoon freshly ground pepper.

Preheat the oven to 400 degrees F. While the potatoes are cooking, prepare the filling. Place the canola oil into a 12-inch saute pan and set over medium high heat. Once the oil shimmers, add the brussels sprouts, carrots and onions and sauté just until they begin to take on color, approximately 3 to 4 minutes. Add the garlic and stir to combine. Add the pork and sirloin, salt and pepper and cook until browned and cooked through, approximately 3 minutes. Sprinkle the meat with the flour and toss to coat, continuing to cook for another minute. Add the tomato paste, beef broth, Worcestershire, rosemary and stir to combine. Bring to a boil, reduce the heat to low, cover and simmer slowly 10 to 12 minutes or until the sauce is thickened slightly.

Spread the mixture evenly in a 8-inch square dish. Top with the carrot goat cheese mash, starting around the edges to create a seal to prevent the mixture from bubbling up and smooth with a rubber spatula. Place on a parchment lined half sheet pan on the middle rack of the oven and bake for 25 minutes or just until the potatoes begin to brown. Remove to a cooling rack for at least 15 minutes before serving.
Slightly adapted from Alton Brown