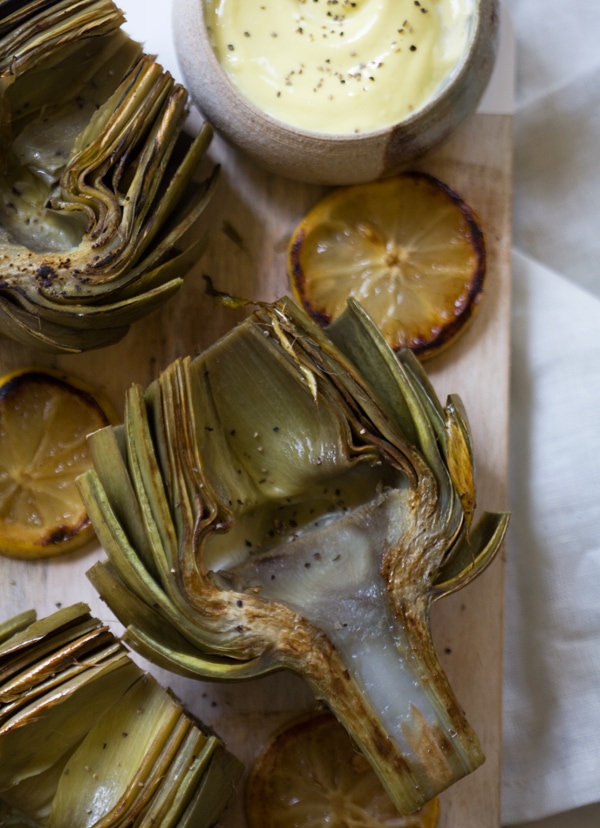 Words usually flow pretty easily for me in this space. I just write like I'm having a conversation with you, like you're here just chilling with me, sitting on my couch looking around my apartment, being nosey as shit. But today I'm kind of wordless. I'm a little mopey.
A strange heatwave has come through Los Angeles, making it kind of dreadful, honestly, and worst of all, Amelia is sick. She has a bit of a stomach flu that I'm trying to cure with brown rice. I'm hoping she sleeps it off. The psycho in me keeps checking her stomach while she sleeps, making sure it's rising and falling. I have a feeling I'm going to be one of those crazy mothers who wakes up in the middle of the night to check and make sure the kids are still breathing. It's a mama thing, I bet.
Today we have artichokes, which if I'm trying to make a good little segue, take a bit of mothering. At least in the beginning anyway. The whole act of cutting and trimming an artichoke is super easy, though I imagine even the most experienced cooks have to google it to be reminded exactly what needs to be done. There's kind of a lot tasks, man!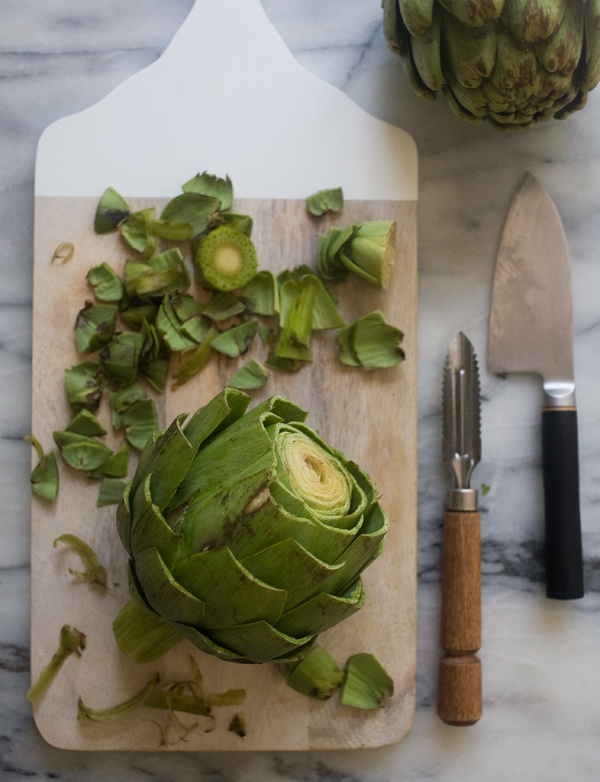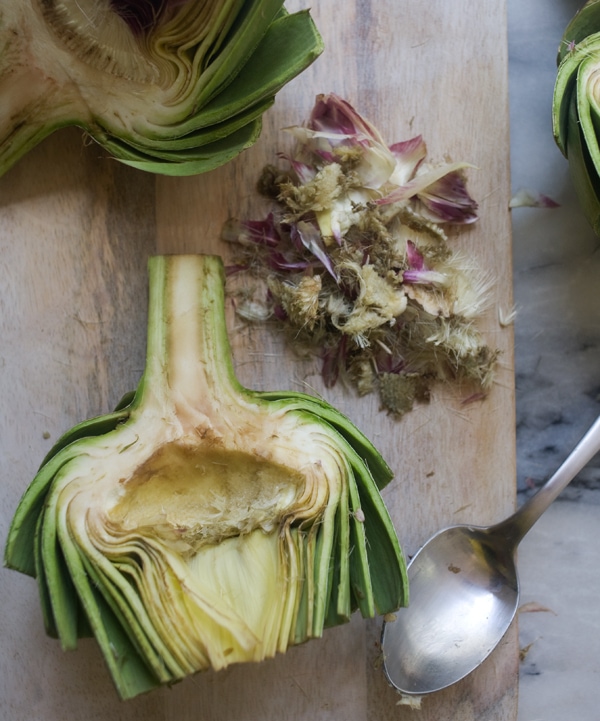 Here's the breakdown:
1. Trim the top.
2. Trim the stem.
3. Peel the stem, if you like. VERY optional.
4. Using scissors, trim the points off of each petal.
5. Cut in half and remove the center. It'll be furry and strange.
6. Dat's it.
After that it's smooth sailing. I started off with boiling them (I don't have a steam basket) in a mix of salted water, bay leaf, garlic and a lemon rind.
It's not grilling season yet so I opted to finish these dudes in the pan with a quick sear in butter; and the butter was practically brown, so browned butter. Gloriousness, really!
You should be able to find ponzu sauce at most grocery stores, in their Asian section. It's tart and fragrant and I looove it. If you can't find it, don't worry. You can sub-in any citrus, like lemon, Meyer lemon or even yuzu (if you can find it).
This appetizer serves 2 to 4 people, but I may have eaten an entire one to myself. So feel free to make this as Dinner for One.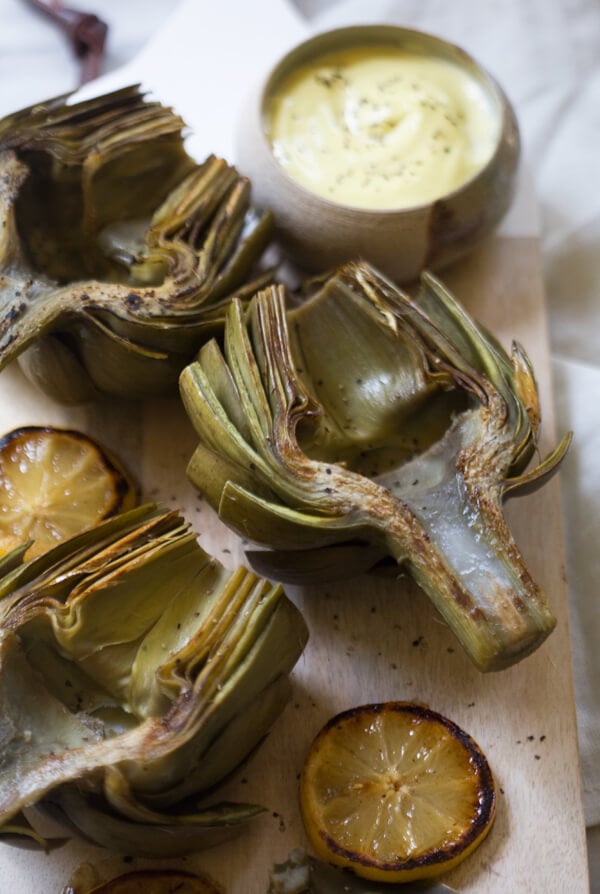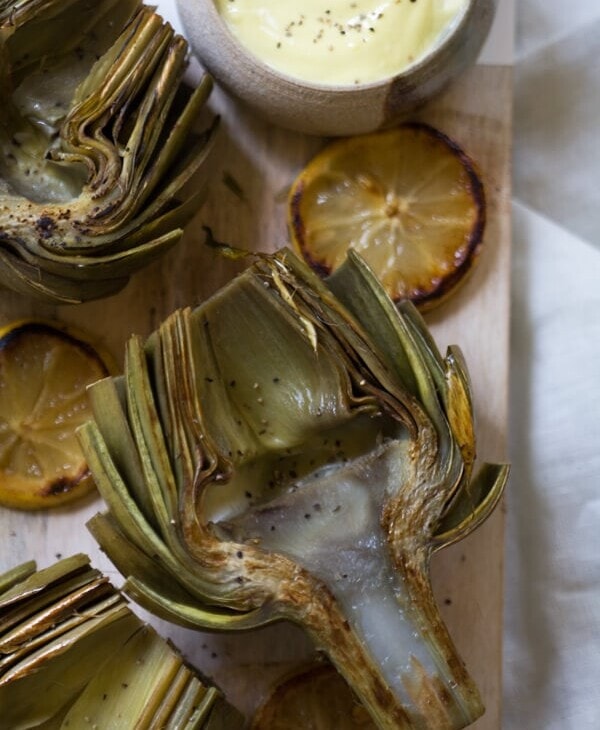 Print Recipe
Buttery Pan-Seared Artichokes with Ponzu Aioli
Ingredients
Artichokes:
1

dried bay leaf

1

garlic clove

½

teaspoon

of salt

2

whole artichokes

1

tablespoon

olive oil

2

tablespoons

unsalted butter
Ponzu Aioli:
1

tablespoon

ponzu sauce

1

large egg yolk

¼

cup

olive oil

3

tablespoons

sunflower oil
Instructions
To a medium pot, add three inches of water. Season the water with one dried bay leaf, garlic clove and salt. Turn the heat to medium heat until the water reaches a light simmer. Meanwhile, trim the artichokes. To do so, start by trimming the ends of the stem and cutting off the top of the artichoke. Grab a pair of scissors and trim each of the petals, discarding the pointy tops. Slice the artichoke in half and using a spoon, scoop out the furry center. Transfer to the simmering water, cut side down and allow to cook for 20 to 30 minutes, until the stems are tender when poked with a fork. Carefully remove the garlic clove and peel; reserving the inside, which should resemble a garlic paste.

To a blender, pulse together the garlic paste, ponzu sauce and egg yolk just until combined. Turn the blender on, and slowly pour in the olive oil and then the sunflower oil until combined. Salt to taste (ponzu can be a bit salty so I added none). Transfer to a small bowl and garnish with a pinch of freshly ground pepper.

To a saucepan, heat the olive oil over medium heat. When the oil is hot, add the butter. When the butter has browned, add the artichokes, cut side down. Cook until for about 2 to 3 minutes, until there's a visible light-sear on the artichokes. Remove and serve with the ponzu aioli.