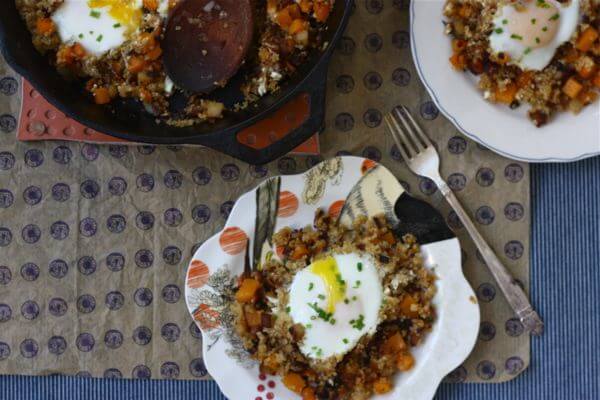 BREAKFAST FOREVER!
I'm an unbalanced breakfast eater. I either want a stack of pancakes with bacon and orange juice and, like, a strong spicy bloody mary...or nothing at all. I'm talking like a cup of coffee, while eating two stale tootsie rolls and scrolling through breakfast. I want dreamy breakfast or miserable breakfast. Nothing in between!
This is why this dish, to me, is dinner. The good news is that it sort of works for any time of day. It's a good "anytime" meal. Buy the ingredients, have them on hand and make it when you feel like. It's like a unisex shirt, it just works for everyone.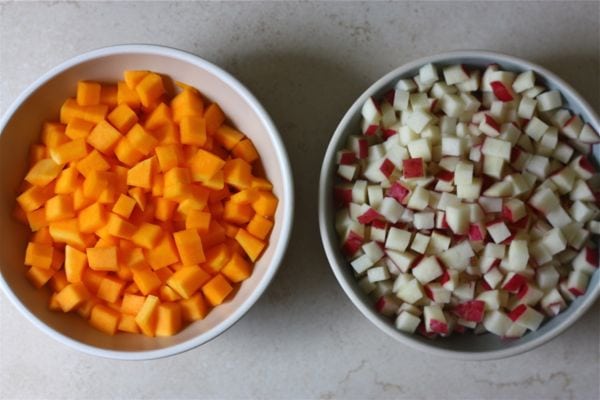 If you have a well seasoned cast iron skillet, this can be, and should be, a one-pot (or skillet) meal. Ease is key.
There is a good amount of cooking time, about 30 minutes, but for the most part it's sort of downtime. You just have to be around, in the kitchen to keep a good watch.
It starts with quinoa being cooked.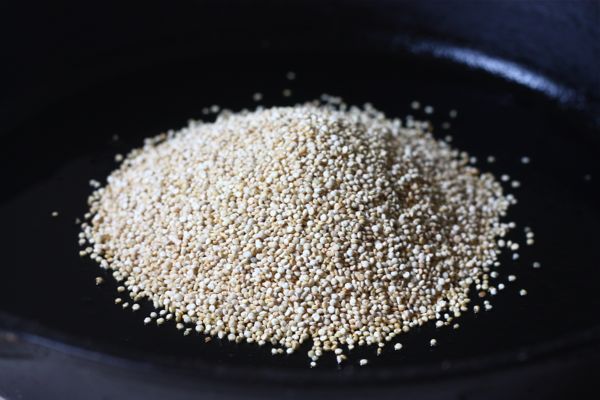 After the quinoa is done, shallots are simmered, garlic is added and the butternut squash and potatoes get a good dusting of cumin and paprika.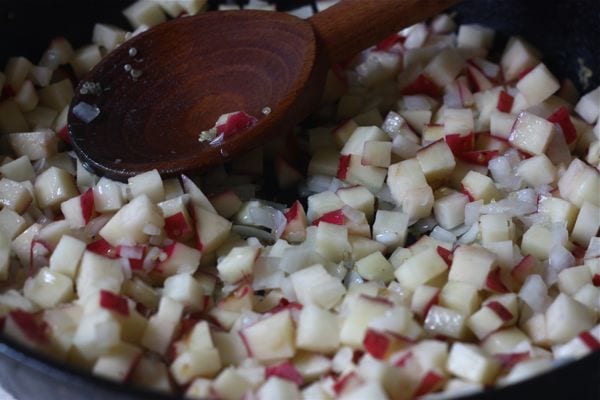 The quinoa is added back to the skillet and gets tossed with the squash and potato.
Next, you make little craters in the hash, and crack an egg in each.
Little lid action just until the egg whites are set and then breakfast! lunch! or dinner!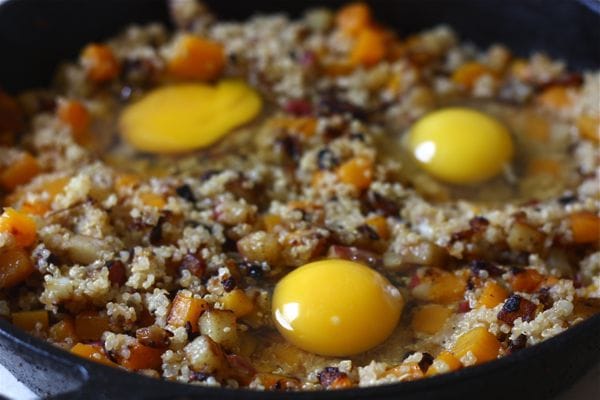 I made this vegetarian on purpose because I wanted to make something that was healthy-ish. But if you want to cook up some bacon (or lardon) after the quinoa step and then fry the potatoes in the bacon fat...well, I'll probably applaud you.
I think that's the move.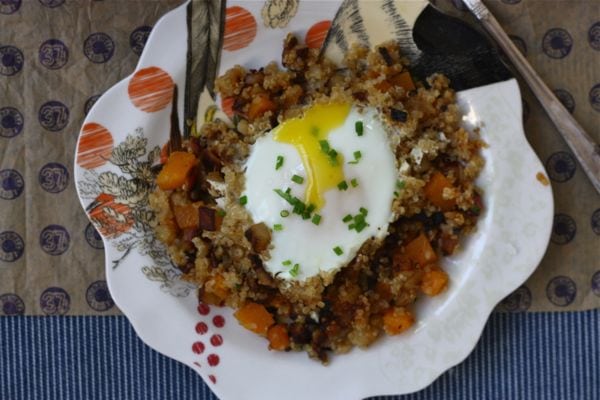 Butternut Squash and Quinoa Hash
1 cup quinoa
2 cups water
Salt
1 shallot, minced
1 garlic clove, minced
2 small red potatoes (about 1 lb.), cubed
½ small butternut squash (about ¼ lb.), peeled and cubed
1 teaspoon cumin
1 teaspoon paprika
Freshly ground pepper
3 large eggs
1 teaspoon chives, minced
1. Headnote: I have a very well seasoned cast iron skillet that I used for this entire recipe, from beginning to end, making this recipe a one-pot meal. The quinoa didn't stick to the bottom. If yours is a little iffy, or you don't have one, I suggest making the quinoa separately in a non-stick pot. You'll use the same ratio and directions.
2. In a 10-inch cast iron skillet, add a teaspoon of olive oil. When the oil is hot, add the quinoa, water and a pinch of salt. Cover the pot and cook for 12-15 minutes and until the water has evaporated. Transfer quinoa to a bowl and set aside.
3. Pour a teaspoon of olive oil in the cast iron skillet. When hot, add the shallot and cook until translucent, about 2 to 3 minutes. Place the garlic atop the cooked shallot and cook until fragrant, about 1 minute. Add the potato, butternut squash, cumin and paprika and toss; cook for 15-20 minutes, tossing and stirring every few minutes, being sure all of the squash and potatoes get some bottom-of-the-pot-action. Do a little taste test and make sure the squash and potatoes are cooked.
4. Add the quinoa back to the skillet and toss. Salt to taste. I ended up adding about a 1 teaspoon of salt. Using the back of your spoon, create 3 cavities in the quinoa/potato mixture. Crack 3 eggs into those cavities and cover with a lid. Cook for 2-3 minutes and until the egg whites have set, yet the yolks are still runny. Top with a sprinkling of chives and serve pronto.