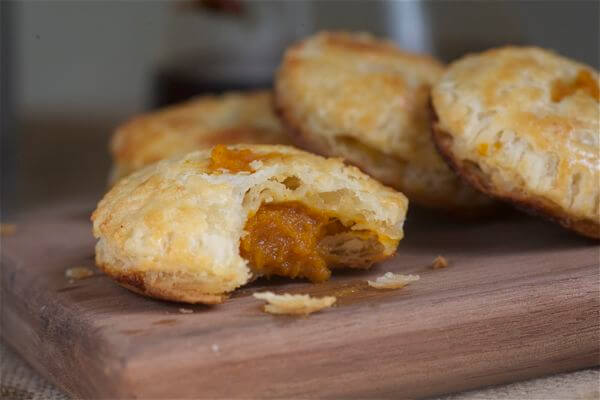 Do you have a hobby? You know, something you do for fun and just for fun, a creative outlet, something that helps clear your mind and something you just simply enjoy doing.
Maybe cooking is your hobby. Maybe that's why you're here. If so, HI!!
I'm in search of a hobby. I want to find something I enjoy doing, just for fun with no pressure to be good at it. A lot of times I'll try something and want to be amazing at it and then I try it, and obviously fail at being amazing since it's my first time, and then want to give up. Lame. Not this time! I just wanna chill out, man. I wanna like screen print a shirt, or do some pottery.
And I know this might sound a little bit like a mid-life crisis situation (I'm neither in the middle of my life nor in crisis, but even if I was SO WHAT! WHO CARES!), but I think hobbies are important. I think creating things is important.
Even if you do something creative as a job, it's kind of nice to do a new creative thing where failing doesn't matter. Who cares if you suck at knitting?! You can always just buy a sweater if you need it. Who cares if you suck at pottery? You got plates!
Sometimes failing or succeeding isn't all that important. The doing is what's important.
If cooking is your hobby, I gotz something for you to do!
Take the jump, let's make some pieeee.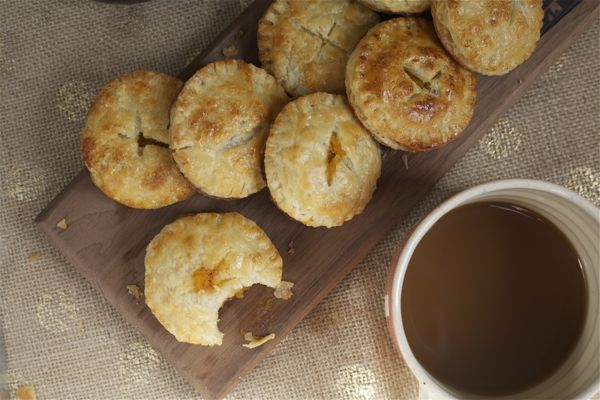 Look at this butter all nice and tall!
These hand pies start with the making of pastry dough.
I like to grate the cold butter on top of the flour, transfer it to the freezer, and then mix it all up.
I do this same thing with biscuits, too!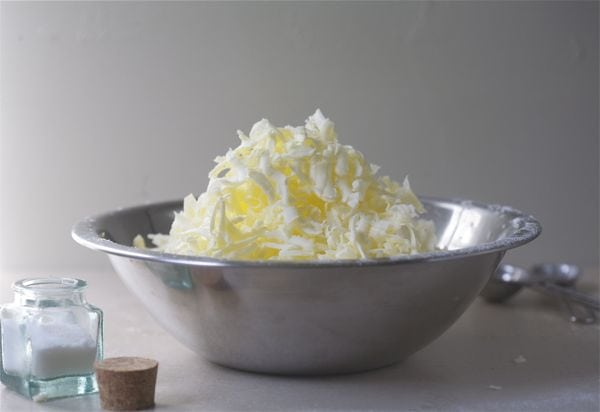 Water goes into the flour mixture and two big dough balls are formed. They go into the fridge for 1 hour. While they're chilling out, you can make the filling.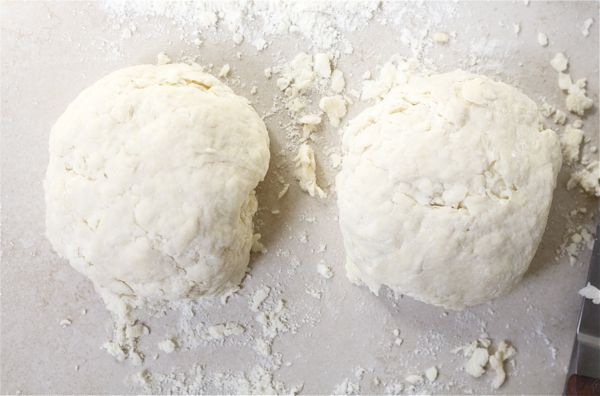 I roasted half of a small butternut squash, scooped all the stuff out (while hot) and mixed it with the spices.
Listen, if you're being super lazy, you can use canned pumpkin puree and make these pumpkin hand pies. It's cool.
Cooking at home isn't about constraints, it's about finding solutions with what you have, you know (and that includes time)?!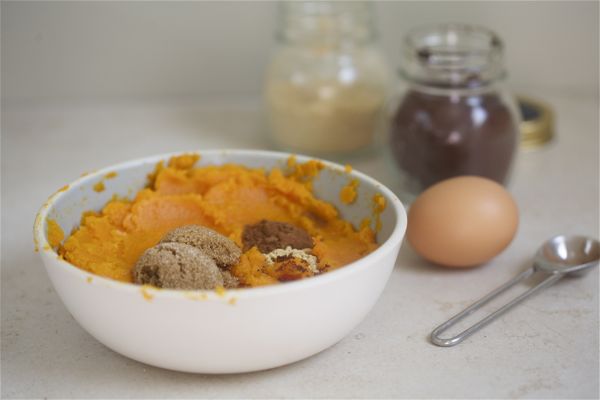 Little butternut squash dollops are placed in the center of each baby pie circle.
Another pie circle is placed on top and the two become one.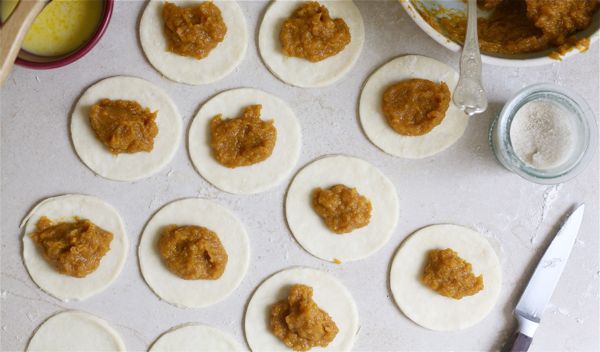 Score the top of each baby hand pie, brush it with egg wash and top with a sprinkling of coarse sugar. In the oven and BOOM!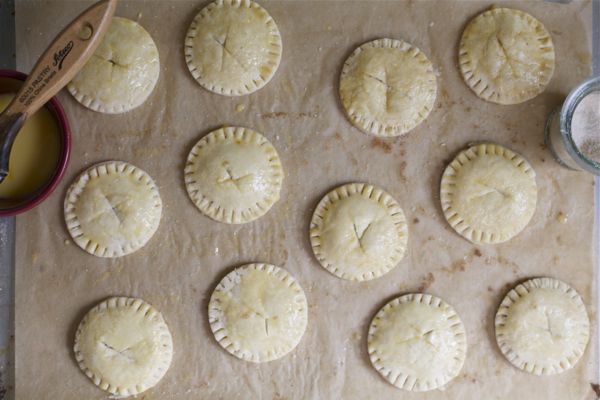 You can eat five of these lil' guys and not realize it, making them the perfect size! Dangerous!
They're not overly sweet, which I love. The crust is flakey, slightly sweet and the filing tastes like fall. I recommend taking these dudes out of the oven, letting them cool for 5 minutes and then eating them warm. There's nothing better!
Now, what's your hobby? Should your hobby be my new hobby?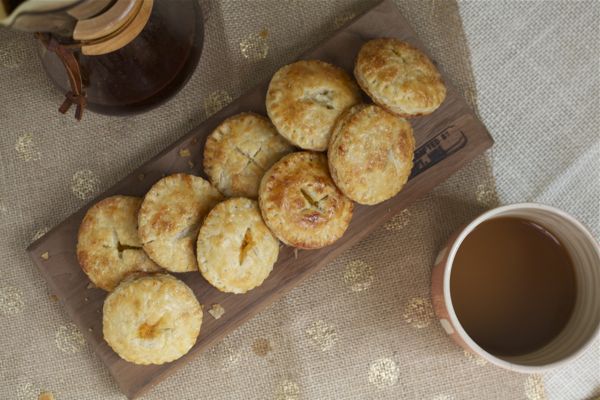 Butternut Squash Hand Pies
Pie Crust:
2 ½ cups all-purpose flour
3 tablespoons granulated sugar
1 teaspoons fine-grain sea salt
2 sticks unsalted butter, very cold
¾ cup cold water, plus 2 tablespoons
Pie Filling:
½ small butternut squash (weighing ½ pound)
2 tablespoons light brown sugar
1 large egg
1 teaspoons ground cinnamon
¼ teaspoon ground ginger
Pinch of ground cloves
Pinch of salt
1 large egg
Egg Wash and etc.:
1 large egg, plus 1 tablespoon beaten
2 tablespoons coarse sugar
1. In a large bowl, combine the flour, sugar and salt. Using a box grater, grate the cold butter atop the flour mixture. Transfer to the freezer to chill for 5-7 minutes. Meanwhile, measure out your cold water and add a few ice cubes.
2. Working quickly, and using your hands, break the butter bits into the flour until they resemble the size of small peas. Add ½ cup of water and mix using your hands. This is a little bit of a messy process but it goes quickly! The mixture will be super crumbly at this point. From here, add 1 tablespoon of water at a time until the dough comes together. I ended up adding about 4 more tablespoons of water, equaling the measurement above. This may vary for you. The dough shouldn't be too wet, it's fine if it's a little crumbly. The moisture will distribute throughout the dough while it's chilling out in the fridge. Lightly dust your counter or work space, and dump the dough onto it. Knead a few times more until it comes together and divide the dough, forming two discs. Wrap both discs in plastic and transfer to the refrigerator to chill for 1 hour.
3. Phew! Pie dough is done! Time to work out the filling. Preheat your oven to 375F. On a lined baking sheet, place the butternut squash face down and transfer to the oven to cook for 30 minutes, or until tender.
4. Scoop out the butternut squash and place in a bowl (you can discard the seeds). Add the brown sugar, cinnamon, ginger, cloves and salt. Do a little taste test to see if you want more sugar or more spices. I liked it like this. Add the egg and mix until thoroughly combined. Set aside.
5. Generously flour your counter or work space and rolling pin. Unwrap the first disc of dough and place it onto your counter. Flatten the dough slightly, rolling it outward in each direction. Pick up the dough and rotate it. Repeat the process of rolling it outward in each direction, and rotating every few moments, until you have a sheet that's about ⅛-inch thick. Cut out circles using a 3 ½-inch cookie cutter. Transfer the pastry circles to a baking sheet and place in the fridge until you're read to use. Repeat the whole process with second disc. You should have about 24 circles. Discard the dough scraps (or bake them up separately for a snack!).
6. To assemble the hand pies: place a scant teaspoon of the filling onto the center of 12 of the pastry circles. Wet your index finger with water and run it along the outside rim of each pastry circle. Top each pastry circle with filling with another pastry circle. Crimp the edges using a fork until they are sealed.
7. Transfer the hand pies to a parchment lined baking sheet and place the baking sheet in the refrigerator for 45 minutes. Preheat the oven to 400F.
8. Take the hand pies out of the fridge and brush with egg wash. Top with a sprinkling of coarse sugar and bake for 15-17 minutes, and until golden brown.
Yields 12 hand pies