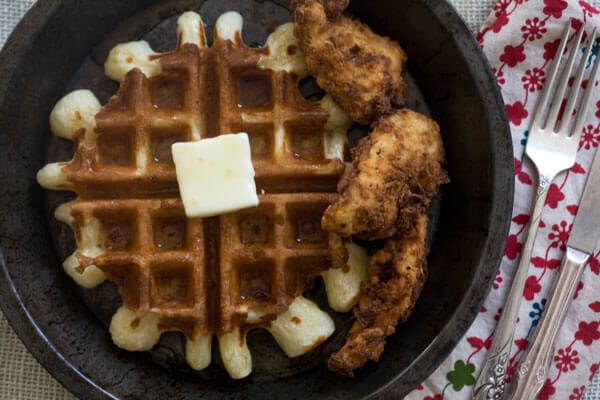 I swear that in a few days I'm going to make something healthy for you but today? Chicken 'n' waffles, my fwiendz.
A few weeks ago, one of you lovely people told me that I make "happy food" and that seriously about made my day. I'm pretty positive that chicken 'n' waffles easily falls into that category.
I feel like happy food can be super powerful. It has the ability to make an already awesome, lazy Saturday morning even more lazy and fun; it can make a sucky Tuesday night, post-work, a little less sucky; and it can make a drunken 3am eating session into something nourishing.
Happy food is fun. I feel like we should collectively promise ourselves we're going to eat lots of "fun food" before bathing suit season. Let's eat waffles today and a salad tomorrow.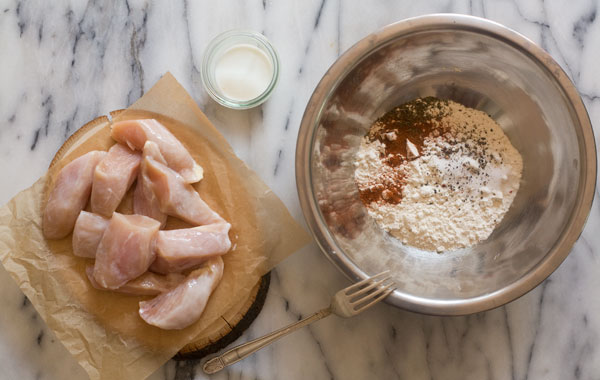 Do you remember when this writer put Thomas Keller's fried chicken against The Pioneer Woman's? It's a funny article. And super interesting. To paraphrase, she made both of their recipes, exactly as written, and fed both versions to her family. And PW won! Her family loved PW's version more, while the writer favored Thomas Keller's.
Anyhow! The recipe below for fried chicken is an adaptation from PW's recipe, scaled down and adjusted to fit this serving size, basically.
Just a heads up, this recipe involves soaking the chicken in buttermilk overnight, so just be sure to keep that minimal-prep in mind.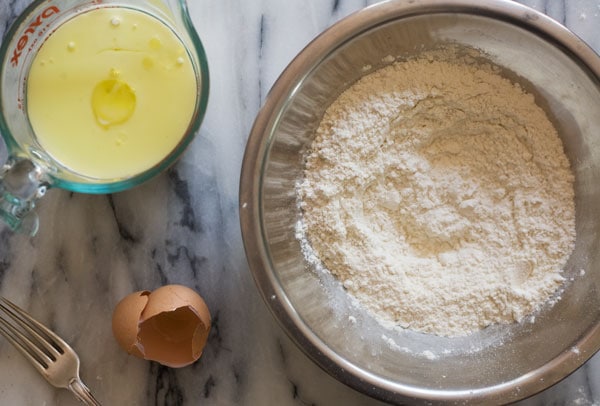 Let's talk waffle irons! If you're in the market, I have some (non-sponsored) opinions.
I bought this one from Presto a few weeks ago. At first, it was tough to know when the waffles were ready, as the timer isn't a reliable indicator. Now I just open the waffle iron when the steam has disappeared. And I haven't had any of the sticking problems like many people complain about in the comments. So, so far, so good!
In a past life I had this fancier, more expensive version from Waring Pro. While it was definitely more aesthetically pleasing, it only lasted a little bit over a year. So far this cheaper version is resulting in some pretty awesome waffles. So, if you're lusting after a waffle iron, I'd go with the cheaper version.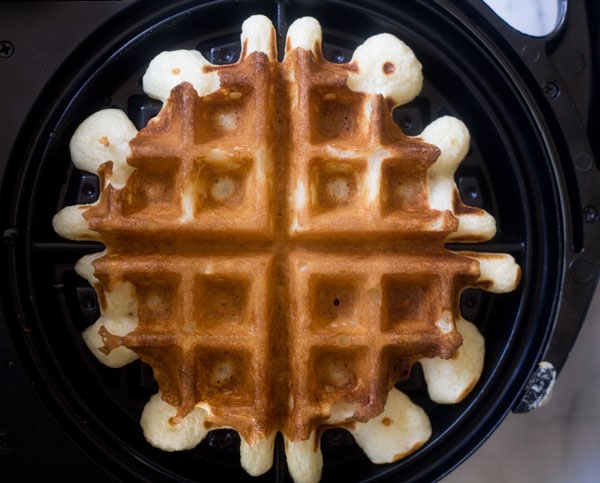 This waffle recipe is a total classic. It yields a sort of crunchy-esque exterior and a soft, hydrated center. The fried chicken is moist on the inside and crispy and crunchy on the outside.
Chicken 'n' waffles is all about opposites saying hello to each other in your mouth. There's the crunchy fried chicken and soft insides of the waffles; there's the savoriness from the chicken and the sweetness from the syrup.
It's a dreamy meal that I love to eat every so often when I'm in the mood to eat something happy.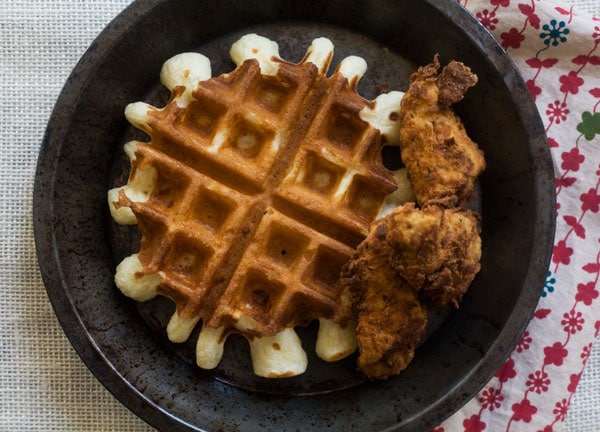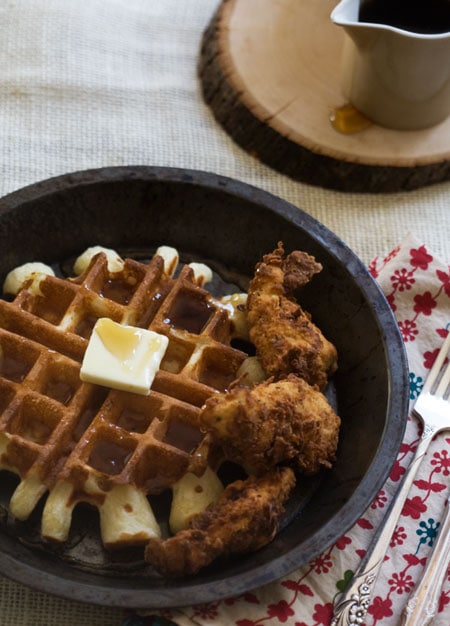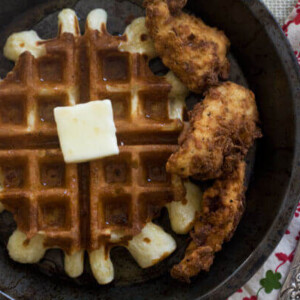 Ingredients
Tip: Make the fried chicken first. In the recipe below I've included directions as to how to keep them warm while you make the waffles.
The night before:
1 1/2

cup

buttermilk

1/4

teaspoon

salt

3

chicken breasts

,

cut into 3-inch pieces
The day of:
Vegetable oil

1

cup

all-purpose flour

1

teaspoon

salt

1/2

teaspoon

freshly ground pepper

1/2

teaspoon

dried thyme

1/2

teaspoon

paprika

1/4

teaspoon

cayenne

1

tablespoon

buttermilk

1

tablespoon

milk
Dry:
1 1/2

cup

all-purpose flour

3

tablespoons

white granulated sugar

1 3/4

teaspoon

baking powder

1/2

teaspoon

baking soda

1/2

teaspoon

salt
Wet:
1 1/2

cup

buttermilk

1

large egg

3

tablespoon

vegetable oil
Directions
Buttermilk Fried Chicken
In a bowl, mix together the buttermilk and salt. Add the chicken tenders and mix, being sure the chicken is evenly coated with buttermilk. The chicken should be at least halfway submerged in the buttermilk so add more if you need to. Cover with plastic wrap and transfer to the refrigerator overnight or for a minimum of 3 hours.

Preheat the oven to 200 degrees F. Remove the bowl of chicken and allow to sit on the counter while you prepare everything. You don't want the chicken freezing cold.

To a medium pot or cast iron, add enough oil so it reaches 1 1/2-inches up the pot's side. Heat the oil to 325 degrees F to 350 degrees F. While the oil is heating up, mix together the flour, salt, pepper, thyme, paprika and cayenne. In a super small bowl, mix together the buttermilk and milk; add it to the flour mixture and mix. (This will make the flour mixture a little shaggy which will help with the crispiness.)

Prepare for a double-dredge! Working in an assembly-type fashion, thoroughly coat each buttermilk-soaked chicken tender with the breading. Re-dip it in the buttermilk and coat it one more time with the flour mixture, pressing to adhere the breading to the chicken tender. Add the chicken to the oil 3 pieces at a time. Allow to fry for 2-3 minutes and until golden brown. Remove and drain on a paper towel. Transfer the fried chicken to a baking sheet and place in the oven to keep warm while you make the waffles.
Adapted from PW's famous Fried Chicken
Buttermilk Waffles
In a medium bowl, mix together the flour, sugar, baking powder, baking soda and salt; set aside. To a measuring cup or a small bowl, measure out the buttermilk. Next, add the egg and vegetable oil; beat until completely combined.

Since each waffle iron is different, add the recommended amount of batter to the iron per your manufacture's recommendation. Close the iron top and cook until the waffle is medium golden brown. Transfer the cooked waffle to a 200 degree F and repeat until you've cooked through the batter.

Serve each waffle with a few pieces of chicken. Garnish with a pat of butter and a heavy drizzle of syrup, if you like.