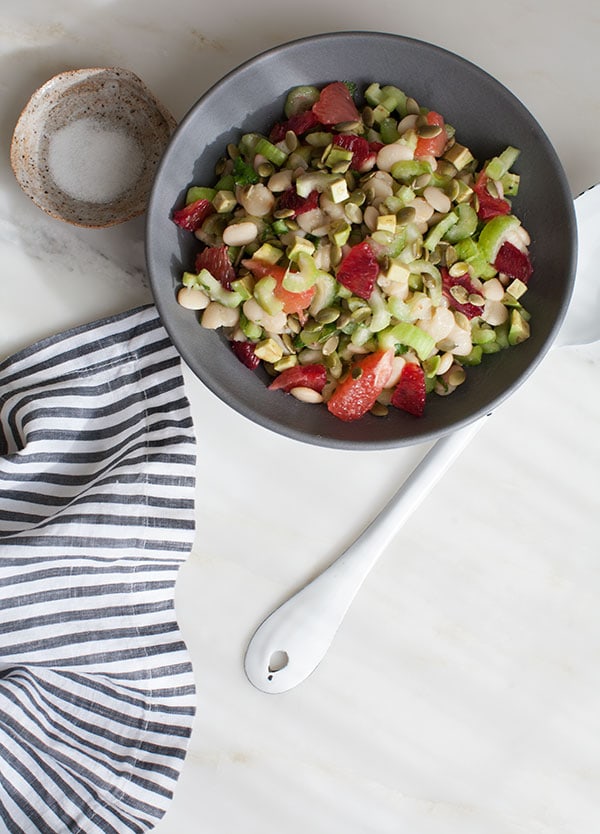 I read a really depressing article the other day.
It was part of Joy's Sunday round-up (I love her Sunday reads). Oh man is was depressing. This article is all about dating and being dissatisfied and feeling like there are so many options out there so why would we settle when something better might be around the corner?!
I really think this is why it can be so hard to date in big cities. A lot of people are always in search for the next best thing. That search, that need for constant stimuli, the need for something even better than what you have makes people's attention span thisbig. Good gracious, how terrible.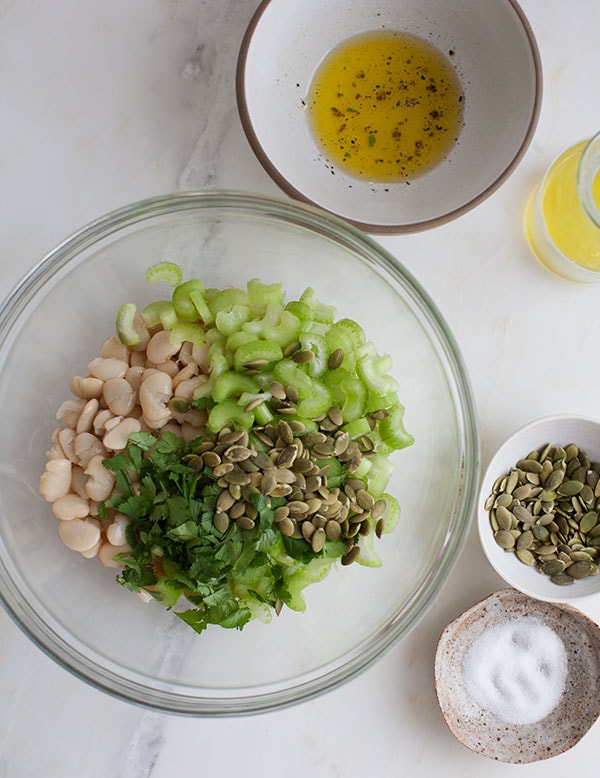 I'm convinced that the fastest way to lead a miserable life is to go around constantly wishing you have more. To compare your happiness to another's and thinking it doesn't measure up. I know this all too well. It's a gnawing feeling. It's the rat race and I've recently realized it doesn't just pertain to our work lives. It can seep into parts of our personal life, too.
For all my single friends, I FEEL YOU I LOVE YOU STAY STRONG! To people who are in good relationships questioning, Are they good enough?! They probably are. Let's talk about salad. (Don't worry, I'll have a cheese dish soon.)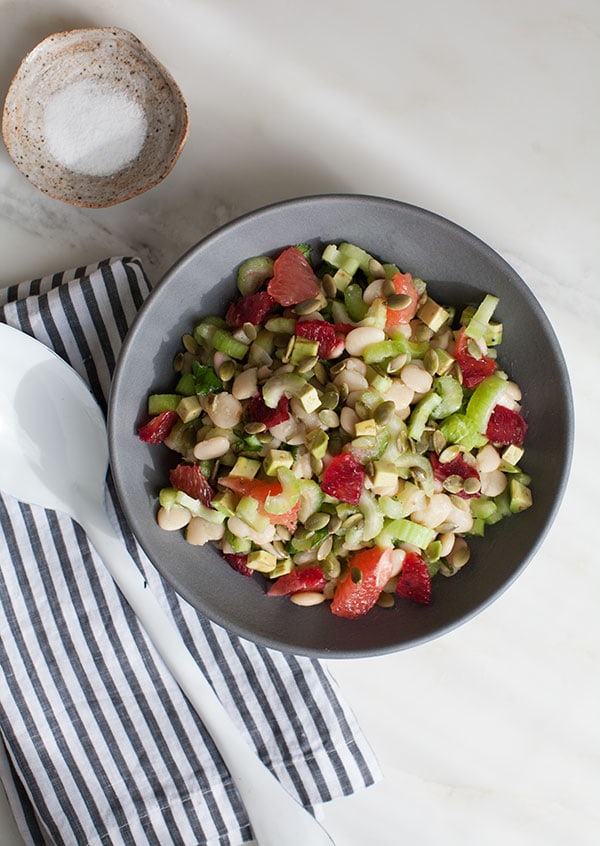 Are you a celery-hater?
I actually looove celery. I love its fibrous nature, I love the snap and water it retains. I love how refreshing it tastes, especially in the middle of the winter when the vegetables that are around are kinda blah.
This salad is sort of like a big ol' fridge dump. I had celery on its way out that really had no home. I had tons of winter citrus from another shoot I was doing. And the butter beans are from a can, a reminder that summer is not that far away. Ugh. I'm enjoying not sweating.
This salad is light and filling and tart and crisp. It's the best of all salad worlds.
This might be the last of my healthy recipes because in a few weeks The Super Bowl (that football game) is happening and you know what that's all about…CHEESE! Lots and lots of cheese. And then Valentine's Day will arrive. And then Christmas.
This year already feels like it's moving at lightening speed. All I want it to do is stop. I want to suspend it in mid-air so I can enjoy a day or two without feeling like it's slipping away from me.
Let's commit to eating this salad sometime soon and just enjoying the day for what it is.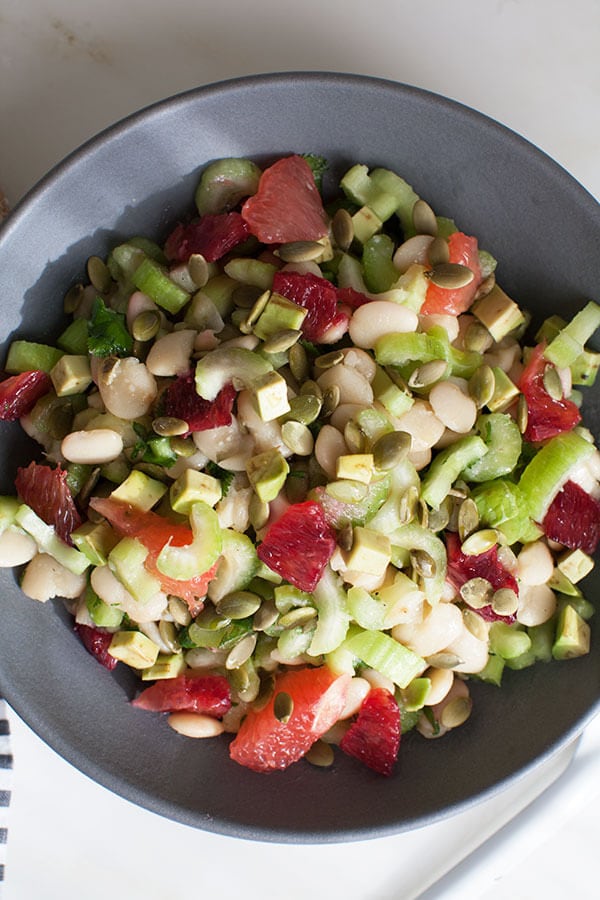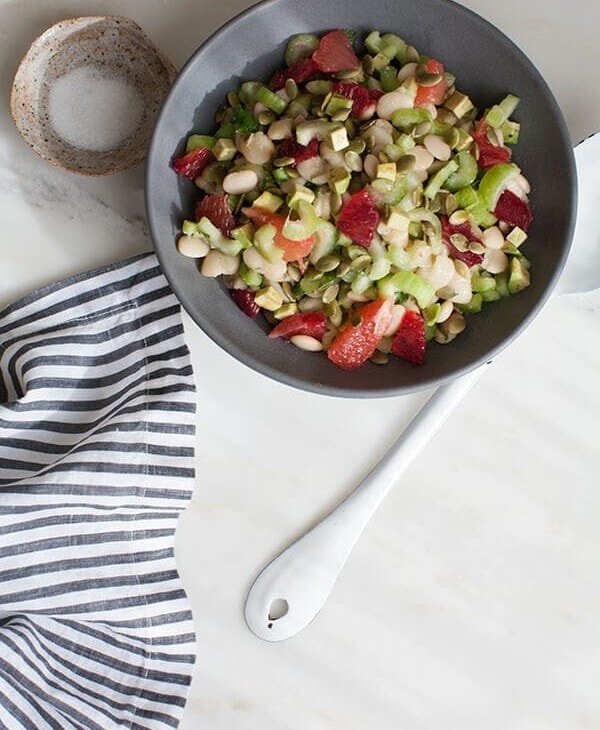 Print Recipe
Butter Bean Celery Pepita Salad w/ Winter Citrus
Ingredients
Juice from 1 lemon

1/4

cup

olive oil

Salt

Freshly ground pepper

5 to 6

ribs of celery

sliced horizontally

1

15-ounce can butter beans, drained and rinsed and then drained again

Handful of Italian parsley

roughly chopped

1/4

cup

pepitas

1/4

grapefruit

segmented

1

blood orange

segmented

1/2

avocado

diced
Instructions
In a small bowl, whisk together the juice from 1 lemon, olive oil, a few generous pinches of salt and pepper.

To a serving bowl, add the celery, butter beans, Italian parsley and pepiitas; pour the dressing on top and lightly toss until the dressing is distributed throughout. Give it a taste and adjust the salt (I added an additional 1/2 teaspoon). Lastly lightly fold in the grapefruit, blood orange segments and diced avocado and serve.