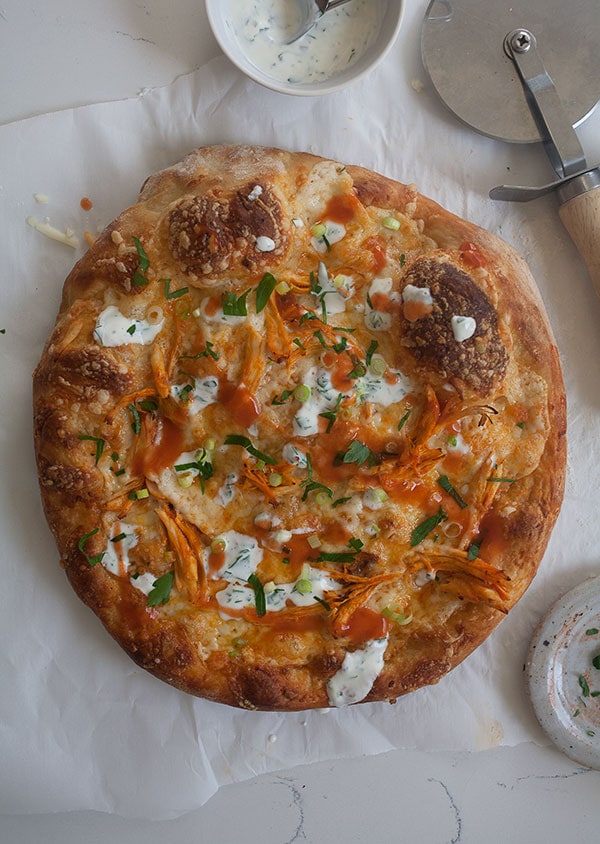 Today we're trashing it up. There's nothing artisanal about this pizza. It doesn't wear suspenders, a pageboy hat or do the whole fancy-talk about coffee. Think Lindsay Lohan passed out in the front seat kinda trashy. I'm pretty sure that's where buffalo chicken pizza ranks on the scale of trash.
If you know me, you know that chicken wings of any form are my favorite food ever. I like Korean chicken wings, Japanese-style fried chicken, Thai chicken wings and of course, good ol' American buffalo chicken wings.
This pizza exploits all those delicious flavors: hot sauce, chicken, ranch dressing and for good measure, some fresh Italian parsley and green onion.
In other pizza-making news, I haven't made pizza for this blog for a very, VERY long time. It's mainly taken me so long because I broke my pizza stone during a move and hadn't replaced it…until…Baking Steel got in touch with me and sent me one.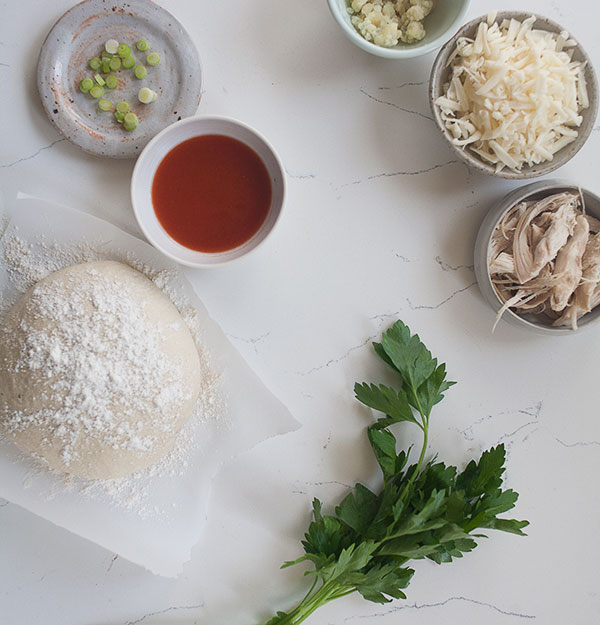 The idea is that steel conducts heat far better and faster and hotter than clay, making this plate of steel the perfect thing to make pizza on. You guys, it was great. The bottom wasn't soggy, it was crisp and delicious.
This isn't a sponsored post, but man was this steel plate pretty awesome. Alternatively, you can also head to Lowe's and buy a super inexpensive (read: $2) clay tile and use that too, though I do love the steel plate and will never go back.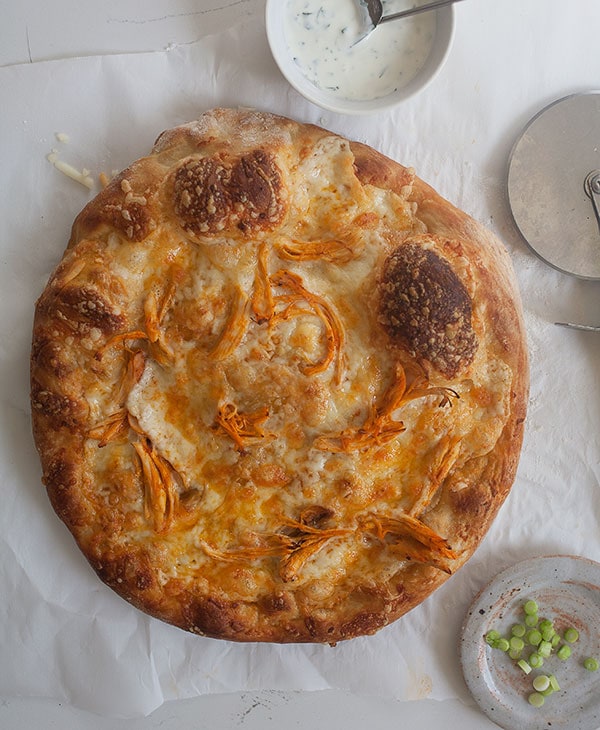 You got options!
P.S. I know I was gone for a week but I didn't forget you I swear, I'm back for good now.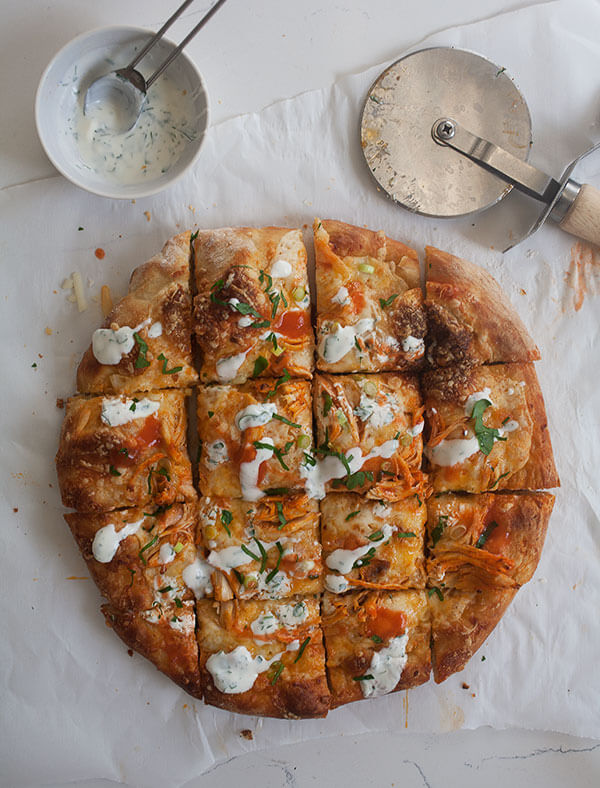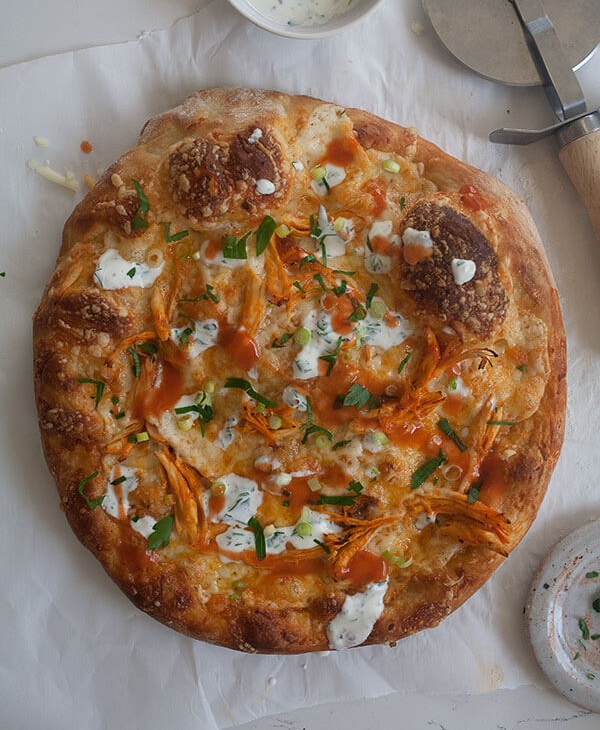 Print Recipe
Buffalo Chicken Pizza
Serving Size:
twelve-inch pizza
Ingredients
1

twelve-inch pizza dough

homemade or store-bought

1/4

cup

wing sauce

such as Frank's, plus more for garnish

3/4

cup

shredded Monterey Jack

*1 cooked chicken thigh

shredded

1/4

cup

buttermilk

shaken

2

tablespoons

sour cream

1

tablespoon

freshly chopped Italian parsley

plus more for garnish

2

teaspoons

freshly minced dill

Sea salt

1

green onion

thinly sliced
Instructions
Preheat your oven to 500 degrees for 1 hour; this way your pizza stone or steel plate is super hot.

Stretch out your pizza dough until it reaches a 12-inch circle, or you know, a shape that resembles somewhat of a circle. Spread out the wing sauce evenly. Top with shredded cheese. *Transfer the pizza to the oven to bake for 5 to 7 minutes; make sure to keep an eye on it since everyone's times might be slightly different. When your pizza is starting to get lightly browned on the edges and the cheese is melty, carefully add the shredded chicken—use tongs! Bake for an additional 5 minutes or so.

Meanwhile, quickly whisk together the ranch dressing: buttermilk, sour cream, Italian parsley, dill and a few pinches of salt.

When the pizza is done, top with a sprinkling of green onions, a handful of fresh Italian parsley, a few splatters of ranch dressing and some additional wing sauce, too. Make it messy and fun! Slice it up and serve warm.
Notes
*I used leftover rotisserie chicken for this. But, if you don't have any lying around, feel free to cube up a chicken thigh and put it on the pizza from the start versus when I added my shredded chicken.
*Transferring the raw pizza to a stone or steel plate is tricky. A pizza peel is the way to go, but I didn't have one. I found that a plastic cutting board, lots of flour underneath the pizza and quick shake movement, made the pizza slide onto the steel plate perfectly!