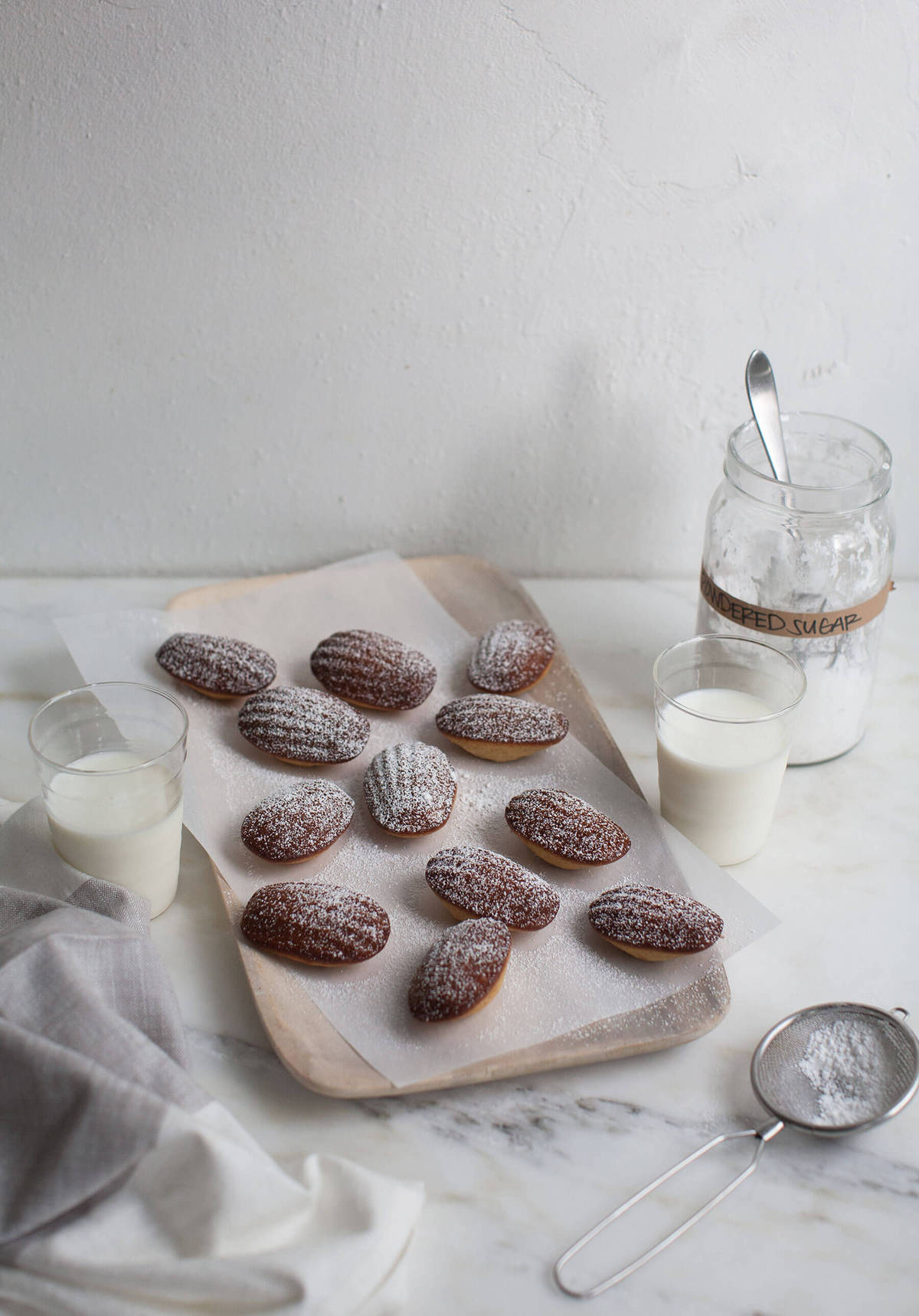 I've always wanted to make madeleines because as a kid I was obsessed with the Madeline book series.
"In an old house in Paris that was covered in vines, lived twelve little girls in two straight lines …"
Whenever I misbehaved, my parents loved to threaten to send me to boarding school but because of Madeline, I was actually like, Ok, send me to boarding school—it looks like fun!
In my brain, boarding school was a place where I'd get to hang out with my friends and study together and play lacrosse together and wear knee high socks.
I went to catholic school my whole life so I was used to nun. All the scary nun stories that older people loved to tell me never had an affect on me because all the sisters at my school were so nice; I was never hit with a ruler or told to stand in the corner.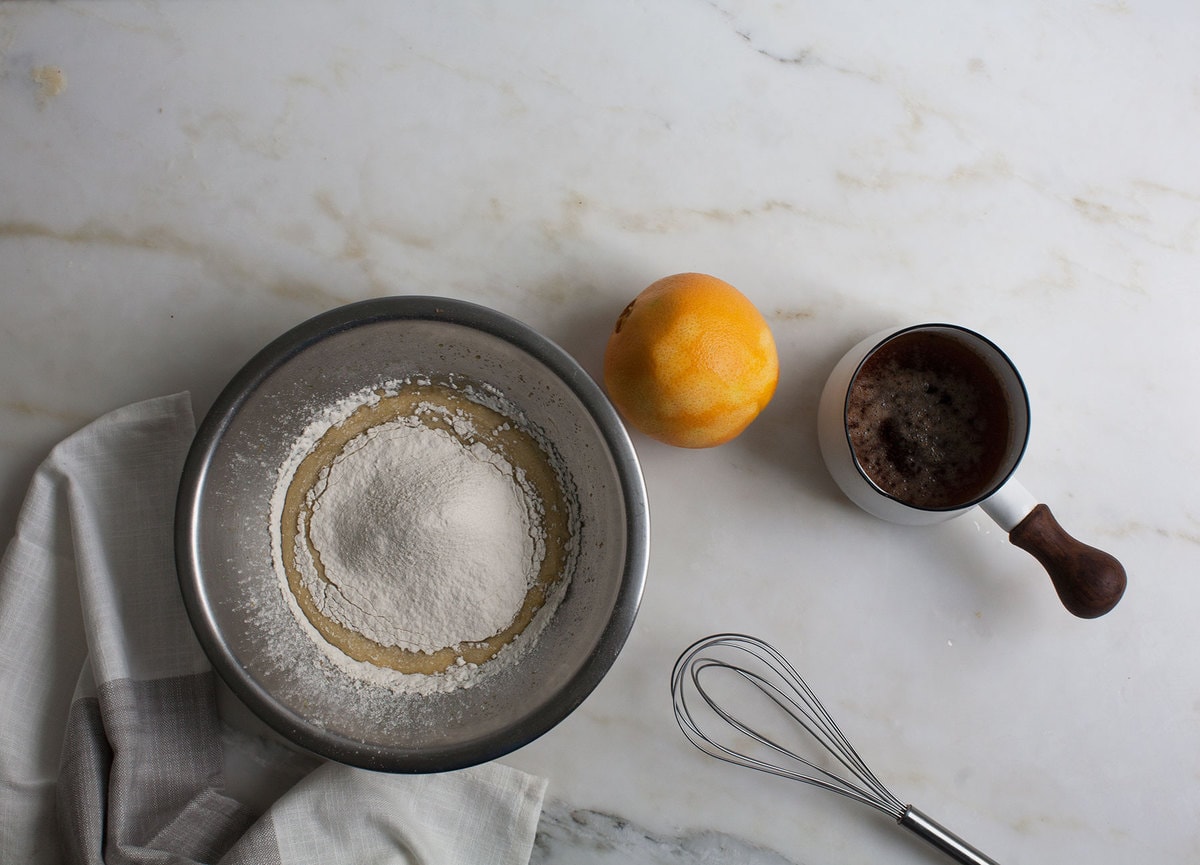 Fun fact: Amelia was almost named Madeline. It was between the Amelia Bedelia books and the Madeline books.
I feel like Amelia is closer to Amelia Bedelia's personality (read: a hot mess) than Madeline so I think it's a good choice.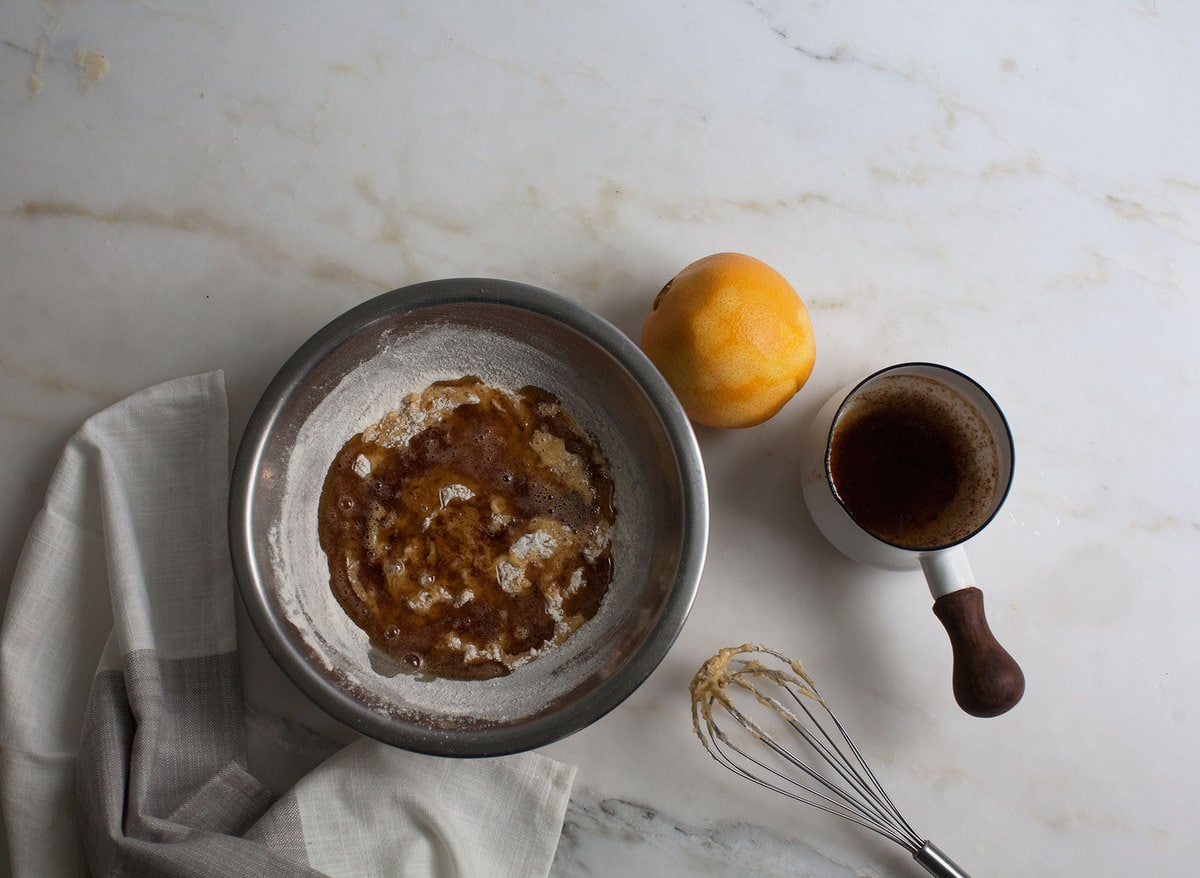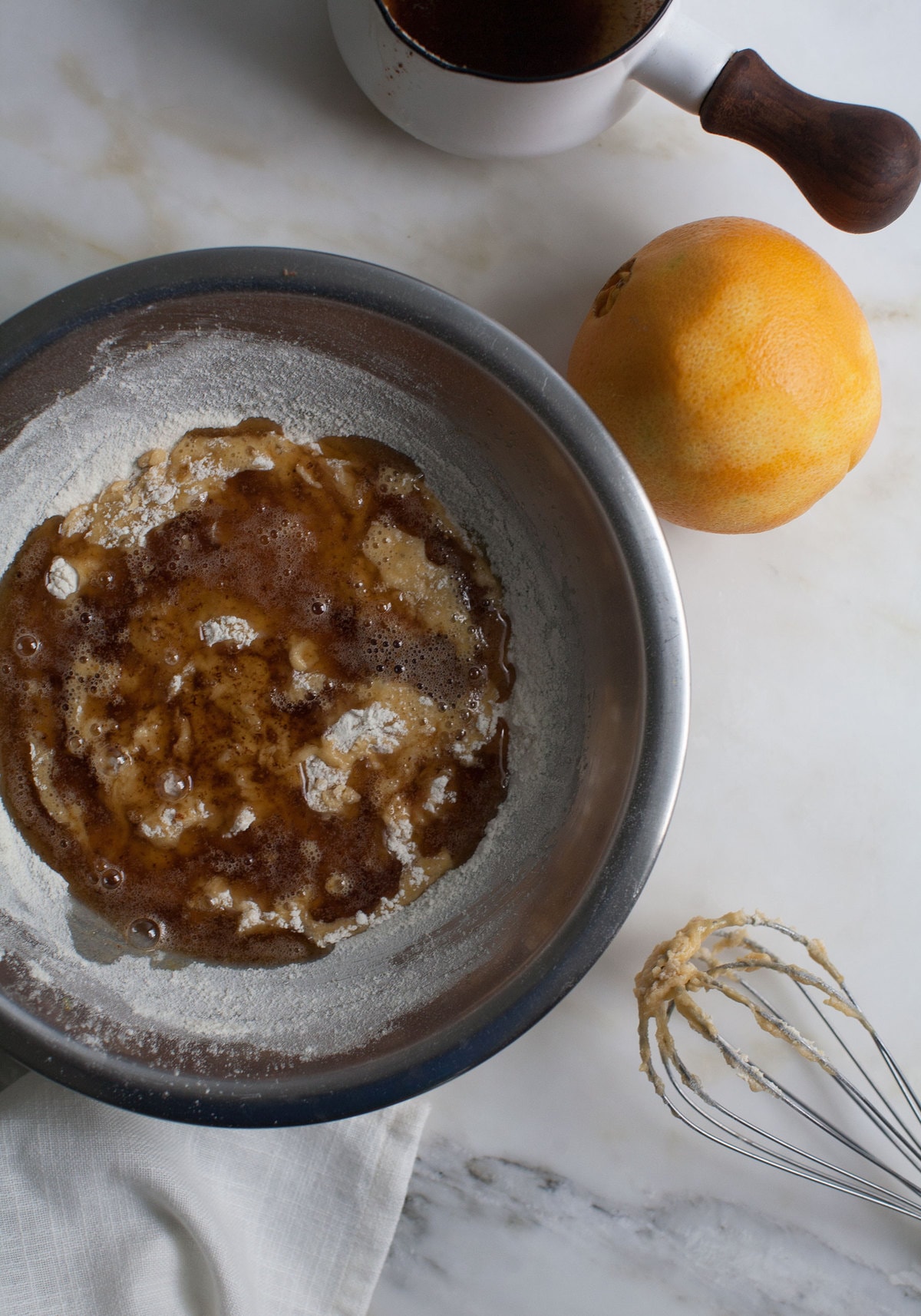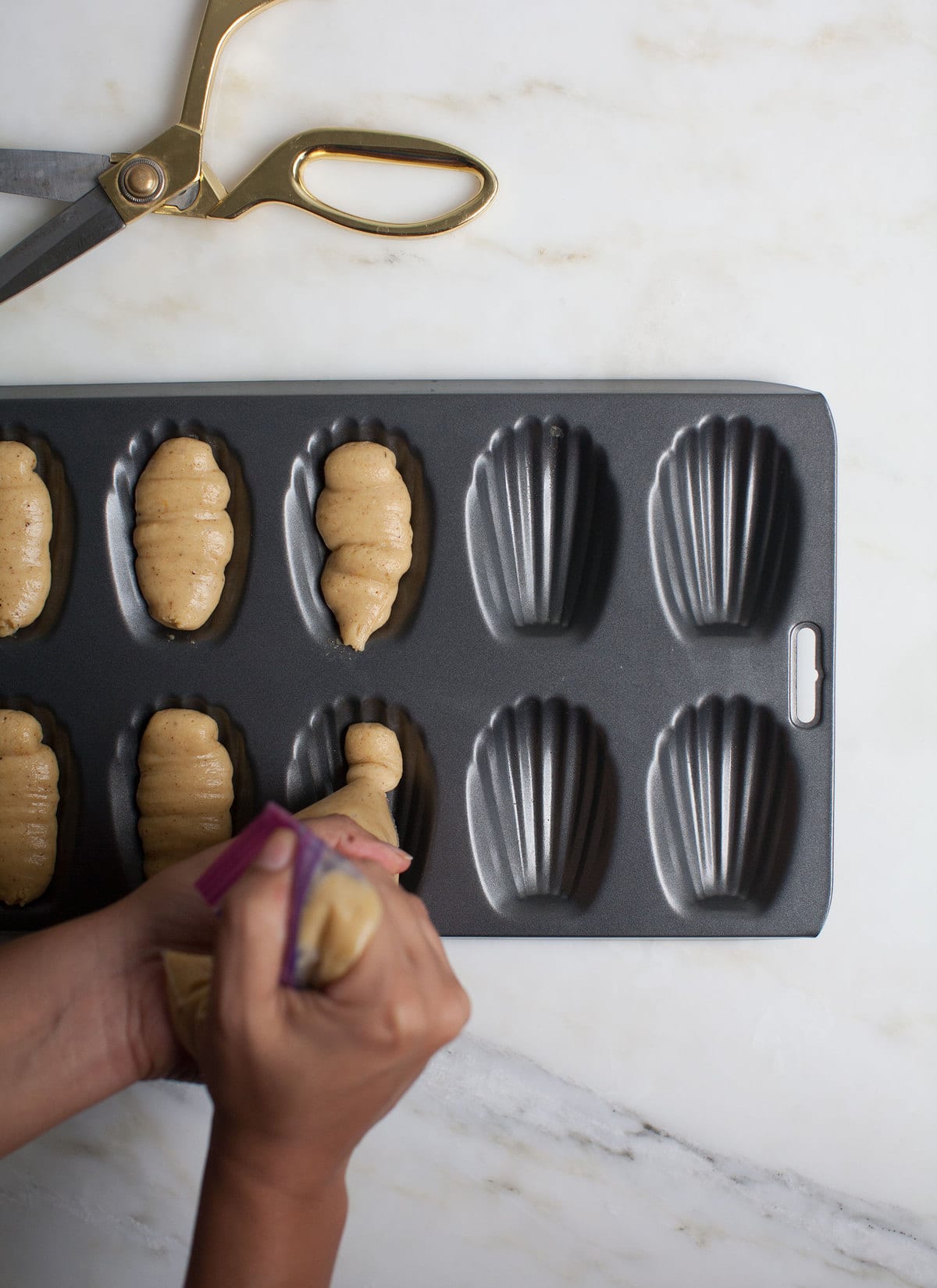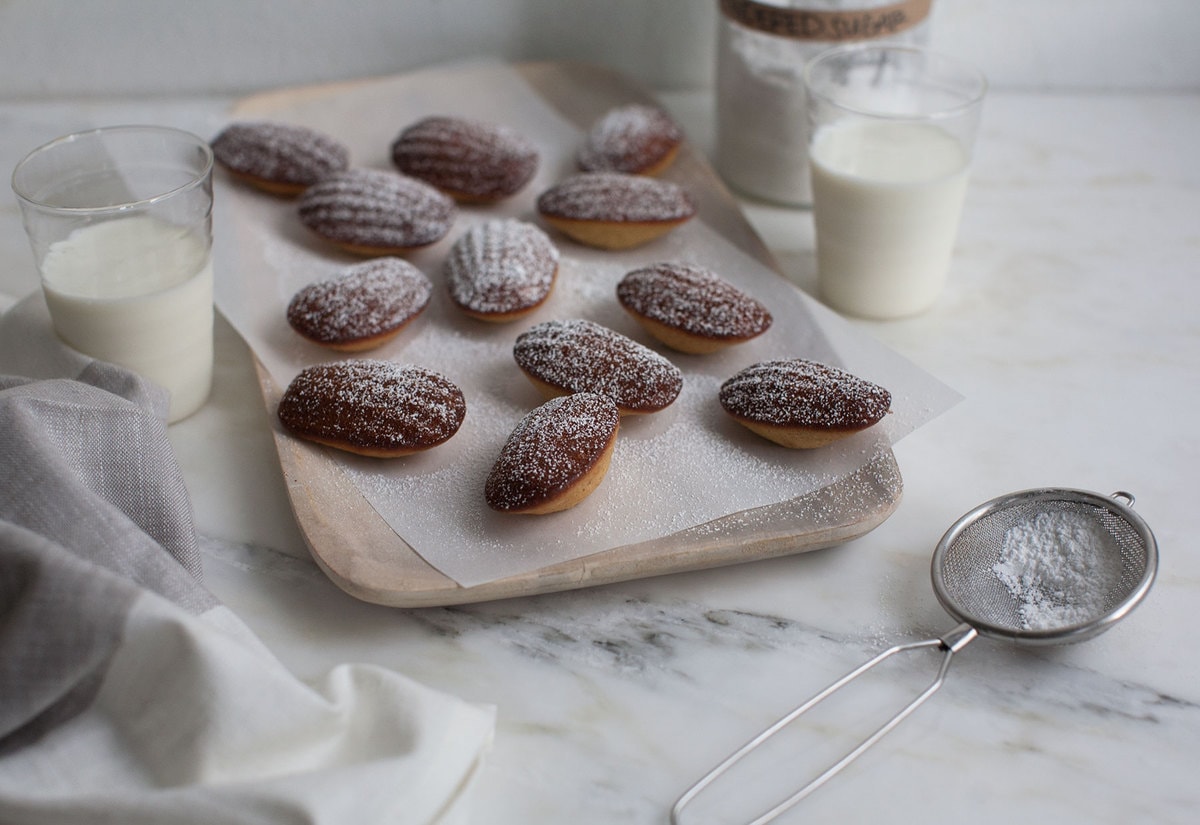 Now, to cookies/cakes. The best madeleines I've ever had were at Cafe Boulud, Daniel Boulud's restaurant in the Upper East Side. I was staying at the hotel above it earlier this year for work and I headed down to the restaurant for dinner. When they bring out the check, they also bring out a warm basket of madeleines. I was dining all by myself and yet they brought out the normal amount…five warm, perfect madeleines. ALL FOR ME!
I ate every single one because they must be eaten warm.
I decided mine should have a liberal amount of orange zest and brown butter. Lots of brown butter. And since I figured he'd know better than anyone, I adapted his recipe to cater to my brown butter desires.
These are perfectly scented and buttery and nutty and just delicious.
The best part about madeleine pans are that they are made by the dozen…just like "twelve little girls in two straight lines."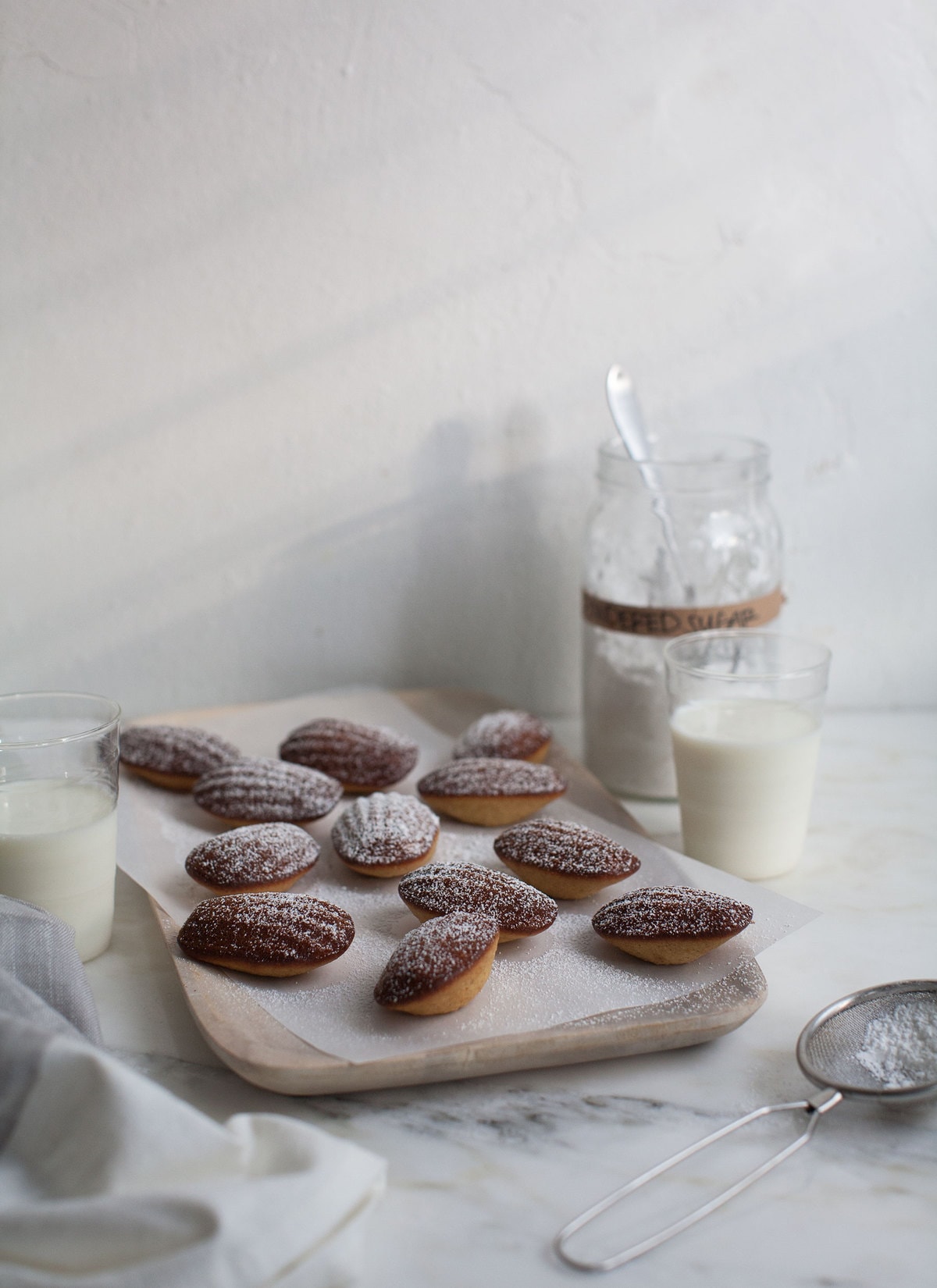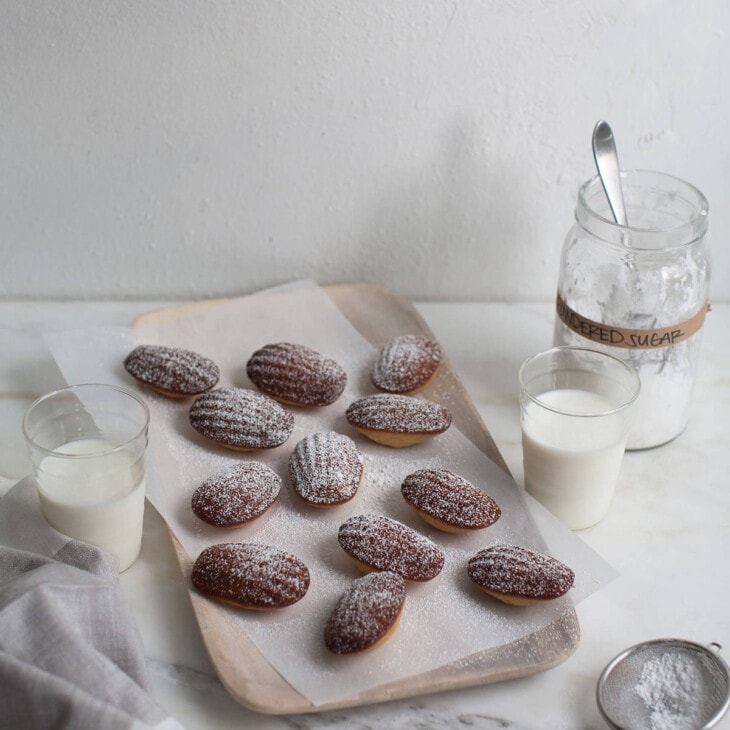 Print Recipe
Brown Butter Orange Madeleines
Ingredients
2

large eggs

1/3

cup

granulated sugar

1

tablespoon

light or dark brown sugar

1

tablespoon

honey

2

teaspoons

orange zest

3/4

cups

all-purpose flour

3/4

teaspoon

baking powder

1/2

teaspoon

salt

8

tablespoons

1/2 cup unsalted butter, cubed

Powdered sugar, for garnish

Cooking spray, as needed
Instructions
In medium bowl whisk together the eggs, sugar, brown sugar, honey and orange zest. It should be fragrant and delicious! In a small(ish) bowl, whisk together the all-purpose flour, baking powder and salt. Set bowl bowls aside.

In a small saucepan, set over medium heat, add the cubed butter. Once the butter has melted, it'll start to foam off a bit. Stir every so often until lightly browned speckles begin to appear at the bottom of the pan. The butter should start to give off a nutty aroma! Keep stirring until the speckles are a golden brown hue. Immediately remove from the stove.

Sift the dry ingredients into the wet and mix until barely combined. Pour in the browned butter and mix once more until mostly smooth. Transfer the batter to a ziploc/plastic bag, press out any air, seal and transfer to refrigerator to rest for at least 1 hour, up to 2 days.

Preheat the oven to 375 degrees F. If needed, grease and flour your madeleine pan. Cut off the end of the plastic bag and pipe the batter into each mold, filling about 3/4 of the way (you may have a tablespoon or two of batter left over).

Transfer to the oven to bake for 7 to 8 minutes, until edges are golden brown and centers are puffed and lightly spring back when gently pressed. Tap pan against counter to release madeleines. Dust with a liberal amount of powdered sugar and serve warm.
 YES, WARM!
Notes
Make ahead: Feel free to make the batter the night before. You could even double it, and then bake off a few at a time when you're in the mood for warm, soft pillow-y madeleines.
Hate orange? Swap it for lemon zest or simply leave it out.