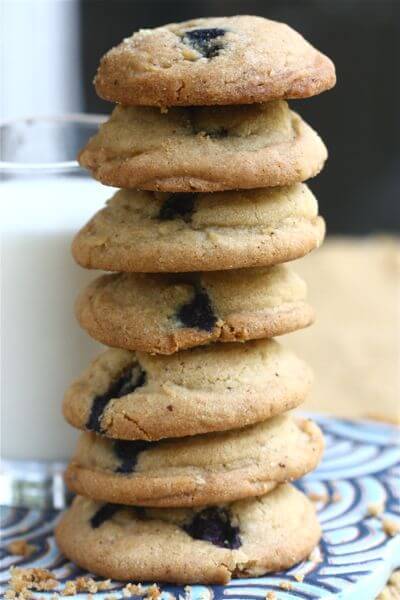 Wasn't 4th of July kind of a weirdo this year? I mean, in the middle of the week? How awkward. No long weekend. No weekend getaways. I wonder if 4th of July feels a little weird about itself.
Or maybe it's all sorts of proud that it gave people an awesome little mid-week break. Who knows! I spent the good part of the morning in my pjs putting brown butter and blueberries in cookies so, for me, it was kind of perfect.
I've now realized that brown butter very rarely doesn't have a place in edible things. It never fails at making things better. Never. I think we should talk about these cookies. I love them…a lot.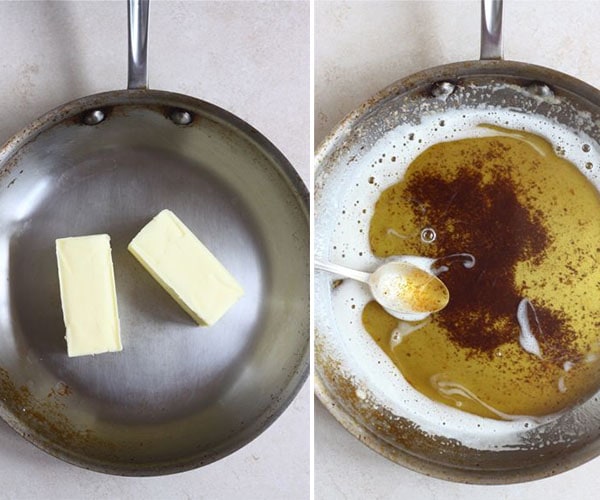 I started with one of my all-time favorite chocolate chip cookie recipes by Alton Brown. Two things make this recipe special: melted butter and bread flour.
The bread flour gives these cookies some height. And since some blueberries can be about three times the size as chocolate chip cookies, they definitely need the cookie dough space to do their thing. I imagine blueberries in flatter cookie being kind of a mess. The height is important!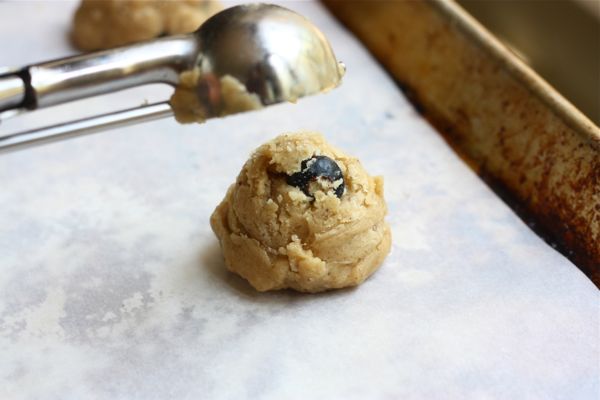 If you've never browned butter before, it can kind of be a little scary. There's a very fine line between nutty, brown and delicious and just burnt melted butter. I always tend to under brown the butter, stir it and then return it to the stove in thirty second increments until it's perfect.
Ruining two sticks of butter is expensive, man!
I actually put the pan on the right back on the stove for about 30-40 seconds longer and it was perfect.
P.S. Don't tell Alton Brown I told you this, but if you don't have bread flour and don't want to buy it, all-purpose will work, too. They'll be flatter, not as chewy, less awesome, but still solid.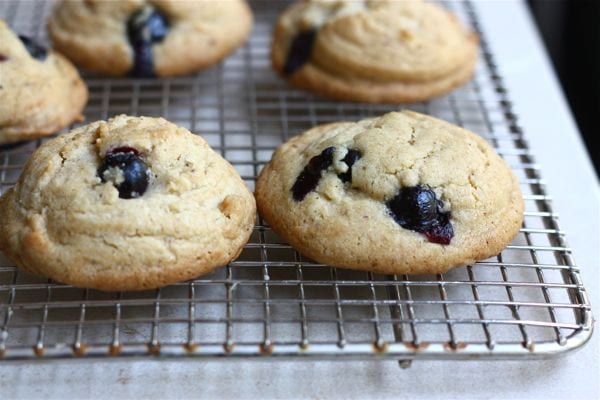 Fruit in cookies is my new jam--it's major-major.
The nutty brown butter flavor paired with tart, oozy blueberries? BOOM BOOM POW. So special.
The blueberries in these cookies almost make them taste breakfast-like. Is this a breakfast cookie? Technically no, but who says you can't have them for breakfast. YOU DO YOU!
Brown Butter Blueberry Cookies
2 ¼ cup bread flour
1 teaspoon sea salt
1 teaspoon baking soda
2 sticks unsalted butter
¼ cup white granulated sugar
1 cup light or dark brown sugar
1 large egg
1 large egg yolk
2 tablespoons whole milk
1 ½ teaspoons vanilla extract
¾ cup fresh blueberries
1. In a medium bowl, sift together the flour, salt and baking soda; set aside.
2. Melt the butter in a medium skillet or saucepan over low heat. After a minute or so, the butter will begin to foam up and begin to make a crackling noise. Be sure to keep a close eye on it the entire time. At about the 2-3 minute mark, the butter's hue will begin to change from yellow to a light brown. Once golden brown bits begin to form on the bottom of the skillet, turn off the heat and stir until the butter darkens slightly. Immediately transfer the brown butter to a medium bowl.
3. To the brown butter, add the sugar and brown sugar. Cream the butter and sugars together on medium speed. Add the egg, egg yolk, 2 tablespoons milk and vanilla extract; mix until well combined. Slowly incorporate the flour mixture until thoroughly combined. Gently stir in the blueberries, being careful to not break them. Blueberry breakage will cause weird blue streaks throughout the dough, which will result in pretty scary looking dough.
4. Using a (2-ounce) cookie dough scooper, scoop dough onto a parchment-lined baking sheet (or plate), placing them close-ish together. Transfer the baking sheet to the refrigerator to chill for an hour.
5. Preheat the oven to 375F. Transfer 6 cookies to a parchment-lined baking sheet and bake for 14 minutes, or until golden brown. Repeat baking process until you've baked up all of the cookies. Cookies will last up to 5 days in an airtight container.
Yields 23 cookies (Using a 2-ounce ice cream scooper)
Recipe adapted from Alton Brown