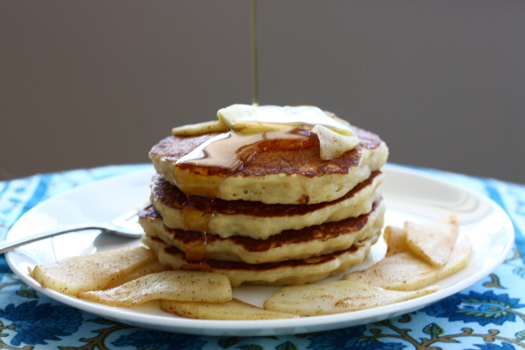 I kinda wanted to make pancakes. And then I wanted to make bread pudding. And then I found a way to make both..in one. These pancakes are what dreams are made of. They taste like bread pudding and Christmas morning all in one bite. Amazing, right?
It all starts with cutting up some good white bread and soaking it in milk, vanilla extract and a little cinnamon. You can add some booze in there too, if you like. I think that'd a great idea. Maybe some bourbon? Maybe some rum? Maybe Grand Marnier? Shut up. Why didn't I add this?!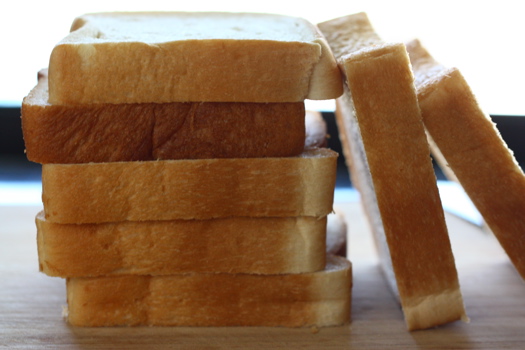 This step is my favorite part of the Bread Pudding Pancake process. You cut off the crusts–5th grade style–and cut the bread up into 1-inch cute, little pieces.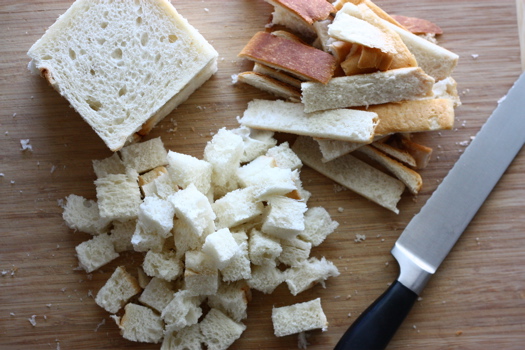 And then you put it all in a bowl with a little milk, vanilla and cinnamon. Next you're gonna stick your nose in the bowl and smell it. And then you're gonna try not to eat the soupy mess. It smells great. It looks a little scary. Whatevs. Don't think about it.
Keep movin'.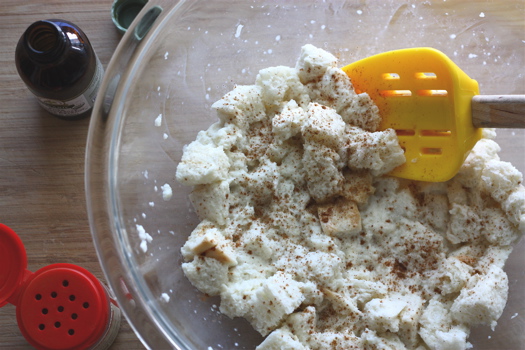 Next you're gonna sift all the dry ingredients. It's the usual stuff; ap flour, a little sugar, a little salt, and a whopping amount of baking powder (I like fluffy pancakes–not super thin ones).
Can I tell you something? I'm obsessed with weighing ingredients. Offf course, it's more accurate. I did a test and it definitely is.
But I love it because it's fun. Umm…don't ask why. But I've been thinking about this and I think it's related to my childhood aspirations to be cashier at a grocery store. I like weighing stuff, typing stuff in and…well, that's all. I like it. This is ALSO why I lurve the self-checkout at grocery stores.
I'm a weirdo sometimes. Let's keeep it movin'.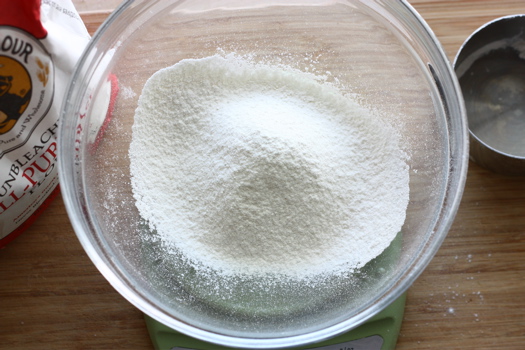 Then you're gonna add the dry ingredients to the wet ingredients. I didn't take a picture of it because it wasn't a super cute picture. I try to keep it cute on here, ya know.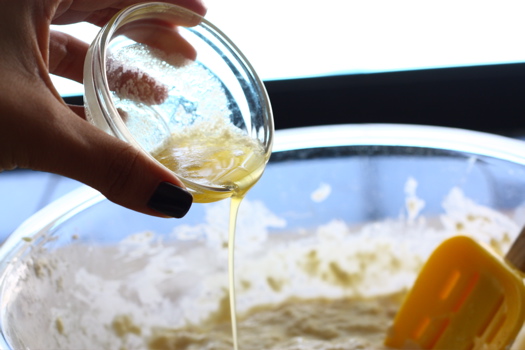 And I mixed it all up and added the beaten eggs and melted butter.
I mixed it all up and let the batter sit for 10 minutes or so. All this'll do is just allow the batter to thicken a bit. A little side note: If the milk is separate from batter, then it's probably because you didn't beat the egg before you added it. I did this the first time I made these pancakes and messed up the whole batter. Not cute. The batter should look like it does above.
After the batter sat for a bit, I used a 1/4 cup measure and placed a few pancakes on a cast iron skillet. I had the heat at medium when I first added the pancakes, but then shortly brought it down to a medium low. The center is gonna be moist–like bread pudding, but it shouldn't be raw or doughy. Gross!
So just bring down the heat to be sure it's cooked in the center. That is all. Easy peasy.
And then I had an apple laying around so I thought I should cut it up and saute it with a little butter, sugar and cinnamon. Second good idea of the day!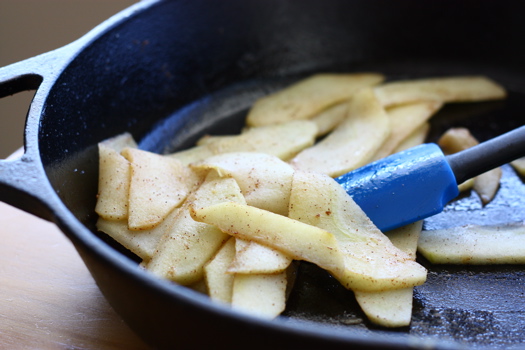 Bread Pudding Pancakes
Adapted from Bon Appetit
3/4 cup all purpose flour
2 tablespoons sugar
1 1/2 tablespoon baking powder
1/2 teaspoon salt
7 ounces (about 7 slices) firm white sandwich bread, crusts trimmed, cut into 1/2-inch pieces
2 cups whole milk
1 teaspoon of vanilla extract
1/4 teaspoon of ground cinnamon
2 large eggs, beaten to blend
3 tablespoons butter, melted
1 Granny Smith apple (optional)
2 tablespoons (or more) butter
Maple syrup
Stir flour, sugar, baking powder and salt in small bowl to blend. Place bread in large bowl and add milk, vanilla extract and cinnamon. Let stand until bread is very soft and beginning to fall apart, stirring mixture occasionally, about 15 minutes. Add flour mixture to bread mixture and blend. Mix in eggs and 3 tablespoons melted butter. Let batter stand 15 minutes.
Preheat oven to 150°F. Melt 2 tablespoons butter in heavy large skillet over medium heat. Drop batter by 1/4 cupfuls into skillet, then turn down heat to medium low. Cook pancakes until bubbles form on surface and bottoms are brown, about 2 minutes. Turn pancakes over; cook until cooked through and brown on bottom, about 2 minutes longer. Transfer to baking sheet. Keep warm in oven. Repeat with remaining batter, adding more butter to skillet as needed.
If you'd like, you can cut up an apple into thin slices and throw in the same pan you cooked the pancakes. (Save on dishes!) Add a little butter, cinnamon and a dash of sugar and salt and toss. Cook for 2-4 minutes, or until soft.
Serve pancakes with syrup, a dollop of butter and sauteed apples. Yum!
Yields 8-10 pancakes