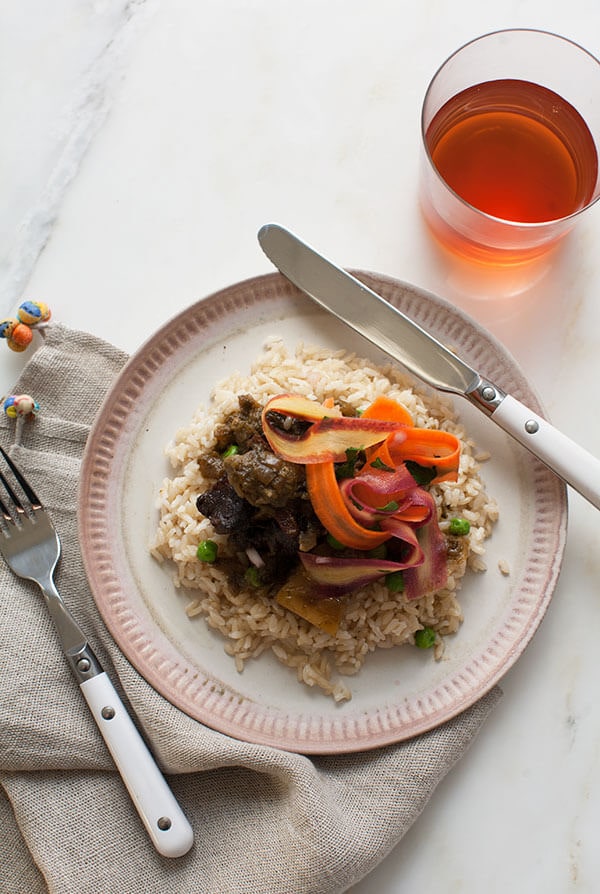 Sundays were designed for cooking, weren't they?!
When I was a kid, Sundays always meant something was simmering on the stove. The day was filled with lots of food, playing outside, family; and the focus was always to enjoy the thing we never have enough of: time.
What you see pictured is the Sunday food of my childhood. It's the dish my mom and dad would get started in the morning and let cook in the oven for hours and hours. The smell is intoxicating—it's the smell of my mama's homeland, and in turn the smell of Sundays growing up. The other day when I recreated it, I had forgotten for a moment what the smell meant to me; I missed home for a bit.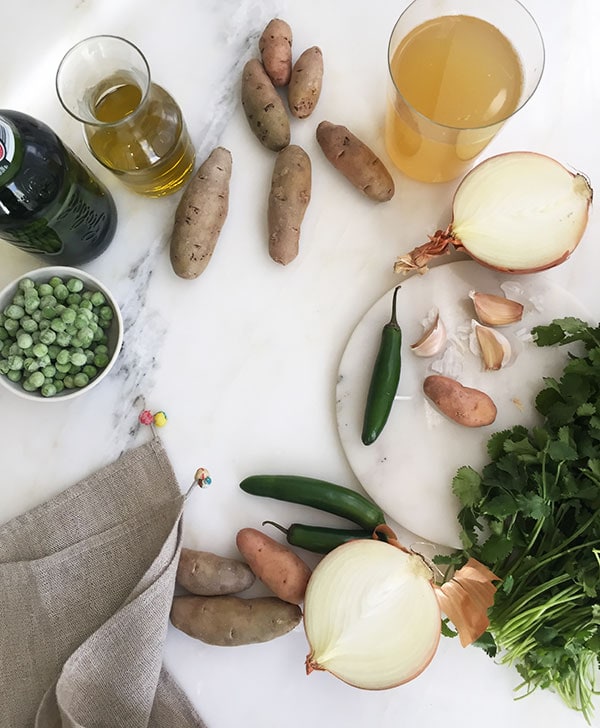 Over the next few months, I'll be teaming up with Wolf to bring you some awesome recipes that go with their latest initiative, which focuses on reclaiming the kitchen. The idea behind it is one I can get behind: to encourage people to get back in the kitchen and cook their little hearts out. Obviously, most of us here don't have that problem, we like cooking! But maybe you know someone who needs a bit of inspiration, a bit of nudging, or who knows, maybe you're in a slump. I feel like I'm just getting out of a slump and it feels good. I feel invigorated and inspired to cook.
This video below is really beautifully shot and produced. I love all the stop-motion and different family dinner set-ups. This video is really about cooking at home with your family; it's a reminder that food memories are cemented in time in the home, at the dining room table.
It definitely made me want to cook more which is crazy surprising since I cook all the time! I guess that just speaks to how much I enjoyed it. Take a peek at this video to learn more about reclaiming the kitchen.
This rendition of Seco is slightly different from my mama's. Instead of typical stew meat, I went for oxtail, which is the tail of the cow cut into 1-inch thick pieces.
The braised oxtail is topped with a carrot slaw, giving a lovely freshness that's needed when eating a piece of meat that's on the more indulgent side. I served this on a bed of Japanese brown rice and it was a nice balance of grain and meat and salad. I was very into it.
If you find yourself with a Sunday and no plans (those are the best Sundays in my opinion), start this dish in the morning. Get your friends or family to help! And forget about it; in a few hours it'll be the most heavenly and easy dinner ever!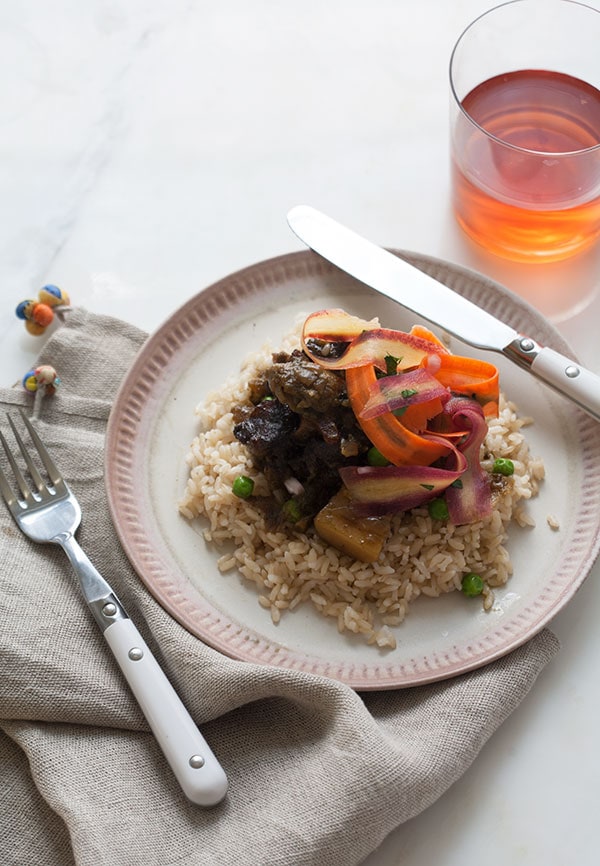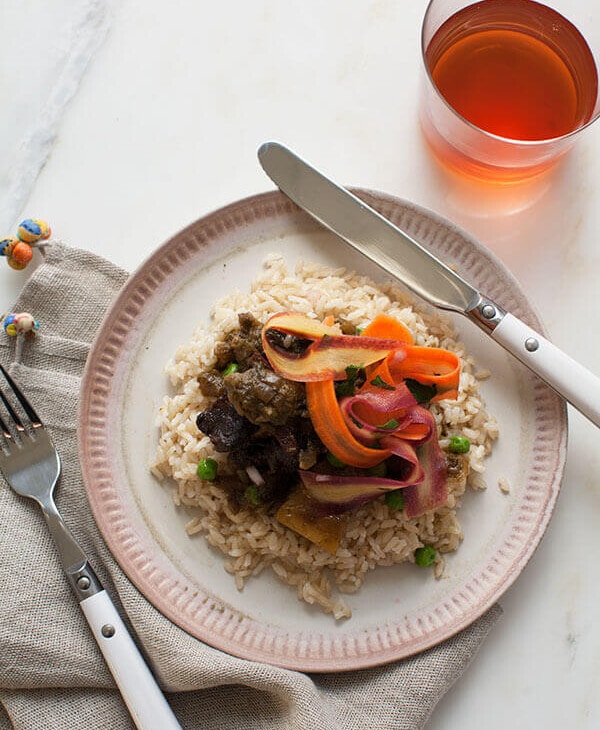 Print Recipe
Braised Oxtail, Peruvian Style
Ingredients
Oxtails
1

large bunch of cilantro

stems cut off and discarded

3

serrano peppers

1 ½

cups

low-sodium chicken stock

Salt

Olive oil

1

pound

oxtails

1

yellow onion

peeled and diced

3

garlic cloves

minced

2

teaspoons

ground cumin

1 ½

teaspoons

ground pepper

1

teaspoon

paprika

1 ½

cup

lager beer

1

pound

fingerling potatoes

1

cup

frozen peas
Carrot Slaw
2

carrots

1

shallot

1

handful of flat-leaf Italian parsley

Juice from 2 limes

Salt
Instructions
Preheat oven to 325F. To a blender, add the cilantro leaves, serrano peppers and the chicken stock. Blend until smooth(ish); the mixture will resemble a very watery pesto. Set aside.

Sprinkle a few pinches (about 1 teaspoon of salt) on both sides of the oxtails. In a large (5-quart) Dutch oven, set over medium-high heat, add 2 tablespoons of olive oil. When the oil is very hot, add the pieces of oxtail in one layer, being sure to not overcrowd the pot. Cook the pieces of oxtail on both sides for about a minute per side, until they've developed a brown crust on their exterior. Remove the meat from the pan and transfer it to a bowl. Set aside.

In the same pot (no need to wash it out), set over medium heat, add a tablespoon of olive oil and add the diced onion; cook until translucent, about 5 minutes. Stir in the garlic, cumin, pepper, paprika and 1 teaspoon of salt.

Pour in the beer and cilantro mixture and deglaze the bottom of the pot, scraping the brown bits as the beer foams up and steams. Nestle the oxtails and any of the juices that have leeched out back to the pot.

Cover the pot with a lid and transfer it to the oven. Allow to gently simmer for 1 ½-2 hours, until the meat is tender. Check on it at the 1 hour mark and add any additional chicken stock if liquid is running low (I added about ½ cup over 3 ½ hours). At the 2 hour mark, add the fingerling potatoes; place the lid back on and transfer to the oven to cook for an additional hour to an hour and a half, adding any liquid if necessary. Remove from the oven and stir in the peas. (The peas will cook as you're preparing the rice and shaved carrot salad.)

Just before serving, toss together the shaved carrots, diced shallot, parsley and lime juice. Salt and pepper to taste. Serve the oxtails (around 1 per person) over a bed of brown rice, kamut or quinoa and a handful of carrot slaw.
(This blog post is part of a paid SocialMoms and Wolf blogging program. The opinions and ideas expressed here are my own. For more posts on this topic, click here.)