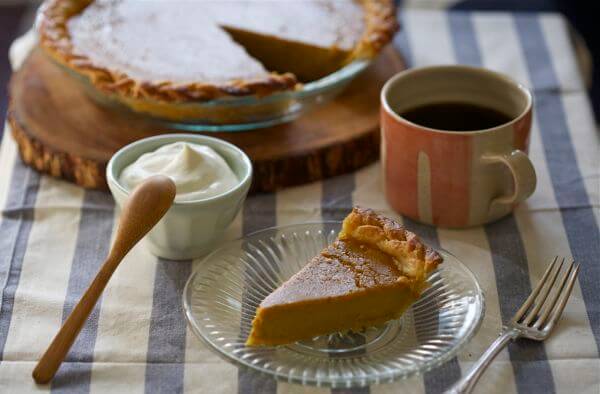 Has anyone ever told you that you resemble a particular kind of animal?
When I was in 2nd grade the "mean kid in class" stood up in front of everyone and said I looked like a turtle. I remember my brain immediately thinking of cute animated sea-turtles that swim underwater and have adorable little feet. I didn't take it as an insult…at first. But then all the other kids started laughing and I quickly realized what was going on. Always remember that when a boy tells you that you look like an animal, it means he hate/likes you.
Then when I was in 6th grade a boy told me I looked like a squirrel. Again, I think squirrels are pretty cute (minus the rabbies part) and took it as a compliment, sorta. Until…I realized that I shouldn't. For the remaining school year he called me squirrel instead of Adrianna. I didn't mind it nearly as much as I should've.
Have you ever been told you look like a horse? A rabbit? A sloth? If you have, don't take it as an insult, just think of the cutest most animated horse out there. They're most likely super pretty. Random lessons from me on this Monday!
Ok enough, let's talk pie/pretty braids/bourbon!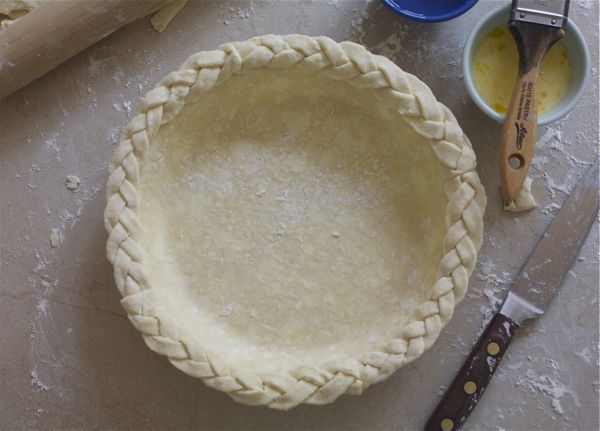 I love a pretty braid involving pastry dough (evidence: here and here).
This situation is deceivingly complicated but it SO isn't.
You start with making the pie dough. Easy. I actually made mine the night before to save on some time. If you're making this for Thanksgiving, you can make the pie dough, roll it out and fill it in the morning.
Here's a little step-by-step to make things a little easier.
The recipe below yields two pastry dough discs. The first one should be rolled out flat to fit in your pie dish. After you get it in the pie dish, you want to trim it all around, leaving a little overhang because there will be shrinkage in the oven.
Shrinkage will happen, people!
After you trim it, place it in the fridge.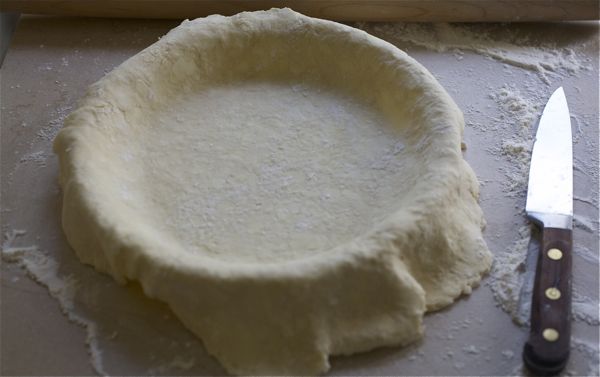 The second pastry dough disc is what we'll use to make the pretty braided edge. Roll it out like you did with the first one (1/8-inch thickness). Using a sharp knife, cut 1/4-inch strips.
Lay the three strips side by side and dip your finger in water, pressing the three together at the very top.
I then added a pinch of flour to hold the three strips together.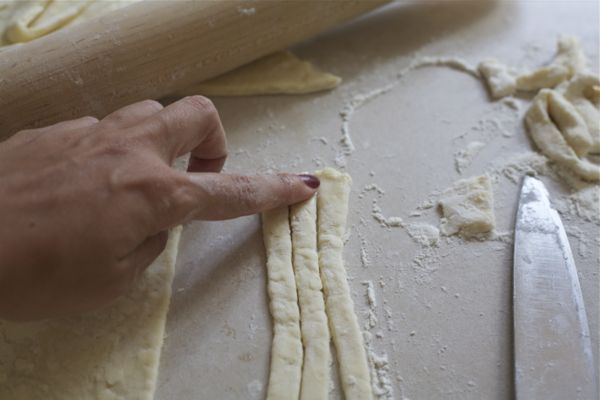 And then you braid.
I cut off the top, which is sort of unattractive, and the bottom, which gets sort of scraggly. Then I took that strip and took it to the fridge and placed it around the crust.
I repeated this, until I had enough to go around the entire pie.
After I had enough braids, I took the whole thing out of the fridge, and did a little permanent surgery.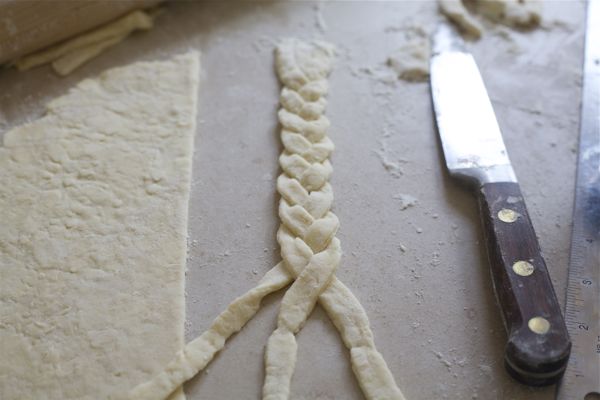 I took the strips off the pie crust, lined it with water and pressed the separate braids together so they created a union. This way it just looks like one big braid all the way around, when in actually it's more like five, smallish braids.
Secrets! Illusions! We likeee.
In the freezer for 15 minutes and then a par-bake (with pie weights aka uncooked beans or rice) for 15 minutes.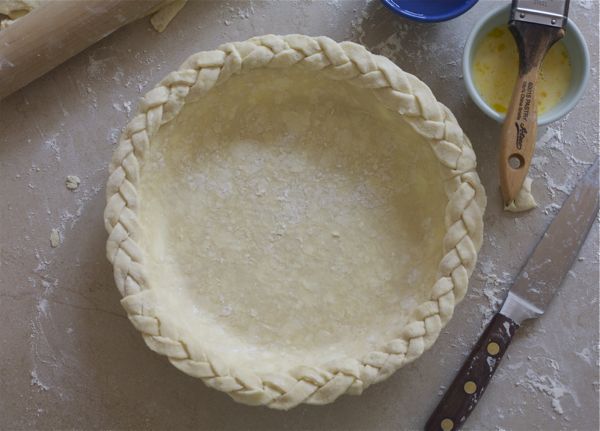 And then the filling is mixed up.
I recommend you start at 3 tablespoons of bourbon and then work your way up. I ended up adding 4 1/4 tablespoons.
Keep in mind that some of the bourbon flavor will be lost after it cooks. Also, keep in mind that bourbon is delicious.
Also, don't add too much because alcohol doesn't cook so your pie won't set if you add much more than 4 1/4 tablespoons.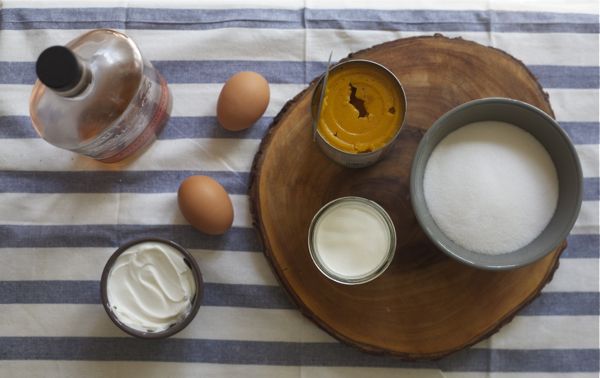 In the oven for 45 minutes. At the 10-minute mark I checked on it and decided I wanted to tent the edges of the pie with foil. I didn't want the crust to get too browned. I recommend you do this too.
Let it cool and slice, eat, enjoy. There's bourbon and pumpkin in this thang!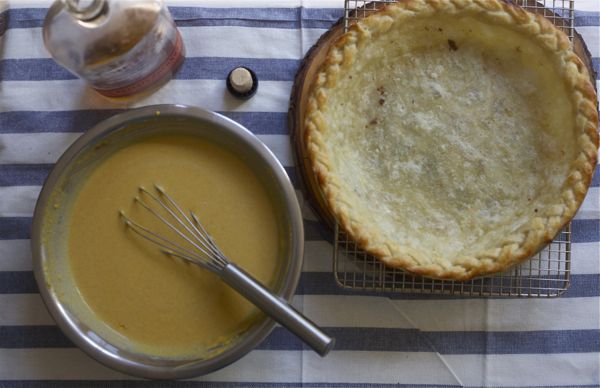 Two Monday lessons for you: Bourbon is delicious and resembling an animal is a compliment.
I should have my own self-help talk show. BYE!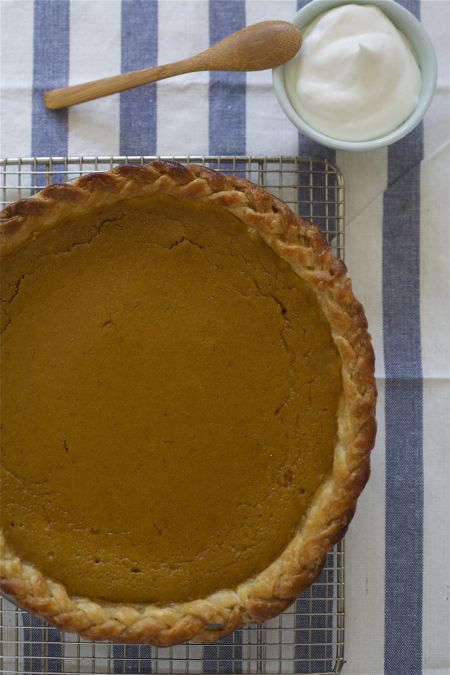 Braided Bourbon Pumpkin Pie
Pastry Dough:
2 1/2 cups all-purpose flour
2 tablespoons granulated sugar
1 teaspoons fine-grain sea salt
2 sticks unsalted butter, very cold
3/4 cup cold water, plus 1 tablespoon
Filling:
1 (15-ounces) can pure pumpkin
1 cup heavy cream
1/3 cup sour cream
2 large eggs
3/4 cup sugar
4 1/4 tablespoons bourbon
1 teaspoon ground cinnamon
3/4 teaspoon ground ginger
1/4 teaspoon ground allspice
1/4 teaspoon fine-grain salt
Whipped Cream:
1/2 cup heavy cream
2 tablespoons sifted confectioners sugar
1/2 teaspoon pure vanilla extract
Pie size: 9 1/2-inch pie dish
1. In a large bowl, combine the flour, sugar and salt. Using a box grater, grate the cold butter atop the flour mixture. Transfer to the freezer to chill for 5-7 minutes. Meanwhile, measure out your cold water and add a few ice cubes.
2. Working quickly, and using your hands, break the butter bits into the flour until they resemble the size of small peas. Add 1/2 cup of water and mix using your hands. This is a little bit of a messy process but it goes quickly! The mixture will be super crumbly at this point. From here, add 1 tablespoon of water at a time until the dough comes together. I ended up adding about 5 more tablespoons of water, equaling the measurement above. This may vary for you. The dough shouldn't be too too wet, it's fine if it's a little crumbly. The moisture will distribute throughout the dough while it's chilling in the fridge. Lightly dust your counter, and dump the dough onto it. Knead a few times more until it comes together and divide the dough, forming two discs. Wrap both discs in plastic wrap and transfer to the refrigerator to chill for 1 hour or overnight.
3. Take the first disc and roll out the dough on a lightly floured surface with a lightly floured rolling pin into a 12-inch round and fit into pie plate. Trim edge, leaving a 1/4-inch overhang. Fold overhang under and lightly press against rim of the pie dish. Lightly prick the bottom of the pie dough all over with a fork. Transfer to the refrigerator.
4. Grab the second disc and roll out the dough like you did the first one: on a lightly floured surface into a 12-inch round. Using a sharp knife, cut 1/4-inch strips. Take three strips and lay them side by side. Dab the top with a few droplets of water and press them together so they're conjoined, top with a pinch of flour. Braid the strips downward. Trim the top and bottom, using your knife. Walk the strip to the refrigerator and gently place it around the pie crust. Repeat the process until you have enough strips for the entire pie.
5. Remove the pie from the refrigerator and remove the strips. Using a pastry brush or your fingers, moisten the outer rim of the pastry dough. Place the strips along the outer edge of the pie and gently press down. This will secure the braided rim to the pie. With moistened finger tips, press at the points where each braid meets the other one, locking them together. (Did you enjoy that pun? Sorry!) Transfer to the freezer to chill for 10 minutes.
6. Preheat oven to 375°F with rack in the middle. Line the pie shell with foil and fill with pie weights. Bake until side is set and edge is golden, about 20 minutes. Carefully remove weights and foil and bake shell until lightly golden all over, 10 to 15 minutes more. Cool completely.
7. Whisk the filling ingredients together until smooth. If there are visible lumps, either from the sour cream or pumpkin puree, run it through a sieve. Transfer the pie dish to a baking sheet and pour in the filling.
8. Bake until edge of filling is set but center trembles slightly, about 45 minutes (filling will continue to set as it cools). IMPORTANT: At the 10-minute mark, create a tent around the edges of the pie, using strips of foil. This will ensure that the pies crust won't brown too much. Cool completely before serving, about 2 hours. If you slice it up too soon, you might have a runny center.
9. Serve with whipped cream, if you like. To make, add all of the ingredients to a medium bowl and whisk, using a hand-mixer, until light and fluffy, about 1 minute or so.
Filling recipe tweaked from Bon Apetit
Yields one 9 1/2-inch pie