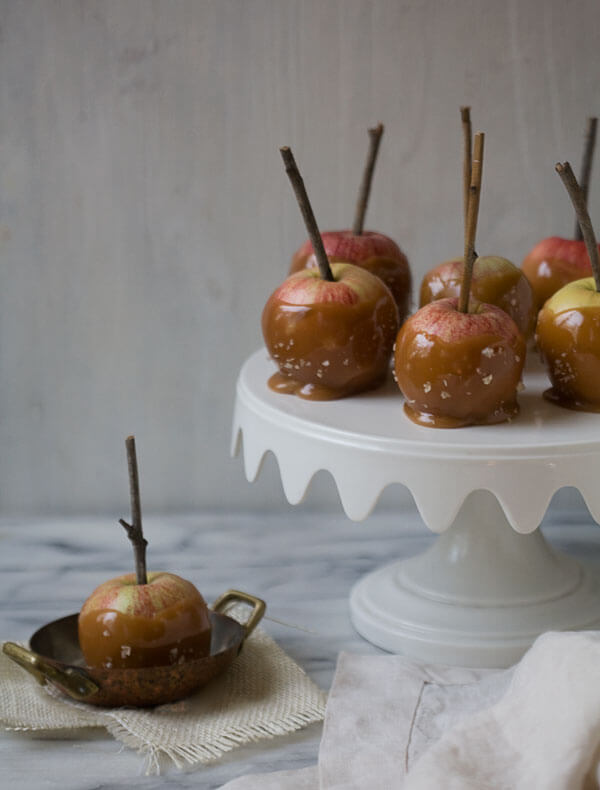 Cookies that look like bloody fingers and cupcakes garnished with "eyeballs" is not really my idea of a good time. Why in the world would I wanna eat a cookie that resembles a bloody finger? Why would I want to eat a bulging eyeball? That sounds disgusting. And it also sorta scares me. Halloween legit frightens me. Right now Pinterest is a very scary place. But these Bourbon-Spiked Caramel Apples with Smoked Sea Salt are a fun treat that are NOT scary. They're delicious and cute.
What's weird is that as a kid I was OBSESSED with Goosebumps and the Fear Street series. They were the absolute best. I loved them so much, and would read them so quickly, that my parents would plea with me to make the books last. My reading skills were legit. And I thought everything was a race.
While I'd definitely take another holiday over Halloween, over the next few weeks I'll be sharing Halloween-esque recipes because I'm working on being a more positive person. Also, a major incentive is that I get to dress Amelia in Halloween costumes. So far I've tried to get her to wear this pumpkin hat thingy and she's not having it. Unfortunately, she doesn't have much of choice.
I made these caramel apples only half-psyched. I was like, "oh this'll be cute…" and then I tried them! Omygoodness. The combination of bourbon and caramel and smoked sea salt might be the best combo in the world. It shouldn't be that much of a surprise. All of those things are delicious.
How to Make Caramel Apples
I know caramel-making can kind of be stressful but this technique is super easy. All of the stuff goes in a pot and then cooked until it reaches 240 degrees F. It's actually pretty easy. A digital or candy thermometer is definitely a must. (I'm a die-hard digital thermometer user.)
The smoked sea salt can obviously be swapped out for regular sea salt if you don't want to throw down on a new fancy salt, but if you have it in your pantry, it's definitely the move.
I used cute lil' twigs I found outside. Here's the thing: don't use twigs from outside unless you know it's from a tree that isn't poisonous. This step is important!
Here's How to Make Them:
– Add all of the ingredients (minus the apples and salt) to a heavy-bottomed pot
– Stick the digital thermometer in there OR clip a candy thermometer to the side of the pot
– Heat up all the mixture and when it begins to bubble and turn into caramel, dip the apples into the caramel, swirling them around
– Then sprinkle the sides with salt and place them on the sheet of parchment
– Chilling them in the fridge makes the caramel set
That's it! Super easy.
If you end up making these Bourbon-Spiked Caramel Apples with Smoked Sea Salt, let me know on Instagram!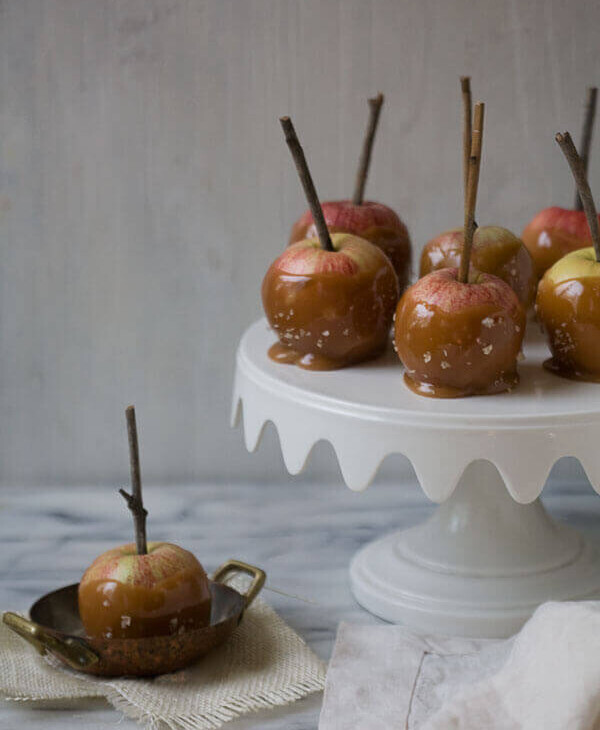 Print Recipe
Bourbon-Spiked Caramel Apples with Smoked Sea Salt
Bourbon-Spiked Caramel Apples with Smoked Sea Salt are a fun treat for Halloween or fall. The bourbon makes the caramel ALL that much better and the smoked sea salt is a delicious savory element.
Serving Size:
caramel apples
Ingredients
Olive oil or cooking spray

6

wooden twigs

from a safe tree or wooden craft sticks

6

small eating apples

Sweetangos, Galas, Pink Ladys would all be awesome

1

cup

heavy cream

1 1/2

cups

white granulated sugar

1/2

cup

light or dark corn syrup

5

tablespoons

bourbon

2

tablespoons

unsalted butter

Smoked sea salt
Instructions
Line a baking sheet with wax paper and grease it by brushing it with olive oil or spraying it with cooking spray. Place it right near the pot you'll be using.

Remove the stems from the apples and insert the twigs or craft sticks into the tops of the apples.
Note: This caramel bubbles up a lot so be sure to use a large pot.
To a large pot, add the heavy cream, sugar, corn syrup, bourbon and butter. Turn the heat to moderately medium-high heat. Place the digital thermometer into the pot or clip the candy thermometer to the side of the pot. Cook the caramel until the mixture reaches 250 degrees, about 15-18 minutes.

Dip the bottom of each apple in the caramel. Using a tablespoon, coat the apple three-quarters of the way up the sides. Immediately sprinkle the apple with smoked sea salt, rotating it so you can it on all sides. Transfer the apple to the wax paper-lined baking sheet. Repeat until you've coated all of the apples with caramel and sea salt. Transfer the baking sheet to the refrigerator so the apples can set, about 15 minutes.
Notes
*The bourbon cooks out of this caramel, leaving zero trace of alcohol. But if you want to make this booze-free simply leave it out! 
Equipment
1 (4-quart) Dutch oven or heavy-bottomed pan