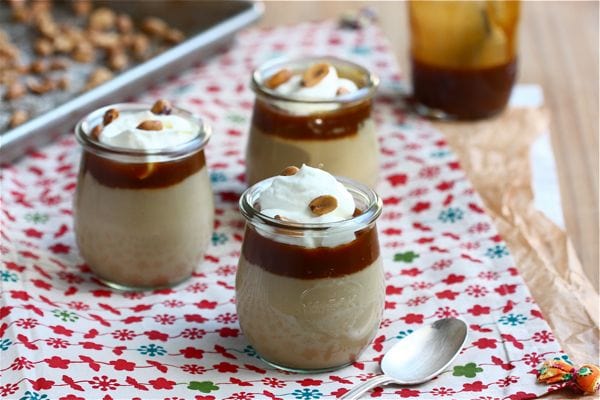 Schemllo! Hi! What's up!! How are you?! I'm well. Thanks. I have three Friday significant thoughts to share with you:
1. The Millionaire Matchmaker lady scares me. Like a lot.
2. When it rains in Los Angeles (which is like twice a year) everybody's cuteness goes up a notch. They bring their serious rain gear 'A' game--it's kind of intense. Boys have peacoats on. They wear those rustic looking boots that I love. Girls look spiffy in their Hunter boots. Everybody is wearing big pretty big sweaters. Everybody is drinking coffee. It's a good look.
3. I learned that bourbon is delicious in everything. Like everything. Just everything.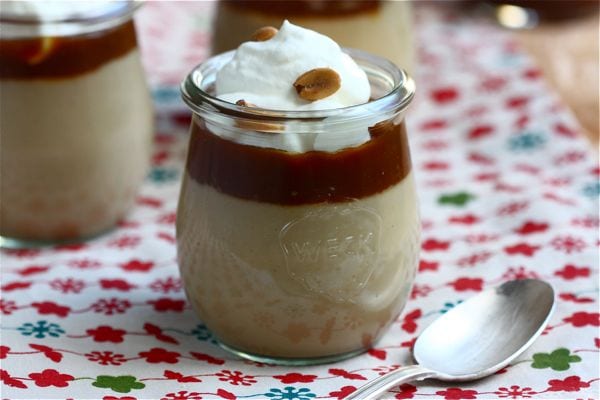 I always knew that bourbon was delicious. I did.
But it wasn't until I put it in this pudding when I really took note. It brings out so much flavor!! There's no intense alcohol taste--just amazingness!! That's all.
I get a good amount of emails and tweets asking where people should eat--and drop their cash--when they visit Los Angeles.
I'm pretty picky about the places I go to on the regular. Mainly because Los Angeles is such a good food city. There are sooo many amazing restaurants (expensive and inexpensive), taco trucks, taco stands, fast eats, etc., and to be honest, there's a lot that just don't cut it.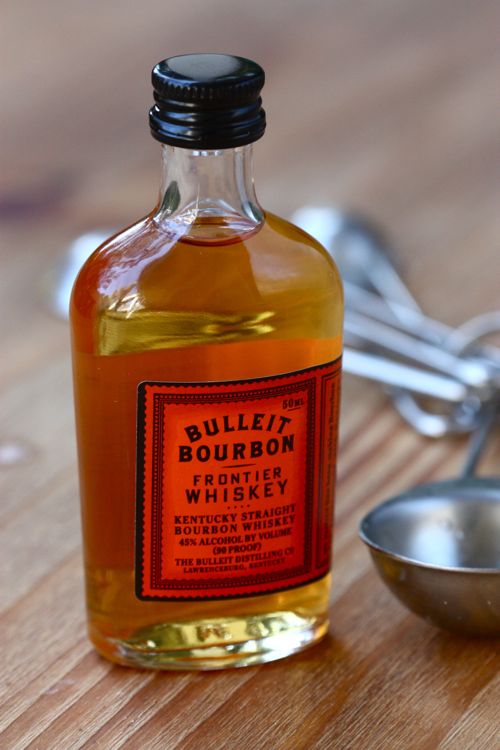 One place I always recommend is Pizzeria Mozza (Osteria Mozza is even more epic, though more expensive).
The pizza is never a disappointment (the crust is major), the atmosphere is cool and attractive, the wine list is good, and their roasted caprese salad with burrata and pesto is one of my favorite things to eat. Period.
They have a dessert that is also a must. It's a Butterscotch Budino with Caramel Sauce topped with Maldon Sea Salt served with a little rosemary cookie situation. It's major, to say the least.
Even if you're like totally full and you feel like you can't eat another bite, you'll see this glass of budino floating toward you, through the dining room, parting seas...and you'll forget that you just ate forty complimentary breadsticks, two appetizers, and an entire pizza to yourself...
It's that good.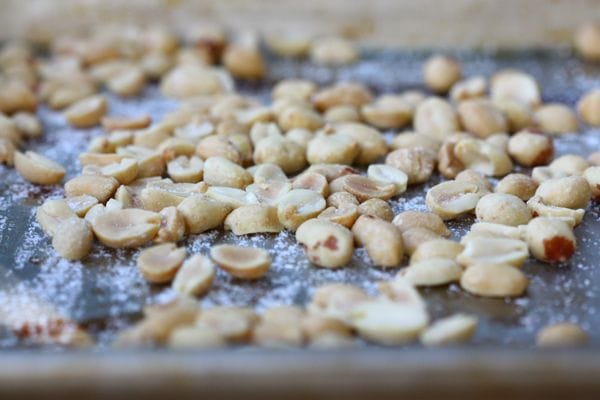 This is the homemade version of that dessert.
There's a butterscotch pudding spiked with a good amount of bourbon. (Of course, if you're serving this to kids you could totally leave it out.) A caramel sauce. And topped with a few salted peanuts. The flavor combination is intense. It's decadent and rich and sweet.
But what I love about pudding sooo sooo much is that you never feel full after you're done. Maybe because it's cold?! I dunno what it is but it's always the perfect thing to eat after a huge meal.
P.S. I just realized I like pudding A LOT. Here's some others:
S'mores Pudding
Banana Pudding
Café Au Lait Pudding
Coconut Chocolate Pudding
Salted Caramel Chocolate Mousse (Sorta like pudding)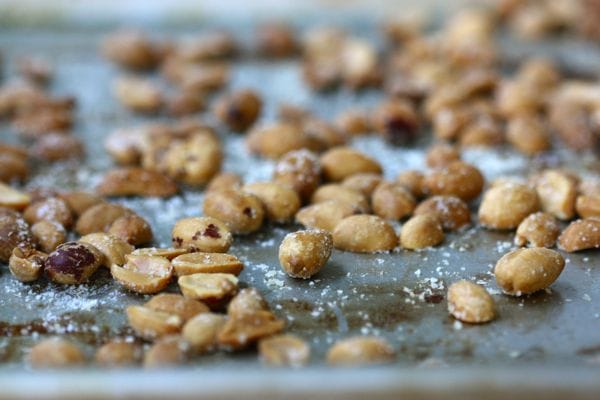 P.P.S. Before I go...
Does that Millionaire Matchmaker lady scare you too??! I mean, I can't be the only one...oh c'mon, be honest...it's just us on here.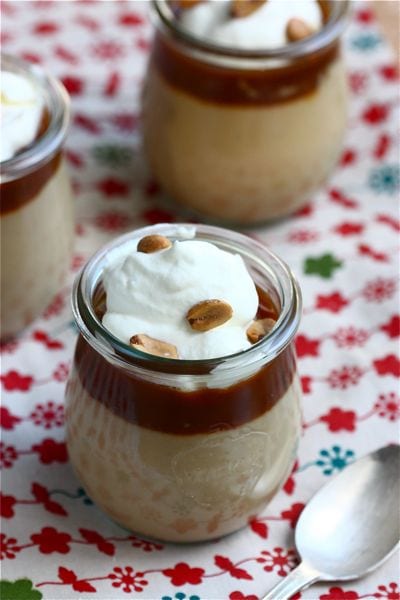 Bourbon Butterscotch Pudding with Caramel Sauce topped with Roasted Salted Peanuts
Pudding Recipe from David Lebovitz
Pudding:
4 tablespoons (60g) butter, unsalted
1 cup (180g) packed dark brown
¾ teaspoon coarse sea salt
3 tablespoons cornstarch
2½ (625ml) cups whole milk
2 large eggs
3 teaspoons whiskey
1 teaspoon vanilla extract
Melt the butter in a medium-sized saucepan. Add the dark brown sugar and salt, then stir until the sugar is well-moistened. Remove from heat.
In a small bowl, whisk together the cornstarch with about ¼ cup (60ml) of the milk until smooth (there should be no visible pills of cornstarch), then whisk in the eggs. Gradually pour the remaining milk into the melted brown sugar, whisking constantly, then whisk in the cornstarch mixture as well.
Return the pan to the heat and bring the mixture to a boil, whisking frequently. Once it begins to bubble, reduce the heat to a low simmer and continue to cook for one minute, whisking non-stop, until the pudding thickens to the consistency of hot fudge sauce. Remove from heat and stir in the bourbon and vanilla.
If slightly-curdled looking, blend in a blender or food processor. Or you can run it through a sieve (I did this!!). Pour into 4-6 serving glasses or custard cups and chill thoroughly, at least four hours, before serving. Also, since I hate pudding skin, I put a piece of plastic wrap on each of the puddings' surfaces to prevent it from forming.
Caramel Sauce:
½ cup sugar
1 tablespoon water
3 tablespoons unsalted butter, cubed
¼ cup heavy cream, room temperature
In a medium pot, over medium high heat, cook the sugar and water until it turns a dark, deep caramel. Watch it the entire time! Do not walk away! It takes about 8 minutes. Add the butter cubes and stir.
Next, turn off the heat and pour in the heavy cream and whisk. The caramel shouldn't seize up since it's room temperature. If it does, simply turn the flame on medium and cook, whisking, until it's smooth and lovely. See!! Caramel isn't that scary!!
Toasted Salted Peanuts:
1 cup of peanuts
1 tablespoon of coarse Kosher salt
Pre-heat oven to 350F. Spread out peanuts onto a small baking sheet. Sprinkle them with kosher salt. And bake for 8-10 minutes, or until golden brown.
To assemble:
Top each ramekin of cooled pudding with a few tablespoons of caramel sauce. Top with whipped cream and sprinkle on a few toasted salted peanuts.
Yields about 4-6 jars of pudding