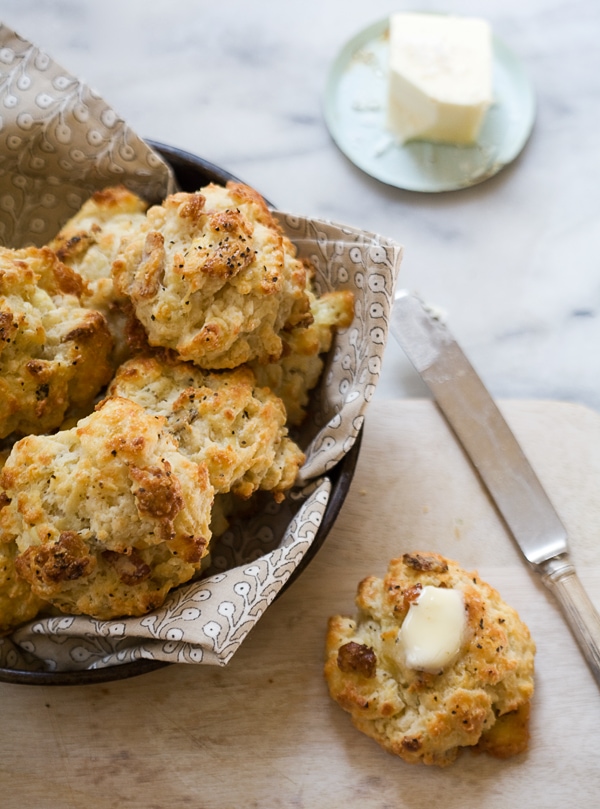 Biscuits! Biscuits! Biscuits!
Drop biscuits are the lazy person's biscuits. That's how they should be advertised. There's no kneading, no rolling out, no cutting out. No nothing. Just mix, drop and bake.
I'm currently in hardcore planning mode for my boyfriend's birthday bbq this weekend. He wanted something low-key with just his closest friends and family so I said, OK, but I'm going to create a Pinterest board and maybe get a little psycho about the decorations because I'm me! He's breaking out the smoker to smoke some pulled pork and beans and of course I'm making biscuits, Arnold Palmers and putting together a Bloody Mary Bar.
I was playing around with some other ideas besides my favorite classic biscuit recipe. I wanted something that had a bit funkier taste and I love the salty bacon.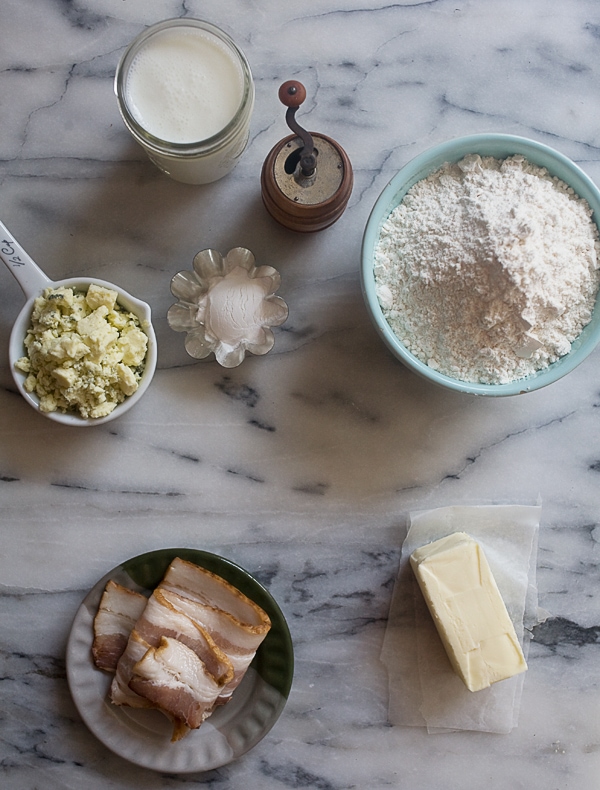 And since that morning I'll have a ton of things to do, I wanted a recipe that was super easy and skipped a few steps. This literally is just mixing the dry ingredients and then adding the buttermilk. It's that simple.
Since this recipe contains no egg in the dough, it can be kind of white when baked. Not super cute. To avoid this, I recommend adding a bit of egg wash on top. It adds a really pretty golden brown color to the tops.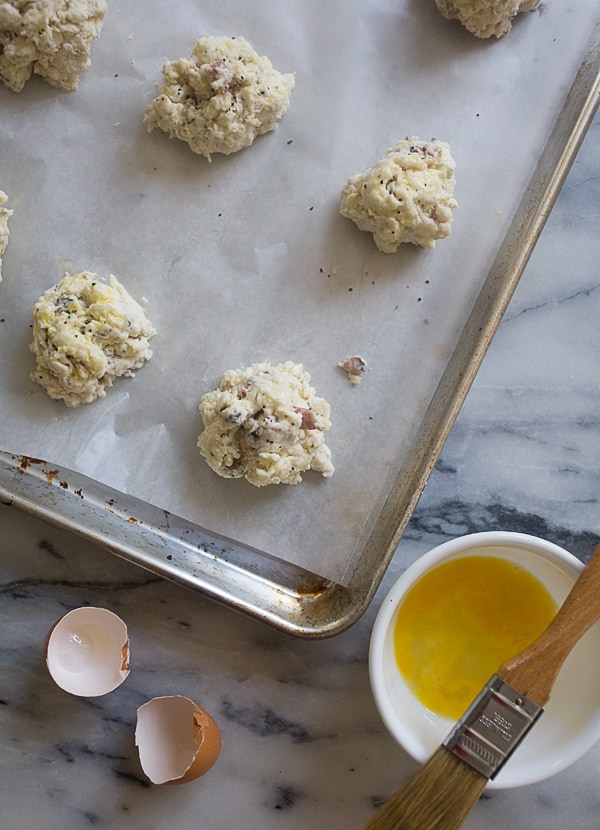 I ate these biscuits out of the oven with salted butter. I mean…is there any other way to eat biscuits? Not really.
I'm excited to show you this Southern BBQ birthday thingy. If all goes well, it'll be super cute and I'll want to share pics. I just know it.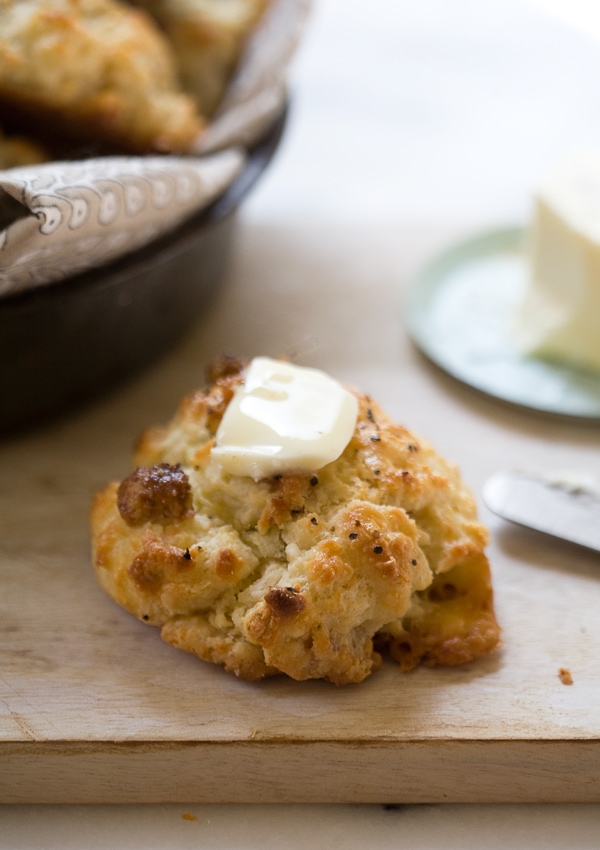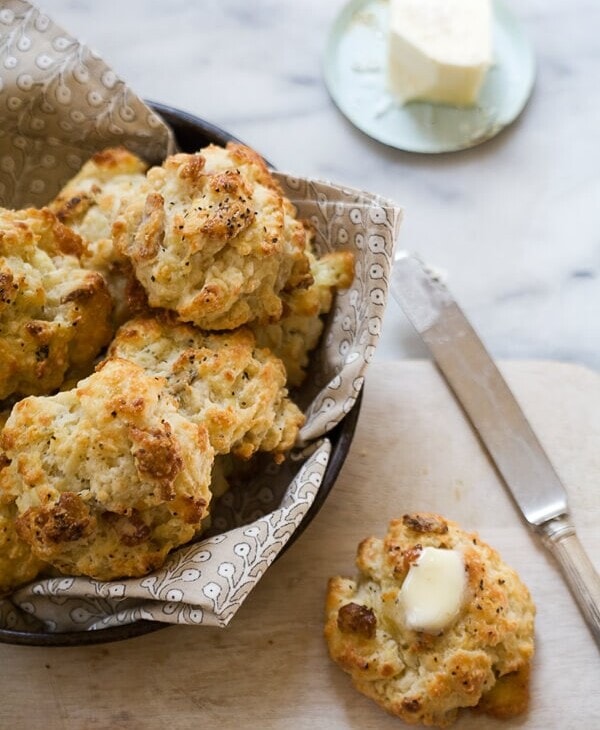 Print Recipe
Blue Cheese and Bacon Drop Biscuits
Ingredients
3

slices

bacon

2 1/2

cups

all-purpose flour

1

tablespoon

baking powder

3/4

teaspoon

salt

Pinch

of black pepper

plus more for topping

1 1/4

stick butter

very cold

1

cup

blue cheese crumbles

1

cup

buttermilk
Instructions
Preheat the oven to 400 degrees F. Line a baking sheet with foil or parchment paper. Place the bacon side by side and transfer the baking sheet in the oven for 15 minutes to 20 minutes, until the bacon is crispy and golden brown. Transfer the bacon on a paper towel to drain. When cool enough to handle, chop up the bacon into bit-sized pieces.

To a medium bowl, mix together the all-purpose flour, baking powder, salt and pinch of black pepper. Using a box grater, grate the butter atop the dry ingredients. Using you hands, break up the butter and combine with your flour, until it resembles small peas. Add the blue cheese and bacon; toss until combined.

Create a well in the center of the flour/butter mixture; pour in the buttermilk mixture and mix until barely combined. Knead a few times in the bowl just so the mixture adheres to itself. Using two tablespoons, drop mounds of dough, placing them about 2 inches apart, onto a parchment-lined baking sheet. Alternatively, you can just grab a small handful with your hands and place it on the baking sheet. Brush the tops lightly with egg wash and top each biscuit with a pinch of black pepper.

Transfer the baking sheet to the oven and bake for 12-15 minutes, until golden. Serve warm with salted butter.