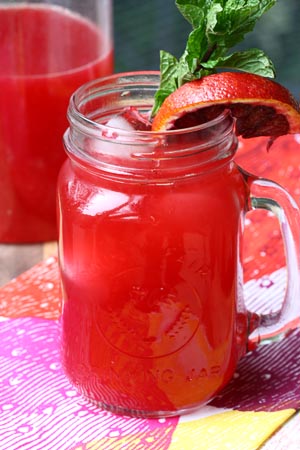 I'm a little excited about Spring, can't you tell?!

Also, aren't Spring showers so much more glamorous in theory.

In our dreams, there's brightly colored tulips dripping with rain drops, yellow Hunter rainboots, super cute umbrelleas--but it never goes that way, does it?

Instead there's matted-hair-that-was-just-rained-on, water seeping through shoes reaching socks (ew!), and just overall not cuteness.

That's why when LA decided to be gross and rainy this weekend, I figured it might be a good idea to make the sprightliest thing I could figure out.

Let's talk blood oranges. Scary name, pretty insides.

They look totally normal on the outside, but inside they're a stunner. I like to think of them as the supermodel of the orange variety.

I think of food in really strange ways. Sorry!!

This drink utilizes a bunch of blood oranges (they were on sale!) and a bunch of lemons. I bought that little hand juicer for $2--super awesome. World Market.

I took two measuring cups, and went to town. Pretty easy, except my hands look like I murdered someone after juicing all of them.

Also, since pulp makes me wanna vom, I ran the blood orange and lemon juice through a sieve. Then added water and some simple syrup. If you love pulp then congratulations, less work for you.

I recommend this. I like to put spins on things to give things a little extra specialness. Two things that would make this super special: sparkling water, instead of flat. Note: This only works if you're serving it right away, or else it'll just get flat.

And to spice it up I juiced a small piece of ginger and added it at the last second. It's like this added punch of spiciness. You can do this too, if you like. I recommend it.

Go Spring!!

Blood Orange Lemonade

Recipe adapted from Danny Boome

Simple Syrup:

1 cup of sugar

½ cup water

Lemonade:

1 cup fresh blood orange juice, 6 to 7 oranges

1 cup fresh lemon juice, 4 to 5  lemons

3 cups water

½ blood orange for garnish

Fresh mint sprigs, for garnish

Ginger (optional)

In a medium saucepan heat sugar and water for about 5 minutes until all the sugar is dissolved and it becomes a syrup consistency. Set aside to cool slightly.

Juice blood oranges and lemons in separate measuring cups. In a pitcher, add the blood orange juice, lemon juice, water, and simple syrup. If you don't like pulp then just place a sieve over the pitcher and run it through that. Pour over ice and serve with blood orange slices and mint as garnish.

If you want it with a kick, then juice a piece of ginger and add it. Highly recommend.

Stays good in the fridge for 3 days.