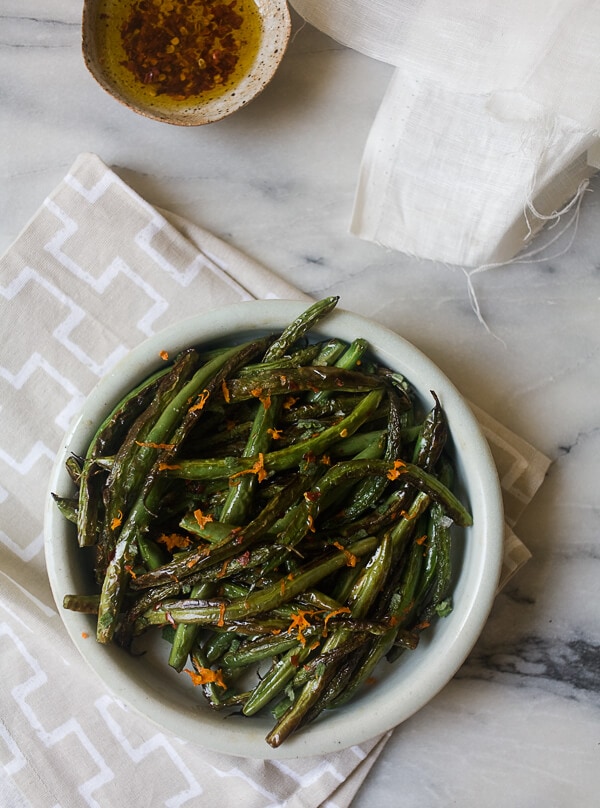 My Sunday rituals are strong. They usually start with an early trip to the farmer's market, followed by lots of recipe testing. I love cooking on Sundays. And then, TV. Lots of that too.
The past few Sundays, I've spent watching Game of Thrones and I'm gonna lie, I barely understand what's going on. Still. But I keep watching, thinking someday I'll understand every single character, their family, etc. It's wishful thinking, really.
Silicon Valley is more my steez. Lots of awkwardness and a CEO who wears those tennis shoes that slip on like socks. Those are so strange. Why do those exists?! I don't get it.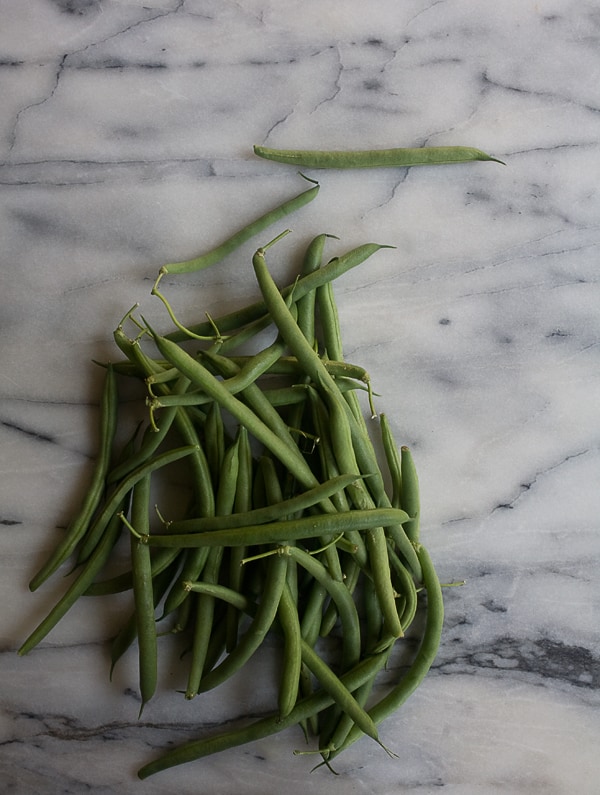 Yesterday morning I was on the hunt for fiddleheads but couldn't find them. I tried this dish pictured with favas on Friday night as a snack, when I was really hungry, and found it to be the most frustrating 15 minutes ever. Too much peeling, shucking; once, and then twice. Favas are a lot of work. I decided to cancel out the fava-idea and move on to fiddleheads, but after coming up short at the market, I settled on these Blue Lake Beans. These are pretty regional string beans, which are a teeny bit less fibrous than a normal string bean. They're grown by a lake…which I'm guessing is blue.
Just use normal string beans. All will be ok!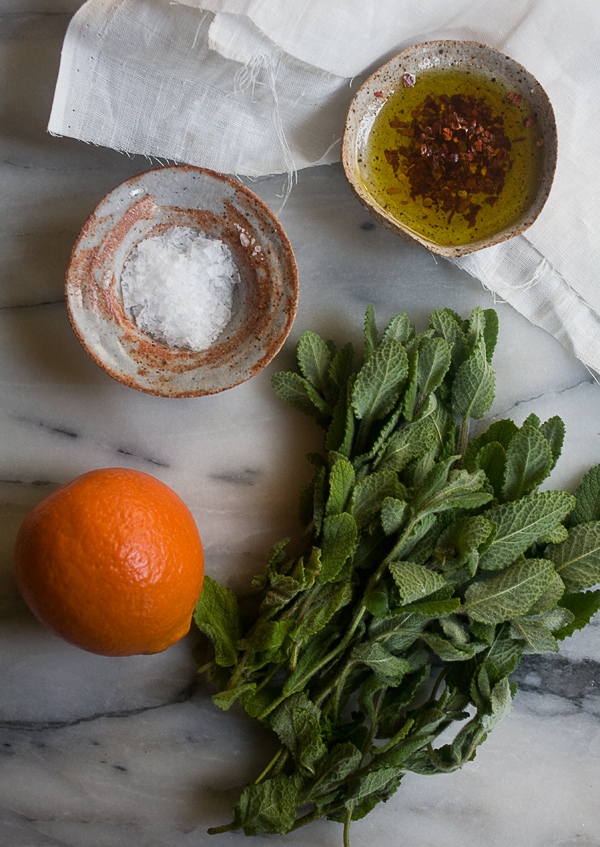 I love the combo of the chili oil and refreshing mint and fresh zest of orange. It's a fun roller coaster for your taste buds.
And the preparation couldn't be more simple. Just hot oil, throw in the beans, remove and then garnish with the stuff. Super simple!
If you did watch Game of Thrones you'll understand when I say this: Insert: Shocked-Face Emoji!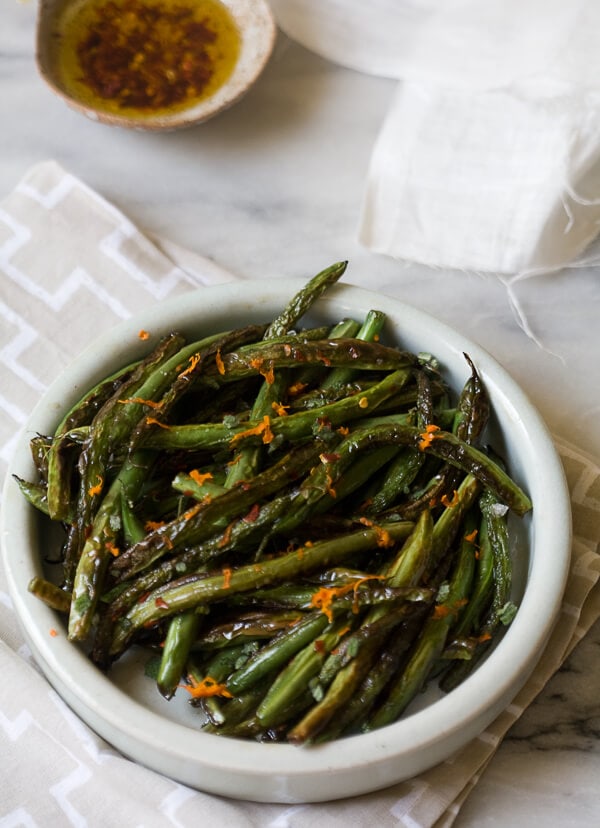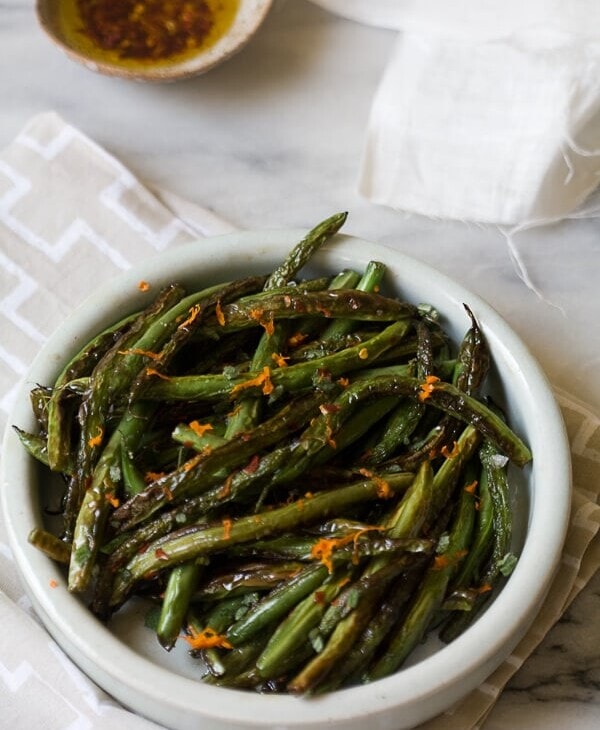 Print Recipe
Blistered Blue Lake Beans with Chili, Mint and Orange
Ingredients
Olive oil

1

teaspoon

red pepper flakes

1/2

pound

Blue Lake beans or string beans

washed and ends trimmed (I only trim the stem end)

2-3

fresh mint leaves

minced

Sea Salt

Zest from 1/2 small orange
Instructions
To a small bowl, mix together the one tablespoon olive oil and red pepper flakes. Allow to sit for 15 minutes. Run the oil through a sieve, discarding the red pepper flakes. (Alternatively, you could do as I did and just scoop out some of the oil, trying your hardest to avoid the pepper flakes.)

Place a cast iron skillet over moderately high heat. Pour about two tablespoons of olive oil and when the oil is near the smoking point, add the beans, allowing them to cook on their first side for 2-3 minutes. When the skins are blistered, flip the beans, cooking on their opposite side for an additional 2 to 3 minutes. Remove and transfer to a bed of paper towels to drain.

To a medium bowl, add the green beans. Pour in the chili oil (to taste), the mint leaves and a pinch of salt. Toss until thoroughly coated. Transfer to a serving plate and garnish with zest from 1/2 small orange. Serve immediately.