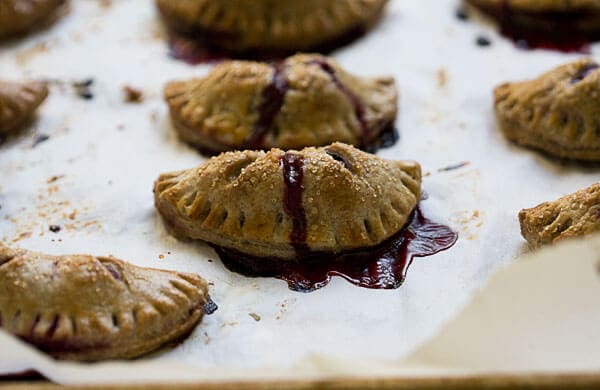 On hot summer days I'm always feelin' pie. And ice cream. Ice cream is important.
Somedays I want pie with a side of ice cream. Somedays I want ice cream with a side of pie. If I'm feeling the latter, that's when these little baby mini hand pies are called to order. Cuuuuute.
But let's be honest, while I love the flavor of this buckwheat crust (it's nutty and robust and earthy), it kind of gives the crust a more dull brown color than the pretty golden brown we usually associate with pie crust. Soooo, we're calling these 'rustic'. That's what we do, right? Whenever something is sort of ugly, we just call it 'rustic'…? Yes. I think we're gonna call these "rustic."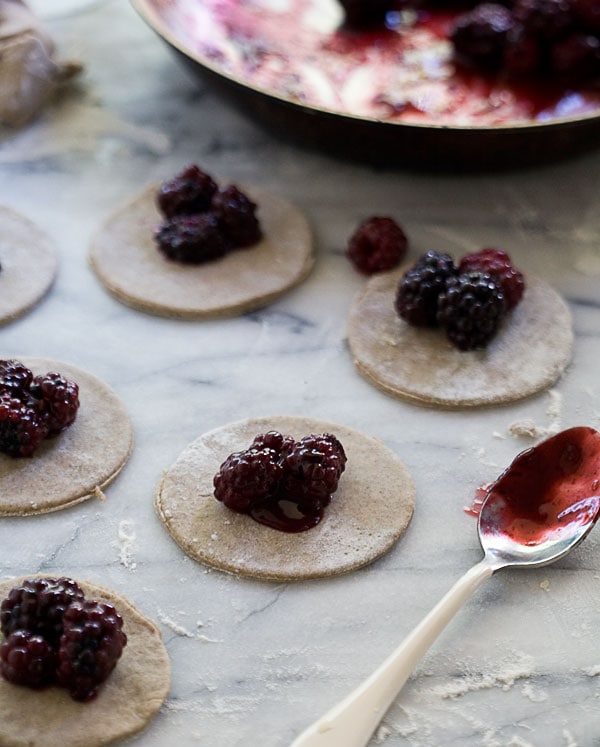 I feel a little one-trick-pony-ish with this recipe because they're sort of a smaller version of this Cherry Pie with a Rye Crust. So, I'm sorry (a little), but seriously mixing different flours to make new flavored pie crusts is my new obsession.
I'm pretty into using different flours, playing them off of the different fruit they're paired with. I think it's neat.
I'm also really obsessed with fall-like spices paired with summer fruit. In this instance, blackberries are cooked with cardamom and a dash of nutmeg–it's dreamy stuff, man.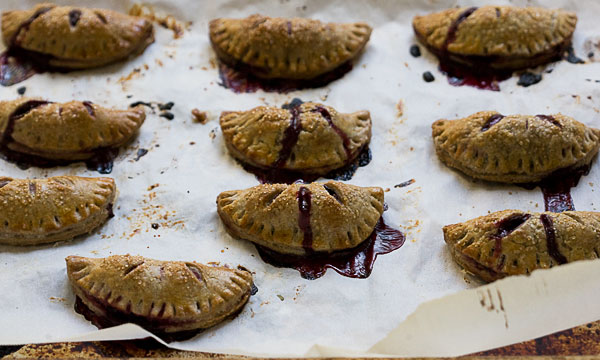 A few weeks ago someone asked me if I eat everything I make here and my response was like, duh of course, BUT I don't eat everything, as in ALL of it. I can't eat 12 hand pies to myself. There's no way. Even if I wanted to–which I never do–I couldn't. And let's be honest with ourselves, eating 12 hand pies would be way depressing. Like, serious low-point. So, I figured I'd show you how I eat most blog posts:
Picture 1: I generally move nothing. I usually have my camera on my lap with a spoon handy. In this case, I ate it on the parchment so I didn't dirty another dish. My dirty dishes situation after a day of cooking is sad. Just sad.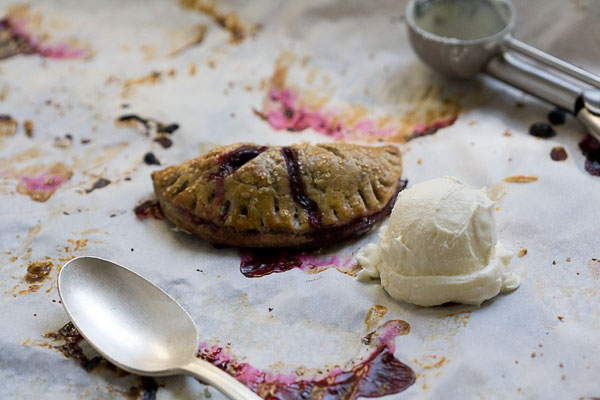 Picture 2: Pie needs ice cream. So I gave it some.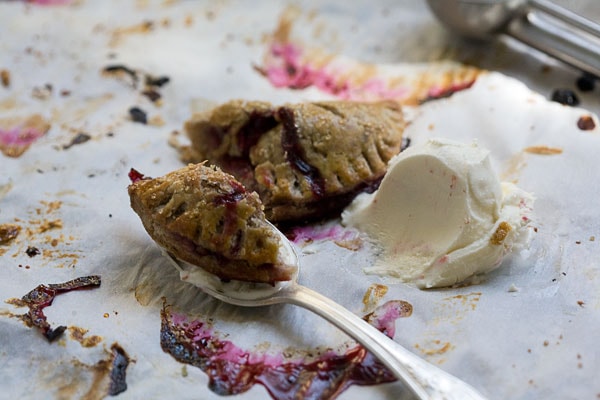 Picture 4: Annnnd gone. I demolished one hand pie in exactly three bites. I wrapped four hand pies in plastic wrap and put them in my purse for later. The rest went to my neighbor.
And now you know how I eat blog posts. Glamorous.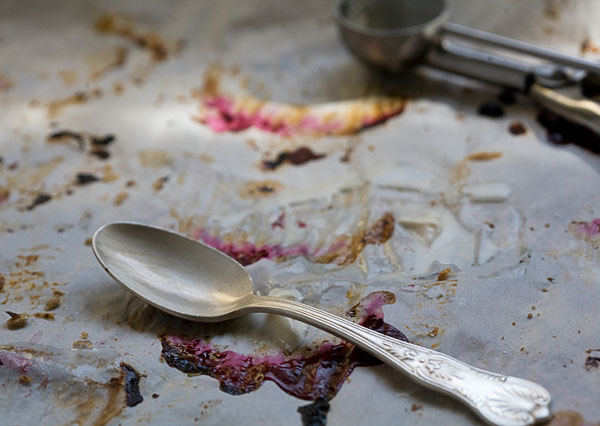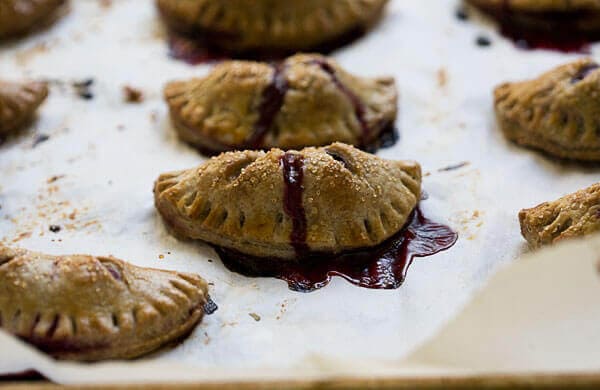 Print Recipe
Blackberry Cardamom Hand Pies with a Buckwheat Crust
Ingredients
Pie Crust:
2

cups

all-purpose flour

1/2

cup

buckwheat flour

2

tablespoons

white granulated sugar

1

teaspoon

fine-grain sea salt

1/4

teaspoon

ground cardamom

8

ounces

2 sticks unsalted butter, frozen

3/4

cup

water

cold, divided
Filling:
6

ounces

blackberries

1 1/2

teaspoons

tapioca starch

2

tablespoons

sugar

1/4

teaspoon

salt

1/4

teaspoon

ground cardamom

1/8

teaspoon

freshly ground nutmeg
Topping:
1

large egg beaten with a splash of milk or water

for egg wash

Turbinado sugar
Instructions
In a large bowl, combine the dry ingredients: all-purpose flour, buckwheat flour, sugar, salt and cardamom. Using a box grater, grate the cold butter atop the flour mixture. Working quickly, and using your hands, break the butter bits into the flour until they're evenly distributed and resemble the size of small peas. Add 1/2 cup of water; mix the dough together until it just begins to clump together. The dough will shaggy. Add one tablespoon at a time until it starts to come together. I added an extra 4 tablespoons (1/4 cup) of water.

Remove the dough from the bowl and place it on a lightly floured counter. Knead the dough a few times until it comes together and shape it into a mound. Shape the disc into 2 discs and wrap them in plastic wrap; transfer them to the refrigerator to chill for 1 hour or overnight.

While the dough is chilling, make the filling! To a medium saucepan, add the blackberries, tapioca starch, sugar, salt, cardamom and nutmeg. Over medium heat cook the mixture for 5 minutes, until the fruit has softened.

Remove one of the discs of dough from the refrigerator. Liberally flour your work surface and rolling pin. Begin to roll the dough, being sure to rotate it every so often to avoid sticking, to a 14-inch round. Using a 3-inch biscuit cutter, cut 6 circles out. Repeat the process with the second disc of dough. You should end up with about 12 circles of dough.

Spoon a small amount of the blackberry mixture into the center of the dough, leaving about 3/4-inch space around the edges. Note: you might have to halve some of the blackberries since the larger ones will be too big. Brush egg wash along the edges of each of the dough circles. Fold the dough over the filling, pressing the edges to seal. Using the tines of a fork, sealing the edges. Repeat the process until all of the hand pies are made. Transfer the pies to a parchment-lined baking sheet and place in the hand pies in the freezer for 10 minutes.

Meanwhile, preheat the oven to 400 degrees F. Brush the tops of the hand pies with egg wash and sprinkle with turbinado sugar. Bake the pies for 15-17 minutes, until the tops and edges are golden brown. Remove from the oven and transfer to a cooling rack. Eat warm or room temperature.