Hello there! Hi! Hai! This is what I like to call a major post. Three recipes all in one.
Think of it like a dinner party menu, all inspired by my favorite meal of the day: breakfast. There's doughnuts, fancy popcorn (I eat this for breakfast), and a potato and chick pea hash cooked in duck fat. Holy moly! YES!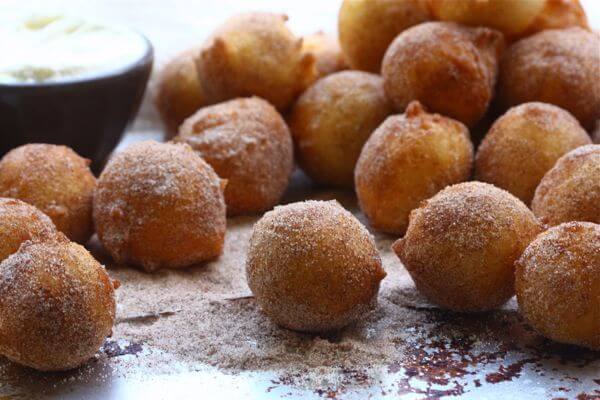 I made this for my friends. I honestly don't have many dinner parties because I live in a teeny-tiny place and going out to restaurants is a serious hobby of mine. BUT last week was different; it was nice outside, I had rosé chilling in the fridge and I decided to make some breakfast for dinner.
We sat outside, we gossiped, we laughed. This all means summer is all up in our faces…and I'm excited about it. Aren't you?!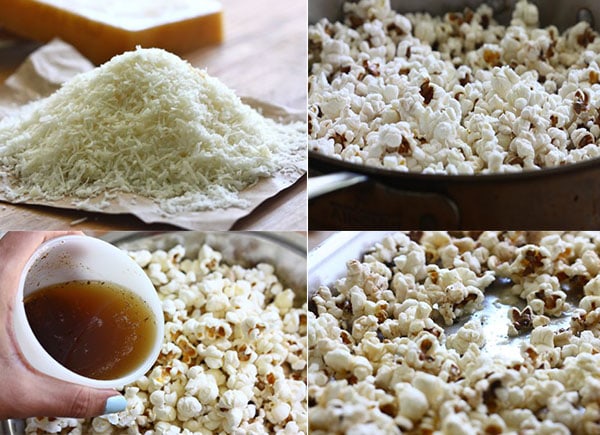 If you're having people over, I'm of the firm notion that appetizers shouldn't be complicated. Their purpose is to just be a little snack while you and your friends finish the main dish and side dishes.
This popcorn fall into this category quite nicely. Oh popcorn isn't breakfast food, you say? For some it is. For some it's dinner. This just happens sometimes.
This popcorn starts with brown butter being browned. There's Parmesan finely shredded. The nuttiness with the salty Parmesan and dash of garlic powder – YES!
Simple and delicious.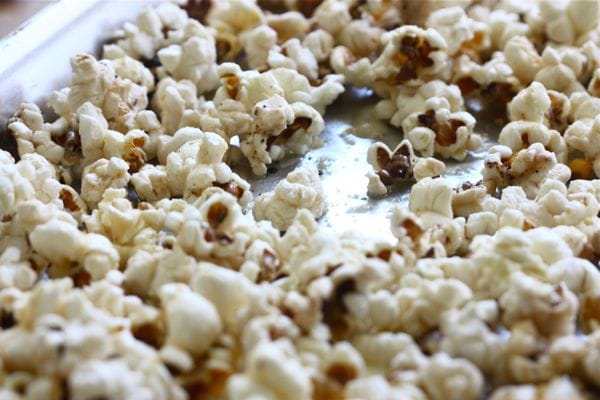 For the main dish, I fried up some potatoes and vegetables in duck fat.
I know it sounds indulgent, but duck fat is comparable to olive oil. Good fats! It adds a really great rich flavor that I love. I had this in my fridge, if you don't feel like dropping $5 for duck fat, no biggie. Just use olive oil.
Oh and just look at those purple potatoes. They're dreamy, huh? I love 'em so much. They deserved a good amount of cumin, some paprika and, of course, lots of salt. Oh and chickpeas. They're in there too. I like!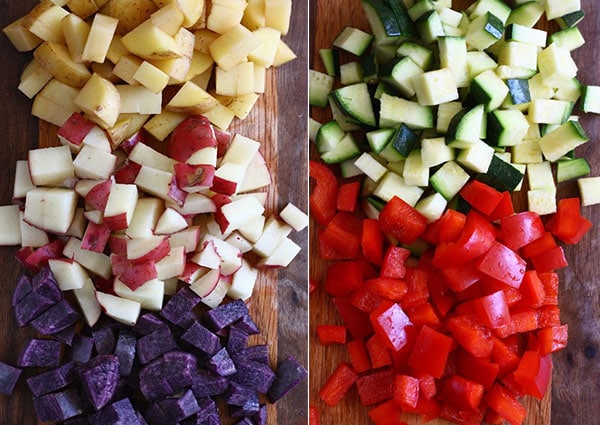 I cracked a few eggs on top and served the hash with pita, sliced cucumber (tossed in lemon juice and dill), and pink wine.
Summer breakfast for dinner!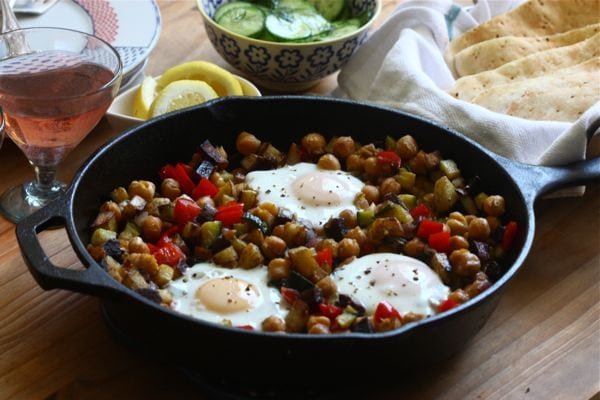 My favorite dish of the evening: Cinnamon & Sugar Ricotta Fritters.
I actually made the batter right before my friends came over and left it covered on the counter as we ate dinner. When it came time for dessert, all I had to do was heat up the oil. Super easy!
They cooked in some hot oil for a few minutes and then rolled around in some cinnamon and sugar. They're not doughnuts. They're more like fritters, because there's no yeast, no time for rising. Just mix and fry. Mix and fry.
All of these dishes–combined–can be made in about an hour. It makes having people over for dinner a little more appealing, eh? I think so!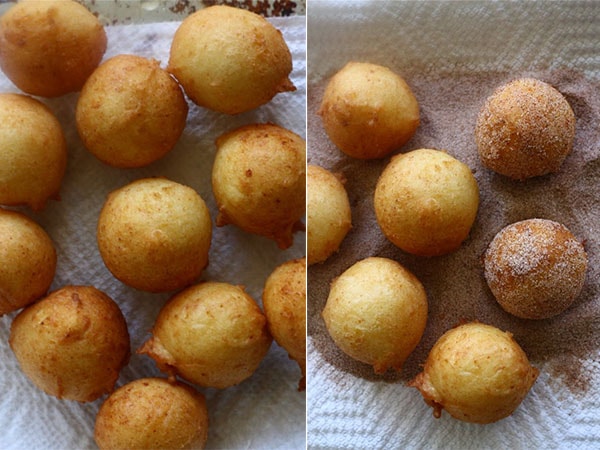 Brown Butter Parmesan Popcorn
7 tablespoons butter, sliced
Oil
1/2 cup popcorn kernels
1/2 cup finely grated Parmesan Reggiano
2 teaspoon garlic powder
Pinch of salt
1. Place a small skillet or small saucepan over medium heat. Add the butter and cook until melted. When the butter melts, it'll begin to foam up. Keep your eye on the butter when it reaches this point, as you'll begin to see brown specks begin to appear at the bottom of the skillet or pan. Turn off the heat and stir. The butter is ready when it's a light golden brown color, similar to that of caramel. Transfer to a ramekin and set aside while you pop the popcorn.
2. Heat a teaspoon of olive oil or vegetable oil in a medium skillet placed over medium heat. When oil is hot, add the popcorn kernels and cover with a lid. Once you begin to hear the kernels begin to pop, shake the pan every minutes until all the kernels are popped. Transfer the popcorn to large baking sheet. In two batches add the brown butter, tossing in-between batches. Sprinkle evenly with the Parmesan and garlic powder. At this point add a pinch of salt if you think it needs it (some Parmesans are saltier than others). Serve right away.
Yields 8 cups (4 servings)
Duck Fat Potato and Chickpea Hash
3 tablespoons duck fat, divided
1 shallot, minced
1/2 red bell pepper, diced
1 zucchini, diced
5-6 fingerling potatoes, diced
2 teaspoon McCormick Gourmet garlic powder
1 1/2 teaspoon McCormick Gourmet ground paprika
3 tablespoon McCormick Gourmet ground cumin, divided
1 tablespoon salt
1 (15-ounce) can of chickpeas, rinsed and drained
3 large eggs
Freshly ground pepper
1. In a skillet, over medium-high heat, melt one tablespoon of duck fat. Add the minced shallot, red bell pepper and zucchini; cook for 3-4 minutes, until softened. Remove from skillet and set aside in a small bowl.
2. Melt remaining two tablespoons of duck fat in the skillet. When hot, add the potatoes; sprinkle the potatoes with garlic powder, paprika, ground cumin and salt. Toss and spread potatoes out evenly in one layer. Turn heat down to medium and cook for 15-20 minutes, until thoroughly cooked, tossing the potatoes every few minutes. Be sure to give the largest cube of potato a taste to make sure they're thoroughly cooked.
3. Add the vegetable mixture back to the skillet, as well as the chickpeas and mix. Make three cavities in the potato hash and crack the three eggs in each of them. Cover the skillet to cook the eggs until they set, about 1-2 minutes. Top with freshly ground pepper.
Serves 4
Cinnamon & Sugar Ricotta Fritters
Fritters:
Vegetable Oil
3 large eggs
1/4 cup granulated sugar
1/4 teaspoon McCormick Gourmet pure vanilla extract
1 cup whole milk ricotta cheese
1 1/4 cups all-purpose flour
2 teaspoons baking powder
Topping:
1/4 cup white granulated sugar
4 tablespoons McCormick ground cinnamon
1. In a cast iron skillet (or saucepan), heat 2 inches of vegetable oil to 350˚F. Line a large baking sheet with a few layers of paper towels and set near the saucepan.
2. Meanwhile, in a large bowl, mix together the eggs, granulated sugar and vanilla; add the ricotta and beat until smooth. In another bowl, mix the flour and baking powder. Add the flour mixture to the egg mixture and mix until just combined.
3. Add sugar and cinnamon to a plate and toss. Place near the stove, as you're going to want to toss the hot doughnuts in the mixture.
4. Using a small ice cream scoop or 2 teaspoons, slide 8 walnut-size rounds of batter into the hot oil. Fry over moderate heat until golden brown all over and cooked through, 3 to 4 minutes. Using a slotted spoon, transfer the fritters to the paper towels to drain. Immediately roll them in to the cinnamon and sugar mixture and serve. Continue frying the remaining fritters in batches of 8.
Recipe adapted from Gale Gand
Yields 16 fritters
Heads-up: I was given a stipend from McCormick for my time and ingredients.