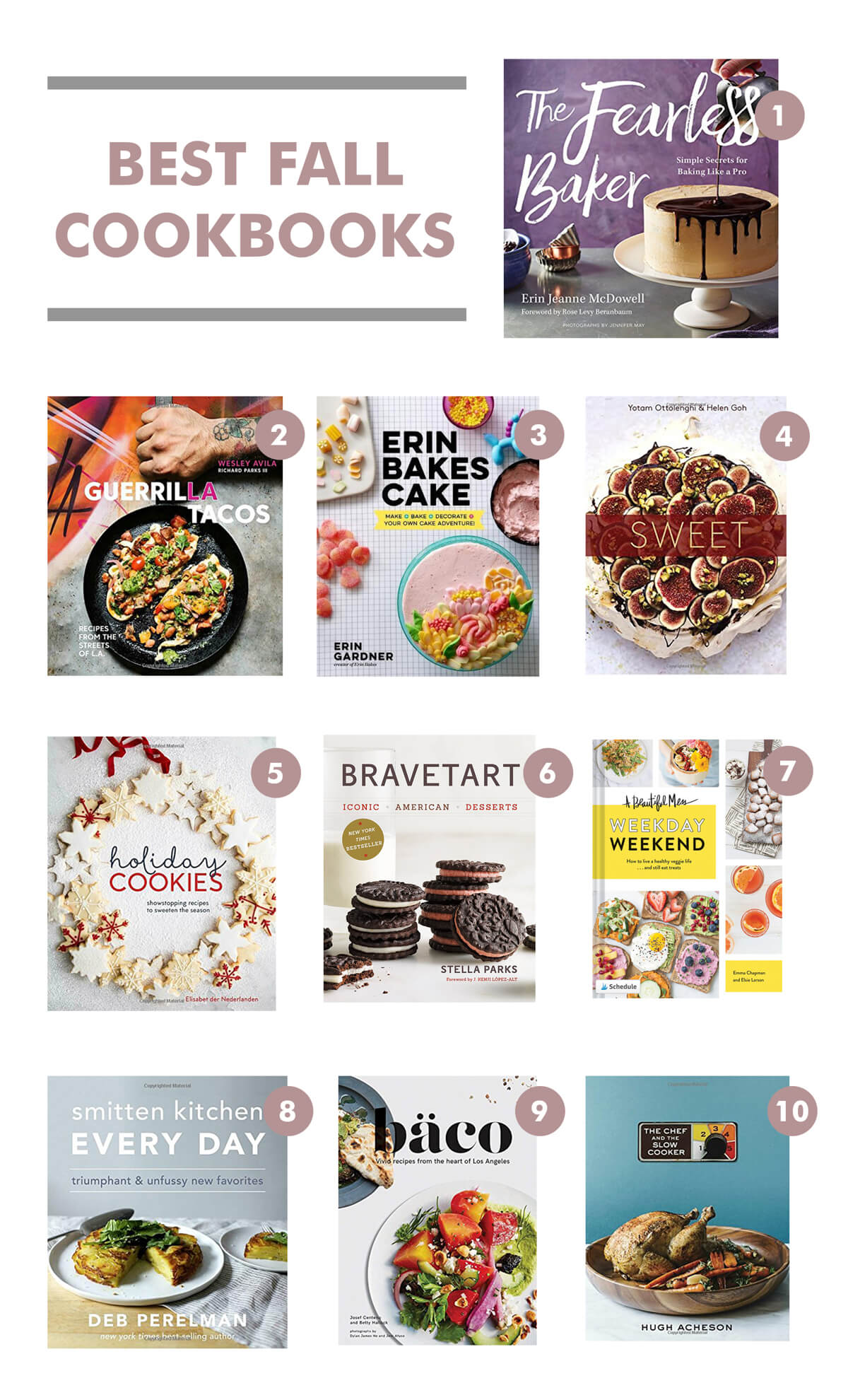 1. Fearless Baker – Erin Jeanne McDowell. If you follow Food52, then you might've fallen in love with Erin's work already. She is a master baker and I love her bubbly personality and interesting yet classic recipes. I can't wait to bake from this.
2. Guerilla Tacos – Wesley Avila. A true love letter to Los Angeles. No lie, their tacos are some of my favorites in LA. AND, their catering is incredible (we rented them for Josh's dad's birthday party last year). This book is beautifully shot (by Dylan + Jeni) and I can't wait to try some of the taco and salsa recipes.
3. Erin Bakes Cake – Erin Gardner. This book is SOOOOO fun. If you want to have a fun life baking stuff, this cake is it. It's amazingly well done with beautiful step-by-step photos showing you how to accomplish these ambitious cakes.
4. Sweet – Yotam Ottolenghi and Helen Goh. A collaborative effort between Ottolenghi and and pastry chef and product developer, Goh. I'm SO pumped to bake through this book. It looks so ridiculously beautiful. I actually bought it and it arrived yesterday. I can't wait to read and bake everything.
5. Holiday Cookies – Elisabet der Nederlanden. This book stopped me dead in my tracks at World Market. I was there picking out cookie cutters and got distracted by the cover—it's that beautiful. I haven't tried any of the recipes but the photography and holiday baking ideas alone are worth a purchase.
6. Brave Tart – Stella Parks. I love classic American recipes. They make my heart swoon and Stella's recipes all look and read like gold. If you're unfamiliar with her, she is the in-house baker and writer at Serious Eats and her work is LEGIT.
7. Weekday Weekend – Emma Chapman and Elsie Larson (from A Beautiful Mess). An idea that I use all the time: during the day I try to eat modest and mostly healthy and on the weekends I go a little cray. It's about balance!
8. Smitten Kitchen Every Day – Deb Perelman. I don't think Deb needs an intro, especially to us food blogging peeps. She is GOD. And truth: she is one of the reasons I started my blog. I wanted to be just like her. Her recipes are always clever, classic and delicious; I can't wait to cook from it ALL fall long.
9. Baco – Josef Centeno and Betty Hallock. True story: Josh and I met at Baco Mercat downtown. And Bar Amá (Centeno's other restaurant) is one of our favorite restaurants in Los Angeles. I can't wait to recreate some of our favorites at home.
10. The Chef and the Slow Cooker – Hugh Acheson. Not gonna lie, I'm not really a slow cooker type. I own one but it's in a box collecting dust. Hopefully this book will encourage me to break it out and make some slow-cooker easy dinner.