Pardon me while I get all bossy on you, BUT you must make this cake.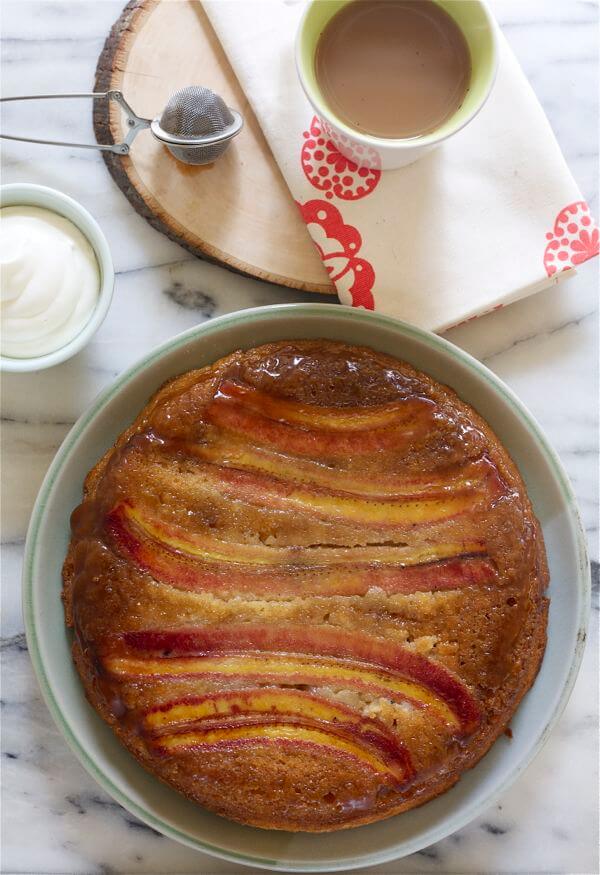 When I was lil' Adrianna, I always dreamed about having a big sister. I wanted someone to steal clothes from, teach me how to French braid, paint my nails all gloopy and gross-like, steal my boyfriends (do sisters do this? I watch a lot of romantic comedies) and most importantly, I wanted someone to boss me around. I thought that bossy/bratty dichotomy between elder sister and younger sister seemed so fun.
Instead, I was born the older sister to a younger brother who was victim to a few non-requested beauty "makeovers" and a healthy dose of bossy-Adrianna.
Right now, I'm taking this big sister role seriously and being super bossy and telling you to make this G.D. cake!
(Do not worry! I will paint your nails later.)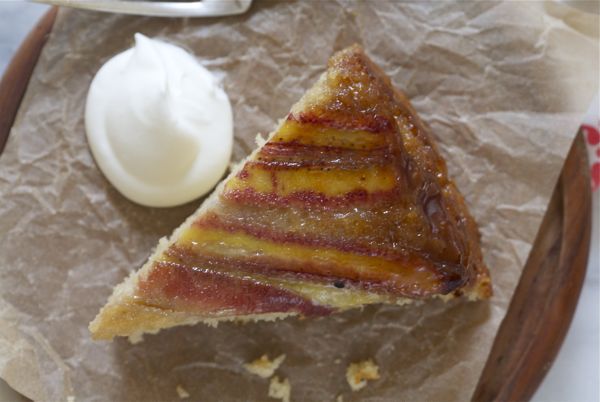 This cake might be one of the more delicious things I've made in the past few months. I'm pretty pretty pretty in love with it.
And like all good love stories, it starts with butter.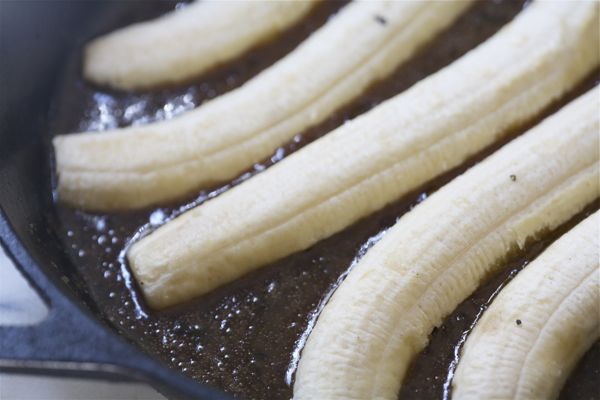 The butter cooks with light brown sugar until it's all bubbly and caramel-ey. Bourbon is added and then bananas.
The cake batter is added on top and the whole thing goes in the oven.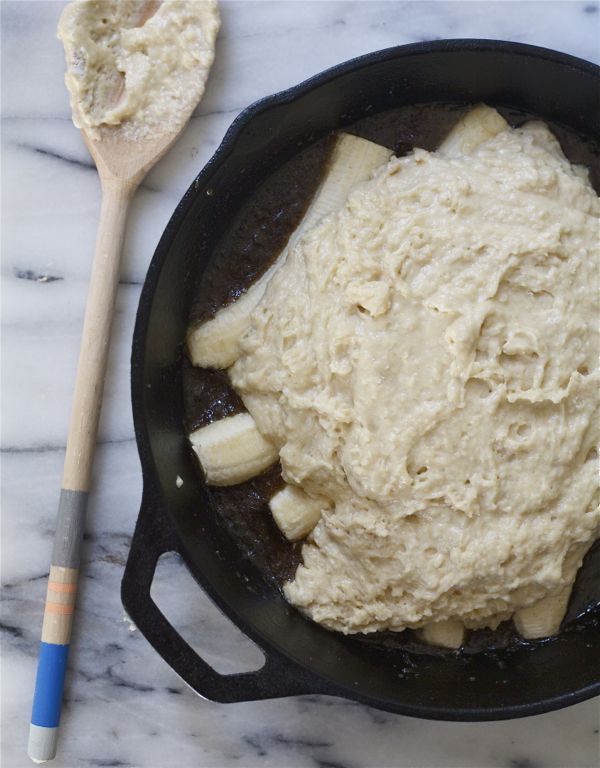 When it comes out, you'll have to be super careful when you invert the cake onto a plate or cake stand. A pair of second hands help.
The caramelization will give the bananas pink highlights and since you're a girl (maybe you aren't?), you'll squeal and it'll be embarrassing.
But seriously, I mean, the bananas turned pink! How awesome is that?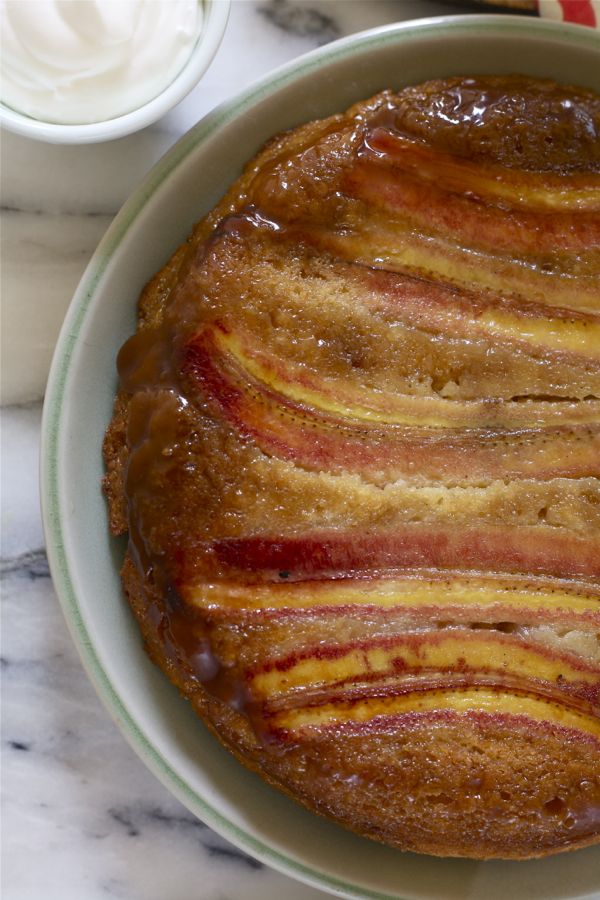 Here's the flavor low-down with this cake: there isn't a huge bourbon flavor--it's just a hint. No bourbon in the house? I give a big NO to plunking down an extra $30 just for this recipe. Whiskey will work, if you have it. Or rum. Oh gosh...rum!
The cake layer isn't too sweet. The bananas with delicious caramel definitely are sweet. It almost has a flavor reminiscent of smooth, silky toffee. Yum.
I ate this on the warmer side of room temperature with a dollop of barely whipped cream and a cup of coffee.
I was pretty stoked on life.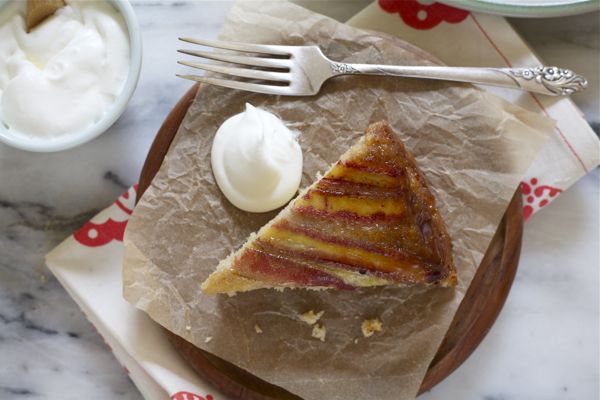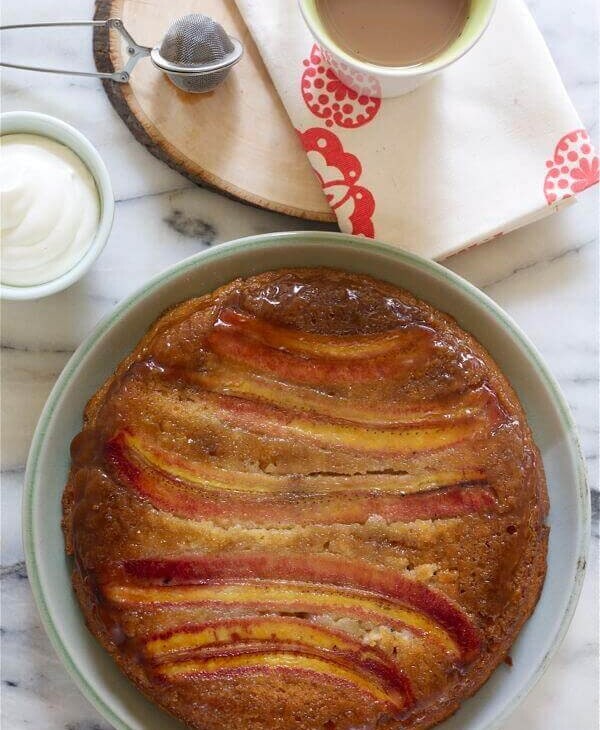 Print Recipe
Banana Bourbon Upside Down Cake
Serving Size:
12-inch cake
Ingredients
Cake: 2 cups all-purpose flour 1 ¾ teaspoon baking powder ½ teaspoon ground cinnamon
½

teaspoon

fine-grain sea salt

4

ounces

1 stick unsalted butter, room temperature

½

cup

white granulated sugar

2

large eggs

1

teaspoon

pure vanilla extract

¾

cups

whole milk
Banana Topping:
4

tablespoons

unsalted butter

½

cup

light brown sugar

¼

teaspoon

fine-grain sea salt

3

tablespoons

bourbon

2-3

medium-sized bananas

sliced lengthwise
Instructions
*Before starting this recipe, be sure to read a few notes at the bottom.
Preheat the oven to 350 degrees F.

In a small to medium bowl, mix together the flour, baking powder, cinnamon and salt. Next, in a medium bowl, cream together the butter and sugar until light and fluffy. Add the eggs and vanilla; and then mix until the mixture is smooth.

To the butter and sugar mixture, mix in half of the flour mixture and the milk. Then, mix in the remaining flour mixture, being sure not to over mix.

In a 12-inch cast iron skillet (*see note below about alternative vessels), melt the butter over medium heat. Mix in the brown sugar and salt and stir until the sugar begins to bubble, about 1 minute. Carefully add the bourbon (the mixture will sizzle!) and mix one more time. Turn off the heat and let stand for a few minutes to cool slightly. Next, arrange the bananas to your liking.

Pour the batter over the bananas, and spread the batter gently so it's nice and even. Transfer the cast iron skillet to the oven and bake for 35-45 minutes or until a skewer comes out clean.

Remove the cake from the oven and allow to cool for 5-10 minutes. To invert the cake, place a (large enough) plate on top of the cast iron skillet and turn both of them over; lift up the cast iron skillet and voila! Your cake!

I like to serve this cake slightly warm with a dollop of whipped cream. And a cup of coffee. Always.
*Note #1: Before you start step #4, I'd recommend arranging your banana slices in the (dry and cool) cast iron skillet, and then transferring them to a nearby cutting board. This way you have a plan as to how you want them to be arranged once the pan is full of bubbling sugar and bourbon. Is this slightly OCD? Yes, but I want your cake to look pretty, too! So this is how.
*Note #2: If you don't have a 12-inch cast iron, you can surely use a 10-inch cast iron skillet or a 10-inch cake pan. If you use a 10-inch cast iron skillet you may have a bit of batter leftover and the cake part will be thicker. No biggie! If you use a 10-inch cake pan, you'll need to do step #4 in a skillet and then pour the caramel mixture into the cake pan.