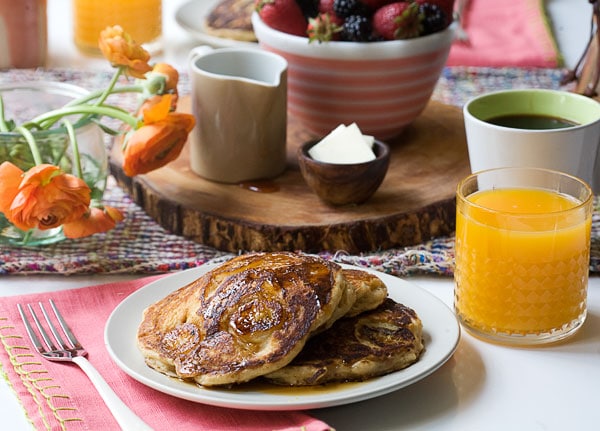 Whoa! Hai! Hello! I'm nervous.
I wrote a cookbook. It happened. I haven't spoken about it much because sometimes I'm shy. But today is the day when I scream it from the rooftops, text you to tell you about it, using lots of emojis and exclamations points, nudge you to maybe, only if you want to, pre-order it from Amazon or Barnes and Noble.
My lil' ol' humble cookbook is being published by St. Martin's Press and the release date is coming soon (eeeek!), May 28th!
This cookbook, like all cookbooks, was a labor of love with the help of my awesome literary agent, Danielle and super smart and fellow food-lover of an editor, BJ. The pretty pictures and styling was done by my friends, Teri Lyn Fisher and Jenny Park. The cookbook is about my favorite breakfast food ever invented: pancakes. There are 72 recipes of breakfast pancakes, dinner pancakes, nerdy pancake information and even some savory and sweet toppings.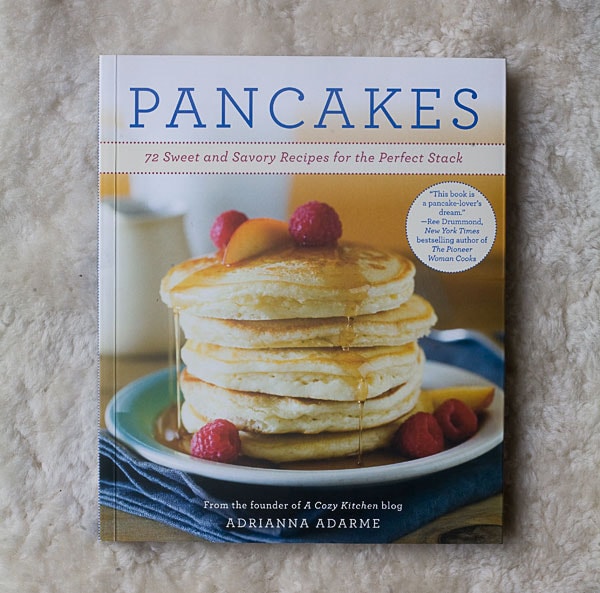 Before I show you a bunch of pictures of the cookbook, I feel like we should talk about these Banana Bourbon Pancakes because they're pretty major. I know I'm not supposed to have favorites in the book but I do. I just do. These are one of them.
The bananas are caramelized in a bit of bourbon, butter, brown sugar and a dash of cinnamon. They're cooked until golden brown and then added to a bourbon-spiked pancake batter. Holy moly. They're fluffy and boozy and slightly sweet and oh so very delicious. I love. Just love.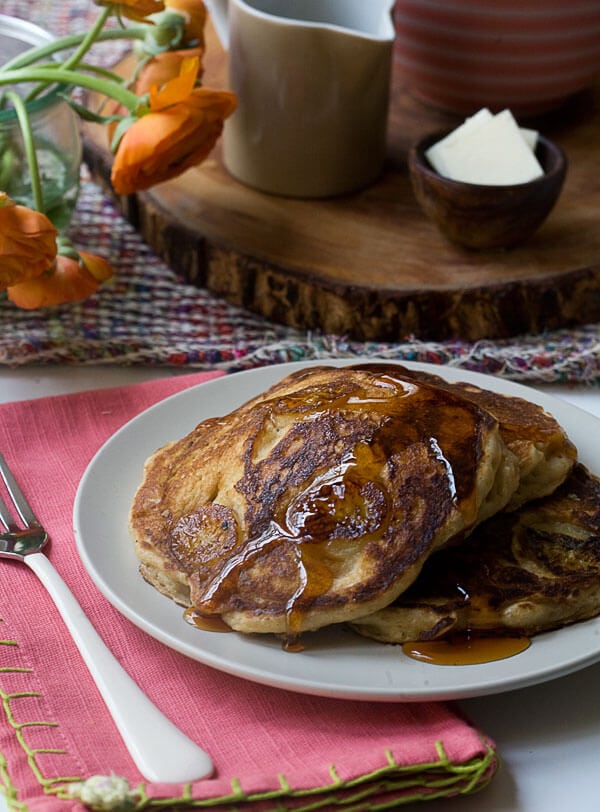 I imagine a cowboy country singer would looove these pancakes. Or maybe I just made that up in my head because I'm obsessed with the show Nashville. WHO KNOWS! All I know is I love 'em.
I set the table up all pretty to eat them.
Blogger truth: I was home alone but set the table up for two. Duh. That's what we do.
So, I set it all up thinking I was going to take pictures and then eat them by myself. BUT, this beast hopped up on the sofa chair and asked to join me.
She loves pancakes.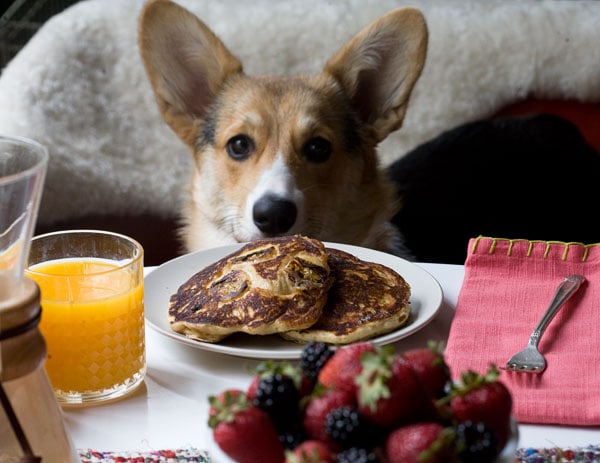 This book is loaded with delicious breakfast and dinner pancake options for you.
As we head toward summer, I love, love these Sweet Corn Pancakes. They're buttery and sweet and a little crunchy.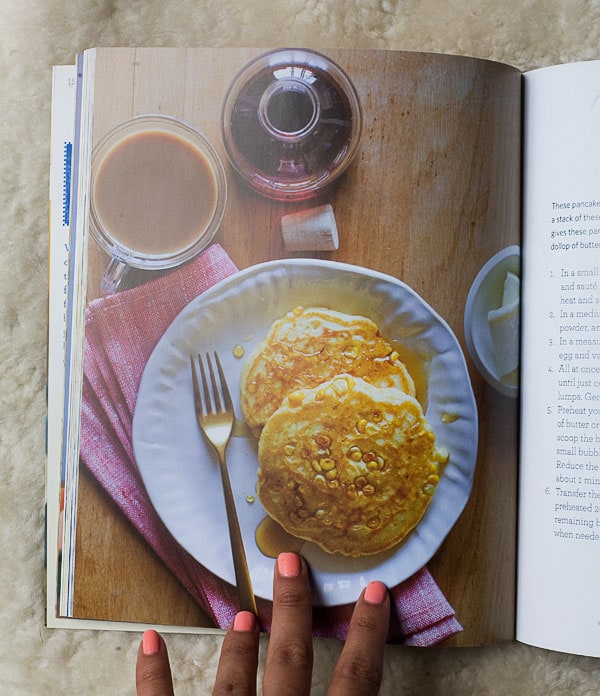 And if you know me well, you know I love corgis, cute things and coffee. So, obviously there are some Coffee Pancakes.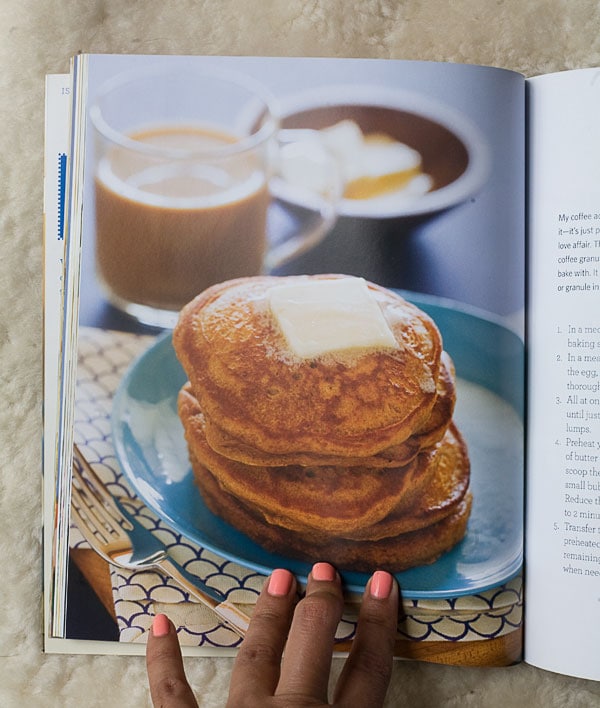 Oh and Banana Bread Pancakes. They're for those ugly, brown banana that are probably sitting on your counter right now.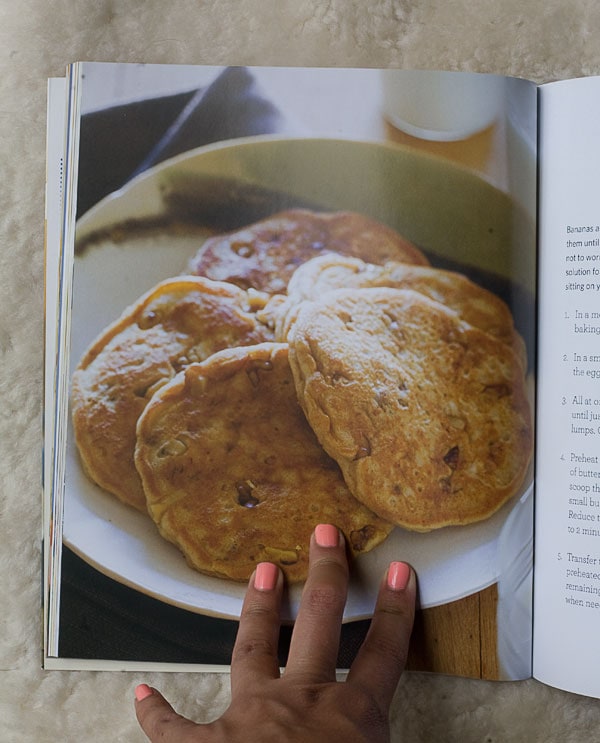 And then a bunch of savory options, like these Sweet Potato and Smoked Gouda Latkes.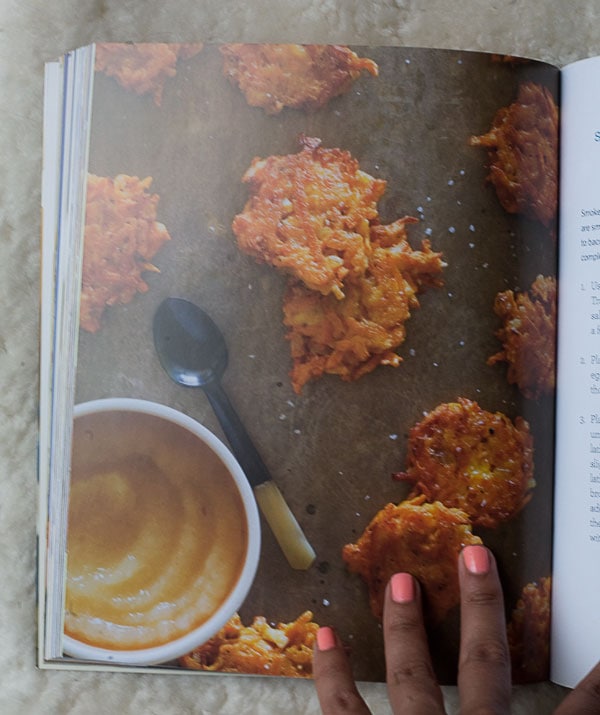 It seems like every country around the globe has a version of a pancake. This Socca with Harissa Aioli is straight from Nice, France. It's crispy, made with garbanzo bean flour and has a hint cumin. Oh AND it's gluten-free. There are a good amount of gluten-free options in this book.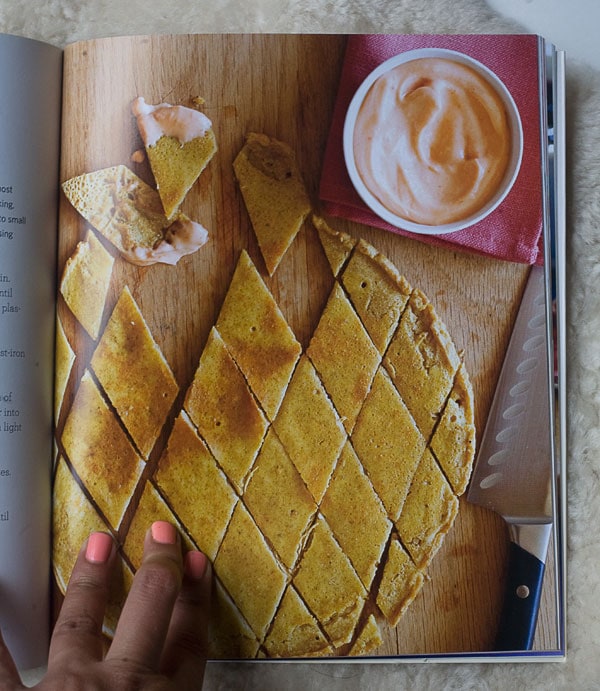 I included my favorite crab cake recipe. They're bright and buttery. Ritz crackers is an ingredient. Yes. Oh yes.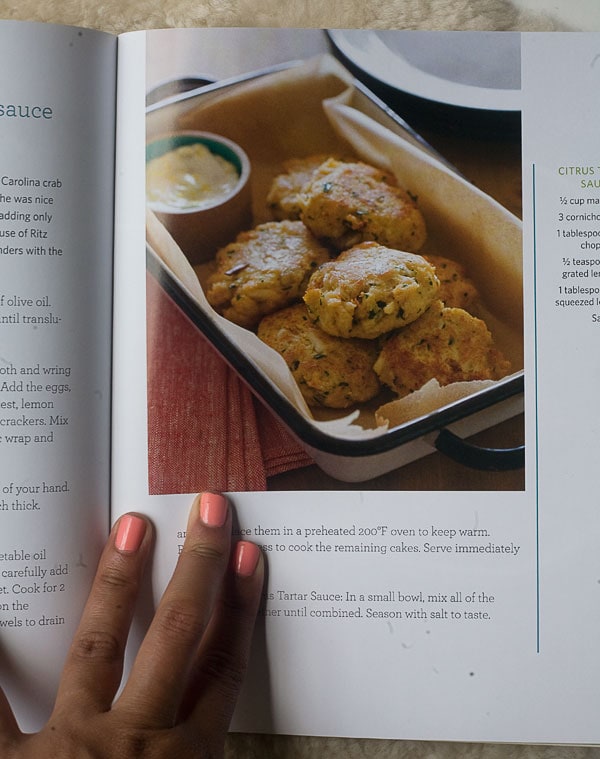 And some pretty Berry Butters for a little pancake-topping action.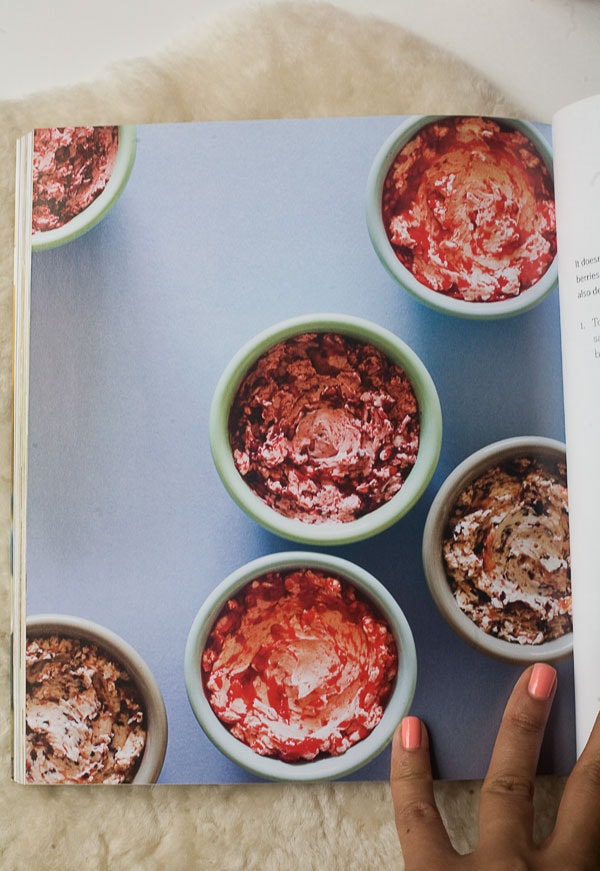 Lastly, I'd like to get a little sappy with you, if you let me. When I started this blog, I kind of didn't know what I was doing. I literally had no expectations. It was just this place to show the internet (a.k.a. my mom) the stuff I cooked. But as I continued I fell in love with creating food here, sharing it and hearing from you all. I love it so very much. And the only reason I was given this opportunity is because YOU visit. You have no idea how much this blog has changed my life. And that may seem a little melodramatic and I will admit I can be a drama queen, but I only say it because it's absolutely true. I feel so very lucky and grateful today. Thank you, thank you.
xoxo,
Adrianna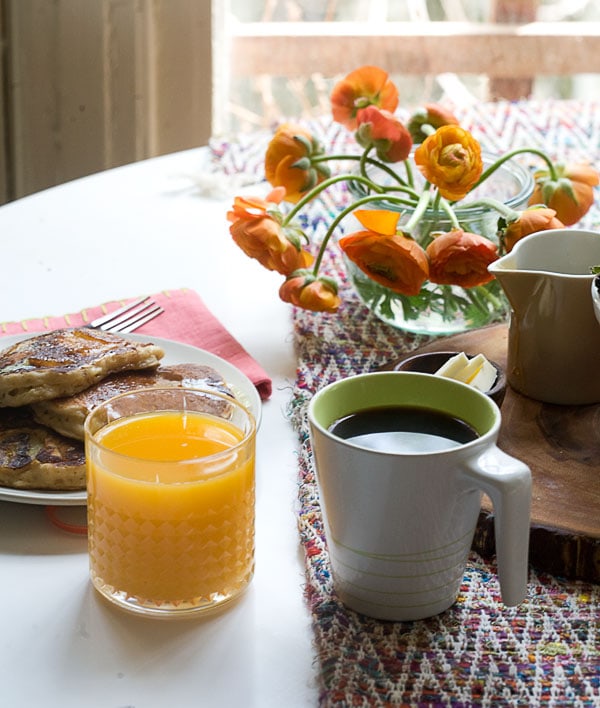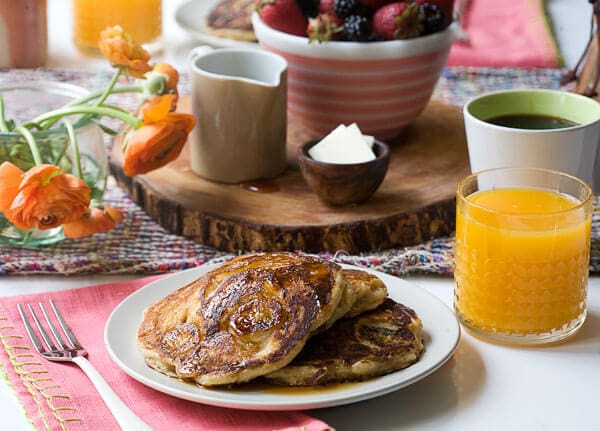 Print Recipe
Banana Bourbon Pancakes
Ingredients
Bananas:
1 ½

teaspoons

unsalted butter

2

ripe bananas

thinly sliced

1

tablespoon

light brown sugar

1

tablespoon

bourbon

½

teaspoon

ground cinnamon
Dry Mix:
1

cup

all-purpose flour

2

tablespoons

light brown sugar

1

teaspoon

baking powder

1

teaspoon

baking soda

¾

teaspoon

salt
Wet Mix:
¾

cup

buttermilk

plus 2 tablespoons, shaken

1

large egg

2

tablespoons

bourbon

1 ½

teaspoons

melted butter

cooled

½

teaspoon

pure vanilla extract
Butter or vegetable oil, for the skillet
Instructions
In a small skillet, melt the butter over medium heat. Add the bananas, sugar, bourbon, cinnamon and toss lightly until bananas evenly coated. Sauté for 2 to 3 minutes until the banana are lightly browned. Remove from the heat and set aside to cool.

In a medium bowl, mix together the flour, sugar, baking powder, baking soda, and salt.

In a measuring cup or small bowl, measure out the buttermilk. Add the egg, bourbon, melted butter and vanilla; beat until thoroughly combined.

All at once, add the wet ingredients to the dry ingredients and mix until just combined. The batter should have some small to medium lumps.

Preheat your skillet over medium heat and brush with 1 ½ teaspoons of butter or a teaspoon of vegetable oil. Using a ¼-cup measure, scoop the batter onto the warm skillet. Add 4 to 5 slices of banana to each pancake, pressing them in lightly. Cook for 2 to 3 minutes until small bubbles form on the surface of the pancakes, and then flip. Reduce the heat to medium-low and cook on the opposite sides for 1 to 2 minutes or until golden brown.

Transfer the cooked pancakes to a baking sheet and place in a preheated 200 degrees F oven to keep warm. Repeat the process with the remaining batter, adding more butter or vegetable oil to the skillet when needed. Serve immediately.