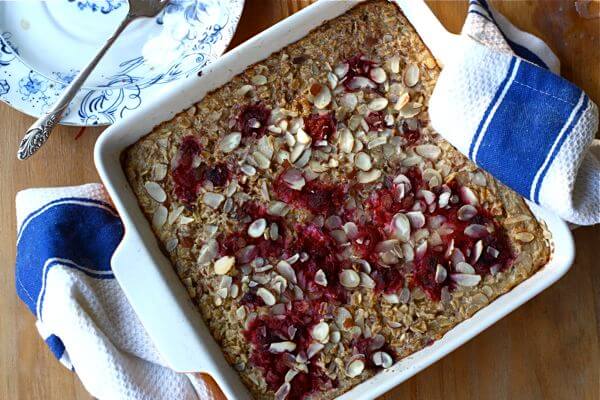 When I worked in an office with dark carpeting, stark lighting, long meetings, cubicles galore and scary HR people, the thing that disturbed me the most was the instant oatmeal that everyone loved eating for breakfast.
I'd go into the kitchen and watch people as they would empty out oatmeal packets into those paper bowls…they'd fill them with hot water, stir in some splenda, tell everyone about their weekend trip to Yosemite, I'd act like I was paying attention (but totally wasn't)…because I was busy…wondering if they were just addicted to the ritual of oatmeal-making, or if they actually liked microwaved, soggy stuff. So I'd wait for it…
They'd shove a spoonful in their mouths…and they always looked like they liked it. And then I'd stand there, perturbed and think to myself, Man, humans are such complicated creatures.
Are you one of these instant-oatmeal loving humans?!
If so..let's chat. I want to understand you. You intrigue me.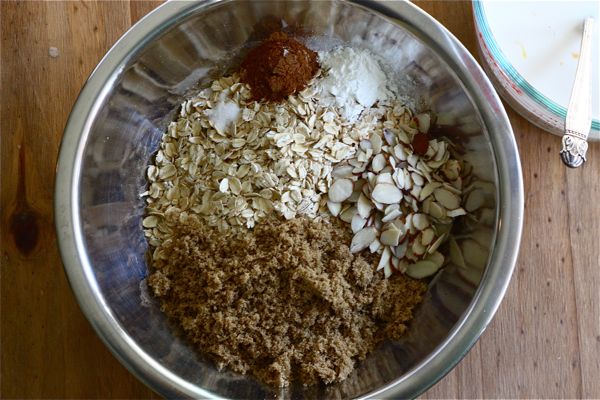 I've had this food blog for a while. And, you know, we have a way we work with each other.
Every few days I post a recipe I LOVE and I talk excidetly about it (!!)…or tell you something else that's super random. And from your end it might appear that I love ALL food. This is not the case.
I'm actually a total brat of an eater. My "dislike" list is major.
I think it's a numbers thing, you know?!
Like the more stuff you try and eat the more chances of you liking and disliking things.
I can't go through everything I dislike. That'd make one of bummer of a blog. And who cares what I don't like. It's never really pertinent, I just don't cook the stuff…you know?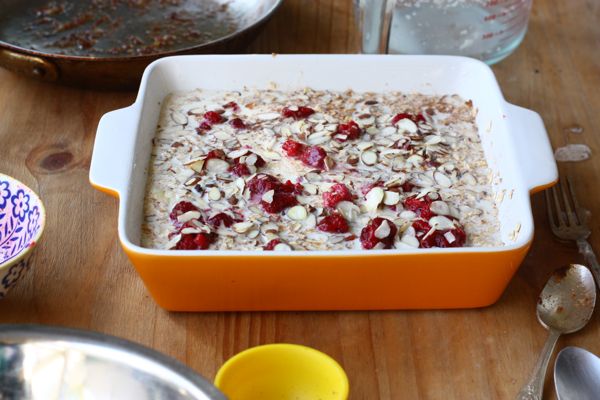 But today…is different, my friends. Today what I dislike/hate/am grossed out at..is totally pertinent.
I hate DISLIKE instant oatmeal. A lot a lot.
But oatmeal cookies? LOVE. And oatmeal chocolate cookies? DOUBLE LOVE!!! Granola?! LOVE.
Confusing, right?
Didn't I tell you humans (me) are complicated. They are.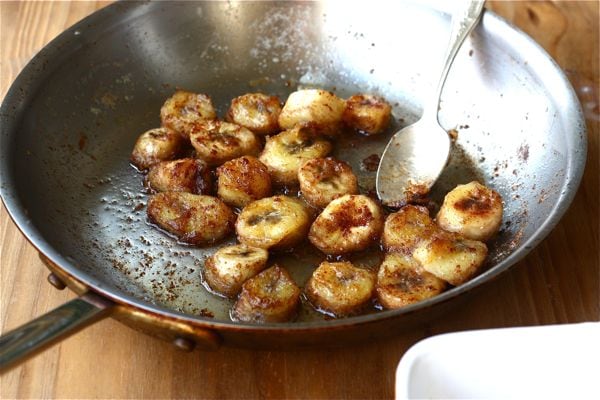 This baked oatmeal is everything I've ever loved involving oats. It's baked, filled with spices like cinnamon and nutmeg and nuts like almonds and fruit like pink, pretty raspberries.
The raspberries give it this perfect amount of tartness to off-set the sweetness from the brown sugar and caramelized bananas. It's the perfect thing to bake up on the weekend and eat throughout the week as you're heading out the door…or sitting in the kitchen with a mile long to-do list.
And guess what?! It ain't soggy.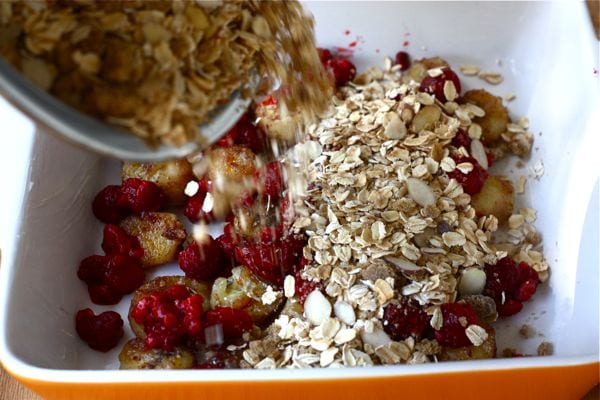 Baked Raspberry Oatmeal
1 tablespoon unsalted butter
2 ripe bananas, cut into 1/2-inch pieces
1 teaspoon of white or brown sugar
2 teaspoon ground cinnamon, divided
1/4 teaspoon ground nutmeg, divided
2 cups rolled oats
1/2 cup slivered almonds, divided
1/2 cup brown sugar
1/2 teaspoon salt
1 teaspoon baking powder
2 cups milk
1 large egg
3 tablespoons unsalted butter, melted and slightly cooled
2 teaspoons vanilla extract
1 1/2 cups frozen raspberries
In a small skillet, over medium heat, melt 1 tablespoon of butter. While butter is melting, toss sliced bananas with sugar, 1/2 teaspoon cinnamon and 1/8 teaspoon nutmeg. Add banana mixture to the skillet and cook for 2-3 minutes, or until bananas are brown. Set aside.
Pre-heat the oven to 375F with a rack in the top third of the oven. Generously butter the inside of an 8-inch square baking dish.
In a bowl, mix together the remaining cinnamon and nutmeg, oats, half the almonds, the brown sugar, salt and baking powder
In another bowl, whisk together the the milk, egg, half of the butter, and the vanilla.
Arrange the bananas in a single layer in the bottom of the prepared baking dish. Sprinkle two-thirds of the berries over the top. Cover the fruit with the oat mixture. Slowly drizzle the milk mixture over the oats. Gently give the baking dish a couple thwacks on the countertop to make sure the milk moves through the oats. Scatter the remaining berries and remaining almonds across the top.
Bake for 35 to 45 minutes, until the top is nicely golden and the oat mixture has set. Remove from the oven and let cool for a few minutes. Drizzle the remaining melted butter on top and serve. Sprinkle with a bit more sugar or drizzle with maple syrup if you want it a bit sweeter.
Serves 6, generously
Ingredientses swapped out, but recipe by Heidi Swanson from Super Natural Every Day