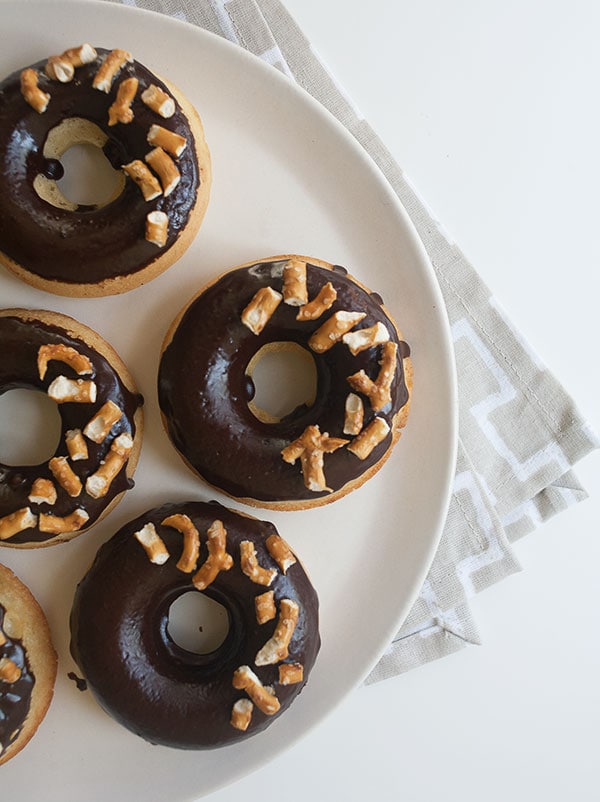 Can we talk about Tinder for a second?
I'm currently trying to convince two of my very single friends to sign up for Tinder. I've heard nightmare stories, I have, but I also know at least two or three friends who have ended up finding legit relationships on there. Dating is hard. I hated dating. I actually hated dating Joshua…haha. So much wishy-washy BS, so many, like, should I do this or should I text that. Too much guessing, man. You're either in or you're out! But I suppose that's also what can make it exciting and fun.
I'm actually quite fond of my current role, which is being the go-to person for dating advice amongst my friends...mainly because I'm nosey and love being all up in their business. I've attempted to be the match-maker, and while I love it, I'm not sure I'm that great at it. Though, there is this couple I set-up in high school and now they're married, have two kids and a super cute dog, so I have had success!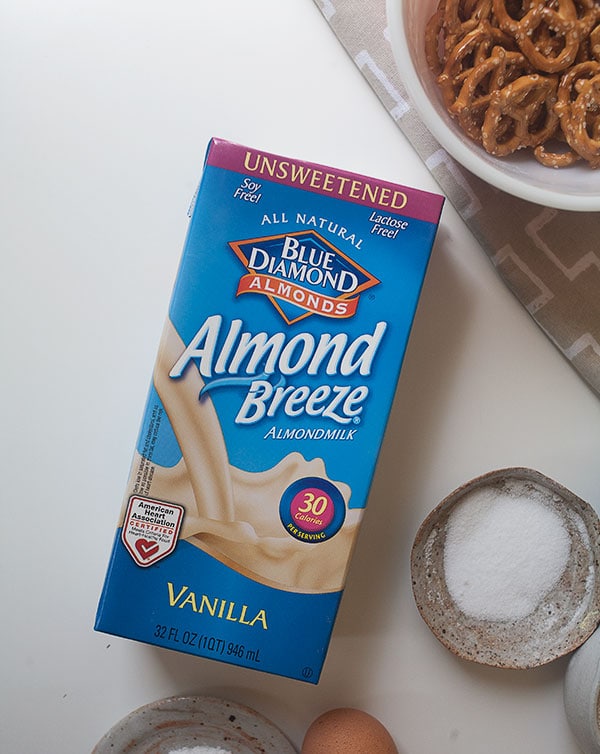 Speaking about success...Pretzel Doughnuts, man. Hello! I teamed with Almond Breeze for this recipe and yes, it's absolutely dairy-free. If you like, you can substitute the oil for melted butter—it'll taste delicious. I steeped the Almond Breeze with pretzels for a few hours, in the fridge, until they were nice and soft. I blended the milk mixture, resulting in almond milk that tasted EXACTLY like pretzels…with a hint of almond-y flavor.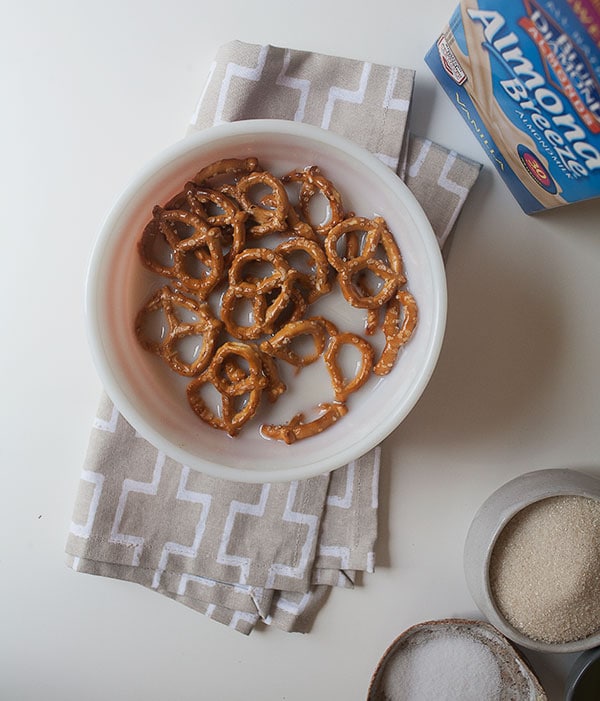 It took me forever to finally breakdown and buy a doughnut pan, but there isn't a month that passes without me whipping it out to make baked doughnuts. I think making yeasted doughnuts at home is a little too much work. Between the multiple rises and the big pot of oil, I say it's a big ol' skip. But baked doughnuts are WAY different.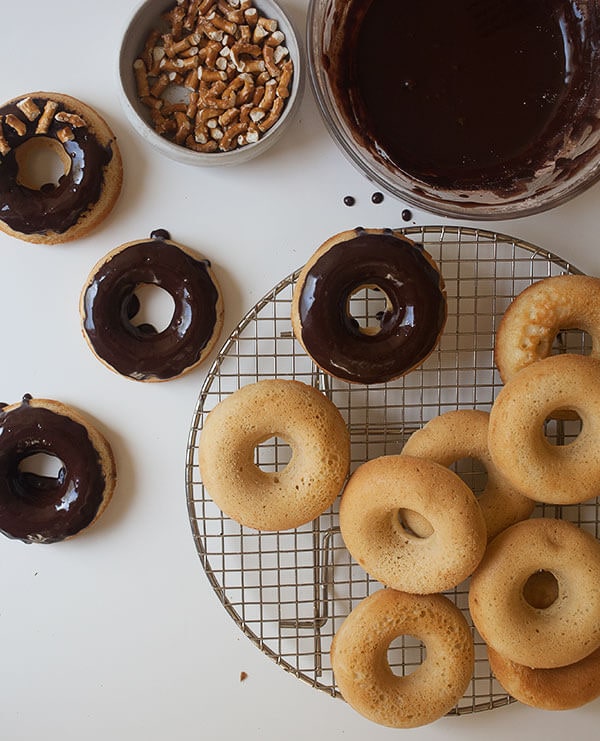 I should preface this by saying that these doughnuts taste like a hint of pretzels and then the pretzel flavor is reinforced with pretzels on top. They're salty and sweet and the chocolate glaze on top is my favorite thing ever.
Josh ate four when he came home, which I thought was pretty romantic.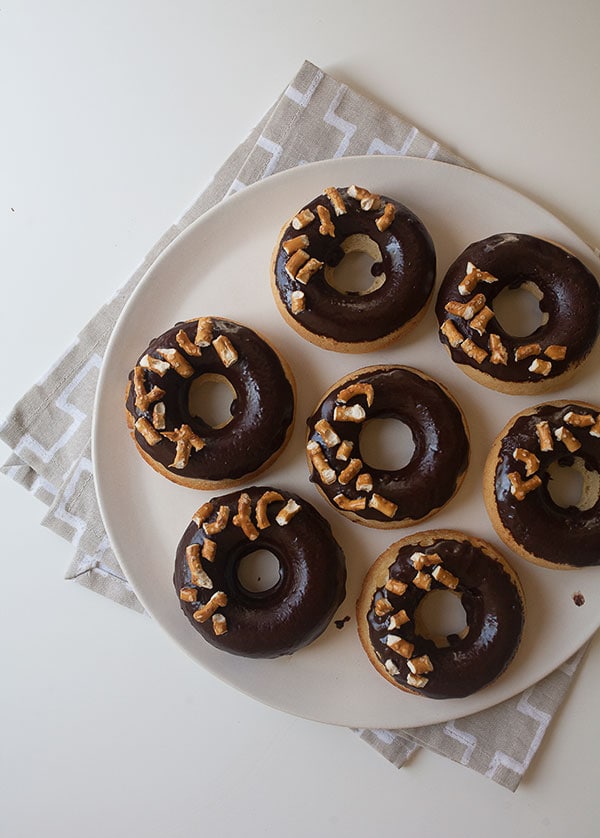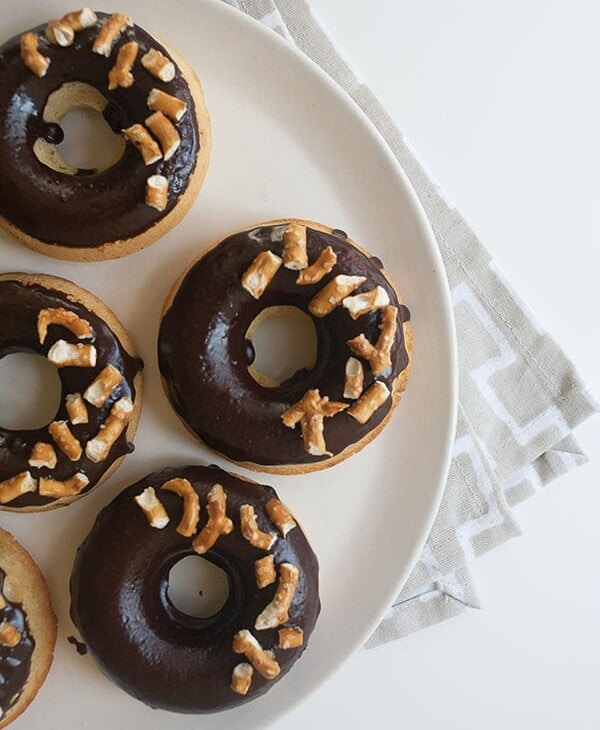 Print Recipe
Baked Pretzel Doughnuts
Ingredients
1 ¼

cups

Blue Diamond Original Unsweetened Almond Breeze

1

cup

pretzels

2

cups

all-purpose flour

½

cups

white granulated sugar

2

teaspoons

baking powder

¼

teaspoon

salt

1

large egg

2

tablespoons

vegetable oil

¼

cup

plus 2 tablespoons, powdered sugar

¼

cup

cocoa powder

2

tablespoons

plus 2 teaspoon, Blue Diamond Original Unsweetened Almond Breeze

2

teaspoons

light corn syrup

optional

Handful of pretzels

crushed
Instructions
In a medium-sized bowl, pour in the almond milk and add the pretzels. Transfer the bowl to the fridge to steep for 2 hours. At the 2-hour mark, the pretzels should be softened and the milk should taste exactly like pretzels. Give it a taste! If it needs more time, let it steep for an additional 30 minutes. Transfer the milk mixture to the blender and pulse until sloshy. Run the mixture through a sieve to strain. You should end up with a scant cup of almond milk.

Spray a doughnut pan with cooking spray and set aside. Preheat the oven to 350 degrees F. In a medium bowl, whisk together the dry ingredients: all-purpose flour, sugar, baking powder and salt.

To the almond milk, whisk in the egg and vegetable oil. In one batch, pour the wet ingredients into the bowl with the dry ingredients. Mix until just combined.

Fill each cavity in the doughnut pan about ¾ of the way. Give a smack on the counter to even out the batter and transfer to the oven to bake for 10 to 12 minutes, until the doughnuts spring back when poked.

Allow to cool in the pan for about 5 minutes. Invert the doughnuts and allow them to cool on a baking rack. Repeat the filling and baking process until you've worked your way through the remainder of the batter. You should end up with 12 doughnuts.

While the last batch of doughnuts are cooling, make the glaze. In a medium bowl, whisk together the powdered sugar, cocoa powder, almond milk and corn syrup. The corn syrup isn't absolutely necessary but I do love the shine it gives the glaze. Dunk each doughnut into the glaze and immediately top with a sprinkling of crushed pretzels.
(This post is sponsored by Almond Breeze. Thank you for supporting the sponsors that keep A Cozy Kitchen cozy.)