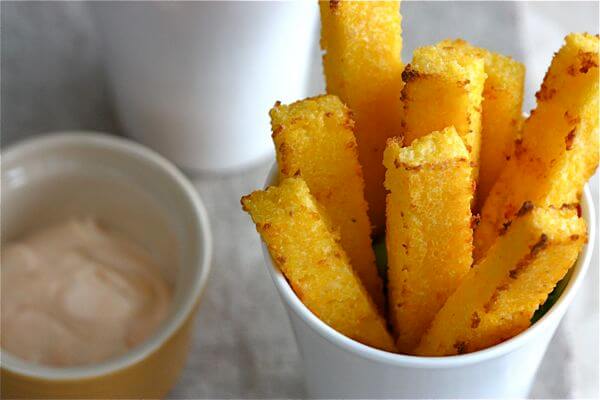 I've had exactly four cups of coffee today. My hand is shaking (just slightly). And I really need to trim my bangs. But I'm scared. I think I have reason to be...
I also cannot stop thinking about homemade fish sticks. How will I do this?! How will I make homemade fish sticks? Huh?
Still not sure. But if you have ideas/thoughts/experiences of the fish stick variety, I'm all ears. Also, if you know secrets about cutting your own bangs, I'd like to hear those too.
These are important life things. Fish sticks. And haircuts.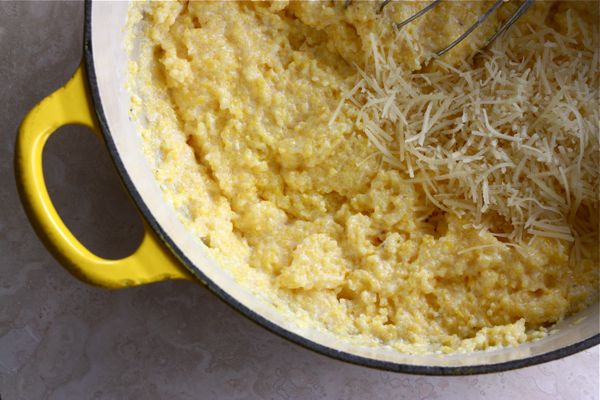 I'm all about fish sticks right now, but really I should be convincing you how incredible these sticks made from polenta are. They really are. It's just that I made these about a week ago when I was back home and now I've moved on to something else.
I often times feel like I have the attention span of Ellen Degeneres's character in Finding Nemo. You know..like a goldfish.
(Weird how Ellen Degeneres is a fish and I was talking aobut fish sticks, right?! RIGHT?! Totally wasn't planned.)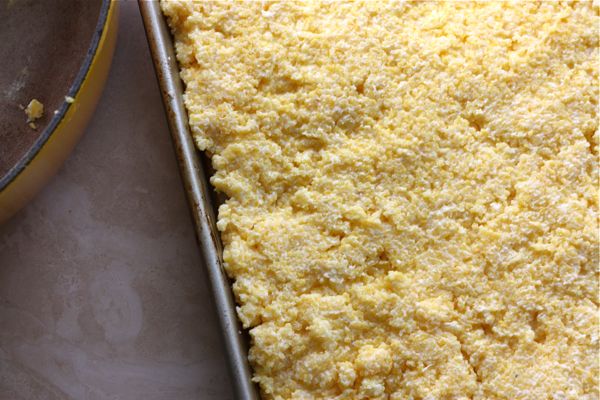 Back to polenta fries...I'm a huge proponent of fries that aren't made from potatoes. You know this. Evidence: here, here, here, AND lastly, here.
I love everything about fries. I love their bite-sizeness. I love that I can gab and gossip while simultaneously eating an entire plate. They offer breaks in between. The dipping sauce situation that goes along with fries is always important.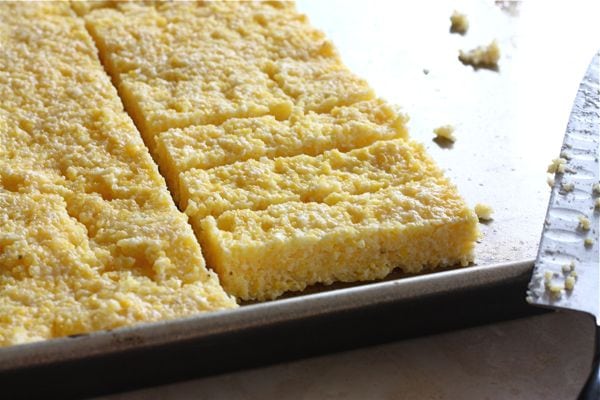 These have everything I love about a French fry, actually. They're crispy on the outside with a smooth center. In this case, their smoothness is helped by a heaping handful of shredded Parmesan. Add a bit more if you like (or another kind of cheese), and you'll have Cheesy Baked Polenta Fries. HELLO DELICIOUSNESS!
They taste even better with this spicy lime mayo, which comes together with a dash of hot sauce, a squeeze of lime and a sprinkling of salt.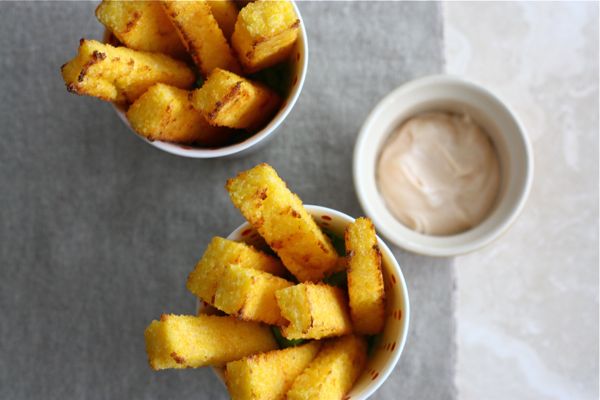 Baked Polenta Fries with Spicy Lime Mayo
Fries:
4 cups whole milk
1 cup water
2 tablespoons unsalted butter
2 ¼ cup cornmeal
½ cup grated Parmesan
2 teaspoons kosher salt, and more for sprinkling
2 tablespoons olive oil
Chili Lime Mayo:
3 tablespoons mayonnaise
3 dashes Cholulua (or Tobasco)
1 teaspoon lime juice
Pinch salt
1. Spray non-stick cooking spray on a baking sheet (or casserole dish). Bring milk, 1 cup water and butter to boil in heavy large saucepan. Gradually whisk in cornmeal. Reduce heat to low and cook until polenta is very thick and starts to pull away from sides of pan, stirring often, about 8 minutes. Remove from heat.
2. Stir in cheese and salt. Add more salt if you like. Immediately transfer polenta to prepared baking sheet, spreading mixture to a 1-inch thickness. Mine filled up half of the baking sheet. No biggie. Wrap with plastic wrap and refrigerate until cool and firm, about 1 hour. (You can totally do this a day ahead. Just be sure to cover and keep refrigerated.)
3. Cut polenta lengthwise in pan into three-inch-wide rectangles. Cut each rectangle crosswise into ¾-inch-wide strips. Set polenta strips aside.
4. Preheat oven to 450F. Transfer polenta fries to lined baking sheet. Sprinkle with about a teaspoon of kosher salt and some olive oil. Bake for 20 minutes, flipping the fries at the 10 minute mark. Fries, when done, will be slightly golden brown at the edges.
5. Meanwhile, mix together the mayo, hot sauce, lime juice and pinch of salt.
Recipe adapted from Bon Appetit
Yields two and a half dozen fries