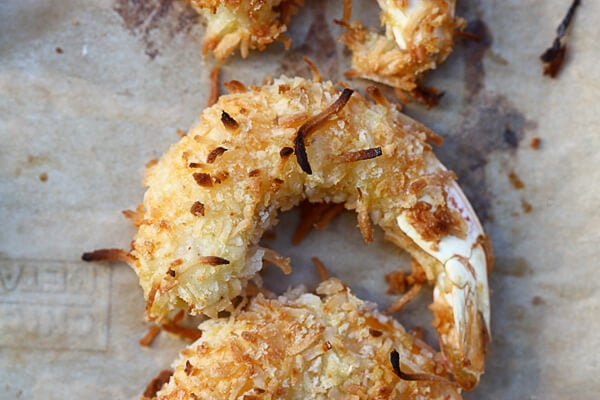 Coconut shrimp always reminds me of Outback Steakhouse.
And bloomin' onion appetizers.
And steaks that are super fatty that come with those weird wooden handle steak knives that are–for some reason–rounded? Can you tell I grew up in the 90s…and deep in the suburbs?! That stuff was awesome.
This recipe comes from two of my favorite food and real life friends, Jenny Park and Teri Lyn Fisher who both just launched (as in today!! hello!! visit!!) their new blog called, Spoon Fork Bacon.
Teri takes the pretty pictures and Jenny makes and food styles all the recipes. They're both super talented and make everything pretty and delicious. So when I saw this coconut shrimp recipe on their blog (I got a sneak peak a few weeks ago!), I knew I needed to make it…stat.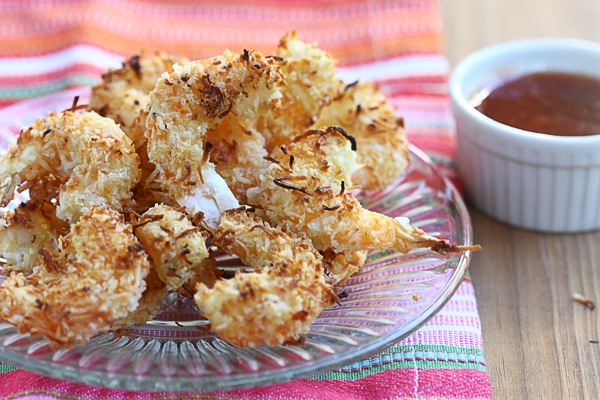 Since I hate dealing with frying/hot oil, I decided to bake them…that just makes life easier, doesn't it?
Get your assembly line situation in tact.
There will be a flour/cayenne/garlic powder plate. A beaten egg bowl. And lastly, the almond meal (which I left out because I'm bad at writing grocery lists), shredded coconut and panko bread crumbs.
When that's all good to go…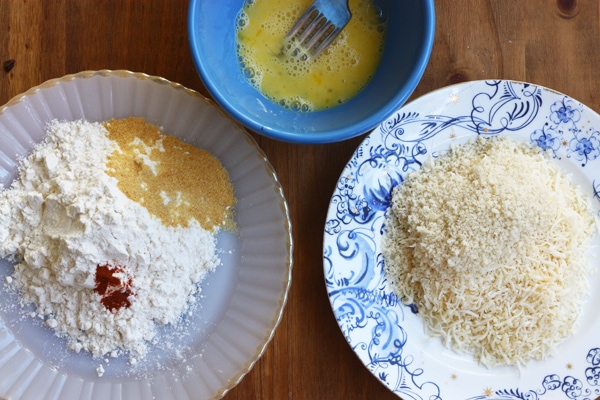 Get yo shrimp!! Sprinkle with some salt and pepper and do a toss around action.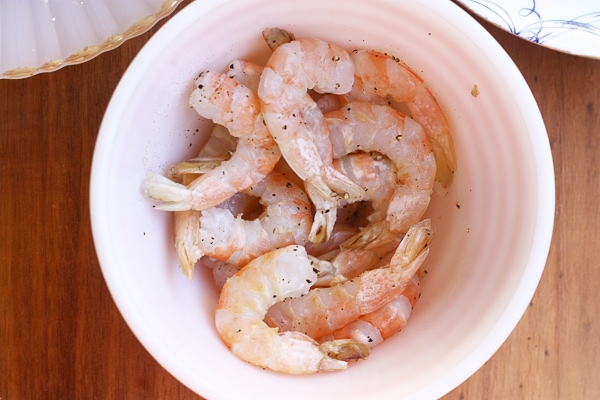 Next up…drop one of those dudes in the flour. He looks so lonely and swallowed by the flour, doesn't he?! It's sad…
Wait, no it's not. I'm just being dramatic because I've too many glasses of wine.
I digress…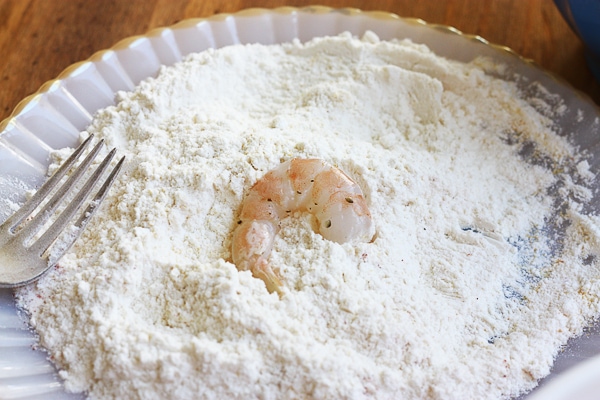 After it's coated in the flour, move it to the egg…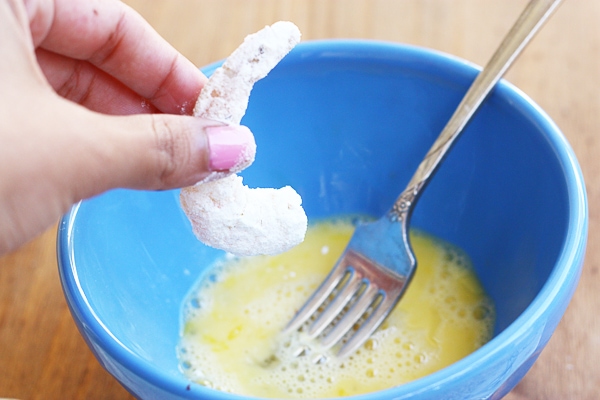 Then to the coconut mixture. After it's all coated, transfer it to a baking sheet. Line 'em up!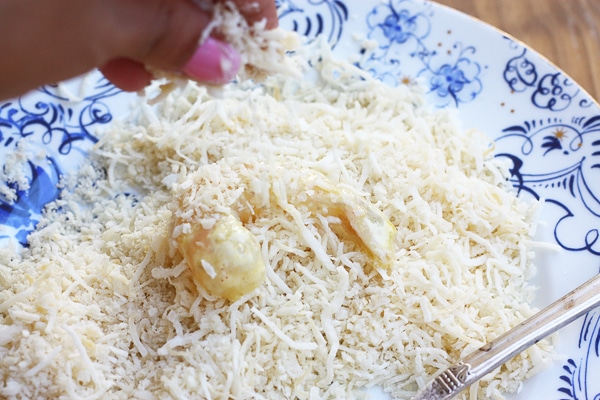 They look so uniform and military-like, don't they?!
Stick that baking sheet in a pre-heated oven and bake them for about 15-20 minutes.
While they're doing their job, mix up that chili sauce, honey drizzle situation. It's glorious. I don't have a picture because I might've poured honey all over my kitchen floor. BUT it doesn't matter 'cause it's mad easy. Just chili sauce into some honey.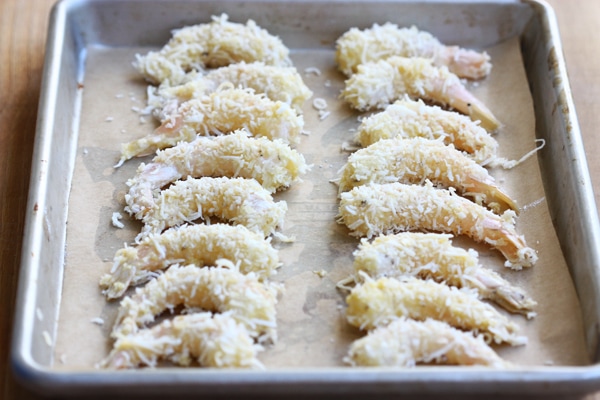 And when they come out of the oven…you're gonna eat them. All. By yourself. And not share.
#becausewhynot?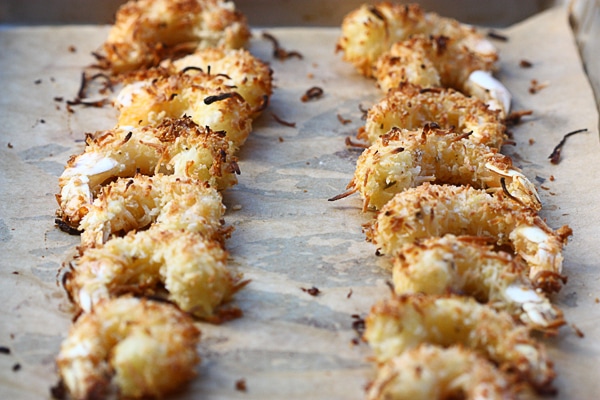 Baked Coconut Shrimp with Spicy Honey Drizzle
Coconut Shrimp Recipe tweaked from Spoon Fork Bacon
Sauce recipe from Spoon Fork Bacon
Print this recipe!
Coconut Shrimp:
12 tiger shrimp, cleaned and peeled with tails intact
3/4 cup all purpose flour
2 teaspoons garlic powder
1/8 teaspoon cayenne pepper
1 egg, beaten
3/4 cup unsweetened shredded coconut
1/4 cup almond meal
2 tablespoons Panko breadcrumbs
salt and pepper to taste
Spicy Honey Drizzle:
2/3 cup honey
2 Tablespoons fresh chili sauce (such as Sambal)
sea salt to taste
Directions:
1. Pre-heat oven to 450F. Line a baking sheet with parchment and spray with PAM (or grease with a little vegetable oil using a paper towel).
2. In a small bowl, season the shrimp with salt and pepper.
3. In a shallow dish combine flour, garlic powder and cayenne pepper. In another shallow dish, gently toss together the coconut, almond meal and breadcrumbs.
4. Dredge shrimp in the flour mixture and shake off any excess flour.
5. Then dip each shrimp into the beaten eggs, followed by the coconut mixture.
6. Shake off any excess coconut transfer your prepared baking sheet and transfer to pre-heated oven.
7. Bake for 15-20 minutes, or until golden brown. If you want them to be more golden brown, transfer to top rack and broil for 2 minutes. (Keep an eye on it!)
10. For the honey drizzle: Place all ingredients into a small ramekin and mix.
11. Cover and refrigerate until ready to serve. Serve with warm shrimp.