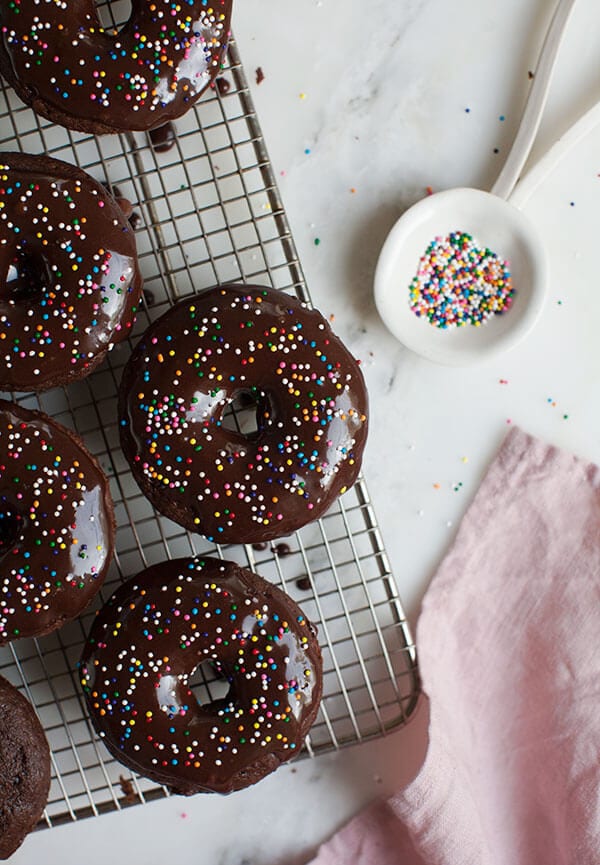 Have you ever met anyone who doesn't like doughnuts? Well, if you have, those people are called monsters and I wouldn't get too close to them.
It's some sort of weird doughnut week or National Doughnut Day. Whatever. I barely pay attention to days like that (except this time I did) because doughnuts are great for any day, not just one day out of a whole year, duh!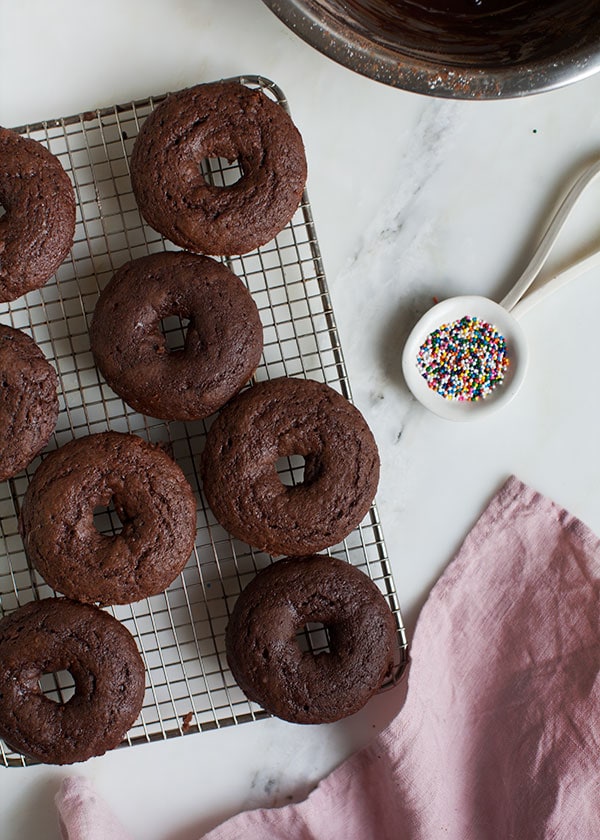 Despite my attitude, here I am participating, drinking the Kool-Aid, following the rules. But only because this day coincided which my craving to create a chocolate-y cake doughnut that felt dense, very rich, decadent and unlike most baked doughnuts. This baked doughnut is legit AF. I'm in love with it. If I was a lunatic, I would eat like five in a row but I can't because I try to be a reasonable person in my life but sometimes i fail. I ate three. And Billy ate like three, too.
LET US LIVE!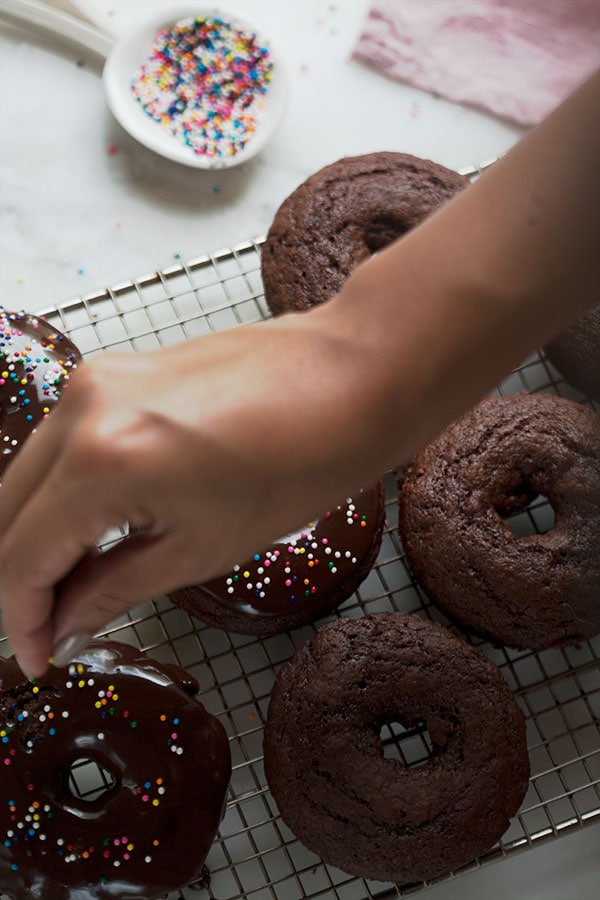 A few weeks ago my friend Hourie texted me and told me that she mastered a cake doughnut. Of course, her iteration was deep-fried, as it should be.
But for us home cooks and bakers, frying is annoying. It's like telling us to climb Mount Everest or "print out this document and sign it!" It's a fete.
Deep-frying, for me, is only for special occasions or for when something cannot be baked under any circumstance. Like bomboloni or beignets or onion rings.
But doughnuts are ok baked. Especially when they're like this.
The topping is chocolate-y too. It's classic. It'll make you want to reach for a glass of milk and turn on afterschool cartoons. It will make you miss being a kid when eating five doughnuts in a row was acceptable…and maybe should I say normal?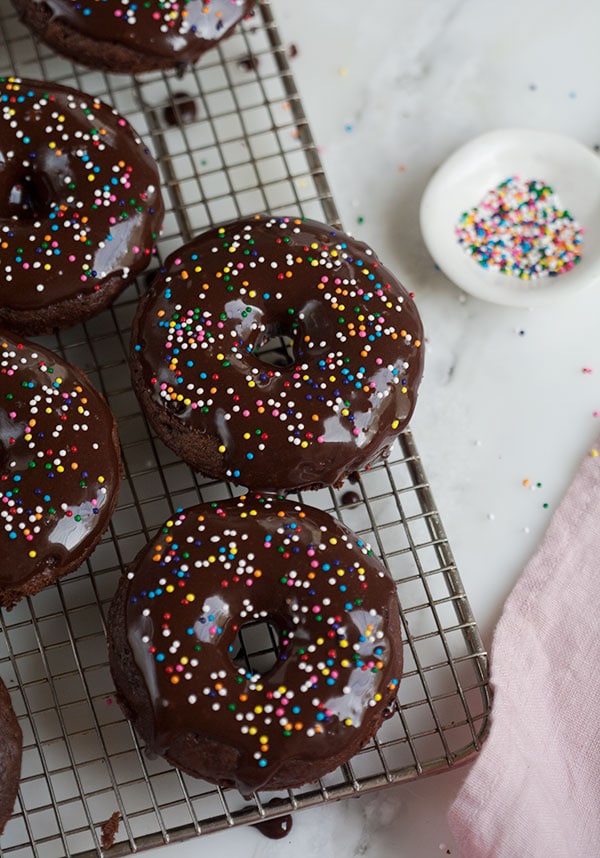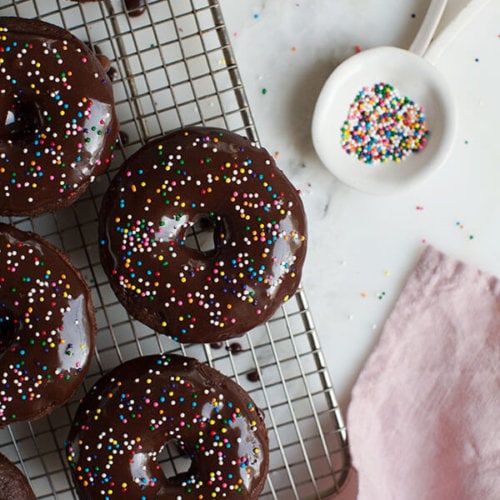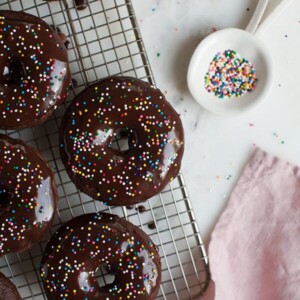 Baked Double Chocolate Cake Doughnuts
Ingredients
Chocolate-y Cake Doughnuts:
Cooking spray

,

for doughnut pan

3/4

cup

plus 2 tablespoons all-purpose flour

3

tablespoons

cocoa powder

1/2

teaspoon

baking powder

1/4

teaspoon

baking soda

1/4

teaspoon

salt

3

tablespoons

unsalted butter

3

ounces

dark chocolate chips

,

or chopped

1/2

teaspoon

instant espresso powder

1/2

cup

light brown sugar

1

large egg yolk

1/2

cup

buttermilk

,

shaken

1

teaspoon

vanilla extract
Chocolate Glaze & Sprinkles:
2

cups

powdered sugar

1/2

cup

cocoa powder

1

teaspoon

vanilla extract

3 to 5

tablespoons

milk or water

1

teaspoon

corn syrup

,

optional

3

tablespoons

sprinkles of choice

,

you might need more, who knows!
Directions
Preheat your oven to 350 degrees F. Spray your doughnut pan with cooking spray and set aside. In a medium bowl, whisk together the flour, cocoa powder, baking powder, baking soda and salt.

In a medium saucepan, set over medium heat, add the butter. When melted, add the chocolate chips and espresso powder. Allow to stand and melt for a minute or two and then mix with a spatula until smooth. Turn the heat off and then stir in the sugar and egg yolk. Lastly, whisk in the buttermilk and vanilla extract.

In one batch, add the wet ingredients to the dry and mix just until you no longer see any speckles of flour. Fill the doughnut pan half way. Transfer the doughnuts to the oven to bake for 12 to 15 minutes, until firm to the touch. Allow to cool in the doughnut pan for a minute or two and then run a butter knife along the outside, lifting them out of the pan with your fingers. Transfer them to a cooling rack while you make the frosting.

Meanwhile, in a medium bowl, whisk together the powdered sugar, cocoa powder, vanilla extract and 2 tablespoons of milk. Add more milk or water, one tablespoon at a time, until it reaches a thick yet pourable consistency. If you like, you can add the corn syrup. This is not mandatory and was only used to give it that beautiful sheen—feel free to skip it! Dip the doughnuts, one at a time, into the frosting and place back on the cooling rack. Top with a liberal amount of sprinkles. Doughnuts will stay delicious for up to 3 days when kept in an airtight container.
Notes
This is a great recipe to double, if you're feeling lots of doughnuts in your life.