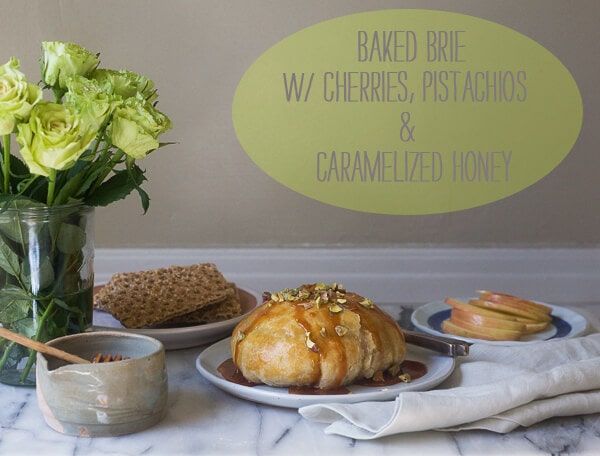 Last week I was in New York for three short nights and I can tell you from my experience, Spring has not sprung. Being greeted by twenty-one-degree temperatures, AND after a red-eye flight is kind of a brutal (but I had a pretzel later so all was ok). Luckily Spring is near. I'm not a groundhog or anything but I'm staying positive for all of you east coasters.
I'm sure many of you still dealing with Winter's lingering attitude can't wait for brunches. Is there anything better than sitting outside, eating with friends while the warmish April sun looks on? I guess when I think of weekend brunching, I think of Spring. It's that time when we're just itching to do everything outside, which includes eating. Cocktails and appetizers and pancakes mixed with lunch food. I probably love the mix of foods most about brunch. It's not just breakfast, but a healthy mix.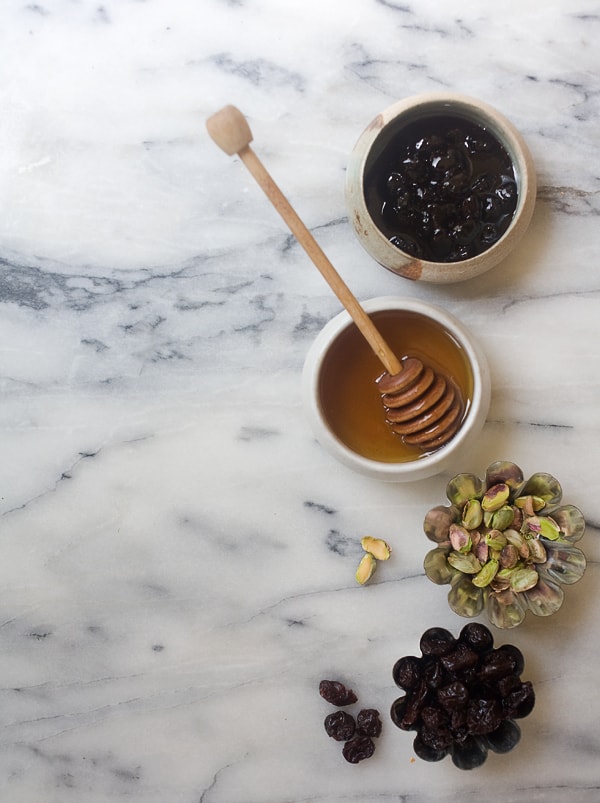 I baked some cheese for when you're ready to do this occasion of brunching. I'm hoping you'll be able to do it soon. (If not, don't worry because baked cheese also eases sorrows. Trust me.)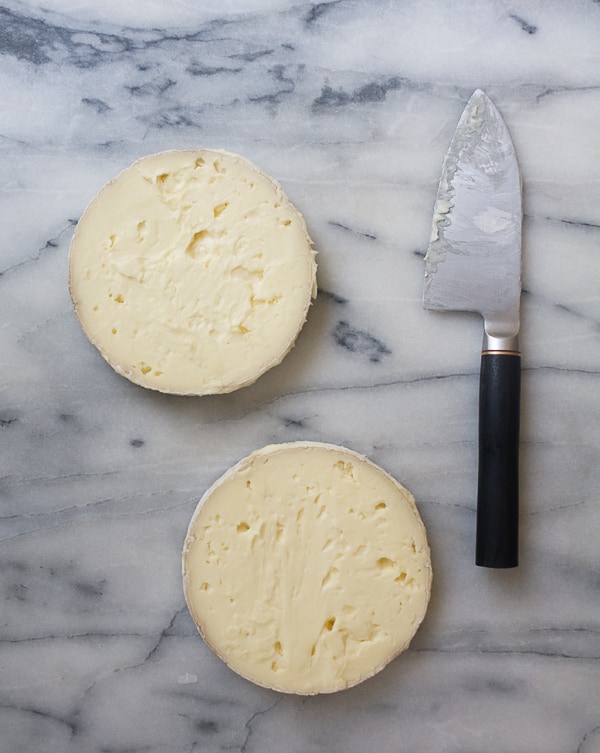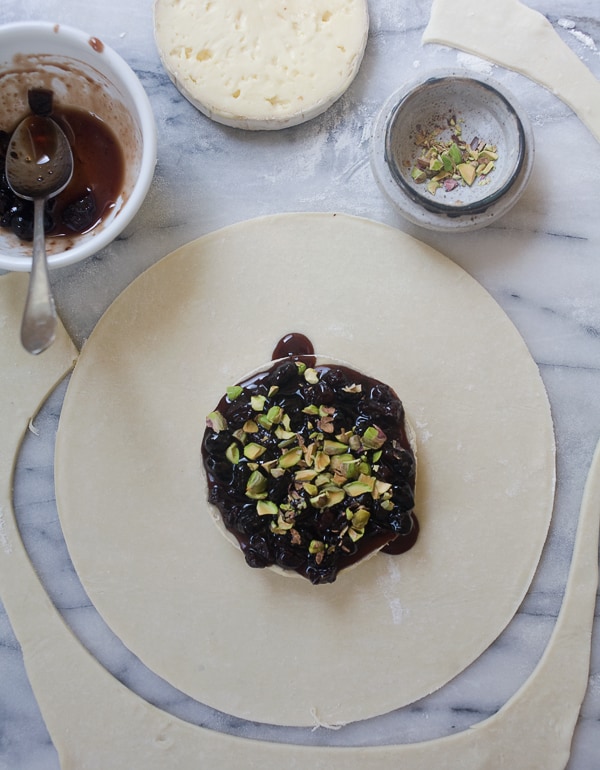 This is the kind of appetizer that goes well with a variety of vessels. In my opinion, the more the merrier. I'm talking a variety of crackers (I loved the sesame ones pictured in the far back), seeded crackers and sturdy fruit like apples. This cheese dish deserves a spread, you know. I'm talking different plates, pretty flowers, some fun music.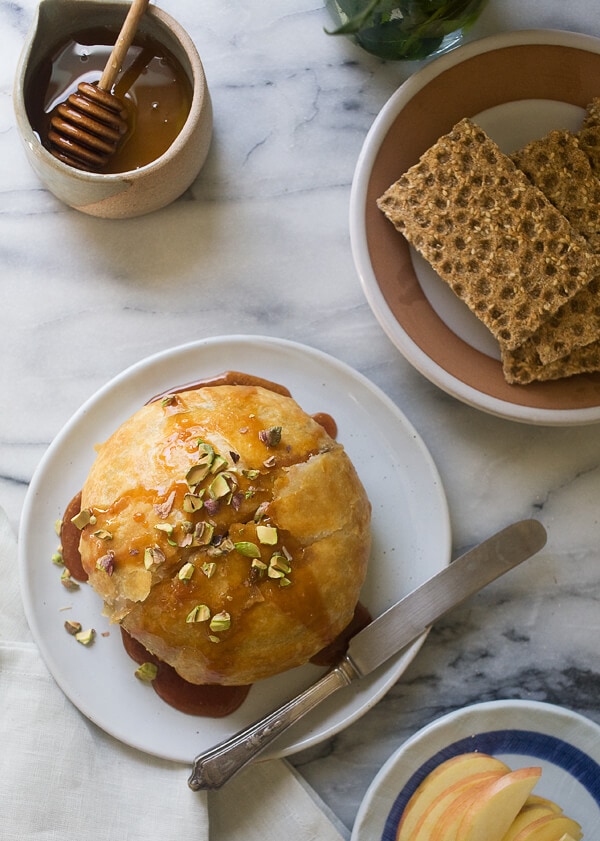 My favorite thing about this recipe (besides the cheese, duh) is the caramelized honey. I didn't even know I could caramelize honey until I googled around the internets and saw other people doing it too. It's simple, really, and the honey takes on a bit of a nuttier note and aroma. The pistachios, sour cherries and honey are classic Middle Eastern combinations that I think goes pretty well with a creamy brie cheese.
I found my sour cherry jam at a Middle Eastern market; if you can't find it, feel free to substitute black cherry jam or even fig jam. Oh figs! Brunch wonders. I love them.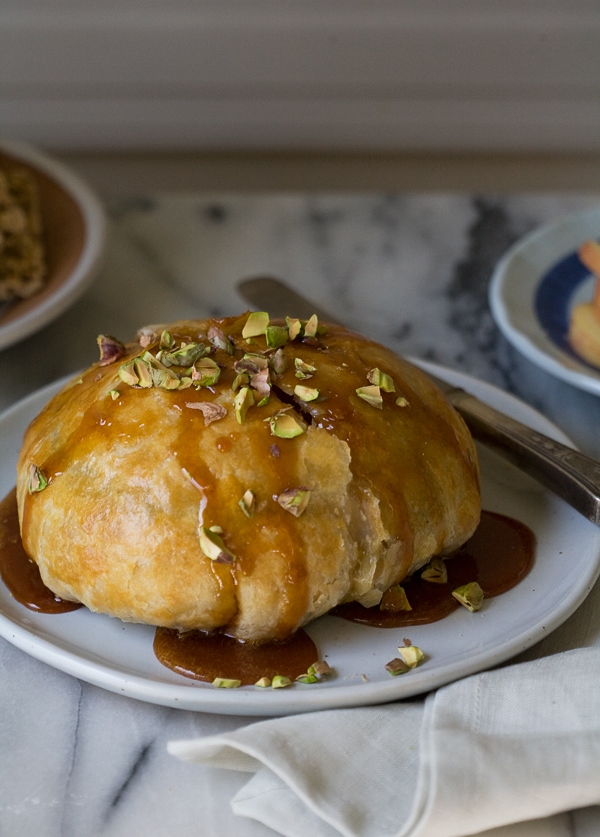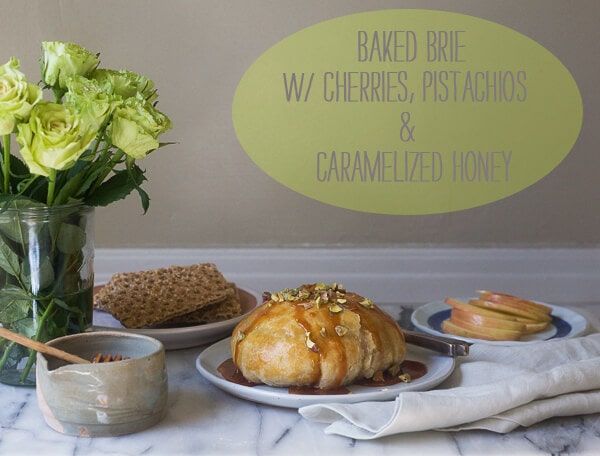 Print Recipe
Baked Brie with Cherries, Pistachios and Caramelized Honey
Ingredients
7

oz.

Président Brie

1/4

cup

dried cherries

chopped

1/4

cup

sour cherry jam

1

tablespoon

flour

1

sheet puff pastry

thawed

1/4

cup

chopped pistachios

plus a few more for topping

1

large egg

beaten in a small bowl (egg wash)
Caramelized honey:
1/4

cup

honey

1

teaspoon

water

Splash of lemon juice

Salt
Instructions
Preheat your oven to 350 degrees F. Line a baking sheet with parchment and set it aside.

Slice the wheel of brie cheese in half, horizontally. Transfer to the refrigerator to chill.

Meanwhile, in a small bowl, mix together the chopped dried cherries and sour cherry jam. Set aside.

Lightly flour your surface with flour and roll out the thawed puff pastry to a 12" by 12" square. Using a 10" plate as a guide, trim the pastry into a 10" circle. Take the brie out of the fridge and place the bottom half of the brie in the center of the dough. Spread the cherry filling evenly on top of the half of the brie and sprinkle with pistachios.

Top with the other brie cheese half.

Fold the pastry over the brie, pressing to seal. Flip the brie over and brush it all over with egg wash.

Transfer to the oven to bake for 25 to 30 minutes, until the pastry is golden brown. Allow the baked brie to cool for 10 minutes (in this time the baked brie will also deflate - that's ok!).

While the brie is cooling, let's make the caramelized honey. To a small saucepan, set over medium heat, mix together the honey, water, splash of lemon juice and pinch of salt. Allow to simmer for 1 to 2 minutes, until honey has thickened and turns a darker hue of brown. Turn off heat and pour over baked brie. Garnish with more chopped pistachios; serve with slices of apple and/or a variety of crackers.
(Brought to you by President Cheese. Visit ArtOfCheese.com for a chance to win $50.)