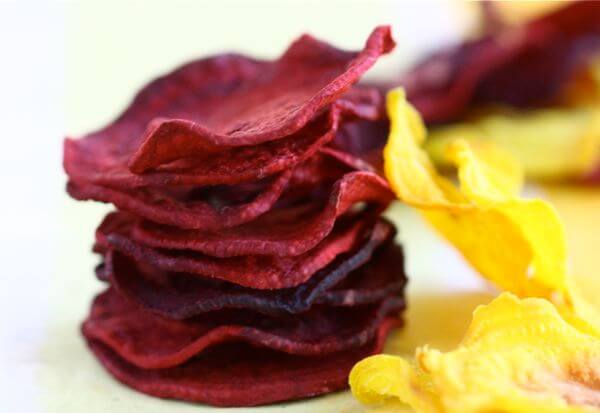 Life tweaks. They've happened this week.
It's weird how much better these little tweaks make you feel. First one: I've worked out every day this week. I'm not gonna make some unrealistic statement and say that this is how I'm living from here on out, but good gracious does it make me feel giddy.
Second tweak: I've cut out coffee. I know. I know. I can't believe I just wrote that. It wasn't planned. I woke up Monday morning and got some tea instead of coffee. And then I did the same thing the next day. And the next day. And now, it's Friday and I feel like I have more energy than I've had in months. In months I'm guessing this won't last for long–the taste of coffee is a long time love.
I decided to keep up with the health-ish, unusual track that I'm on and snack on some beets. (I honestly don't even know who I am right now.) I hate beets. I think they taste–for the most part–like dirt. Like, the actual earth. People put a bunch of goat cheese on them and avocado and think they're delicious. Datsss cool. I'm just not one of those people.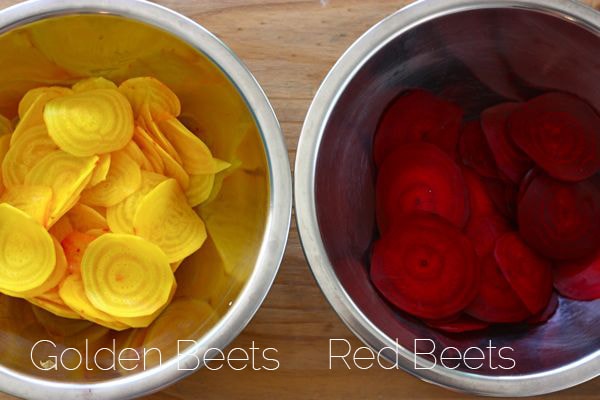 But I do love those Terra chips. You know those? They're like $6 a bag from Whole Foods and they're filled about a quarter of the way? Yeah. Well, the beet chips–surprisingly–are my favorite. It's unexplainable.
Turns out slicing some beets and baking them is waaaay cheaper than buying a big bag of pre-sliced and pre-baked ones.
I made one batch last week and one batch yesterday. Pro-tips: Martha's method with placing a baking sheet on top of the chips to keep them flat is a winner. She's too smart.
Also, only take the beets out of the oven when they're pale. Their color will turn from a deep beet red to a pale beet red. This is confusing in text, I'm sure, but if you take the dive and make these, you'll see the difference when you do an oven peek.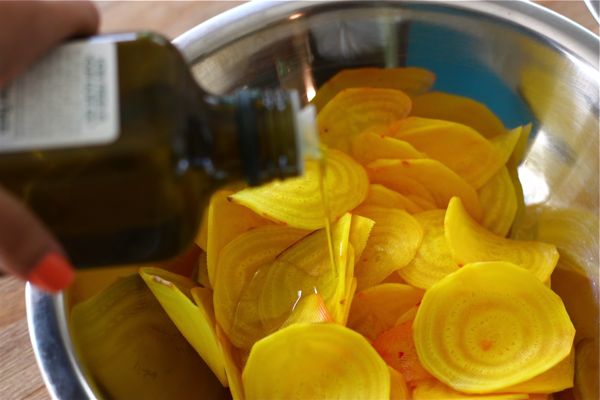 So, join me on this strange journey. Grab a mandoline. Slice up some pretty golden beets and maybe a few red beets.
Toss them with very little olive oil. Sprinkle on a some sea salt. Baked them.
And boom. Healthy snacking. It's happening.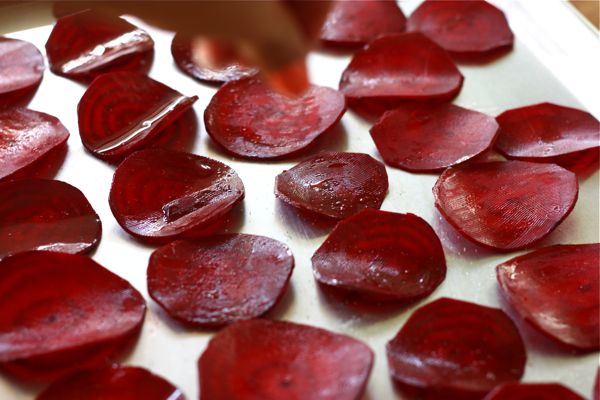 Baked Beet Chips
4 medium beets
2 teaspoon extra-virgin olive oil
Sea Salt
1. Preheat oven to 350 degrees, with racks in upper and lower thirds. Peel beets and slice 1/16 inch thick with a mandoline. In a large bowl, toss beets with extra-virgin olive oil. The beets should have a very thin coat.
2. On two rimmed baking sheets (or use one sheet and bake in two batches), arrange beets in a single layer. Sprinkle with a small amount of sea salt.
3. Stack another rimmed baking sheet on top of each. Bake until edges of beets begin to dry out, about 20 minutes. Uncover and rotate sheets. Bake 10 to 20 minutes, removing chips as they become lightened and pale in color. Note: Pretty much all of mine needed the full extra 20 minutes of baking time. Transfer to a wire rack; chips will crisp up as they cool.
Adapted from Martha Stewart