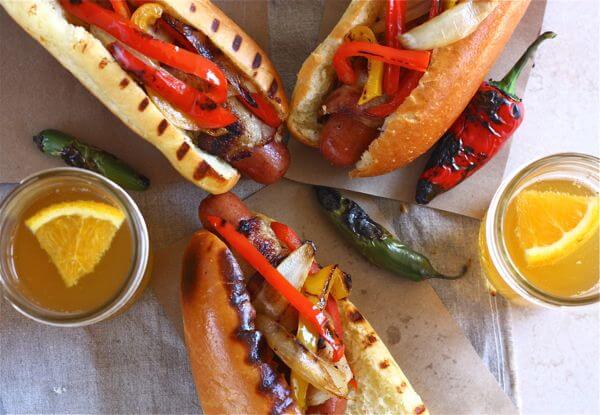 This is such a silly "recipe." Do you need to know how to wrap bacon around a hot dog and put onions and red bell peppers on it? No. You totally caught me wanting to do something I've wanted to do for a loooong time.
Bacon wrapped hot dogs are always that "post bar 4th meal" kind of thing that happens totally by accident. If you live in LA (or have visited), you're probably familiar with these bacon hot dog stands that exist on the sidewalks of East LA after-hours. If you're not, then it's definitely something you should experience at least once–they're pretty amazing.
Better yet, save your dollarzzz on a plane ticket, splurge on some shoes (I know you got some in mind) and just follow this super "joke of a recipe"!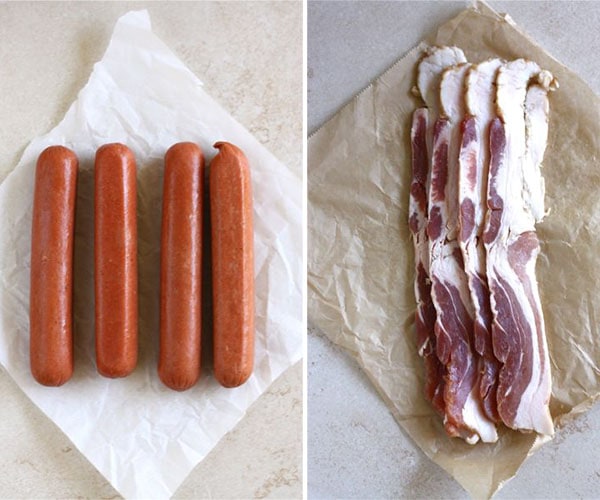 These are hot dogs. This is bacon.
THIS IS EDUCATIONAL, EH?
JK, so yeah, you wrap the bacon around the hot dogs. I found that thinly sliced bacon actually works best. If it's too thick it won't wrap all the way around. This should be easy, not difficult, you know?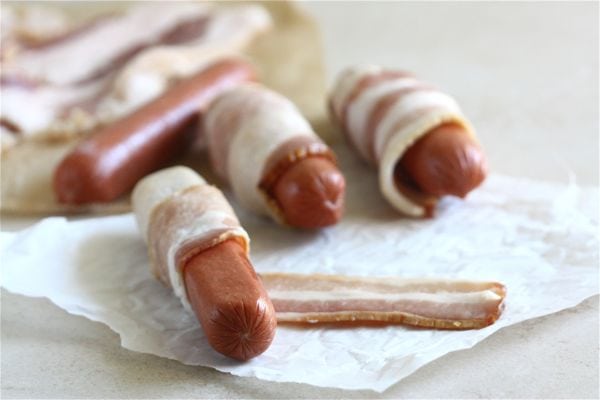 Then there's vegetables. I used red bell pepper, yellow bell pepper and white onion. I personally love red bell peppers because they're sort of sweet.
Yellow peppers are less sweet, less flavorful, but they're aight. Green bell peppers would work out just fine, too.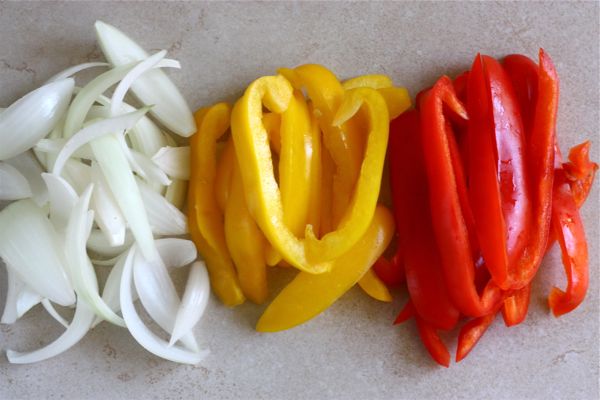 It goes in a pan with some hot oil and a heavy dash of salt and pepper. Your house will smell amazing.
Place some serrano peppers (or jalepeno peppers) on the grates of your stove. Then turn it on. This will blister them and lightly charr them. If you're brave and like heat, put them in the hot dog. This is what I do at 2am. And then yesterday at 4pm.
Now, I made some personal adjustments. First, I used organic, nitrate-free hot dogs. I recommend this. I used apple wood smoked bacon. I also recommend this. And lastly, I put it on a brioche hot dog. Whoa! So good. Definitely not necessary but for sure a good look.
This whole thing is simple, delicious and so super awesome. And soooo East LA!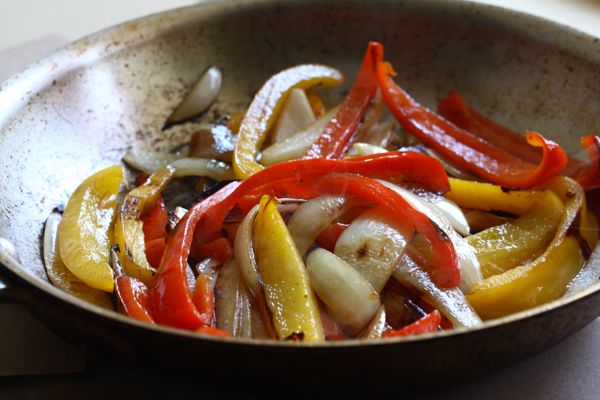 Bacon Wrapped Hot Dogs
4 hot dogs
4 thinly sliced bacon
Olive Oil
1/2 white onion, medium sliced
1/2 red bell pepper, medium sliced
1/2 yellow bell pepper, medium sliced
Salt and Pepper
4 serrano peppers (or jalepeño)
4 hot dog buns
1. Wrap each hot dog with one slice of bacon tightly. Set aside.
2. Place serrano peppers on the grate of your range. Turn heat to medium and cook peppers on each side until lightly charred. Set aside.
3. Heat olive oil in a medium skillet over high heat. When hot, add white onion, red bell pepper, yellow bell pepper and season with salt and pepper. Cook for 5-7 minutes, until softened.
4. Grill bacon-wrapped hot dogs over medium-high heat until charred and heated through, 6 to 8 minutes, being sure to cook on all four sides. Heat hot dog buns on the grill too, if you like. Serve hot dogs in hot dog buns and top each with onion and pepper mixture.
Makes 4 Hot Dogs