Bacon Western Cheeseburger Sliders
8
Jun 27, 2016, Updated Jan 26, 2019
Disclosure: This post may contain affiliate links, which means I may earn a commission if you click on the link and make a purchase.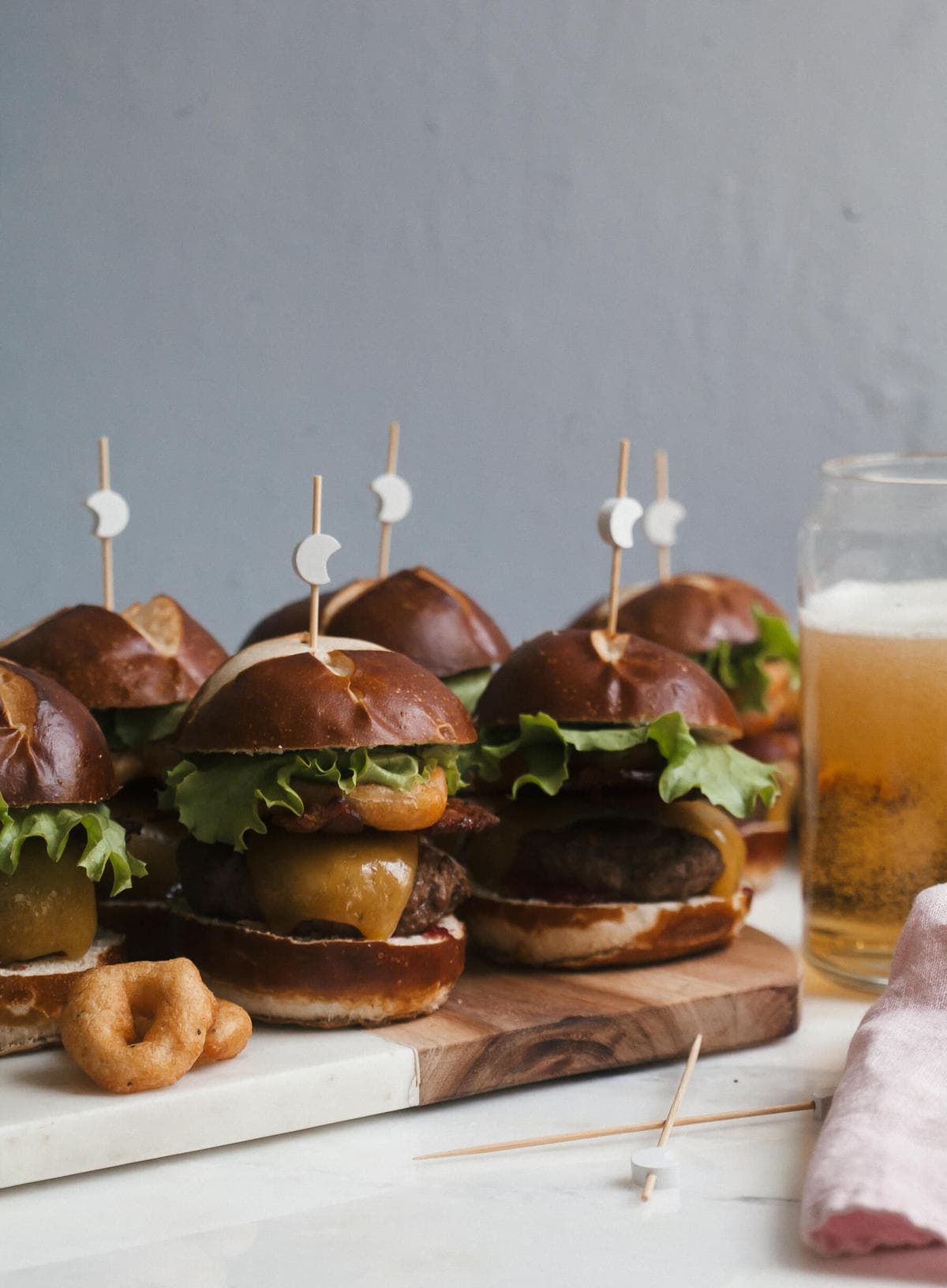 I'm currently in Mexico recovering from my friend's wedding, chilaxing by this pool, reading this book, and drinking way too many of these. More on Mexico soon!
Before I left El Ley, I made these burgers from Jon's new book, THE SLIDER EFFECT.
Can I just tell you that I had SO much fun making these with Billy. I haven't made sliders in way too long and was kindly reminded that they're are so fun and cute to make and eat.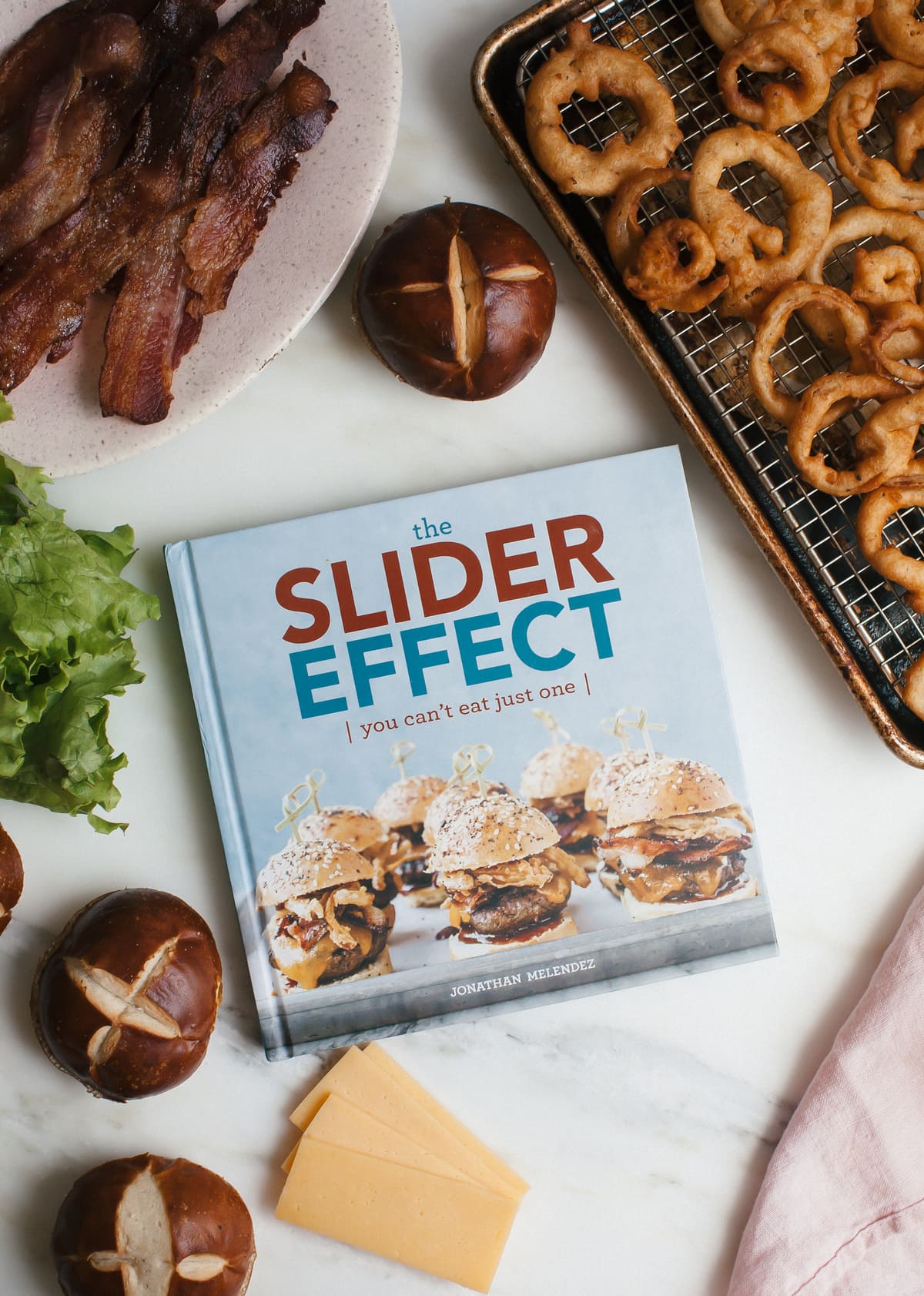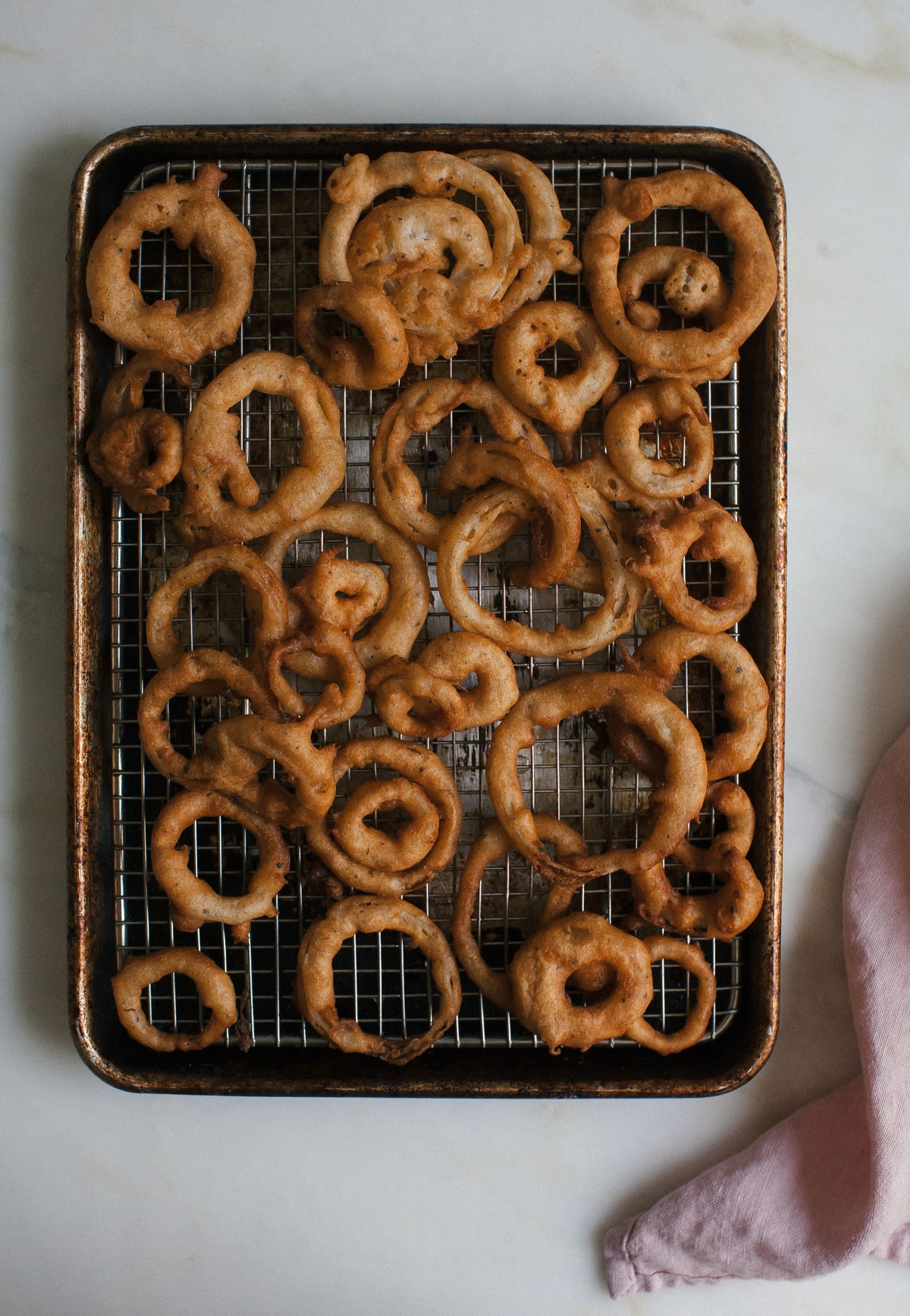 And Jon's book is no different. There are a ton of slider recipes that will get you all the way through summer, one teeny little bite at a time. The photos are beautiful and bright and colorful and thumbing through it all I wanted to do was stop everything and make all of the sliders.
4th of July is this weekend (for all you Americans) and these need to be on your to-make list.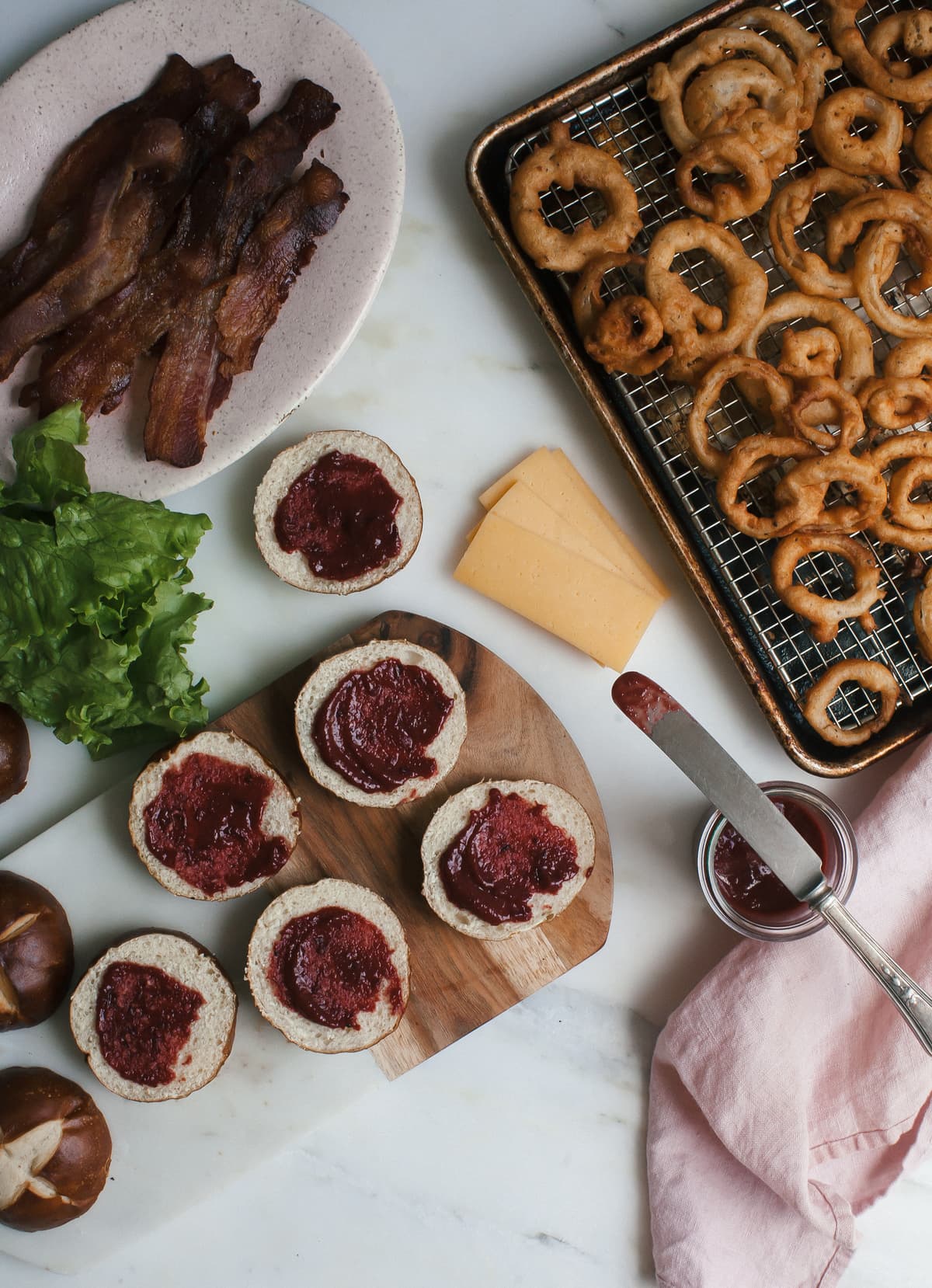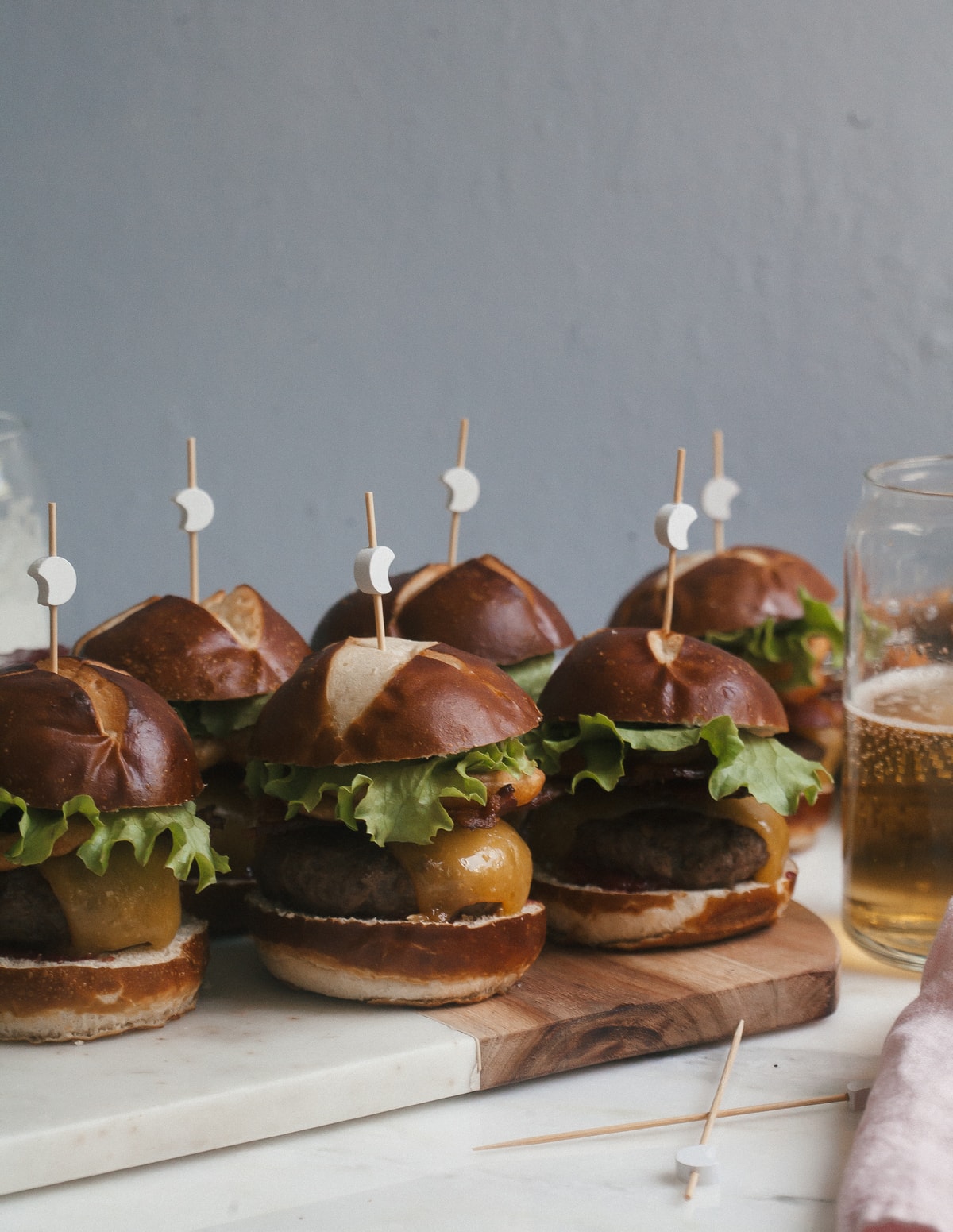 The best part about this recipe are the onion rings. You will make the onion rings and then want to eat all the onion rings but you can't because you need to save them for the actual recipe. It's hard.
Here's a link to Jon's book and blog!!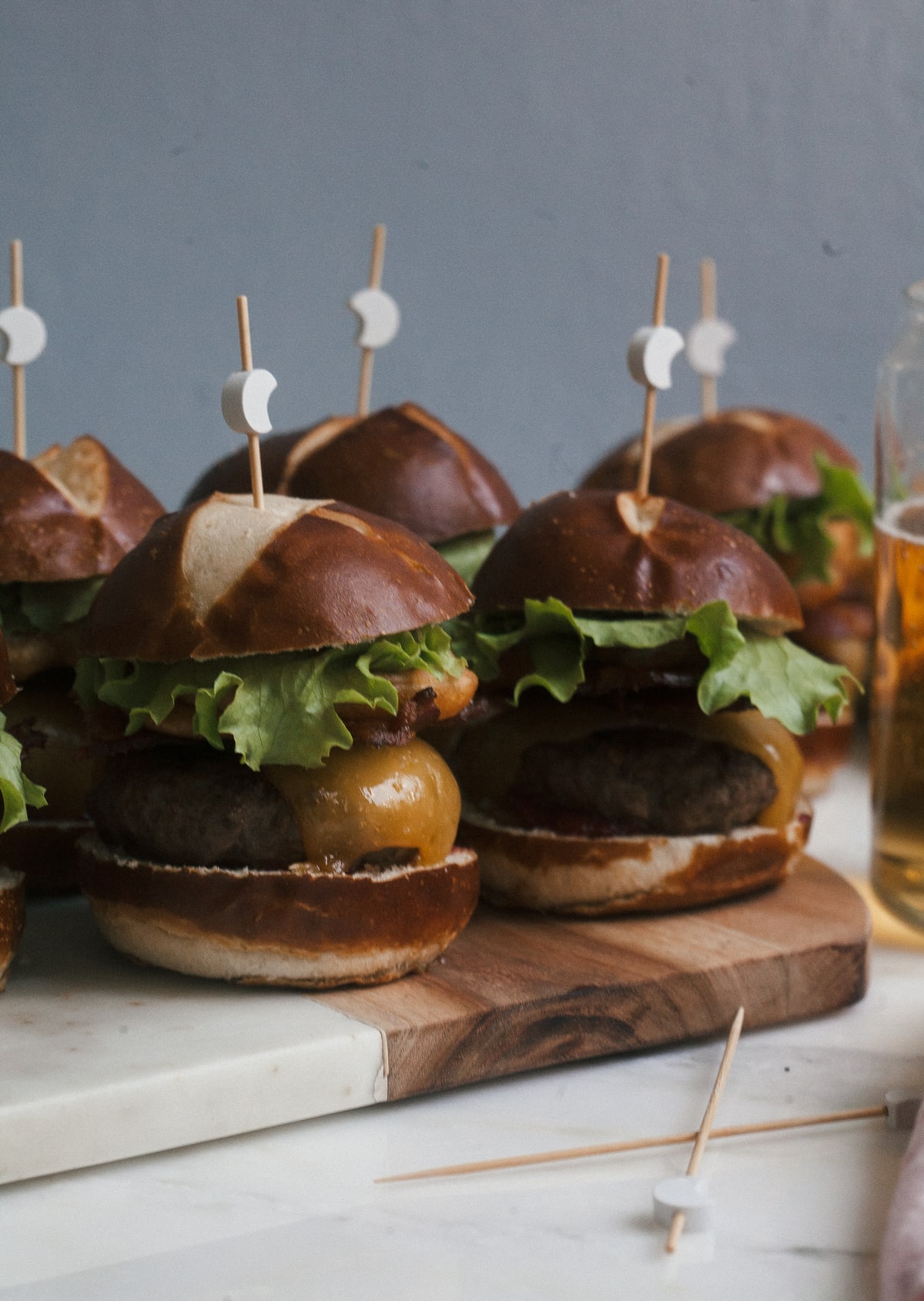 Bacon Western Cheeseburger Sliders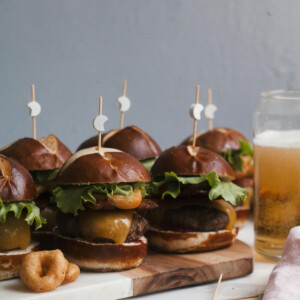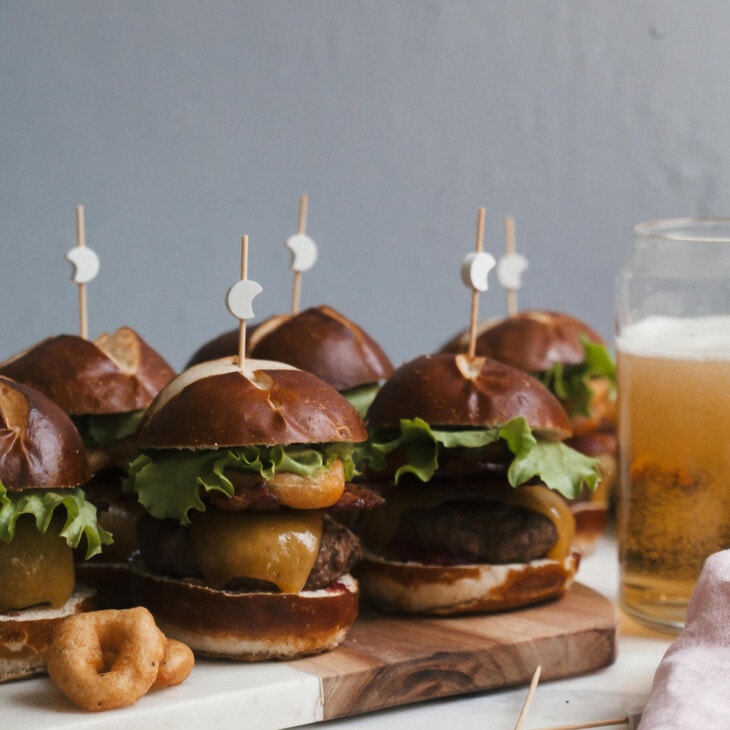 Ingredients
Crispy Onion Rings:
1

cup

all-purpose flour

,

divided

1

teaspoon

kosher salt

,

plus more for seasoning

1/2

teaspoon

coarsely ground black pepper

1/2

teaspoon

granulated garlic

1/2

teaspoon

paprika or cayenne pepper

1/2

teaspoon

baking powder

1/2

cup

milk or water

1

large egg

,

lightly beaten

1

medium sized Vidalia onion

,

thinly sliced into rings

Canola or vegetable oil

,

for frying
Sliders:
2

pounds

ground beef

,

80 percent fat and 20 percent lean

1

teaspoon

kosher salt

1

teaspoon

coarsley ground black pepper

2

garlic cloves

,

minced

1

tablespoon

Worcestershire sauce

2

tablespoons

vegetable or canola oil

6

4x4-inch slices sharp cheddar cheese, cut in half crosswise

12

slices

bacon

,

cut in half and cooked until crispy

12

Pretzel buns

,

I bought mine at Whole Foods!

Barbecue Sauce

6

green lettuce leaves

,

cut in half
Instructions
To make the onion rings: heat about 2 inches of oil in a large, heavy-duty pot until a deep-fry thermometer reaches 360 degrees F.

In a large bowl, whisk together 1/2 cup of the flour, 1 teaspoon of the salt, the black pepper, garlic, paprika, baking powder, milk, and egg until smooth. Pour the remaining 1/2 cup flour into a shallow dish. Separate the onion slices into rings. Working with a handful of onion rings at a time, dredge in the flour, shaking off any excess and then dip into the batter.

Set a wire rack over a baking sheet. Preheat the oven to 250 degrees F.

Carefully place the battered onions in the hot oil, being careful not to over-crowd the pot, and fry until golden brown and crispy, about 3 minutes total. Flip over halfway through frying, drain and transfer to a paper towel-lined baking sheet. Season with a bit of salt to taste. Transfer to the wire rack and keep warm in the oven while you prepare everything else.

To make the sliders, preheat an outdoor grill or stovetop grill pan to medium heat. In a large bowl, mix together the ground beef, salt, pepper, garlic, and Worcestershire sauce. Shape into 12 even 2-inch wide patties and place on a plate or tray. Brush each side with oil, and place patties on the hot grill. Cook for about 4 minutes, turn over, and continue to cook for another 4 to 6 minutes, for medium rare, or 2 to 4 minutes longer if you want them well done. Place 2 pieces of cheese on each, along with 2 half pieces of bacon, and cook for a minute or two so the cheese melts. Close the grill or turn off the heat and transfer the sliders to a platter or tray.

To assemble the sliders, split the buns in half and spread each half with barbecue sauce. Place a bacon cheese slider on each bottom half, and top with a handful of of crispy onion rings, and a piece of lettuce. Replace the top half of the buns and skewer with a long toothpick. Serve immediately.