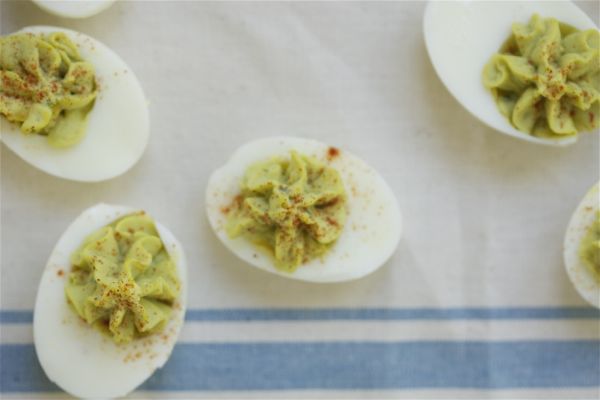 Does the internet ever make you feel like you lead an unattractive life? Let's blame Pinterest.
Pinterest makes me feel like my hair is really terrible.
And it makes me feel like my clothes are kind of meh.
My house looks nothing like this. Yeah, no swing in the living room. Also, how is everyone SO RICH on Pinterest?! Let's have a convo about THAT.
The internet totally has the ability to make you feel like the awkward and friendless freshman on the first day of school. ANXIETY. Yea, the internet gives me anxiety sometimes. The internet isn't real life. If I shared real real life on this blog, you probably wouldn't read. Lots of procrastinating. Lots of checking email/answering email. Lots of bowls of cereal.
Most of my normal life is very un-Pinterest worthy, you know?! Yours probably is too. Let's be friends!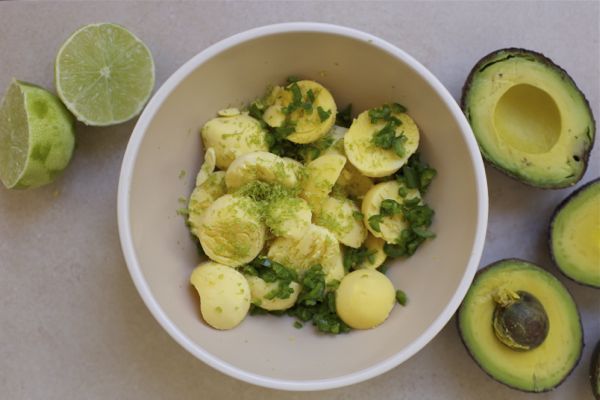 These avocado deviled eggs require no pretty dress, or wavy beautiful hair or fat wallet.
Nope. None of the above are requirements in successfully making/eating these things.
I had no idea avocado deviled eggs were a thing. They are definitely a thing.
Last week I took to the Book–as I often do–to ask you lovely people what I should make. Megan suggested I whip up deviled eggs filled with an avocado mixture.
Say whaaa?! So then I did.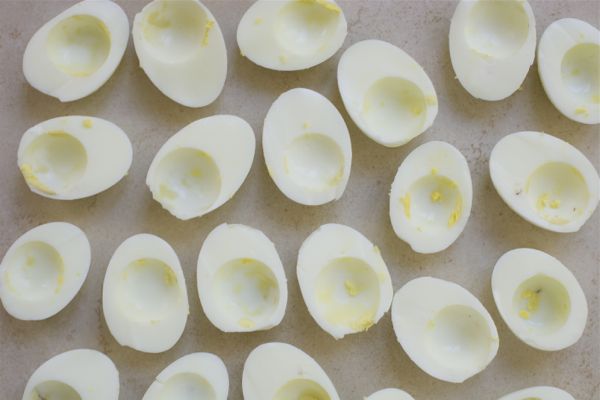 What you see here is go number 2. I made them the first time and only used 6 eggs. I ate them, like, 10 minutes and decided I should make a bigger batch.
I figure you might be going to a picnic, or a party or whatever and if you're going to go through the trouble of making an appetizer then it should make a decent sized batch.
So yes, round 2 had some tweaks.
These are pretty straightforward. Boiled eggs…
Let's talk boiled eggs. There is a correct way to boil an egg. No black/green rim around the inside.
The foolproof method that works for me goes like this: Fill a pot with water, covering the eggs. Bring to a boil and then take it off the heat and cover the pot with a lid. Set your timer for 10 minutes, rinse, peel and boom! perfectly boiled eggs.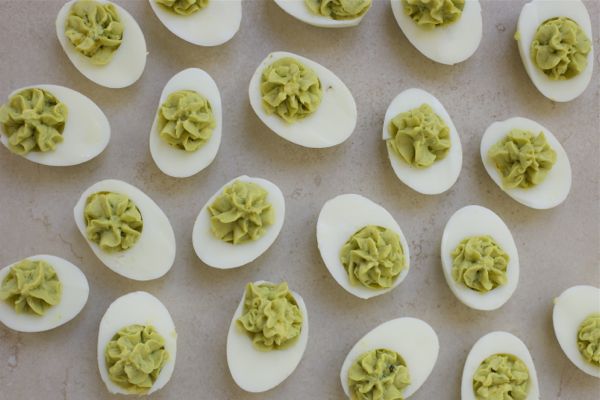 These are mixed with finely minced shallot, diced serrano pepper for some heat, lots of lime juice and zest and a few tablespoons of sour cream for that smooth-ish texture.
If you want it super smooth, leave out the serrano pepper and take the entire mixture to a food processor.
I topped each little deviled egg with a tap or two of sweet smoked Spanish paprika. I love this stuff, but if you're not into the smokey flavor, leave it out. No biggie.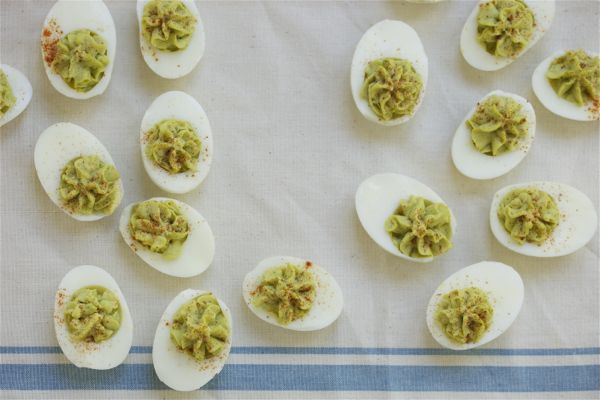 Avocado Deviled Eggs
12 large eggs
2 limes
2 tablespoons sour cream
1 serrano pepper, minced
1/2 shallot, finely minced
1 serrano pepper, deseeded and minced
2 ripe avocados, peeled and pit removed
Salt and pepper
Sweet Spanish smoked paprika
1. Add the eggs to a medium pot and fill with cold water until the eggs are just covered; place over moderately high heat. When the water comes to a boil, turn off the heat, cover the pot with a lid and set a timer for 10 minutes. At the 10 minute mark, transfer the eggs to a bowl with cold water and rinse until room temperature. Peel the eggs and slice them in half.
2. Carefully remove the egg yolks from each halved egg and place in a bowl. Zest one of the limes and add it to the egg yolks. Next, add the juice from the 2 limes and mix in the sour cream. Mash the mixture with a fork, and mix until smooth. Fold in the shallot and serrano pepper. On a cutting board mash the avocados and add them to the bowl. Mix and mash until mixture is completely smooth. Salt and pepper to taste.
3. At this point you have two options: you can spoon the avocado/egg mixture into the cavities of the egg whites. OR, you could pipe the mixture using a star tip. I did the latter. If you're including the smoked paprika, tap a few dashes of the stuff on top of each egg and serve.
Idea from Take a Megabite