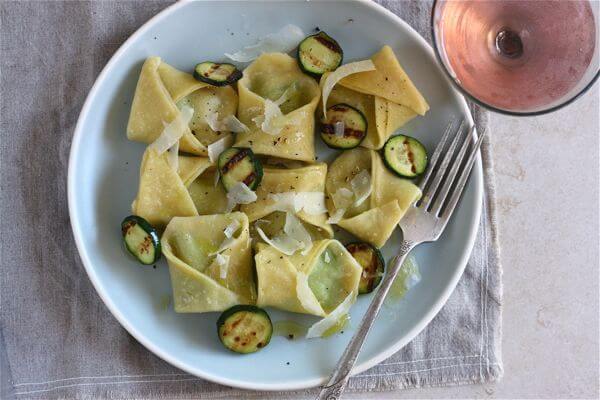 I have cooking mood swings. There are days when I want something to go from my fridge, to a pan, to my mouth in, like, 15 minutes. I have recipes for that!
Other times–usually on Sundays–I want to cook something that's a little challenging, you know, try a bit of a kitchen project. I think challenges are a good time. I really enjoy throwing on music and starting something that's a little tricky; I find it methodical (and often times delicious).
Enter: homemade pasta.
No fancy Kitchenaid pasta attachment needed. Just a fork and a rolling pin. That's all. And some muscles, too. You'll for sure get a crazy bicep workout rolling out dough.
This is a bit of a step-by-step. I think we should dive in. Now!
(This post is in collaboration with Bravo for their show, Around the World in 80 Plates. This week they're in Rome, Italy. Check it out on Wednesday at 10pm/9pmc on Bravo!!)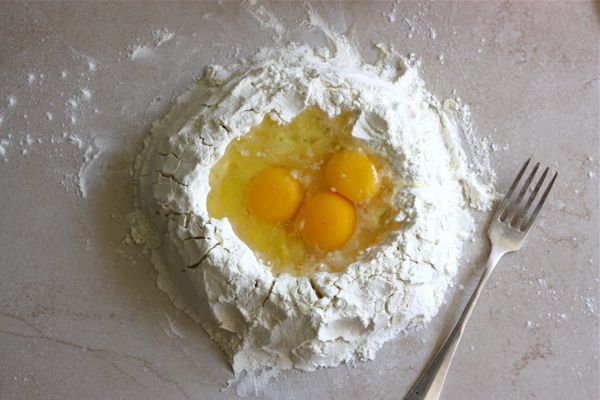 This recipe starts with 3 extra-large eggs and 3 cups of all-purpose flour. Yes, just all-purpose. No 00 flour or semolina. No special flours today. We're using what we all have in our kitchens.
The dough will sort of be a hot mess for a bit, but will eventually evolve into a slightly wet and sticky dough ball.
At this point it needs to chill out. Rest a lil'.
(This post is in collaboration with Bravo for their show, Around the World in 80 Plates. This week they're in Bologna, Italy. Check it out on Wednesday at 10pm/9pmc on Bravo!!)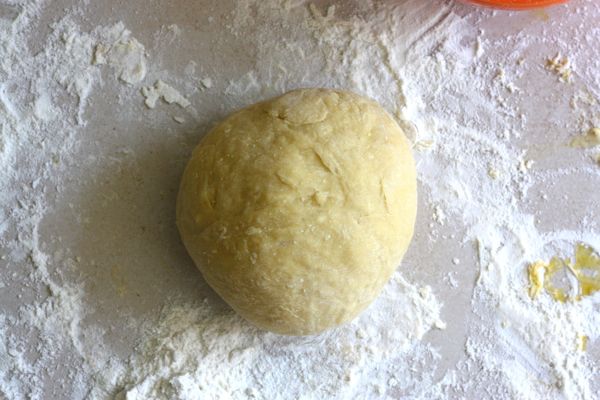 That's perfectly fine because now we have time to make our pesto.
This one has peppery fresh arugula, fresh lemon zest, a good amount of garlic, pistachios (oh how I love them!) and good quality extra-virgin olive oil.
I mix in about 1/4 cup of good quality ricotta and boom. Done. Set aside.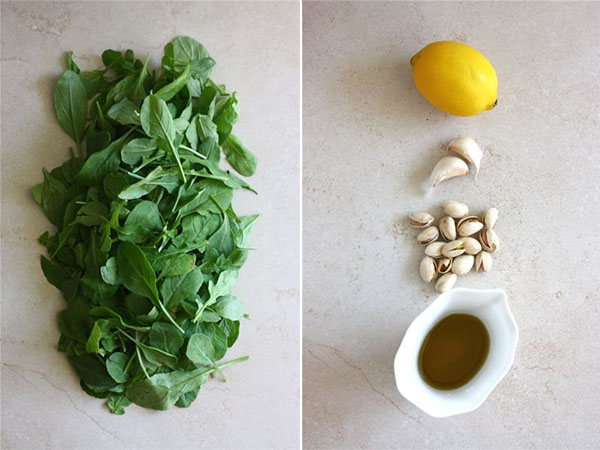 Next comes the rolling out part. Phew. You start in the center and roll. Turn the pasta sheet and do it again. Over and over and over.
Someone once told me that you know pasta is the right thickness when you can read a newspaper through it.
But since newspapers don't exist, I used something that came in the mail about homemade jams and preserves. No biggie!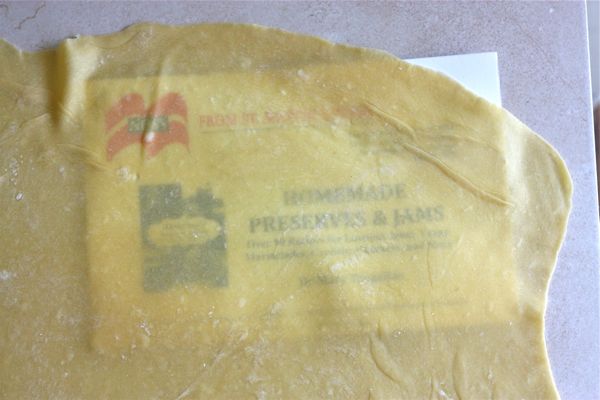 I sliced the big mass of dough into 3 1/2-inch strips. I ended up with about 3 of them. I cut those strips into 3 1/2-inch squares.
Don't be ashamed to break out the ruler. I use it all of the timesssss.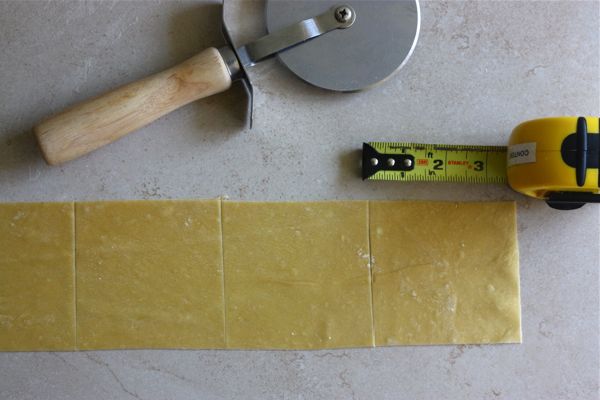 A small dollop of pesto goes right in the center of each of the squares. Just like so…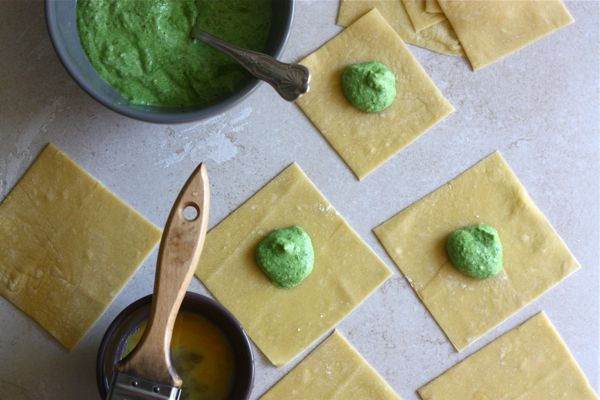 Egg wash all around.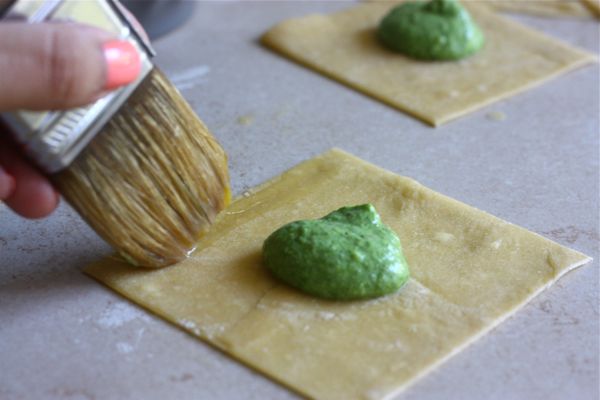 Fold the square in half, being sure to gently press out any air bubbles.
If you don't do that you run the risk of the pesto leaking out and creating a bit of a mess.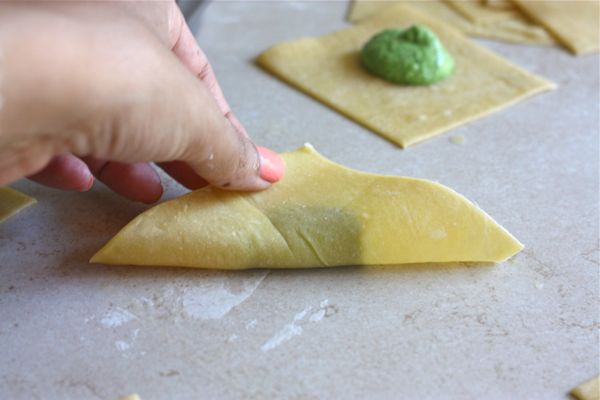 A super easy way to shape tortellini is to place your pinky finger in the center and bring both corners around your finger, pressing them together.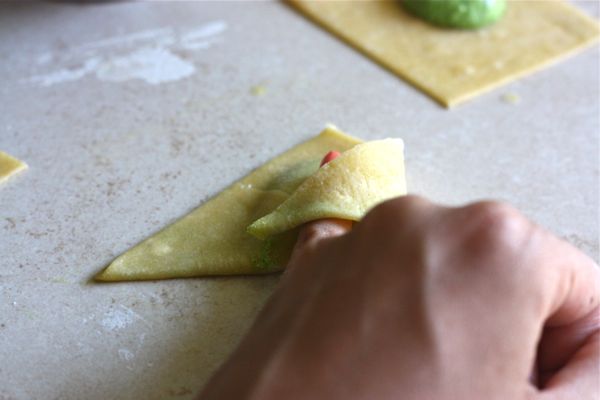 Fold over the little top and that's it! Super easy.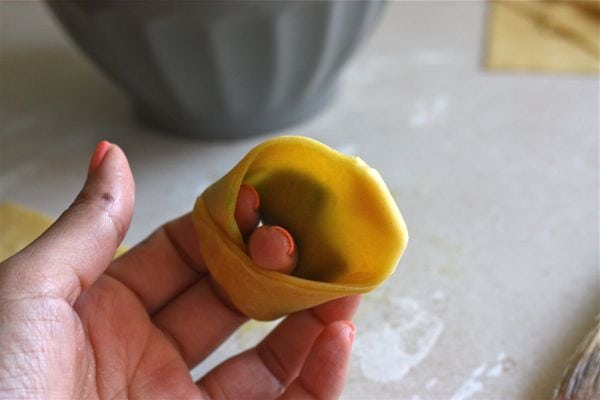 These little dudes will stick to one another so I just transferred them to a lightly floured baking sheet. I boiled some salted water and cooked them for about 2-3 minutes. Fresh pasta cooks really really fast.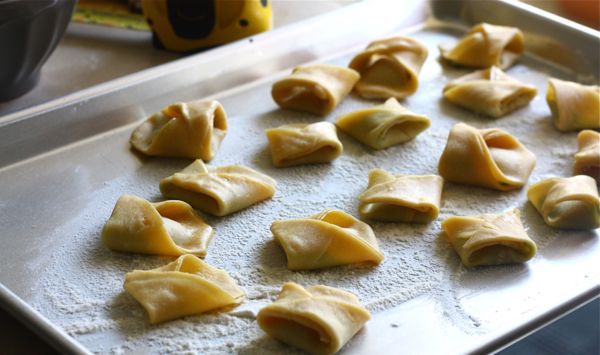 A little drizzle of olive oil, some grilled zucchini (you can use whatever you like!), crushed black pepper and Parmesan strips on top.
Simple, fresh and delicious.
The pitch perfect pasta for a hot summer day.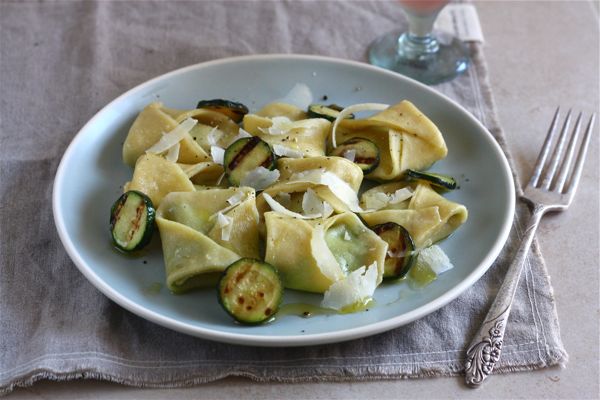 Arugula Ricotta Pesto Tortellini
Arugula Ricotta Pesto
2 cloves garlic, peeled and roughly chopped
1 tablespoons pistachios
1/4 teaspoon lemon zest
4 cups (3.5 ounces) fresh arugula
1 cup pure olive oil
Salt and Pepper
1/4 cup ricotta
1. Add garlic, pistachios and lemon zest to a blender. Pulse until chopped. Add arugula and with the machine running, slowly add the olive oil, in a steady stream. Process until blended thoroughly. Season pesto to taste with salt and pepper. I used about 1/2 teaspoon of sea salt. Mix in the ricotta until thoroughly combined.
Homemade Tortellini:
3 cups all-purpose flour
3 extra-large eggs
1. Mound the flour in the center of a large wooden cutting board. Make a well in the middle of the flour, add the eggs. Using a fork, beat together the eggs and begin to incorporate the flour starting with the inner rim of the well, adding a little bit at a time. As you incorporate the eggs, keep pushing the flour up to retain the well shape (do not worry if it looks messy). The dough will come together in a shaggy mass when about half of the flour is incorporated.
2. Start kneading the dough with both hands, primarily using the palms of your hands. Add more flour, in 1/2-cup increments, if the dough is too sticky. Once the dough is a cohesive mass, remove the dough from the board and scrape up any left over dry bits. (I ended up with about 1/4 cup extra flour–I tossed it.)
3. Lightly flour the board and continue kneading for 3 more minutes. The dough should be elastic and a little sticky. Continue to knead for another 3 minutes, remembering to dust your board with flour when necessary. Wrap the dough in plastic wrap and set aside for 20 minutes at room temperature. Roll and form as desired.
4. Using a rolling pin, flatten the ball out from the center to the outer edge. Keep rolling out the dough, rotating the dough one-quarter turn as you go. Flip the dough over once or twice and be sure to lightly flour the surface as to prevent sticking. Continue rolling out the dough until it reaches a 1/16-inch thick, or until it becomes transparent enough
5. To form tortellini, slice the pasta into 3 1/2-inch by 3 1/2-inch squares. Place a half of a teaspoon of pesto in the center of the pasta square and brush the edges with egg wash. From the base, make one fold upwards, bringing the corners together. Press the sides together to bind the the pasta together. Place your pinky finger in the center, and wrap each corner of the pasta around it, pressing the two ends together. Take the top tip and fold it backward and pinch together. Repeat until you've gone through all of the pasta.
6. Bring a medium pot of salted water to a simmer. Gently drop pasta in the water and cook for 2-3 minutes, or until pasta floats to the surface. Remove and serve with a drizzle of olive oil and a few shavings of Parmesan.
Pasta recipe adapted from Mario Batali
Serves 4