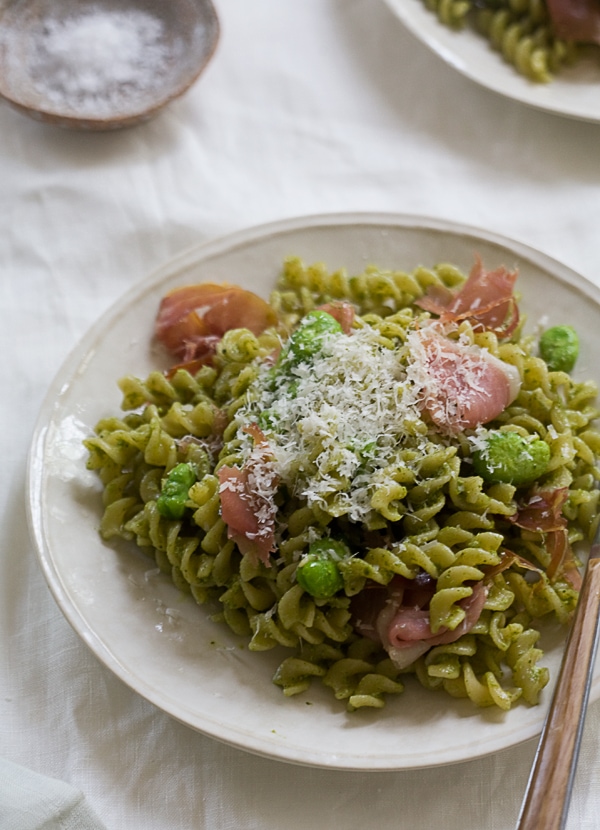 I'm not sure if I've told you this but I've been on this six-week transformation thingy and it's almost over. It has required that I workout nearly six days a week, which I actually enjoy, and eat a diet full of healthy, non-fun things, which I clearly do not enjoy.
Of course I've cheated here and there because food is what I do and it's hard, man. I've learned on this six-week journey that food for me is so social and emotional and in a way, not to sound cheesy, so heavily tied into my everyday life. So, it's been hard, but I feel healthy and strong, which was my goal from the very beginning.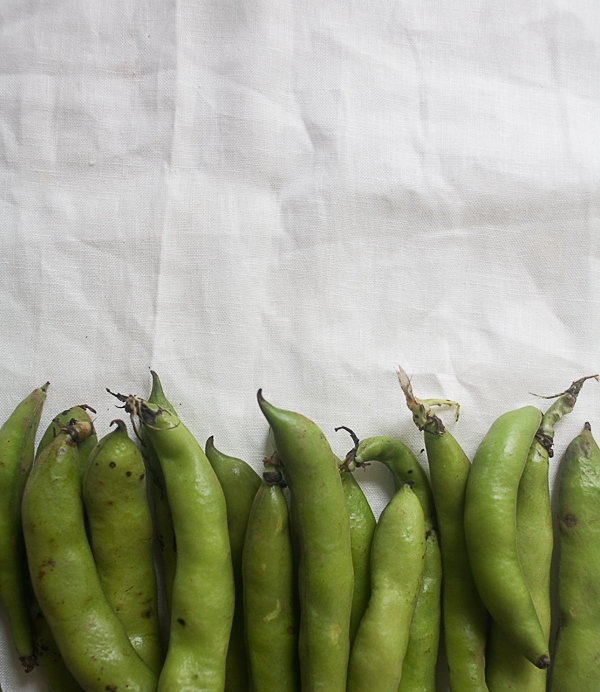 Last week I made this pasta and ate an entire bowl; as I sat there eating gluten, I thought about how happy pasta makes me. Ahh! I was cheating but I didn't care. Arugula pesto with walnuts and goat cheese and Spring-y fava beans with salty prosciutto is seriously what makes me happy.
What's good about this pasta is that it's relatively light pasta. It's Spring-y, snappy and doesn't give you that heavy feeling that's often associated with meat-based sauces.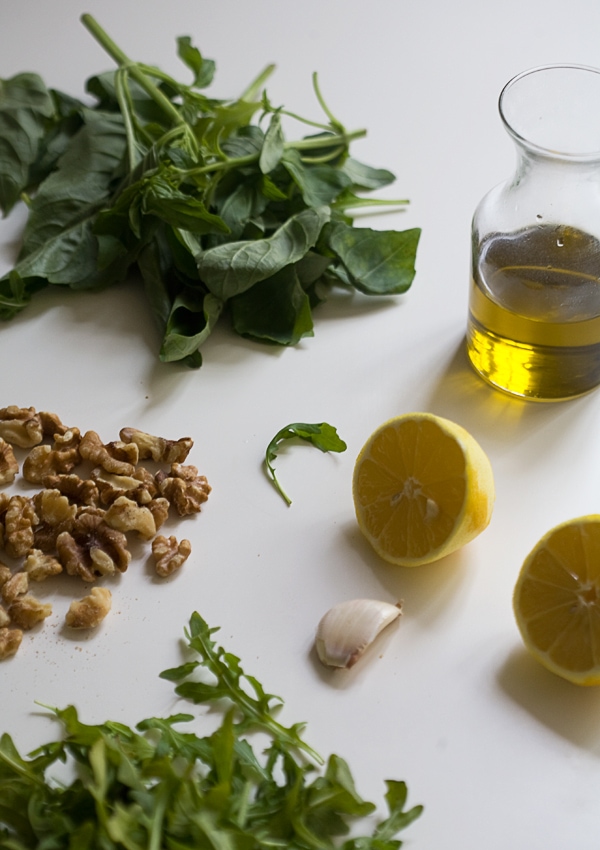 This pasta also features one of my favorite Spring kewties…fava beans.
Writing this recipe below has been so ridiculously frustrating because my computer keeps changing the word fava to lava–it clearly doesn't appreciate Italian beans.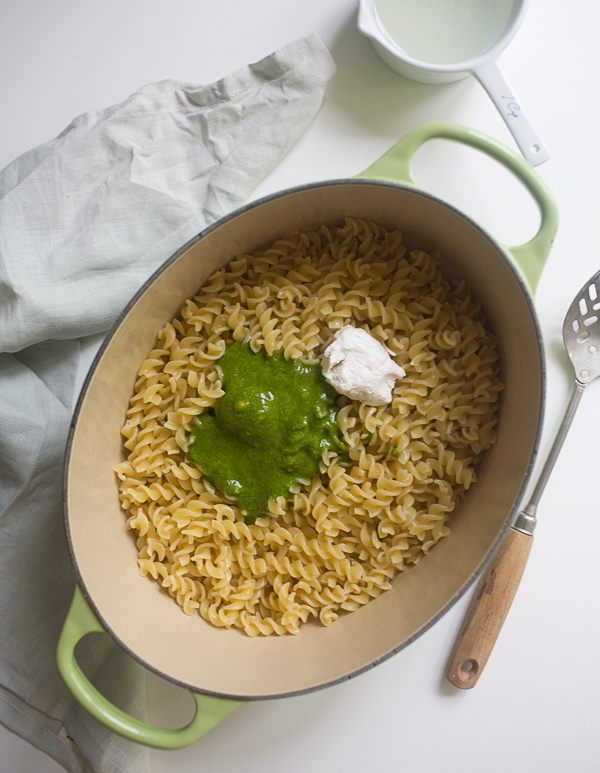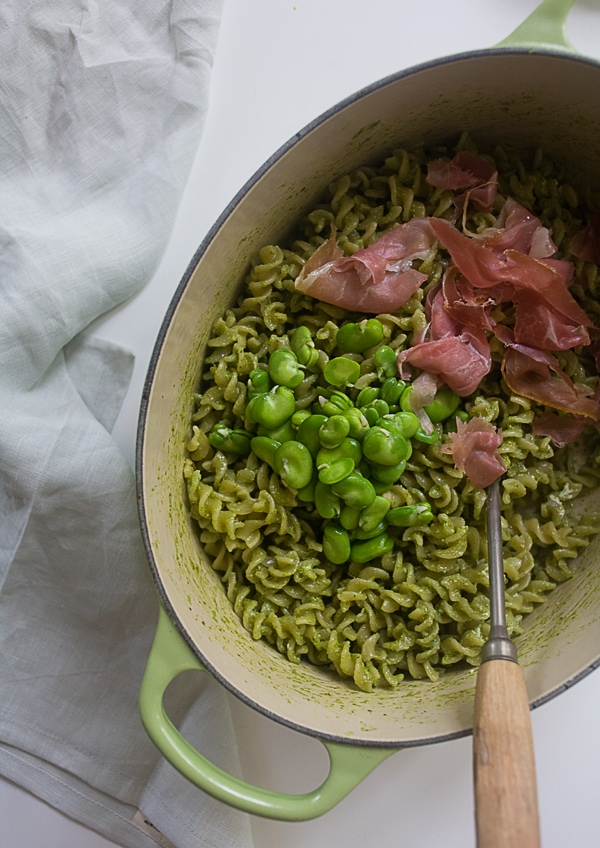 So, if you're reading the recipe and somewhere it reads "add the lava to the pasta" know it's not my fault! And lava is scary and beautiful to look at, but in pasta it'd clearly be lethal.
Happy Monday. xo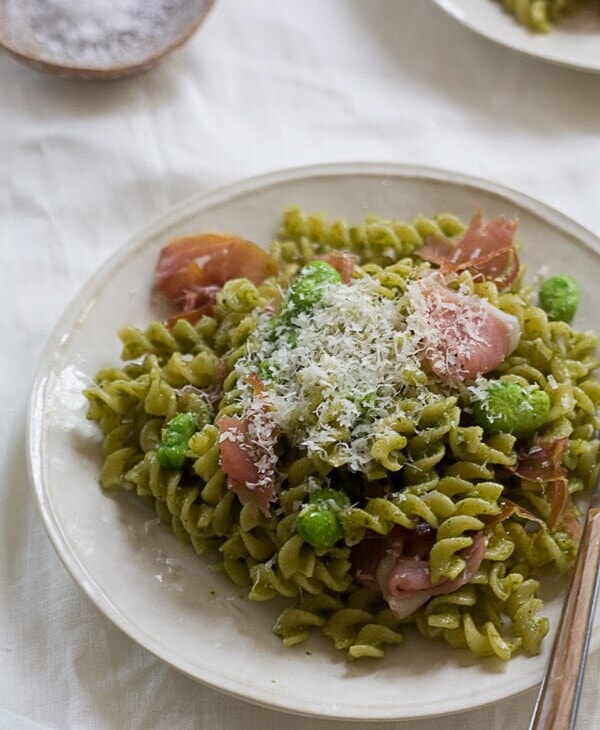 Print Recipe
Arugula Goat Cheese Pesto with Fava Beans and Prosciutto
Ingredients
Pesto:
1

cup

basil

1

cup

arugula

Small handful of walnuts

about 7 or 8

Juice from 1/2 lemon

1

garlic clove

1/4 to 1/3

cup

olive oil

salt to taste
Pasta:
1/2

pound

fava beans

16

ounces

fussili pasta

Splash of reserved pasta water

2

ounces

goat cheese

1/4

cup

grated Parmesan-Reggiano cheese

Salt to taste

6 to 8

slices

of thinly sliced prosciutto
Instructions
To a blender or food processor, add the basil, arugula, walnuts, juice from 1/2 of a lemon and garlic clove. Pulse until finely chopped. With the machine running, slowly add enough olive oil until it's fully incorporated and the texture is smooth. Salt the pesto to taste (I added about 1 teaspoon). Set aside.

To prepare the fava beans, pinch off the top of the pod and undo the seam, which will reveal the waxy fava beans. Remove the beans and repeat the shucking process until you've worked your way through all of the fava bean pods. Set a small pot of salted water over medium heat. When the water reaches a simmer, drop in the fava beans and cook for about 1 minute. Drain them and set 'em aside until they're cool enough to handle. Once they've cooled off a bit, pinch off their waxy outer layer, which will reveal a very bright green fava bean. Repeat with all of the fava beans.

Place a medium pot of salted water over high heat. Cook your pasta according to the package's directions, about 7-8 minutes. Drain the pasta, reserving about 1/2 cup of pasta water. Add the cooked pasta back to the empty pot and add the reserved pesto, goat cheese and a splash or two of pasta water; toss until the pasta is evenly coated, adding a bit more pasta water as needed. Salt to taste (I added a few more pinches of salt). Fold in the reserved fava beans and slices of prosciutto; give it a good toss and divide pasta amongst bowls.