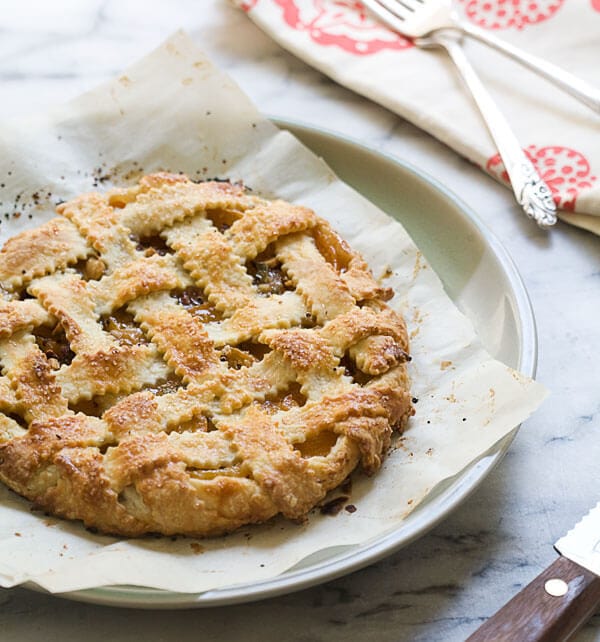 I've been dreaming about making a cross between a galette and a real, legit pie with a lattice top since January. WHY?! Because why not. I figure it's like a lazier version of a real pie, but slightly more ambitious than a traditional galette. Less rustic; less perfect. It's all about meeting in the middle. (Also, my pie tin might've been sticky because I maybe used it to roast carrots in pomegranate molasses not expecting it to get all sticky and stuck. Just maybe.)
I wasn't expecting to act on my January-galette-dream so soon. I thought it was too early to get all pie-like up in here…that was until I went to the farmer's market this past Saturday and the apricots were being all fragrant and cute by still having their leaves attached. My favorite fruit is the fruit that looks like it was picked in my neighbor's backyard.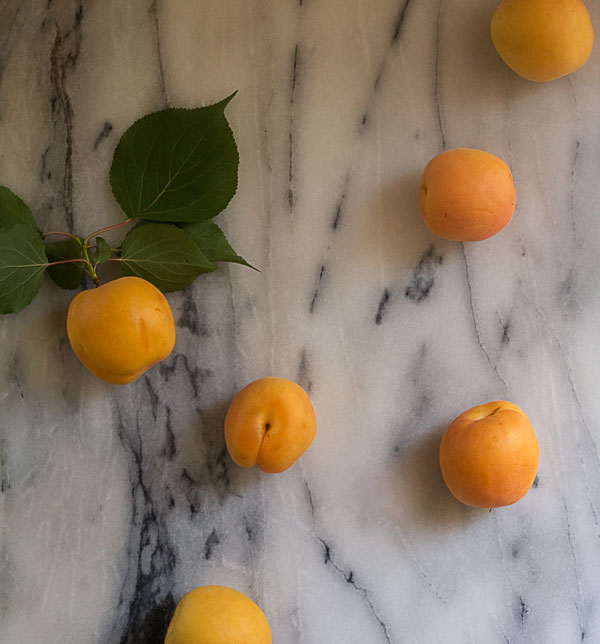 This combination might sound a little strange, but it's actually so so good.
Sage and hazelnuts are what you would think to use in, say, the thick of fall or winter, but when paired with sweet, spring fruit, the result is pretty delicious and interesting.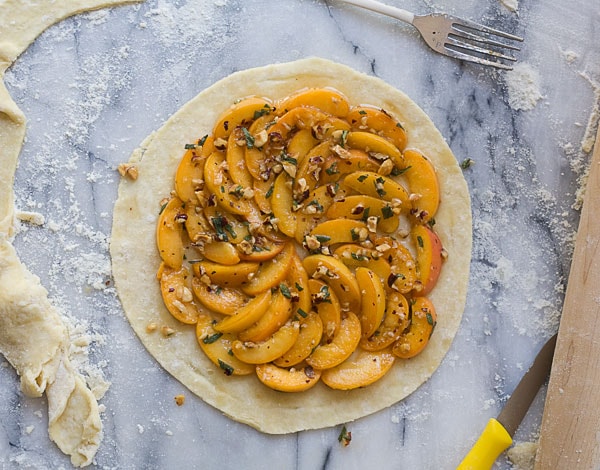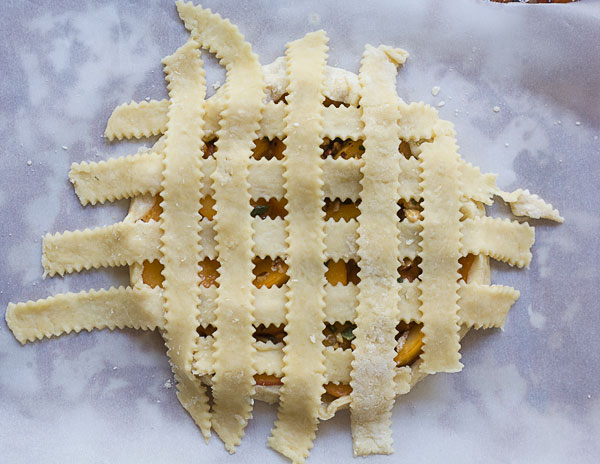 And let's talk about the crust! Ooooo. So this crust is more tender than flakey. It's sturdy, has a bit of a crumb and did I say tender?
There's an egg added. And in place of water I used buttermilk. You're more than welcome to use milk instead. You'd simply use a tablespoon or two less that what the recipe below calls for.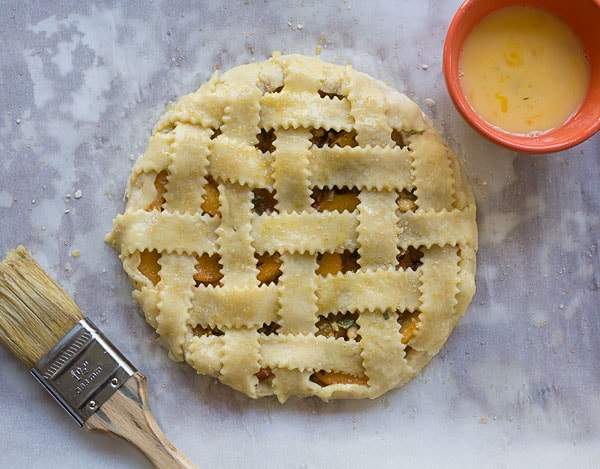 The result is this herbaceous, sweet, crunchy, buttery, awesome-looking thing.
This is the thing you make when you want people to go, Wow, go YOU!
It's the version of that show-stopper dress that lives in the back of your close that you only wear every so often…except this doesn't take all that much effort like shaving your legs and curling your hair. I think it's slightly less easy.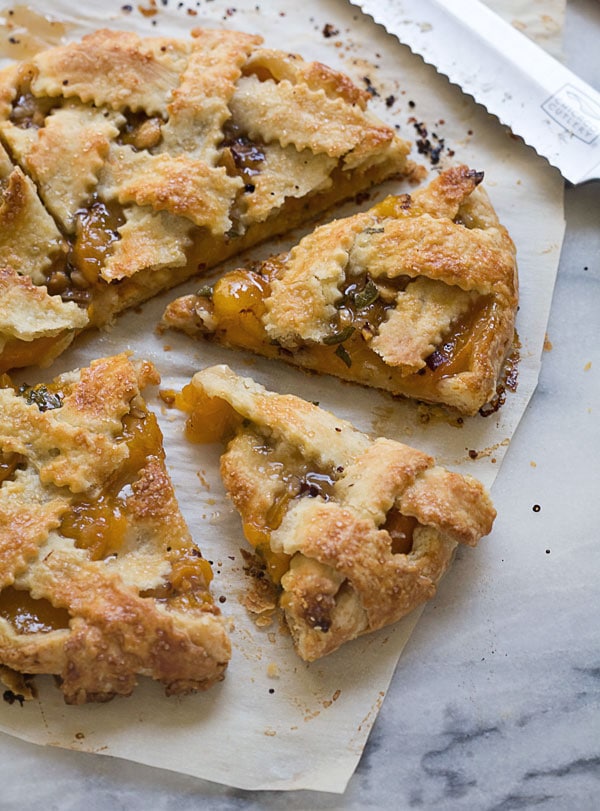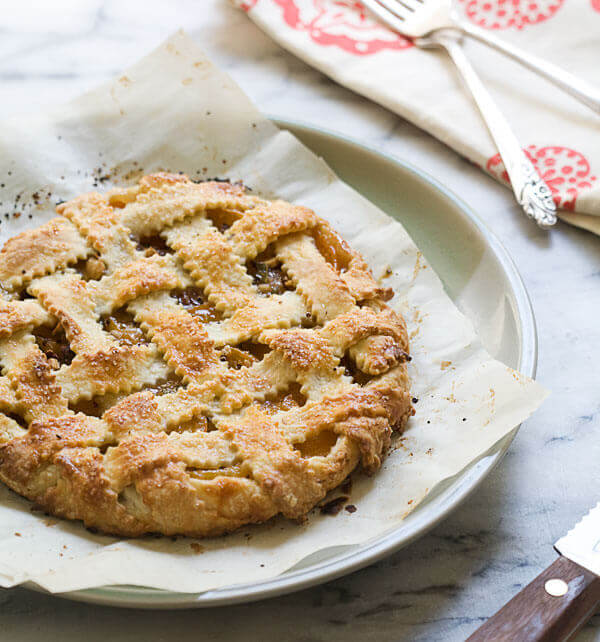 Print Recipe
Apricot, Sage and Hazelnut Galette (with a lattice top!)
Ingredients
Crust:
1 1/2

cups

all-purpose flour

1 1/2

tablespoons

white granulated sugar

1/2

teaspoon

fine-grain sea salt

1

stick unsalted butter

frozen

1

large egg

1/4

cups

buttermilk

shaken, plus 1 tablespoon-2 tablespoons, divided
Filling:
1/4

cup

hazelnuts

about 15-16 hazelnuts

4-5

apricots

sliced

6

tablespoons

white granulated sugar

1 1/2

tablespoons

minced fresh sage

5-6 leaves

1

tablespoon

corn starch

Pinch

salt
Topping:
1

large egg

beaten with a splash of buttermilk

Turbinado sugar
Instructions
In a large bowl, combine the dry ingredients: flour, sugar and salt. Using a box grater, grate the cold butter atop the flour mixture. Working quickly, and using your hands, break the butter bits into the flour until they're evenly distributed and resemble the size of small peas. Beat together the egg and 1/4 cup buttermilk and add it to the flour mixture. Mix the dough together until it just begins to climb together; if the dough doesn't hold together, add an extra tablespoon or two of buttermilk.

Remove the dough from the bowl and place it on a lightly floured counter. Knead the dough a few times until it comes together and shape it into a mound. Shape the dough into a disc and wrap it plastic wrap; transfer it to the refrigerator to chill for 1 hour or overnight.

While the dough is chilling, turn your attention to the filling. Preheat the oven to 350 degrees F. Spread the hazelnuts onto a baking sheet and roast in the oven for 15 minutes, until they turn a dark brown color. Carefully transfer the hot hazelnuts to the center of a clean kitchen towel. Wrap the towel around the hazelnuts and rub them back and forth, which will shake off their skins. (If some of the hazelnuts have a bit of a skin still attached, no biggie!). Chop the hazelnuts, roughly; transfer them to a medium bowl. Add the sliced apricots, sugar, fresh sage, cornstarch and pinch of salt. Toss together and set aside.

Remove the disc from the refrigerator. Heavily flour your work surface and rolling pin. Roll out the dough, being sure to rotate it every so often so it doesn't stick, until it reaches a 1/8-inch thickness. Cut the dough into one large 13-inch circle (I used a 13-inch plate as a guide). Transfer the dough circle to the center of a parchment-lined baking sheet. Reroll the scraps and slice ten-twelve strips that are about 12-inches long and about 1 1/2-inches wide.

Spoon the filling out of the bowl (leaving any fruit juice behind) and place it in the center of the dough circle, leaving a 1/2-inch border around the sides. Arrange the fruit so it's in one layer (not topped onto each other). Make it look pretty, if you like! Fold over the sides.

Lay the strips onto the top, making a lattice top (step-by-step instructions here). Trim the edges with a sharp knife. Make sure to secure the edges of the dough with a little water, pressing the lattice strips and the folded over sides together just enough to bind the two. This way nothing's going anywhere when it gets in that hot oven.

Place the baking sheet in the freezer for 15 minutes. Meanwhile, preheat your oven to 400 degrees F. Right before entering the oven, brush the top of the galette with egg wash and sprinkle on a bit of turbinado sugar. Bake for 20-25 minutes, until medium golden brown. Transfer to a cooling rack until the galette is room temperature.