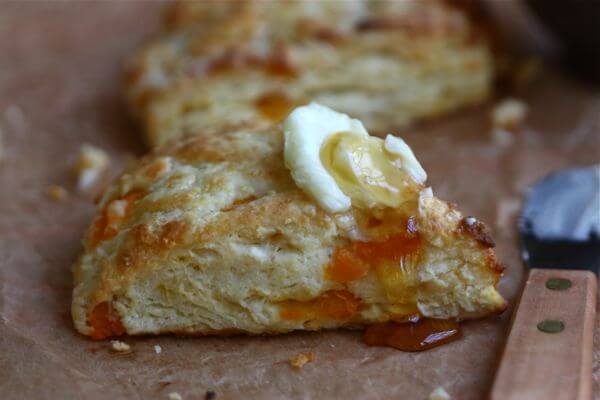 Do you ever feel guilty about complaining about your bad day? I always kind of do. I always feel guilty because I'm pretty sure there's someone out there in the world that's having an even worse day than me. I'm sure of it. Bad days happen. Just like bad hair days. Mine are usually exclusively related. If I wake up and my hair has a nice swing to it, I'm generally pumped and my positive vibing just roles right on through everything.
So, instead of telling you why yesterday was super lame (because that'd be lame), I'm going to show you my current late-night exercise, as of late, that I've started to take very seriously due to its therapeutic results. Enter: my "Cute Animals" board on Pinterest.
Lately, I'll sit in bed with my laptop and search for cute animals photos. Because is there anything better than staring at a pic of two kangaroos slow-dancing? No. Is there anything more hilarious than seeing pigs fly? No. Is there anything more adorable than two French bulldogs cuddling? I mean...I challenge you to find it.
I urge you to start your own cute animals board. Seriously.
Are you jealous of my life yet? Well you should be because I have awesome scones in my kitchen that can soon be baked up in yours too, if you like.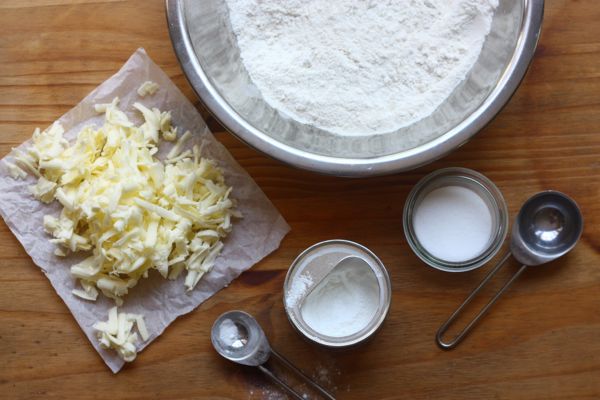 After two recipe failures, I wanted something tried and true and good. I made a version of these scones. But then, I was kind of like, Meh, not bad but not great. So I made them again, tweaked a few ingredientses until I got them to point where they were like, Whoa, YES!
These are the scones I want to make in PJs on a Saturday morning.
I'll admit that summer is tough for me cooking-wise. Everything I enjoy cooking/baking are things that are more fall and winter appropriate; hence the name of this blog, but these scones feel fresh and summer-like.
Fresh apricots are everywhere right now. Grab some, mix them in with flour and butter bits. It's a good move.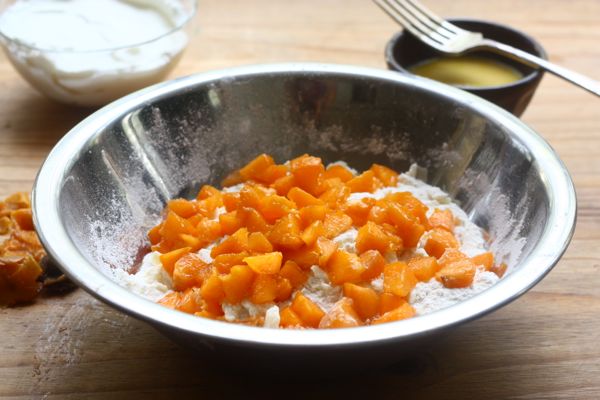 These scones aren't terribly sweet, as I think most scones shouldn't be. The little apricot bites give them the perfect amount of sweetness. They're tender with a slight tang. I like them.
And since they aren't very sweet, I like to pair them with a little bit of softened salted butter and a drizzle of honey. So good!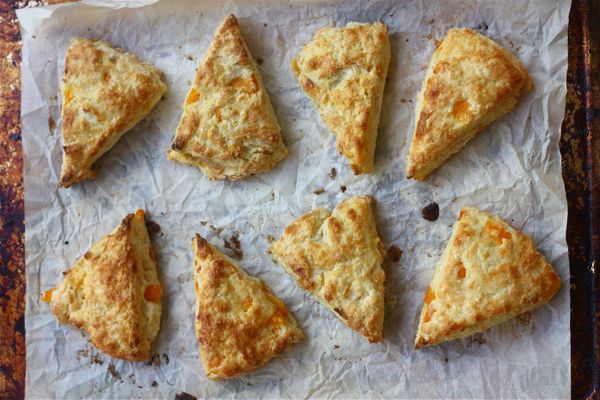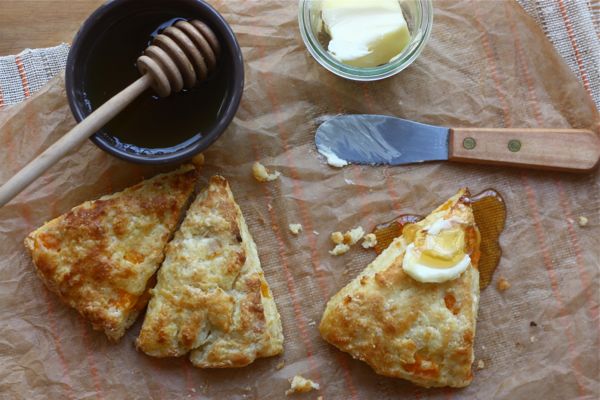 Apricot Buttermilk Scones
2 apricots
2 cups all-purpose flour
1 tablespoon baking powder
½ teaspoon baking soda
3 tablespoons white granulated sugar
½ teaspoon fine sea salt
5 tablespoons (or 2.5 ounces) unsalted butter, cold
½ cup buttermilk, shaken and cold
1 large egg
Egg wash:
1 large egg
Splash of whole milk or water
1. Bring a small pot of water to a boil. Gently place apricots in water and allow to simmer for 1 minute. While water is going, prepare an ice bath. Transfer the apricots from the boiling water to the cold water. When cool enough to handle, using a pairing knife, peel the skin off of the apricots. Cut them into a dice and set aside.
2. Adjust oven rack to middle position and preheat oven to 425 degrees F.
3. Place flour, baking powder, baking soda, sugar, and salt in large bowl. Whisk together until thoroughly combined.
4. Using a box grater, grate the cold butter into the flour mixture. Working quickly, and using your hands, mix the butter into the flour mixture until it resembles a coarse meal. Gently stir in apricots, being sure to coat them in the flour mixture. Measure out the buttermilk in a measuring cup and add the egg; beat until combined. Pour in the buttermilk and mix until the dough begins to form, about 30 seconds.
5. Transfer dough and all dry, floury bits to a liberally floured countertop and knead dough by hand just until it comes together into a rough, slightly sticky ball, 5 to 10 seconds. Pat the scones flat to a 1-inch thickness. You can cut the scones into 8 wedges or you can use a biscuit cutter. I did the former and ended up with 8 triangular scones. Place the scones on a parchment-lined baking sheet. Beat an egg with a tablespoon of milk together and brush the tops' of the scones with the egg wash.
6. Transfer the baking sheet to the hot oven and bake until scones are light brown, 12 to 15 minutes. Cool on a wire rack for at least 10 minutes. Serve warm with butter and a drizzle of honey.