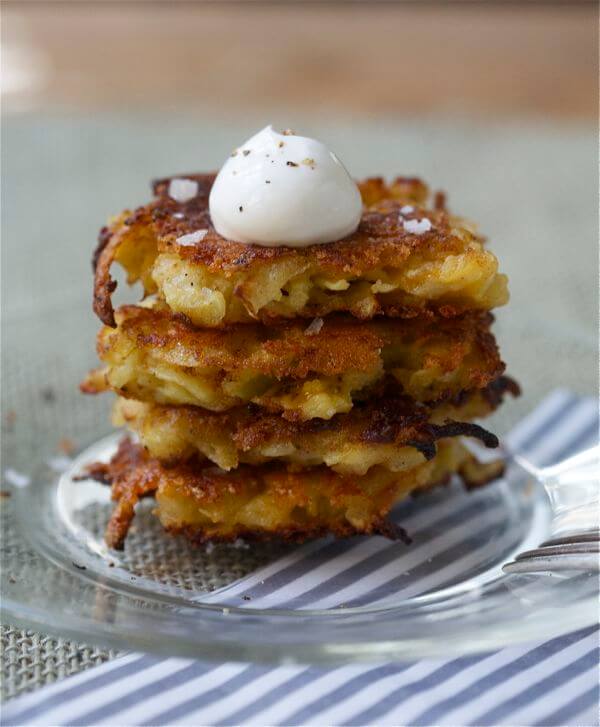 Is it…
"Lat-keeeeys" or "lat-kays" or "lat-kuhs"?!
My (Jewish) boyfriend says the latter. I (not Jewish, obvi) say the first one. Who's right?! He probably is. "Lat-kuhs" it is. (I just had a conversation by myself. SAD.)
These latkes are pretty awesome. If you follow me on Twitter/Facebook, you might've seen me link you to the sweet version that I made for Etsy last week, Spiced Apple Latkes with Cardamom Cream. Those are dessert; these are dinner.
Apple and cheddar is a classic childish flavor combination. Pieces of cheddar and slices of apple is what your mom set out for you as an afternoon snack, right? Right. And since most of us all enjoy eating things that are childish and immature, this is just perfect.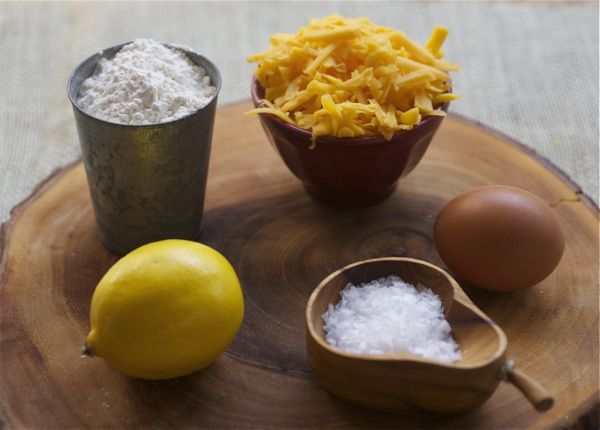 I used a combination of Granny Smith and Honey Crisp.
I personally dug the combo of tart and sweet…and then cheesy, but if you want you can use all Granny Smith or all Honey Crisp (or Gala or Pink Lady).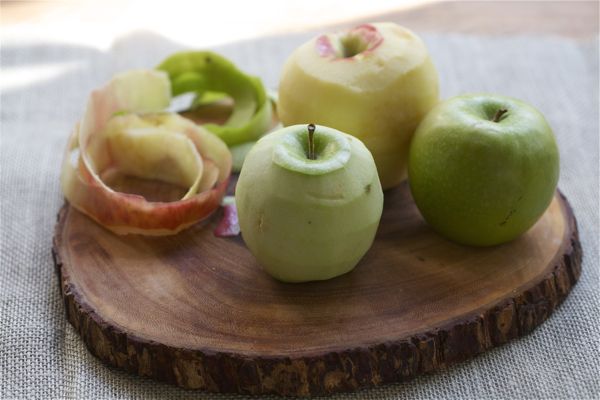 I'd recommend seeking out an aged sharp cheddar – they tend to be a bit drier and less oily when melted.
I fried these in duck fat (because I had some in the fridge) and WHOA! Just whoa. They're great. Duck fat is a little expensive so I'm not sure it's worth going out of your way for it.
Schmaltz (chicken fat) tends to be cheaper, so if you want to experiment with different fats, then I'd go with that route first.
If you're trying to save your pennies for a nice holiday dress, then just use good quality vegetable oil. All will still taste delicious.
Oh and the freshly ground pepper? There's a good amount in these. I was into it.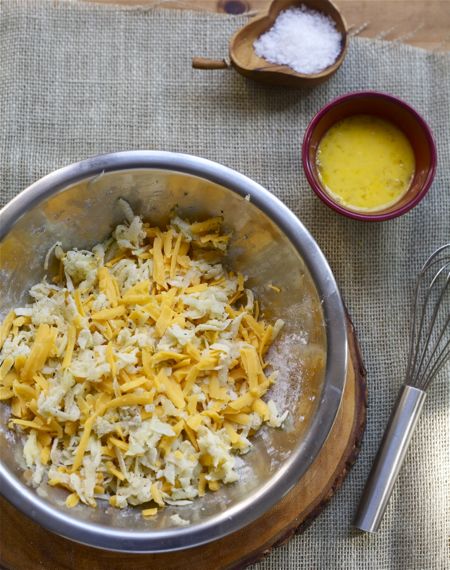 If these Apple Cheddar Latkes had a slogan, it'd be this: Crispy Flavors of A Childlike Snack.
Bye. Have a good week. I like you.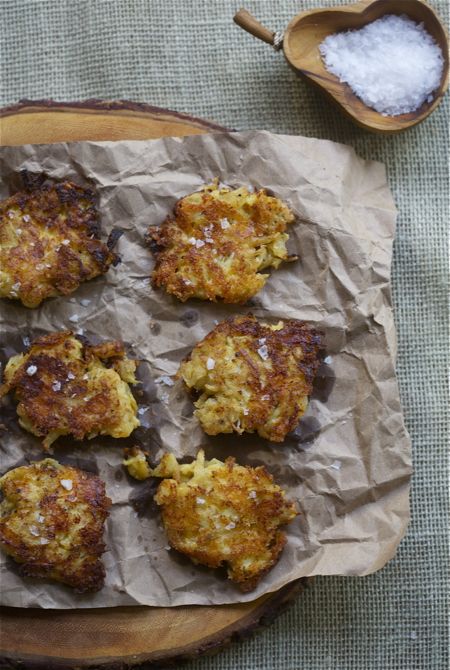 Apple Cheddar Latkes
4 apples (1 large honey crisp & 2 granny smiths), peeled, cored and halved
1 lemon
1/2 teaspoon fine-grain sea salt
1/4 cup all-purpose flour1/2 teaspoon baking powder
3/4 teaspoon freshly ground pepper
1 1/4 cup aged sharp cheddar, grated
1 large egg
Vegetable oil
1. Using a box grater, coarsely shred the apples, lengthwise, into a medium bowl. Toss the grated apples with the juice from one lemon and sprinkle in the salt. Allow to stand for 5 minutes.
2. Meanwhile, in a small bowl, whisk together the flour, baking powder and freshly ground pepper. In another small bowl, lightly beat the large egg and set aside.
3. After the apples have sat, gather them in the center of a few layers of cheesecloth and squeeze out the excess juice. Place them back in the medium bowl and add the flour mixture and cheese; toss until the apples are evenly coated. Add the beaten egg and mix until completely combined.
4. Place a skillet over medium-high heat, and pour in vegetable oil until it reaches 1/2 inch up the sides. Once the oil is hot, for each latke, place a heaping tablespoon of the apple mixture into the pan, slightly flattening the latke with the back of a spoon. Cook the latkes on their first side for about a minute or two or until golden brown. Carefully flip and cook the opposite side for an additional minute. Transfer to paper towels to drain and then place them in a preheated 200˚F oven to keep warm. Repeat the process with the remaining apple mixture. Serve with a dollop of sour cream and a sprinkling of black pepper.
Yields 12-14 Latkes